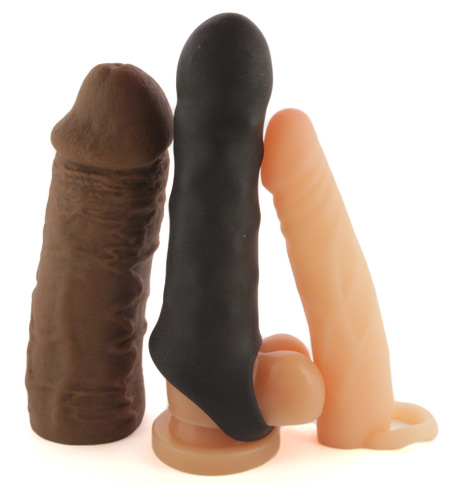 20 Best Penis Extensions | Penis Extenders for Girth & Length
Last Updated on November 25, 2020
Penis extensions are a popular sex toy for couples used to enhance the sensations of intercourse. The best penis extensions add between ½ inch – 3 inches to his erect cock while improving sex for both partners.
The device slips over his erection just like a penis sleeve or condom and the filled tip makes his dick longer. The tip is filled with silicone or a lightweight foam that makes sex feel comfortable for both partners. Some toys have thick sides and a large sheath that adds girth too.
What is the best penis extension? It depends on what features you like. Some are absolutely huge and massive for full on fantasy sex, others are slim and super realistic feeling for a true lifelike experience. (Cyberskin stakes its claim!)
Some vibrate for added pleasure and others strap on with a waistband he wears. Others are hollow and solid for men with ED. (If this fits your description, read more about hollow strap on extenders here.)
Not every device is suitable for every couple, so I'll break them down according to types, features and reviews to make sure everyone can buy the top rated and best penis extension that suits their personal desires.
If you're specifically looking to buy a vibrating penis extension, make sure to check out the best of guide with reviews and videos regarding how to use every type of male sleeve & extension that vibrates.
Best Silicone & Realistic Penis Extender Sleeves
The following list includes videos, reviews & comparisons on my personal top picks. I've seen every single toy we sell online here at TheAdultToyShop.com and know exactly what they're like. If you specifically want a big one, jump over to the best huge cock sleeve listing for those with jumbo girths. If you're seeking first hand opinions on the best penis extender, consider the following products categorized according to the most popular features that couples like most.
Best Cyberskin Penis Extension
Best Vibrating Penis Extension
Best Huge Penis Extension
Best Strap On Penis Extension
Best Latex Penis Extensions
How to Use a Penis Extension
How do you put on a penis extension? It's not all that different from putting on a condom!
The secret piece of advice is to spread 1 drop of lube inside the sheath before slipping the device over the erection. Never pull at the sides or stretch it and snap it on as it can cause the material to tear.
Especially silicone or realistic feeling materials as they are more delicate than rubber, which is more durable. Although I still advise customers never to stretch rubber either, over time it will stress the material.
Read through the complete instructions on how to put on a cock sleeve complete with video instruction and demos.
It must be mentioned there is some confusion on what this term actually means, so I'll begin with a definition:
What is a Penis Extension?
When you search online for "penis extension" you'll find various results with different meanings. Same goes with the term "penis extender". It can either mean a surgical procedure for enlargement, a stretching device worn for extended periods of time, or a sleeve sex toy that slips over the erection during intercourse.
The 3 definitions of penis extension:

Penis extension surgery to permanently enlarge the erection.

Penis extender device that a man wears to enlarge his cock over time.

Penis extension sleeve that he wears during sex to add length and/or girth.

"Penis sleeve" is also an interchangeable term that also denotes a sheath that is worn over the cock, but in this case, it does not add any inches to the man's length. It can add girth, but his length will remain mostly unchanged. (View the complete penis sleeve guide here).
If the sheath makes his cock longer, it is now a penis extension, not a sleeve. To make matters even more confusing, they are often called penis extension sleeves. My entry today is referring to penis extension sleeves and penis extender sleeves that a man wears on his erection during sexual intercourse to make sex feel different while adding length and sometimes girth to the erection.
In my opinion, this is to distinguish between sheath a man wears during intercourse to the all day stretching device that stretches his cock in an attempt to make it bigger, for purposes of permanent enlargement.
Do Women Like Penis Extensions?
Most women do! Open communication is key before buying sex toys online, so make sure to ask your partner if they like the idea or not. Some women enjoy massive fantasy penetrations from a giant cock, others prefer a reasonable and replicated lifelike experience.
Some women enjoy a thick cock, other ladies love a long dick. Some like it hard, others prefer the soft touch. Texture, ribbed & smooth shafts also vary. Do women like penis extensions? Personal preference prevails so shop online together to find one you'll both enjoy!
Click to buy penis sleeves for men online.