15 Best Vibrating Butt Plugs | What Does a Vibrating Butt Plug Feel Like?
Anal plugs are a fantastic sexual enhancer for both men and women to wear during sex. The added pressure back there stimulates the highly concentrated region of nerve endings inside the anus and rectum which in turn helps to increase sexual pleasure. Now imagine what would happen if you were to add vibration to the mix and try a small vibrating butt plug instead?
Skim through any best butt plug listing and you'll surely see a dedicated section highlighting vibrating anal plugs. As a sex educator, I do my very best to encourage people to try new things. Once upon a time it was a tricky endeavor to convince anyone to stick something up their butt, however these days, anal toys are commonplace.
My goal has shifted now to encourage people to try a vibrating butt plug. Don't let the complexity scare you, once you know what do butt plugs do and have the desire to give it a go, next step is to learn a bit about the different types and read some reviews from a sex toy blog online and find one you think will suit your personal tastes.
Now what should a beginner be shopping for? Inflatable? Small? Large? Remote Control? These are different styles that you'll find for sale at any well stocked sex toy store. Today I'll explain what they all mean then conclude with a few vibrating anal toy selections worth considering.
Completely new to all of this? The truth is anal play is so mainstream these days, you'll may even come across the Plug podcast with anal toys and butt stuff related topics. Only a few years ago, such content would be taboo and would be removed by the streaming service for being "shocking". These days however, Soundcloud obviously has no issue with the adult content since the list of podcasts is rather large and the high view count may surprise you too.
What does a Vibrating Butt Plug Feel Like?
The spade shaped anal plug provides constant pressure inside the rectum. The thin neck minimizes stretch across the anus sphincter. The result is feeling of fullness with pressure evenly distributed over the nerves inside the anus.
During sexual intercourse or penetration with a dildo or vibrator in the vagina, a butt plug pushes the vagina to make it feel more narrow. This constant pressure greatly enhances the pleasure of strong orgasms when the muscles inside the body clench repeatedly.
A vibrating butt plug adds a tingling sensation to all of this erotic stimulation. Since vibrating anal toys are limited in size in comparison to a vaginal vibrator for example, the motor components are small which translates into a more high pitch tingle as opposed to a low pitch rumble.
Vibrating butt plugs radiate vibration waves throughout the entire pelvis and groin. The sensation is rather intense even if the motor isn't on full power setting. Men experience prostate pleasure; if the toy is curved, it can easily stimulate the prostate gland and help him achieve a powerful P spot orgasm, all hands free!
Women experience improved G Spot stimulation, the forward facing curve forces her partner's penis or a sex toy to the front which encourages G Spot stimulation with each trust in and out. In summary, a vibrating butt plug feels highly orgasmic. Once you use a butt plug that vibrates, it's rare to step back and use one that does not vibrate. The sensation is simply so much more substantial.
Most of the inflatable butt plugs vibrate, the addition of an inflatable balloon creates an "echo" reverberating through the body. Vibrating inflatable butt plugs are best left for experts only as these tend to be quite large in diameter, but if you find one of the small non-vibrating inflatable anal toys it's easy to find one well suited to beginners.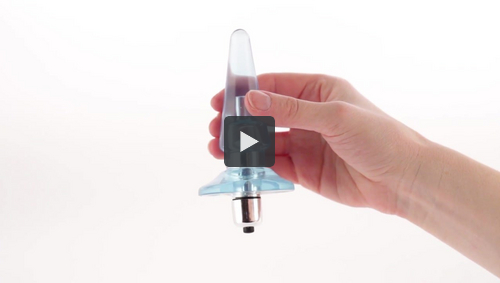 How to Use a Vibrating Butt Plug
Here are a few steps to make your vibrating anal plug experience more enjoyable:
Lubricate the top half of the plug with water based anal lube. (Personal lube is too runny).

Lubricate around the perimeter of the anal sphincter.

Insert the toy by slowly pushing and/or twisting it into the rectum.

Once in place, let the sphincter hold the stem of the plug.

Activate the motor by remote control, if press the on/off button if its wireless.

Enjoy your time!

Remove and clean the butt plug.
15 Best Vibrating Butt Plugs
The best butt plugs have a spade shape which consists of a flared body, a then stem and a flat base. The thin step prevents it from popping or falling out of your rectum and the flared base prevents it from getting "sucked" in too far. The following share the same essential features, except with the addition of a vibrating motor.
3 Types of Vibrating Anal Plugs
Vibrating anal toys come in all shapes and sizes. Vibrating butt plugs are so distinct they can be classified on their own. Breaking it down further, we can see 3 separate subcategories worth noting: Inflatable, Remote and Wireless.
1. Inflatable Vibrating Butt Plug
How to use an inflatable butt plug? The standard anal plug shape surrounded by a latex or silicone coating that inflates when you squeeze a hand bulb. The motor is located inside the core, and you'll feel a solid hump in the middle of the spade during use. Inflatable vibrating butt plugs insert at a "medium" size (around 1.5 inches diameter), then inflate up to 3 inches wide.
2. Vibrating Butt Plug with Remote
The vibrating butt plug remote allows users to throttle vibration and select their preferred vibrating function by operating a remote control. This is a modern feature and because the technology required to power the butt plug remote is more advanced than simply a corded remote, the cost is always much higher. Expect to pay double what you'd find an ordinary vibrating anal toy with a cord and remote attached.
3. Wireless Vibrating Butt Plug
No cords – no hassles! People frequently search for wireless vibrating butt plug purposely just to limit the distraction from back there. To operate the motor, you just press a button on the end of the bullet vibrator that sticks out of the end of the flared base.
The only disadvantage of this style is that wireless sex toys are less powerful than their remote or corded counterparts simply because an internal motor will lave less space for components, so it just can't be as powerful. It is a give and take between power and convenience.
Click to buy vibrating butt plugs online.