Most Powerful Vibrators for Women | Reviewed & Compared
Last Updated on March 30, 2023
It's no surprise that our category listing the 55 most powerful vibrators for women is one of our top visited personal massager sections on the website. This is also one of the trickier types of vibrators to shop for because unlike a rabbit, bullet, or vibrating dildo, it's impossible to determine the actual strength of the motor just by looking at a photograph. Watch the video demos of our most powerful vibrators for sale to see for yourself!
We have to go above and beyond to convey the most powerful vibrators to our customers. That's one of the major advantages of being an all-female owned and operated sex toy shop, we get to take one of everything home and give it a test run in bed. My stash of vibrators is massive, it takes up my entire chest of drawers! Oh, the perks of working in an adult toy store; unlimited free vibrators, hooray!
After testing thousands of vibrating sex toys for women, we were able to put aside intense vibrators and begin the monumental task of creating this category listing. Since it ended up with over 55 individual products, that's still too many options for the average lady to narrow down her choice without knowing more information first.
To make it easy to shop, I've divided up these items into subcategories of extra powerful vibrators according to its type. Instead of overwhelming you with a nearly infinite selection, you can select from each variety, discreetly make your purchase online, and get on with your day!
World's Most Powerful Bullet Vibrator
Based on our decades of experience, whenever a woman asks about the best and most powerful vibrator, she's often inquiring about the bullet vibrator first. Beginners and first timers rarely understand the orgasmic potential of vibrating eggs & bullets for the clitoris, so if that's not what she's directly asking for when looking for an extra strong vibrating sex toy, that's where we'll direct her attention!
What's the appeal about high power bullet vibrators? If we take a step back and analyze why these are used in the first place, this is a tool for enjoying a diabolically strong clitoral based orgasm. Simple as that. ~ Mayla Green
So then it's no surprise to hear that women seek super powerful bullet vibrator for a quick and stupendously satisfying orgasm. We get it, life is busy. We don't always have time for extended romantic foreplay with ourselves. Quickies are more in order, especially in the morning before work. A self given clitoral orgasm is the best way to start a sunny day!
The top 4 high powered bullet vibrators:
1. Turbo Accelerator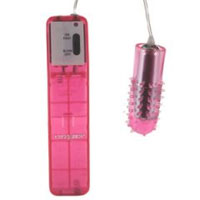 A stunning kick to the clitoris, the Turbo Accelerator is the strongest bullet vibrator for women. It operates with a never-before-seen 4 AA batteries giving it easily twice the energy output as a typical vibrating bullet. It has 7 speeds to choose from, the top speed is so wild that your fingers go numb when you hold it!
The slimline design is excellent for pinpoint clit stimulation. The soft yet spiky sleeve grips the skin and adds texture that provides a perfect contrast to the smooth plastic bullet underneath. Stop what you're doing and BUY THIS NOW! Trust me, it's incredible.
2. Power Touch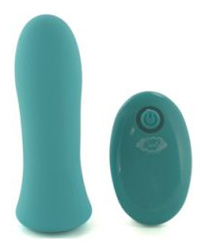 The new era of technologically advanced adult toys, the Power Touch is the world's most powerful wireless remote control rechargeable bullet vibrator. It checks all the boxes for the best sex toy ever made. The larger shape can be inserted into the vagina, or it can be held over the clitoris; lay it down in between the labia or tease your anus. The versatility is endless.
The power, of course, is the best part. The multi function settings never leave you wanting more and the consistent highest vibrating setting produces an orgasm within seconds It has a nice waterproof velvety feeling silicone layer on top which adds a hint of luxury and a touch of class. No surprise here, this is another MUST BUY!
3. Jumping Gyrator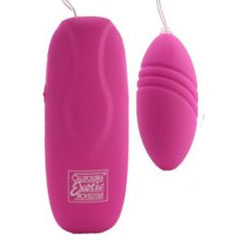 It's time to re-think what you know about vibrating bullets! The Jumping Gyrator does not actually vibrate instead it gyrates, hence the namesake. What is gyrating? The Webster Dictionary defines Gyrating as: "1 : to revolve around a point or axis. 2 : to oscillate with or as if with a circular or spiral motion." which is presciently what happens inside the wide egg shaped toy.
It jumps and wiggles violently instead of a high pitch buzzing. It's a contrast to any other vibrating bullet of its type and therefore, is one of the must-have toys for women who already have one of everything. I don't need to exaggerate on it's intense power either, it's implied in the description! Yes, this one is mega strong and can make your fingers go numb.
4. Power Tongue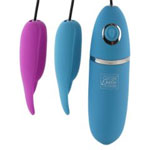 This unique shape that gives a lady more ways to enjoy self love. The Power Tongue extension on the tip is completely firm allowing you to actually "scoop" the clitoris up and force direct unrelenting vibration deep inside the body. You can also insert the bullet into the vagina and let the tongue lap the G spot.
It's marvelously intense. The larger sized device is a nice change from the standard tiny form we see so often. This one ranks 5th place not only because it's extremely powerful but also because its unique one-of-a-kind shape feels wonderful. If you're feeling extra frisky, scoop a nipple – yes this doubles as the world's most powerful nipple vibrator too!
Q. What is the Most Powerful Vibrator?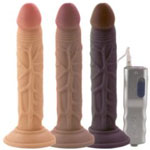 A. The American Penis Vibrator is a battery operated sex god with a perfectly engineered soft rubber surface that never mutes any of the waves or intensity. It's amazingly powerful motor will transform what you think about life like dildos. You'll probably never buy a realistic non-vibrating dildo ever again. This one has it all! Soft and flexible life sized, realistic penis shaped vibrating dildo with reasonably quiet operation considering its intensity.
Now if you want a traditional shape that has lots of power without looking like a phallic realistic penis, we have plenty of those!
Risque Tulip has a simple sleek design with concentrated power within the flared head. Even though this waterproof slim shaft one only takes the standard number of batteries, it is perfectly engineered to focus all the vibration into one single point. This means the tip is insanely string while the rest of the shaft hardly vibrates at all. The highly focused motor gives this one awards for supreme sex toy for women.
Before we move on, there is one more notable addition to the list of the best high power vibrators of all time:
thrusting sex toys when searching for super strong sex toys simply because the added "up & down" motion adds an entirely new dimension of sexual enjoyment. It's also a perfectly executed illusion of brute force, more parts moving equals more erotic pleasure!
In this case, we must highlight the Skinsations Warming Thrusting, a literal jackhammer kick in the vagina. It's MEGA intense, very strong, ultra powerful and all sorts of other force-inducing adjectives. Surely one to try! Also check out selection of Pipedream toys, they are known for their extreme force!
Q. What is the Most Intense Mini Vibrator?
A. Mini vibrators are rarely intense. Small vibrators often have weak motors because they are too tiny to carry several batteries, and those tiny cell batteries have limited energy output. As a result, we often see queries from customers looking for the most powerful mini vibrator.
Behold, the best high power small vibrators ever made:
Dual Dancer is a favorite beginners choice. It is tame and tiny with a thin shaft and little clitoral stimulator. It's an excellent introductory tool for enjoying the pleasures of adult toys in the bedroom. The biggest surprise for this small toy is the excellent strength from its dual motors, this is a luxurious small massager for women who need power to play!
Mini Whopper is the smallest extra powerful realistic vibrator that has a life like design but only in a mini package. The secret to its success? It has a separate battery control pack that supports 3 AA batteries meaning you get big-size power in a small-size shaft. My best suggestion for women who want a small girth, but require plenty of power.
Pleasure Kiss is a fine treat for the clitoris. Featuring a third more power than most other small stimulators if its type, this one has a cutely decorated round cup with long, deep ticklers that press up against your clitoris. It's a great choice for couples too because the tickling feel has a less direct impact compared to most silver bullets, the thick cushy sleeve turn you on and gets the mind and body in the mood for sex.
Q. What is the Most Powerful Rabbit Vibrator?
A. Dual motor rabbit sex toys naturally have a good kick of erotic pleasure; the best high power rabbit vibrators always have multiple motors in addition to a beaded shaft and gyrating head. We have several other powerful rabbit vibrators with rechargeable motors & remote control function worth checking out too. It's the culmination of all 3 motors that create the best high powered rabbit vibrator of all time.
This is a tough one to pick only the top 3 because there are so many! We've picked our highest reviewed and best selling rabbit sex toys with a mega "oomph" of force:
The Wild Vibe has all the ingredients for a perfectly executed total body orgasm. The motor and its components are built similarly to many others, but what makes this one so special is the way the material coats the motors and transfers energy into your body.
The big thumb like appendage (I suppose you could call it a rabbit with 1 ear!) presses firm on your clitoris. This is the source of all the intimate magic! The widely spaced beads twirl quickly and also provide a highly noticeable vaginal massage. It's a large rabbit so if you prefer a thicker girth this should be your top pick.
The Jack Rabbit 5 Row is a favorite addition to the sex toy collection of thousands of women across the USA. This one has been around for decades and has an extra strong punch unlike any other. Part of it's "amazingness" lies in the large stack of metal twirling beads.
Virtually the entire shaft has beads giving you a rush of pleasure, especially during the onset of orgasm. The firm head gyrates inside the body while the stiff rabbit delivers enough force for an orgasm alone. It is the highest power rabbit vibrator ever made.
Q. What is the Most Intense Clit Vibrator?
If we're talking strongest clit vibrators, we also have to discuss the power of clit suckers. Not all of them vibrate, but regardless of the presence of a pulsating motor, the feeling of clitoral suction is extremely intense. The vibrating pussy and clit pump is a total thrill, the intense clitoral stimulation is enough to produce an external based orgasm within seconds for most women.
Review the contents of that blog post for more inspiration, but first I'll pause for a moment and list my favorite high powered clit vibrator with suction as the Air Touch. This one features amazing G Spot orgasmic potential in combination with the strongest sucking on any female sex toy we've seen thus far. Oh and it's rechargeable too so that boost of pleasure will last months of use!
Triple Rabbit Vibrator
The Triple Rabbit Vibrator must be represented well for it's cumulative orgasmic potential. Three motors work to bring you to a thrilling climax. In addition to rabbit clitoral vibration, you'll also experience a nice poke in the back door.
The anal probe can flex allowing the user to insert it into the anus, or you can lay it between the cheeks for an external tingle. If you want to buy a strong vibrator with mega powerful stimulation, this one is a real winner in our books!
Q. What is the Best High Powered Anal Vibrator?
A. The small, thin plastic probe will always win top honors in the powered race to please. As such, mega intense anal vibrators are best for beginners who want a buzz in the butt. Advanced users also enjoy these micro sized anal toys because the high intensity sensation is far different than the lower thumping of say, your vibrating inflatable butt plug.
It's a complete contrast, a low rumbling versus intense tingling creates to opposite effects inside the body. Because variety is the spice of life, we like to encourage those who enjoy vibrating anal toys to have one of each in their ass arsenal; one vibrating, one inflating.
Vibro Butt Buddy is a wild surprise. This tiny terror kicks you in the ass! (Or should I say, kicks inside the ass? Lol!) Sure it's small, but don't think it lacks energy to transform your derriere into a high intensity palace of tingling sexual pleasure.
The firm shape inserts easily, the rubbed shaft feels nice when thrust in and out. The light velvety feeling coating feels warm. If you are not a fan of anal toys however, this can be purchased and used solely as a female vaginal massager for first timers.
10 Function Anal Toy is a similar take on the aforementioned Vibro butt Buddy, but this one has a torpedo shaped probe and several functions to pulse inside the anus such as escalating, quick pulse and slow escalating roller coaster patterns.
It's a fun one for trying something new because the simple slimline design is very discreet. This is actually my best anal vibrator for customers looking to improve sex and masturbation, (especially for male masturbation.)
Quiet Powerful Vibrators
A true enigma and if you look at it from the perspective of your English teacher, "Quiet Powerful Vibrator" is even an antonym! The reality is that it is virtually impossible to have a toy that is both quiet AND powerful.
A stronger motor simply makes more noise. There are a few features to shop for when looking for the silent high power vibrator so head on over to my guide to learn what makes a vibrator quiet before searching for silence.
What Makes a Super Intense Vibrator?
The most important feature that determines what is the most powerful vibrator is the number of batteries required to operate the motor. It's simple physics, a motor that requires 4 batteries has a higher energy output than one that takes 2 batteries.
That's the base feature that one should be looking for when shopping for the world's most powerful vibrators. Unfortunately battery requirements are not a way to filter products on a sex shop catalog, so instead we've picked out the strongest sex toys and listed them in a category singling out all intensely vibrating motors that take more than average quantity of batteries.
Sex toy materials also dictate strength. We've seen battery operated dildos that take 3 batteries, but the material is so dense that it absorbs vibrations resulting in a weaker than expected output of energy. As a result, the quantity of batteries should not be the sole determining feature when choosing the most powerful vibrator. ~ Mayla Green
There is a new twist to this rule of thumb however, we see many rechargeable vibrators that charge with a USB cord that plugs into a computer or electronic device. It is impossible to tell exactly how strong it will operate because a cord does not convey energy output!
In our experience, any rechargeable USB vibrator is extremely powerful because they are capable of storing a massive amount of energy to give the motor a good, strong kick. One of the other features that we like about a rechargeable adult toy is that they hold power for longer. How long does it take a vibrator to charge? That's a million dollar question!
An intense vibrator depletes batteries very quickly, but when you run a motor from a rechargeable device, it lasts much longer. You can get months of use before plugging it in again! In addition to rechargeable devices, it's essential to note that corded devices have more "oomph" than wireless devices.
Material density is another factor worth considering. A dense rubber will transfer higher intensity vibrations into the body whereas a soft malleability jelly or extra soft skin like feeling silicone will absorb waves making the toy weaker.
Plastic, firm gel & rubber are the two best materials that do not deplete intensity. Real skin silicone & soft gel are the materials that feel the weakest.
Summary of features to consider:
Number of batteries required

Material density

Number of motors

Speed setting options
The Final Takeaway:
For a true earth shaking orgasm, choosing the most powerful vibrator is the best option for larger-than-life sexual enjoyment. Couples often use personal vibrators for women together to encourage the her to orgasm before sex, so that when it comes time for intercourse, the vagina is prepped and ready to take him all in. Sizes vary so check how we measure our toys to make sure you pick the right size.
Guys like to use the strongest vibrators to boost ejaculation force and make masturbation feel amazing. Women like a super powerful G Spot vibrator for the highly desired furious muscle clenching internal orgasm, and the strongest bullet vibrator for the exterior pulsing clitoral orgasm.
The realistic vibrating dildo is the perfect sexual fantasy while a rechargeable, gyration or waterproof toy fills the needs for versatility in the bedroom (or shower!) Regardless of your reason for searching for a toy with pure kicking joy, you can find them sprinkled throughout all adult sex toy types in or store. Happy shopping!
Click to buy powerful vibrators online.