15 Types of Anal Toys | Complete Guide to Anal Sex Toys
Last Updated on October 13, 2023
Welcome to the most complete anal toys buyers guide ever published. Before you explore our online store and select something ordinary, browse through this anal toy dictionary to discover new innovations, the hottest trends and all sorts of fun, exciting and different things to stick in your butt!
Want to buy anal sex toys? Most customers pick "the usual anal sex toy" meaning a butt plug or beads, not surprisingly the most popular and well known styles for anal play. Huge anal toys are always massively popular (pun intended, of course!) Beginners sometimes don't even know where to start.
Table of Contents
Who Uses Anal Toys?
Enjoyment of back door pressure, vibration & stimulation during sex play transcends genders. Anal orgasms feel good for everyone. In my experience, it's ideal to start out by using anal sex toys alone during masturbation.
It takes additional handling and special maneuvering back there to get the right position to make sure the anal toy doesn't pop out, so give it a spin on your own first before attempting it during lovemaking as there may be interruptions as you re-position the device. (Especially beginner anal toy sizes, the bigger you go, the less likely they are to fall out hence the popularity of anal training).
Once you've had your first self induced orgasm while wearing butt toys during masturbation, you're ready to use it during sexual intercourse. Anal sex with toys is super fun. A popular pastime for gay, lesbian and even heterosexual couples are jumping on the back door pleasure bandwagon.
Both partners should try their own respective anal sex toy, (make sure you never share ass toys because it's extremely unsanitary). Each personal should have their own. You never want to transfer rectal bacteria to your lover. Keep your germs to yourself!
Did you know there are 15 types of anal sex toys?
That's a staggering number attesting to the popularity and pleasure potential of this style of kinky adult toy. The large range of styles means there is something for everyone from the puckered up first timer to the advanced, seasoned expert.
Anal toys for men and women are often interchangeable but most people don't know that. I'm here to teach you some new techniques and ideas to consider when shopping an adult sex store for your new butt toy, so let's begin taking a look at different styles of anal play toys to enhance sexual pleasure.
1. Anal Plugs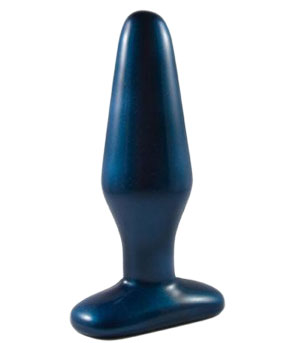 When someone says "anal toys", the anal plug with a flared belly and flat base is often the first item that comes to mind. The quintessential device that enhances orgasms for women, and makes men experience more powerful feeling ejaculations.
A quick check of our butt plugs for sale will show 86 different choices making this one of our biggest sextoy categories in the whole store, even exceeding vibrators and dildos! Why are there so many choices? As stated previously, anal plugs are one of the most standard type of sextoy that a person could own.
This is such a vague term and encompasses several different sizes, shapes and designs from huge girths to the diamond butt plug, thin training or a set of gradually increasing diameters, also known as stretching sizes.
The designating feature of an anal toy plug is the presence of a thin neck, tapered tip and flat base. The base prevents it from sliding into the rectum too far. The thin neck gives the sphincter something to grasp, thus preventing the device from falling out of the anus. The design is made to be "set and forget" you shouldn't need to push it back in, but be aware that tiny plugs are too slim and typically fall out without a helping hand.
Some butt plugs have tails hanging out of the base, the butt plug with tail is a new trend. Other butt plugs vibrate or inflate. Some are smooth silicone, others are ribbed jelly or rubber.
Butt Plugs for Everybody
Although still taboo, women can talk about a dildo or vibrator but rarely discuss their favorite butt plugs. Guys don't even talk about male anal toys ever, but knowing how many we actually sell, anal plugs are a hot commodity for all genders and sex toy collections across the USA! Visit this guide to find the most popular butt plug for your specific personal needs.
Vibrating anal plugs are my favorite type because the addition of buzzing back there spreads around the pelvis and truly boosts erotic enjoyment. Once it comes time to orgasm, the muscle contractions feels stronger and last longer, it's amazing how great vibration feels. Of course a more powerful motor produces better orgasms, but even the slightest tingle from a wireless vibrator is enough to bring you over the edge into climactic intensity.
2. Anal Beads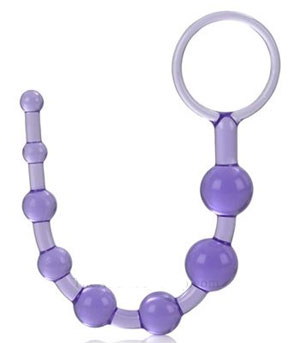 Anal beads have been around for centuries. They are one of the original types of anal sex toys and certainly the most recognizable. Vibrating anal beads are a rarity, but I think one of the more exciting choices available, (I love all things that vibrate!)
There are 2 types of anal beads:
An interconnected strand molded of a single piece jelly or silicone.

Plastic beads connected together by a nylon string separated by knots on the string.
For safety, anal beads should always have a retrieval ring at the end, or be extra long so they can go deep (this way it can never get lost in the rectum, a portion of the strand will always hang out of the butthole). Even though everyone knows what anal beads are, we are seeing less and less people buying anal beads online.
Why are they decreasing in popularity? I think it's simply because there are so many other shapes of butt toys being released by sex novelty manufacturers that people are simply buying new styles to try something different.
A Unique Anal Toy
Anal beads are limited in design because they serve a single purpose – to be pulled out of the anus at the onset of orgasm. Both women and guy equally benefit from the sensation, it boost the climax for both sexes. They are also a gender neutral and non-binary sex toy since the design is completely non-phallic and super discreet. Learn how to insert anal beads here to make sure you do it properly to feel the awesome intensity.
If you have never tried butt beads before, I highly suggest purchasing up one of the thin and small styles that have a tiny bead on the end. Insertion is the easiest out if any anal toy (not to mention they are super cheap). If you are a first timer, insert only as many beads as you feel comfortable. Stimulate your clitoris (for women) or masturbate (for men) and once you feel close to climax, pull out the beads to experience what it feels like. Oooh-la-la!
3. Prostate Toys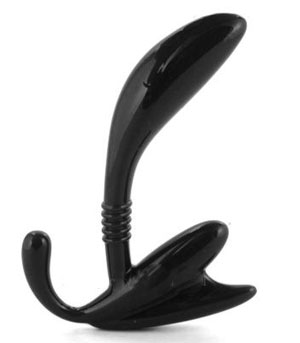 Prostate toys are vibrating and non-vibrating devices designed to massage the male prostate. This is also known as prostate milking. Why would a man want to do this? Massaging the prostate has a powerful effect on the sensation of his ejaculations. In simpler terms, it makes his orgasms feel much stronger.
There are several shapes of prostate massage toys, ranging from a butt plug to dildo shape to long deep skinny probe, some advanced styles are thick and huge. The single common denominator that gives a particular male anal toy a prostate toy designation is the presence of a curved tip.
Why must it have a curved tip? The prostate is located a few inches inside the male rectum facing the anterior wall (toward the penis). The male anal toy must have a curve in order to reach the prostate.
Prostate Stimulation for Sexual Pleasure
The steeper the curve, the less he'll have to push it forwards during use. Typical prostate massage procedures require a finger or probe to be moved in a "come here" motion, scooping it towards the front.
Some prostate plugs are designed to press against the gland even without being moved, although some men find it feels better when the device is moved in a rhythmic motion in conjunction with the stroking of his penis. Guys who can use large prostate plugs find the girth is wide enough to stay inside the rectum during sexual intercourse. (Beginners need to train their way up to this point.)
Prostate toys are popular for couples to use during mutual masturbation and oral sex. Men find it very pleasurable to receive a blow job while having the P spot stimulated, so using prostate vibrator in conjunction with oral sex is a favorite way for men men to enjoy a good orgasm. Prostate massagers are equally popular for gay men as they are for heterosexual men.
4. Anal Dildos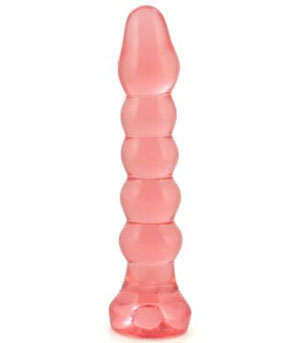 Anal dildos are a hot and heavy type of anal play toy for the extra kinky couples among us. Think of it as a butt probe on steroids. Why such a dramatic definition? They are sturdy, straight and made for hard and fast thrusting. Vibrating anal dildos amplify all that goodness with titillating vibration too.
Despite this intense description, they are not just for experts. Even a beginner can find the perfect anal dildo because many of them are small. Since most are shaped like a realistic erect penis (but smaller), they are commonly used to get ready for anal sex.
For those who enjoy the feeling of thrusting in & out, the butt dildo is the perfect choice. Butt plugs are made to remain unmoved in place; and in comparison, anal play beads are pulled out all at once. Stretching and inflatable toys are meant to stay put, but the anal dildo is different because it can be thrust just like vaginal dildo for women.
Best Sex Toy for Anal Play & Exploration
Deep anal dildos are popular because many people like to feel the pressure go as deep as it can go. Huge anal dildos are the prime choice for experts because they are thicker all the way through whereas butt plugs have a narrowed neck to stay inside the sphincter, dildos keep the sphincter stretched for the duration of use.
With this in mind, it's essential to note that dildos tend to fall out of the ass, if you consider how the sphincter works, it is designed to push things out, not hold them in so the body will naturally attempt to expel the dildo from the ass. You'll need a helping hand from your lover to jiggle in and keep in inside the butt, alternatively you can hold it yourself.
This is why long anal dildos are more popular because the give you additional; length to grasp when you have to rap your arm around to the backside to hold it in place. Butt dildos often look realistic AND have life like penis detailing, but it's not necessary for this designation. In my experience however, realistic feeling and looking dildos are better sellers than those that do not look phallic at all.
5. Pegging Toys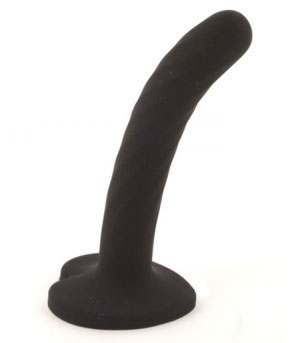 Pegging is a super trendy kinky sex act for adventurous couples. You should know the pegging definition before thinking about buying pegging toys just to make sure it's something you're interested in trying. You'll need consent from your partner too because pegging is specifically a couples activity and requires 2 people to perform: a man and woman.
Even though pegging is not a gay term, gay couples can still use pegging toys. In fact, I recommend them to newbies because they are smaller and offer a good introduction to large anal toys and even help to prepare for first time gay anal sex. Many pegging toys looks like a realistic penis making them a good trainer to stretch the anus.
Anal Sex and Kinky Play
To properly complete pegging sex, attach the dildo or plug onto a strap on harness. In our pegging toys & dildos category, you'll notice the strap on harnesses are at the top, followed by dildos and probes underneath. Some strap ons include an attachment already, the pre-made kits are a common choice simply because it's easy to select a good one.
I like to suggest the couple also pick another style listed below because I've added some super creative accessories that you'll never see in any other online sex shop's pegging category. Prostate plugs and probes make excellent pegging dildos tool because the man is the receiver, so why not stimulate his prostrate during pegging sex?
The best pegging positions pummel his prostate. It simply makes the entire experience much more fun for him, and it's an empowering dominating sex act for her. If he is squeamish about using a phallic probe that looks like a dick, there are many options that are simply a narrow probe or flared butt plug shape. For an extra kick of pleasure, choose an anal vibrator!
6. Anal Probes
Moving along, if you think anal dildos are scary, then anal probes will be more down your alley. (Get my joke there?). All joking aside, ass probes are long narrow devices designed for the deepest anal exploration. They are much longer than they are thick; literally a probe shaped device designed for both guys and gals.
Even though most probes are thin, we do have some that are large. The designs are typically different from each other because customers shopping for a small anal probe are looking for beginner anal toys, so the tips are thin while the shaft gradually increase in size. Experts often choose one that has the same girth all the way through.
As for the tapered styles, I am a big fan of this shape because you can customize exactly how it will feel for you by increasing or decreasing how far it penetrates inside your body. Keep it shallow and thin for your first time. Once the sphincter is accustomed to receiving insertion, insert it deeper and feel the added girth in addition to the deeper plunge.
Better Than Your Other Anal Toys
This is a more complete sexual experience with more versatility than any other type of anal sex toy. The main reason why butt probes are some of my favorite styles. Furthermore, the new and trending designs are really cool, really interesting and sometimes totally wacky and off the wall, but after working in the adult toy industry for over a decade, I love to see new designs.
For simplicity, we have categorized butt plugs and anal dildos into the same category. Why? There is actually some crossover between the 2 categories. In recent years, we're seeing more butt plugs with longer shaft that replicate a regular anal probe.
The one feature I like about this crossover is that a device with a narrow neck has less of a chance of falling out of the anus. Unlike the dildo that always pops out because the shaft has the same girth all then way through, a flared probe will stay put.
Anal probes can be thrust in and out just like anal sex, or they can be left in place, twisted around in a circular gyrating motion and jiggled around. There are many ways to play with it making these one of the more original anal sex toy types for those looking for extra fun, extra kink and more sexual creativity in the bedroom.
7. Vibrating Anal Sex Toys
Vibrating anal toys do not get enough recognition! I'm a true cheerleader for the anal vibrator and wish they were more popular. Just like the butt plug, these come in a vast array of shapes, sizes & colors but only with vibrating motors planted inside the material.
The vibrating anal toy amplifies pleasure by spreading vibration throughout your entire body. Sure that sounds like a wild claim to fame, but consider this: The vibrator is under consistent pressure and it's squeezed by the walls of your rectum. The vibrations spread around the surface of the device and transfer directly from the anus into your body.
What does a vibrating butt plug feel like? It feels more intense than a vaginal vibrator because of how hard the body squeezes around the ass toy compared to how hard the vagina squeezes around a vibrator. Why? Because the rectum is a much tighter space. The sensation is simply stellar, out of this world intense orgasmic power.
There 2 types of vibrating anal toys:
Butt vibrators with corded with a separate battery pack

Vibrating anal toys with wireless, self contained vibration
Types of Anal Vibrators
Wireless options are are better sellers because they are tidier. There are no battery packs and cords to get in your way. While true that cords can be cumbersome, you need to be aware that you'll be sacrificing power if you choice wireless over corded. These are the best anal toys for couples because it's more enjoyable when your partner is there during anal play.
The simple explanation is that wireless anal vibrator needs to be fully self contained. The battery compartments are small and carry typically cell batteries, or watch batteries. Sometimes you'll find 1 AAA battery in there. The power will be minimal simply because of the lack of battery space.
On the other hand, corded anal vibrators can be extra powerful because you have a separate control pack that can contain two or three AA batteries producing intense power. The difference between the two types is staggering. Despite that, shoppers choose wireless just to keep the distraction at a minimum during erotic play.
The vibrating butt plug is the most popular and quintessential type. If someone is shopping for an anal vibrator, the butt plug is the model they choose the majority of the time. In my opinion, it's chosen because of familiarity.
Long probes are another choice, but often the vibrating motor is placed lower in the shaft so they are not as strong as the butt plug shape. This is a generalization, not a rule so check the product description to find out exactly where the motor is located in each case. Prostate vibrators offer guys an extra edge of intensity and are quickly gaining ground in male sextoy collections everywhere.
8. Anal Douche
Anal douches are a very important accessory for personal hygiene. It's always recommended to clean before AND after anal sex, but I also extend that snippet of advice to before and after using anal toys.
Why? Unlike the vagina, the anus does not lubricate itself, so there is no way for it to flush remnants of lubricants and semen away. The vagina products its own lubrication to flush it out, but the anus cannot. It can harbor bacteria growth and that's just gross.
One of the concerns couples have about ass sex and butt plugs is that its "dirty". Using anal douche cleaners before back door insertion is the best way to keep it clean, safe and tidy. You don't need any special formula in the cleaner other, simply rinse your butt with warm water to flush out smelly residue. Repeat the process again after you're done to flush out anal lube.
Anal Cleaners for Proper Hygiene
Some may wonder why I put a hygienic cleaning tool in the anal toys guide to begin with? Thanks to innovative new products, many enema douches combine business AND pleasure meaning they clean AND feel good at the same time.
Fancy curved and ribbed nozzles feel awesome, some adults even incorporate the douche into their regular routine because the squirting water simulates ejaculation. Instead of buying a squirting dildo (which are all basically too big to insert into an anus) why not think outside of the box and buy an enema douche to use as an ejaculating anal toy?
While we're discussing cleaning anal toys, hop on over to my article about how to clean butt plugs that covers important steps on how to properly sanitize butt toys after use. Cleanliness matters greatly when handling fecal residue, even if you think it looks clean, microscopic bacteria thrives on silicone, jelly and rubber surfaces if not properly sanitized.
9. Small & Beginner Anal Toys
The majority of customers purchase beginner anal toys. Even though huge ones feel great, the reality is most people are not interested in anything too extreme. Luckily there is a vast array of first time anal toys that won't scare or hurt you.
The pegging toys section is home to the smallest anal toys for beginners. These are designed to be inserted into the heterosexual male's anus. This guy does not engage in real life anal sex. His sphincter is not trained at all. He needs something gentle, delicate and tiny. (Even if you're not going to use the pegger with your lover, you can still purchase from this category to use by yourself.)
Types of Anal Sex Toys for First Timers
Anal beads are also popular choices for beginners. Select the single strand style that are jelly or silicone. They are less intense and easier to use. Furthermore, the first bead is much smaller than the smallest bead on a traditional strand (nylon string / plastic bead). You can start simple with only sticking the first 3 beads in the butt. Add more as you start to feel more comfortable.
Lube is the secret to successful anal sex toy play. No matter how tiny it is, you need to remember that the anus does not lubricate itself so insertion always feels uncomfortable from friction if you attempt to insert it dry. Anal lube is the best choice because it's thicker and less runny than vaginal lube.
View all anal toy starter kits here, or filter any anal toy category to show only small sizes. Choose "shop by" on a mobile device. Click the small filter and everything suitable for a beginner will be displayed. As of this writing, we have 76 choices available for sale across all categories.
10. Large & Huge Anal Toys
Wondering if bigger is really better? Many people think so! Huge anal toys are reserved only for regular users and advanced experts that know how to do it safely. There are risks when using large anal toys, so I'll begin by noting important safety steps first:
First of all, you cannot just buy a big anal toy and use it right away without training your anus first. Anal stretching kits contain items that gradually relax the sphincter to stretch it open wider than natural. If you ram something massive in there too soon, it will tear the tissue and cause pain, discomfort and perhaps an embarrassing trip to the doctor. We certainly don't want that.
The Importance of Anal Lube
The other important step is to use plenty of anal lube. I'm talking giant dollop of lubes, not just on the surface of the novelty, but on/in your butt too. Use a lube applicator and stick lube a couple of inches inside the butt, wipe it around the sphincter and push even more inside with your finger. If you need a suggestion, check out my collection of the best anal lubricants.
Now that safety concerns have been addressed, it's time to talk about the best choices for those looking for huge anal toys. First and foremost, expanding & inflating plugs are the top of the list. Capping out at 2 inches wide or even more when fully inflated, nothing is bigger (and safer) than inflatable anal toys. The deflated dimensions are a reasonable 1.5 inches across, comparable to any other large plug.
Some huge butt plugs are extra heavy and bulky. The weight is an erotic feature that feels good. In addition to the stretching pressure, you'll feel the weight back there pulling you down. It enhances that tingle by creating a noticeable feeling during masturbation. Some butt plugs are subtle, but certainty not the giant butt plug. You WILL notice that bad boy back there!
11. Glass Anal Toys
Glass anal toys are non-porous and the cleanest of all types of anal sex toys. They are solid, same as Pyrex. It's important to note this fact as many adults think glass is dangerous because it can crack inside the body. That is completely untrue. They even resist cracking when dropped and won't splinter at all. Glass anal toys are safe to use. If they weren't, we wouldn't sell them.
The slickness and smoothness sis unparalleled. It has a chill to it upon penetration, but quickly warms up and retains body temperature. The completely solid form is unforgiving, offering pressure exactly where pressure should be applied.
The trend started with glass dildos for the vagina, then manufacturers noticed people were sticking them in their ass - and loving it! Smooth glass butt plug followed. Now we see a while range of probes, dildos and devices for backdoor stimulation.
The glass butt plug feels completely different than any other material. It cannot be compared to anything else. It's heavy, the weight feels substantial back there.
Types of Glass Butt Plugs
The pacifier shape is very common. It is a blunt plug like device with a flat, round base and circular ring at the bottom. It looks like a pacifier hence its namesake. These are great to keep in place, but since the rings are larger, they can be thrust in and out. Speaking of thrusting – moving around a glass anal toy is a real thrill. The solid feel is very noticeable back there, more than anything else.
Bulbous and ribbed plugs are also a trendy shape. The bumpy sensation is similar to that of beads, but the size variances are more stable. You'll notice some regular glass dildos in the category as well because I think some of these are excellent for ass play. The shafts are small making them suitably sized for back door insertions. Even beginners can find a reasonably sized plug to try for the first time.
Glass anal toys with a flared head are very popular because the "pop" sensation as it passes the threshold is highly kinky. Again this is a design that originated with vaginal use, but people love to stick things in all their holes, and it just happens to be a marriage made in heaven – glass dildos and the butt!
Glass items can be boiled and put in the dishwasher, although if used in the butt I don't suggest this be done. You should wash it in the bathroom sink with soap and water and not spread rectal germs around your house!
12. Inflatable Anal Toys
The inflatable anal toy takes back door pleasure to the extreme. Not necessarily extreme is size, but extreme in pleasure. Beginners will be happy to hear that we have several small inflatable anal probes that insert thinner than a finger and blow up like a compact circular balloon inside the rectum.
These are very popular because you can choose how deep it will go and how wide it will get. The pinpoint size increase while the device inflates is superior compared to any other sensation, there is really nothing quite like it!
On the other hand, we also have large traditional butt plug shapes that inflate into a wide balloon that fills the entire space inside the body. The last type to describe here is the inflatable dildo that blows up evenly, but you'll find that it focuses inflation outside of the butt for external pressure when used. These are normally reserved for vaginal use, but size queens and advanced users enjoy the full size inflatable dildo in the butt anyway.
Inflatable Butt Plugs & Dildos
Inflatable, expanding dildos often vibrate. The reverberation around the expanded balloon offers the user a higher pitch tingle that echoes back and forth inside the hollow balloon expanded in the body. Its a tricky one to put in words, but once you try it you'll understand the "echoing" description I've just mentioned.
Every inflatable anal toy has pictures of the item deflated and inflated with a hand holding it in the same spot for reference. This way you know exactly what it looks like and how big it gets. We also list the deflate diameter next to the inflated diameter for comparison. To see what they look like in action, check out my best expandable butt plugs guide to watch videos on how to use them properly and how big they actually get in real life.
All expanding anal toys have a quick release tab on the bulb or tubing that lets the air out in an instant so you'll never have to remove something that maxes out at 2 inches wide. It returns to its original girth for easy removal.
13. Anal Training Toys
One of the essential anal sex tips for beginners, anal training toys are what people use to make the sphincter accustomed to large penetrations by stretching it wider over time. Just because you're buying anal training toys does not mean you plan to upgrade to a jumbo plug later on, it means that you're enjoying the gradual stretch that slowly increases over time.
Most people stop at the biggest tool in the collection (which is normally a upper-intermediate size in comparison to everything else). Many of these kits that include 3 different sizes of plugs, dildos or probes. They are usually identical except the succession in size increase between the items.
An anal stretching kit is an essential purchase if you plan on buying a large butt plug someday down the road. For safety, you must start with trainers first.
Create Your Own Anal Training Set
Although you can select items yourself and make your own training kit, it's useful to buy one that is pre-made just to make it easy at the checkout page. Of course you can assemble your own collection of items by shopping by the size filters on our website.
Couples who want to have anal sex should use stretching toys first because anal penetration via male erection is quite large and can be uncomfortable painful, especially if you've never inserted anything in your butthole before.
Starting with small butt vibrators less than 1 inch wide then moving up to something medium size (approximately 1 ½ inch diameter) makes the final act more bearable and if done correctly, more enjoyable. Don't forget the thick anal lube too!
14. Anal Toys for Men
What exactly is the criteria for something to be classified as an anal toy for men? It depends who you ask! Some stores might take the easy route and say "everything is an anal toy for men", but if you dig a little deeper, you'll see some notable features that are better suited to guys.
Firstly, the curve. When guys wear a butt plug, it feels much better if he wears one with a curve. Why? It stimulates the prostate gland and enhances his pleasure. If you shop through the butt plugs category, you'll notice many curved shafts. Most items in the prostate toys category have steeply curved shapes.
Prostate Pleasure for Him
You'll notice the items in the male prostate toys category are mostly colored black too. Black is the preferred choice for guys because it's the cleanest color. You won't see skid marks or residue on a black plug. So really, all you need to do is check the other anal sex toys categories and find something dark colored and voila – it's an anal toy for men!
In my experience, guys like huge anal toys, women prefer them smaller. It's a natural progression to start with a training beginner's size and work your way up to something huge, thick and massive. Why? The stretching sensation feels great, it spreads a pulsing tingle throughout your entire groin from front to back. Bigger feels better, simple as that.
Inflatable toys are common for guys because this offers them the ability to go extreme without stretching the rectum too much and cause body damage or rectal tearing. The device inserts at a medium size, then blows up to expand inside and fill every crevasse within the rectum.
Pegging toys are also strictly for men, but the dildo itself can be used by women, but once a man sticks it into his ass, it is now classified as a "pegging toy". Especially when you hook it onto a strap on harness, you've now transformed an anal probe into a pegging probe.
15. Anal Toys for Women
What is an anal toy for women? It's a common adage that items made specifically for ladies were originally things for guys, the manufacturer completed the process called "shrink it and pink it". In this case, that is a true statement.
Women tend to use smaller anal toys than men do. It's likely a scenario of body size difference. Guys are beefier, bigger. Gals are daintier, smaller. Our rectums don't have as much space as men's do, so we need shorter butt toys.
Pretty Pink Plugs
To avoid the dirty taboo, most items targeted toward females are pink, pretty or have a glittered surface. In my opinion, a glittered surface is a good thing because the dappled coloring and hint of glimmer masks skid marks and possible residue left behind after removal.
You won't see "leftovers" as much as you would if you had a solid colored device. So even if you're not into girlie sparkles, you'll appreciate its chameleon like effect masking remnants from your butt.
Most anal toys for women are colored pink to keep it classy and feminine. Some adults still think anal play is naughty and avoid it all costs, so to make it feel "mentally comfortable", certain styles have super pretty designs and fun female friendly names. The packaging may have colorful swirled patterns and even flowers to make gals feel OK with sticking something inside their butthole. Whatever works, I say!