What are Anal Beads? Everything You've Wanted to Know!
Both men and women alike enjoy anal toys for the enhanced pleasure they'll feel during sex and/or masturbation. Everybody knows what a butt plug looks like, sure you've heard of prostate toys or glass anal dildos, but for some reason anal beads take a back shelf to back door sexual pleasure. What gives?
You probably know what anal beads are, but there is more to the story than just a simple set of butt balls connected together on a string that you stuff into your ass. There is a more purpose of anal beads, plus several different types of beaded anal stimulators that are used for different reasons.
In this essential beginner's guide, we'll learn what are anal beads, discover ways each unique anal toy design improves your orgasm and enhances sexual pleasure. No sex toy guide is complete without a few tips and advice on how they work and how to use them. You'll also learn what they feel like so you know what to expect for your first time.
Before I get all crazy on anal sex beads, if you're here looking for instructions or a tutorial, please check out my instructional guide on how to insert anal beads which includes video demos on how to use them and ideas to make your orgasm feel more powerful.
What are Anal Beads?
Anal beads are a sex toy with beads or spheres attached together that are inserted through the anus into the rectum for sexual pleasure. The strand or string of anal beads is removed by pulling on the retrieval loop at the onset of orgasm to enhance sensations. The pleasure occurs as each ball "pops" out of the anus while in full climax.
What are Anal Beads For?
Anal beads are for improving sexual pleasure by intensifying orgasms. If you think about the reaction inside your body during a climax, the pleasurable effect comes from the clenching and spasming of muscles.
Not only the muscles inside the vagina or penis pulse, but the muscles inside the entire groin including the rectum pulse too. The anus feels tingly with heightened sensitivity.
How Anal Beads Work to Improve Orgasmic Pleasure
To understand how anal beads work and what they do, you'll need to know what they look like first. Picture it in your mind (or watch my video demo below to see how they work).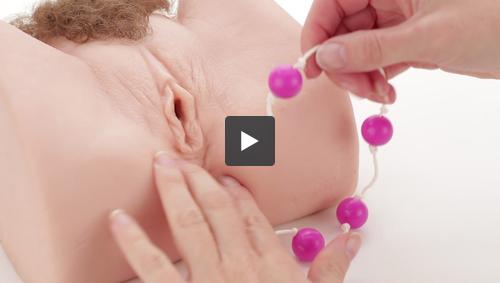 Imagine the stimulation as they are pulled out of the tight anal sphincter opening. Also envision how they are stuffed into the rectal cavity, the irregular bumpy spheres filling the space inside. It is very different then a butt plug, its purpose becomes evident.
When you have a sex toy with irregular shapes being pulled out from the anus, (I'm looking at you, bumpy anal beads) the contrast in size between large sphere and small connector strand "pops" in tune with the rhythm of the climatic pulsation. This popping sensation vastly improves both the duration and overall strength of the orgasm.
The effect is the same in both men and women. Guys even have a bit of additional benefit because the butt balls can massage the prostate gland both on their way in, and on their way out at the time of removal.
3 Types of Anal Beads
Anal beads can be classified into the following types. Each feels different from the rest, so if you're a first timer, it's worth scanning through this information so you know you're buying the best anal beads that you'll like most. They are not all created equal!
1. Long / Graduated Anal Beads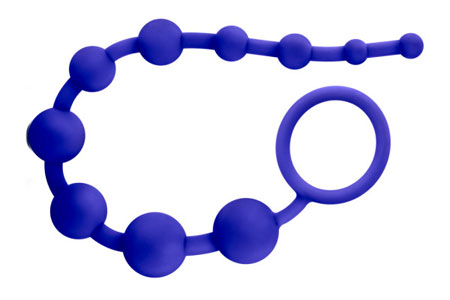 This is the quintessential butt sex toy invented so long ago that your grandparents probably had them stashed away somewhere in their boudoir. Long anal beads go deep, but without too much anal stretching at the entry.
"Graduated" means the first bead is tiny making initial anus insertion super easy. The subsequent bead is a tad larger continuing the size gradual increase until the retrieval loop. As a result, these are best for beginners.
That's the best feature of this style of extra long connected strand. You can feel the highly erotic pleasure of poking deep into the reaches of your rectum but limit the amount of rectal stretch. This makes it an obvious choice for "the average guy or gal".
2. String Anal Beads
A more hardcore version compared to the style noted above, anal beads on a string consist of plastic balls separated by knots on a nylon string. Modern reiterations consist of silicone balls on a silicone string, similar to the long strand as noted above, but the size of the balls are the consistent along the entire length of the string.
The bumping effect is much more pronounced, and these tend to be larger in diameter making them a popular choice for anal toy enthusiast and experts. If you are preparing for anal sex, these are a good choice because the blunt wide ball inserts similarly to your partner's penis. The instant round end pushes it's way in suddenly, so plenty of anal lube is a must for both your comfort and safety.
3. Vibrating Anal Beads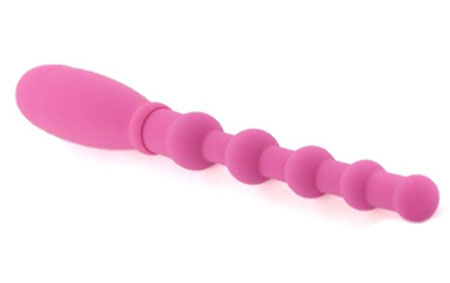 Now if you want to enhance your orgasm in a ferocious way, vibrating anal beads are THE go-to anal toy for your collection. There are a couple of variations including toys that have vibrators at the end for deep rectal internal vibration while others have a vibrator at the external end for tingling anal sphincter vibration.
Which feels best? I think they both merit a turn to experiment with and find which you prefer. The sensations are not the same at all, and anal toy reviewers and bloggers worldwide will share favorable opinions of both designs.
What Are Anal Beads Made Of?
Just as the sensations for the user vary according to the particular style purchased from an online sex shop, the material they're made of also has a significant impact on sexual enjoyment and pleasure.
Silicone
Silicone anal sex toys are highly desired for their hygienic properties. They are non-porous and hypoallergenic. They can be dense and firm, or floppy and soft.
There is no standard in the adult toy world on the texture and touch of silicone dildos and vibrators. Silicone is most often found on the single piece strands of anal beads or those that have an appearance of a "bumpy dildo".
TPR / TPE / Rubber
My personal favorite anal bead material is TPR and TPE, both thermoplastic compounds that feel like a cross between jelly and rubber. They are non-toxic and safe (all the ones we sell here are The Adult Toy Shop are body safe anyway).
The greatest feature is the slick and slippery glide you'll experience. This makes pulling of anal beads at the time of climax even more thrilling. You'll be able to both insert and remove then quickly, much faster than any other material so the burst of erotic pleasure is far more intense.
Glass
Hard, cold, unforgiving, glass anal beads are for the true enthusiasts among us. Most glass toys are small, the dimensions minimal compared to pretty much anything else you could stick in your butt. The weighted sensation adds significant erotic appeal when worn.
You'll be able to enjoy anal stretching with the added beaded effect since the connector strand is thicker and larger than string beads, for example. It's a supremely powerful pleasure enhancer. Some glass butt beads are curved for male prostate stimulation.
Plastic
Anal beads are made of plastic to deliver a solid ball bumping stimulation inside the anus. To contrast this, a thin nylon string separates the balls to provide intense stimulation to the anus entry as it pops open and closed while you pull them at climax.
Inserting large anal beads can be tricky for a true beginner, but luckily we have some small anal beads for sale better suited to newbies. The only disadvantage of this anal stimulator is that the nylon strand can be difficult to properly sanitize, so consider them disposable after a few uses.
Anal Beads vs. Butt Plug
Which anal toy best? Who wins the elemental battle of anal beads vs. butt plug? Here are a few considerations when shopping online for these types of anal toys:
Butt Plug
The butt plug is short and stout. What do anal plugs do? They provide a constant rectal stretch while applying pressure directly inside the sphincter.
This is the location of highly concentrated nerve endings so the end result is a substantial boost to sexual pleasure. A butt plug also makes the vagina tighter for more enjoyable penetrative sex.
Key Features:
Short and stout

Makes the vagina tighter

Can be used for prostate stimulation

Meant to be left in place, not to be moved during sex
Anal Beads
As we've learned already, the purpose of anal beads is to be pulled out or removed quickly when orgasm starts. The long and narrow shape slides out of the butthole quickly.
The movement is the key to enchaining pleasure unlike the butt plug that is simply left in place for the duration of sex or masturbation.
Key Features:
Long and narrow

Meant to be pulled out at the beginning of orgasm

Thin girth limits pressure inside the rectum

Interactive use is good for anal foreplay
Do Anal Beads Hurt?
They are not supposed to hurt. If anal beads hurt, you've either picked the wrong size for your experience level or are not using enough anal lube. Here are a few tips on how to make sure anal beads do not hurt:
Buy graduated anal beads.
The first bead is really small, and they increase in size along the length strand. This is much easier to insert as they slowly increase in diameter.
Use thick anal lube.
Thick gel water based anal lube is a good choice. It is easy to apply without getting your butt cheeks sloppy and wet.
What are anal beads for if not to increase pleasure? Taking steps to assure comfort is essential in getting he most enjoyment from playing with these exciting and highly stimulating anal toy for women and men.
Click to buy anal beads online.