How to Prepare for Anal Sex | From Start to Finish
Last Updated on February 25, 2021
Exploring sexual pleasure through the backdoor is much more common than you may think. Couples everywhere are trying it. It's not just for gay men anymore, heterosexual couples and women benefit from increased orgasm strength once anal becomes involved into their world of personal erotic pleasures. Learn tips and advice on how to prep for anal sex right from the experts!
There's still plenty of myth and taboo circulating in society, so it's important to read my guide on how to prepare for anal sex to make sure it doesn't hurt. I have ways to make it feel more comfortable and how to get ready through some clever training techniques so that when the moment finally comes, it feels enjoyable, safe and clean.
There are several tips on how to prepare for anal sex, but it's equally as important to know how to do it safely and how to clean before and after to keep everything sanitary & hygienic. I've even created video demos using butt toys to show step by step instructions on how to have anal sex.
Most Important Tip to Prepare for Anal Sex: LUBE IT UP!

Before you even think of penetrating the rear barrier, you MUST use anal sex lube. It's the single most important tip for men and women, gay or straight. Not only does it make entry smooth, but it prevents tears and fissures from the force and friction. Lubricant is for safety too, not just pleasure. Thelube shooter is an ingenious applicator tube to help you get lube way up into the depths too.
Think of the sphincter as a "one way" passage. When we force something through the wrong way for the first time, it hurts! It's important to relax the sphincter by both lubricating it and training it to accept entry via the opposite direction.
Once it's naturally more relaxed, this opens the door (pun intended!) to extreme sexual pleasures. Before we attain this goal however, there are certain ways on how to prepare for anal play so the sphincter is more relaxed as things enter through its exit!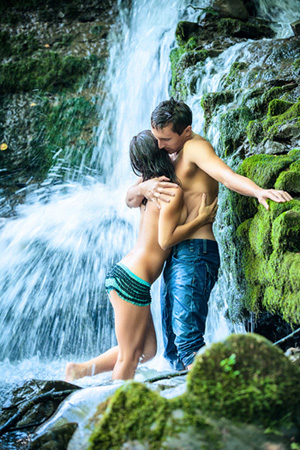 There are a few different kinds of lubricant for those thinking about having first time anal sex. For some recommendations on lube choices you should try, be sure to check out my post on best lube for anal sex.
Water based is our preferred because it does not interact with condoms and butt plugs. All water based lubes are thicker than regular vaginal lubes so they are not as runny and tend to stick better inside the butt cheeks without feeling sticky.
Silicone based is a good choice because it never absorbs into the skin, but you'll need to use an anus douche after to clean it all out since the rectum does not naturally produce & flush itself with natural lubrication like the vagina does.
Apply lube both inside & outside of the sphincter with your finger before sticking anything into your butt. Go ahead and apply lots of lube, when it comes to squeezing things through your tiny opening, there's no such thing as too much!
Anal Training Prep Work
Before you learn how to have anal sex with your partner's 1 1/2 inch diameter penis, let's start with something MUCH smaller. This is called anal training. The best and most comfortable way is to use beginner anal toys to get used to the feel of something small in the anus.
If you've never inserted something into your rectum before, purchase a thin dildo, probe or vibrator and circle the anal entry (also called rimming). Push it in 1 inch to enjoy the sensation before taking the full plunge (pun intended!). This is also the most important first step before first time anal pegging. If you're curious of is pegging gay, check out this article with plenty of persuasive power to get couples to take the leap!
Rimming is the most important act to prepare for anal sex. This softens the sphincter opening, relaxes your muscles, and not to mention, the tingling vibration is highly erotic and brings intense anal pleasure. In fact, the anal pleasure is so strong, you'll crave penetration. Trust me, it happens every time! ~ Mayla Green
Mayla's 3 Best Beginner Toys to Prep for Anal Sex: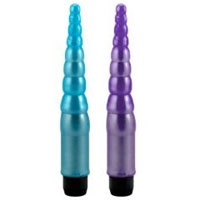 Mini Beginner Anal Toy
Mini Beginner Anal Toy places emphasis on MINI. Women who ask advice on how to prepare for anal sex will end up with this in their chopping cart.
It's the thinnest vibrating anal toy ever made, perfect for training & first time rectal penetration. Take it one bulb at a time, you'll love the buzzing from behind too.
If you've never stuck anything in your butt before, start with that one first. Once you've teased the derriere, then upgrade to a toy that's bigger to better train the sphincter for a full size man's erect penis.
Length: 5 3/8 inches

Diameter: 1/4 inch across the tip, 7/8 inches at its widest point

Batteries: 1 AAA, not included

Motor: Multi-speed
Anal Starter
Anal Starter is my top pick for both men & women preparing for anal sex. It looks like a tiny penis with extra soft jelly shaft for total comfort.
It will give you an indication of the texture and what it will feel like once the big act occurs. Not too tiny, it's the ideal 2nd step training toy to have in your repertoire. This one does not vibrate, but you'll enjoy the slick slippery feel. I'd describe it as a mix of naughty and tasteful.
Length: 6 inches

Diameter: 1 1/4 inches

Material: Sil-a-Gel (Soft silicone)

Color Options: Clear, Pink, Purple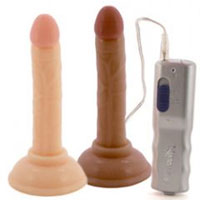 4 Inch Whopper
4 Inch Whopper is stunningly strong, an intense experience that has stronger vibrations than anything else a beginner could stick in their butt. You will certainly enjoy anal sex with this little guy. It is one of the most popular pegging toys too.
At a mere 4 inches insertable, it is about half the size of a normal man's erection size making it a fabulous precursor to backdoor penile penetration. It even has the same shape making it a literal training tool. This is actually my top suggestion, but if you've never inserted anything back there before. The 1 inch girth may be a stretch – pun intended!
Total Length: 5 3/4 inches

Insertable Length: 4 3/4 inches

Diameter: 1 inch

Batteries: 3 AA, not included

Material: Soft rubber
How to Make Anal Not Hurt
That is the million dollar question! I'm often asked this my men who want to try gay anal sex for the first time, or those who did and discovered how painful it can be if your body is not properly prepared. My answer is to first try some toys ranging from tiny beginner sizes to medium girths then finally one that's slightly narrower than your partner's erection at full size.
Inflatable anal plugs are an excellent way to get used to the feeling of a full rectum. Check out my informational guide about using an inflatable anal plug to learn all the details and to discover the best beginner inflatable butt plugs to buy.
My next answer when asked how to make anal not hurt is to try a small dab of desensitizer. I mean SMALL dab. Even though you may be tempted to try a big dollop of desensitizing gel or cream and completely numb everything back there, that's a very dangerous solution because if you don't feel anything, you'll surely tear or rip the sensitive tissue upon penetration.
How to make anal sex less painful:
Weeks before:

Use a butt training toy to relax the sphincter before inserting his penis. (Start your training a few weeks before, 2-3 times per week to really make back door penetration feel more welcoming. It takes time to train the sphincter to relax!)

Using the lube applicator or your finger, spread lubricant around the opening and inside the rectum. Apply lube within the first 2 inches inside the body to make sure it's evenly spread.

Grab your favorite butt plug and warm yourself up with it for 10 minutes before intercourse. (Typically I'll suggest that couples enjoy oral or foreplay during this time).

Apply a small drop of anal desensitizer cream directly to the sphincter and press it in a few millimeters with your finger. Wait 5 minutes for the numbing to take effect.

Lubricate the tip of his erection and the fist few inches down the shaft.

Spread the ass cheeks upon penetration so you don't wipe off all the lube on the cheeks as you assume the position!

Move in and out VERY slowly, like moving 1 inch in, 1 inch out. Increase the movements as the rectum relaxes and the lubricant gets evenly distributed inside the partner's body and over this penis.
How to Prepare for Anal Sex – Tips for Men
This advice is suitable for both hetero pegging sex and gay anal sex. Men have the benefit of the male G Spot, AKA the prostate gland that helps him enjoy rectal stimulation. Once the prostate is stimulated, his body naturally calms down and enjoys the feel back there. I suggest that guys buy a prostate toy to get ready, the side bonus is that this will help him have amazingly strong and unrelenting ejaculations.
If you do not own prostate toys, that's okay, you can still prep by yourself, or ask your partner to lend a hand, or a finger I suppose I should say! Insert the finger about 2 inches inside the body and move it in a "come here" motion towards the belly button. This engages the prostate and produces powerful sexual stimulation.
Some cock rings have butt plus attached, so guys who masturbate enjoy wearing these. It's the perfect way to get the body ready for kinky play while enjoy private personal pleasure time. Of course you can ask your partner to be involved via oral sex and turn the event into a fun foreplay session for 2.
How to Prepare for Anal Sex – Tips for Women
Women on the other hand, do not have a prostate in the butthole so ladies need a separate way to get ready. For the gals, I suggest to combine a plethora of sexual arousal techniques to get the body in the mood for sex. Training anal plugs are a good way to relax the sphincter over time.
Have an orgasm before backdoor sex. Ideally, enjoy your vibrator! Give yourself a G Spot vibrator orgasm to get your body revved up. Alternatively, give yourself a bullet vibrator orgasm.
If you have an orgasm with a bullet vibrator first and/or use a vibrator to warm up, the sensation of arousal spreads throughout the entire groin. This, of course, includes the ass. If the vagina is super wet on its own from erotic stimulation, you know someone will answer the backdoor if you knock!
Women need more delicate touch, so rub the sphincter gently in a circular motion while stimulating the clitoris and whole plethora of sexual enjoyment increases in simultaneous fashion. No partner needed, this can be done alone while masturbating. In fact, I suggest it for first timers because it gives YOU the opportunity to explore your own body in complete privacy and discretion.
Get Ready for Couples Anal Play
The best way for couples to enjoy anal sex play is to prepare together! If you really want to transform your bedroom into a sophisticated erotic paradise, try pegging first. This is the act of a woman having back door insertion with a man by wearing a strap on dildo on a harness.
It's a new, innovative concept that is really taking off in American society (I now this as FACT, I hear it all the time), so if you want to explore something totally new, try learn what is pegging sex first and try it before before backdoor intercourse. This will also turn your average sexual encounter into a complete epic marathon that would make the most seasoned adult film stars envious.
Another way that couples introduce butt sex into their world is to start by wearing anal beads during intercourse. They are much smaller than any other toy and a fraction of the girth of the man's erection, so those newbies looking for an easy start will always try beads before anything else. How do anal beads work? I published this step by step guide answering all the questions first timers ask!
Insert the beads one at a time (once lubricated, of course) until only the retrieval loop sticks out of your ass. Enjoy lovemaking as normal, but once you feel you're on the precipice of an orgasm, pull out the beads avoid being overzealous, pull them out at a slower pace in rhythm with your orgasmic spasms. I demonstrate a good speed to yank them out in the video demo above.
Each "bump" of the bead as it pops out increases the muscle clenching sensation from the orgasm. It has the same effect for both men and women which is the reason why I advise couples I counsel to both wear butt beads at the same time.
How to Have Safe Anal Sex
Sure you know how to get ready for insertion to make it feel good without pain. Now you'll feel like a super naughty nympho living out a secret erotic fantasy, but it's extremely important to take a few safety precautions into consideration each and every time you do the dirty deed:
Use a Condom

The incidence of transmitting or receiving a STD during anal sex is high because unlike the vagina, the rectum does not lubricate itself and the tissue lining is thinner. The result is the higher likelihood of tearing from the thrusting motion.

And of course, HIV and bacterial sexually transmitted diseases are spread via back door penetration, as are blood-borne viruses such as hepatitis B and C. Even the tiniest microscopic tear is enough for bodily fluids to transfer and for one person to pass an infection along to another person. Always wear a condom. Always.

Once in the butt, stick with the butt.

Never transfer the penis (or sextoy for that matter) from the anus to vagina. The rectum is full of bacteria, even if you use a douche or enema before it's still never completely sanitized. The vagina is very sensitive to foreign germs and when something moves from the back to the front, it can cause serious havoc for her.

If you want to transfer from side to side, then wear a condom in the back door booty, remove the condom, then put on a new condom for vaginal intercourse. Never transfer adult toys either, keep the plug "back there", the vibrating dildo "up here".
How to Clean for Anal Sex
There's no denying it, ass play can be messy. I have a few tips ready for those asking how to clean for anal sex. The anal douche & water enema is commonly known for cleaning after intercourse or using butthole toys, but in my opinion, it's best used to prepare for rear penetration by flushing out any left over residue after your "daily number 2".
In the shower, wash between your butt cheeks with soapy water & rim your butthole with a soapy finger. (Bonus hint: use scented body wash to leave a pleasant lingering smell!)

After the shower, fill your douche or enema with warm water.

Lubricate the tip of the applicator and insert into the anus.

Squeeze and flush the rectum with water.

Sit on the toilet and empty yourself.

The enema / douche can be repeated once again.
Foods high in fiber:
Bananas

Oranges

Apples

Carrots

Beets

Broccoli

Spinach

Potatoes & Sweet Potatoes

Beans, Legumes & Lentils

Whole Grain / Whole Wheat Bread

Brown Rice

Wild Rice
Properly preparing for rear exploration involves more than just prepping on the day of your encounter. 1-2 days before, increase your fiber intake. Fiber helps your body forms easy to eliminate, solid feces without leaving sticky traces in your rectum. Increase your water intake a few days prior too; drinking water helps to keep the matter nicely formed. ~ Mayla Green
How to Enjoy Anal Sex
The number 1 tip to enjoy anal sex is to RELAX! You've probably heard that one before, but what does "relax" actually mean? Upon initial penetration, we feel get nervous and subconsciously tense up. You'll tighten your glutes (the muscles in your butt cheeks) and in response, the sphincter tightens up too.
This makes penetration uncomfortable. It can even hurt. To make it painless and enjoy anal penetration, your muscles should be relaxed. You'll need to override your subconscious and focus on actually letting the muscles remain loose and "let in your visitor", so to speak!
Using anal relaxer and lots of lubricant is also another tip for those asking how to to enjoy butthole stimulation. I mentioned this above, but I'll touch on it briefly again:
Only use a tiny drop of desensitizer because if you use too much, the sphincter will be completely numb and you'll have a higher chance of tearing upon penetration. Apply desensitizer first, then after 5 minutes (the numbing cream needs time to soak into the skin and take effect) apply lube using the applicator, and/or your finger.
Cleaning The After Effects
Many newbies are understandably squeamish about the smelly residue after anus play. It happens, but if you've prepped yourself for anal intercourse beforehand by douching or using an enema, then the scent after is substantially subdued. It's clean from the beginning.
The most important tip is to sanitize your anal sex toys. The partner's penis will be washed in the shower afterwards, but don't ignore your butt plugs, they need special cleaning too. Use antibacterial hand soap and water, and be sure to rinse wash & soap between the ridges and bumps of anal beads. I wash my plugs & beads twice. There's no such thing as too much cleaning!
The enema & douche are used to expel the remaining lubricant from your rectum. In comparison, a woman's vagina flushed out lube on it's own via natural lubrication, but the rectum does not lubricate itself.
You'll need to flush out lube and semen with a douche. If you don't the dark cavern can harbor bacteria growth, so proper sanitary practices after clean anal sex are very important.
How To Prep for Anal Sex – Complete!
Anal play is one of those highly erotic sex acts that couples enjoy when they've "been there, done that" in the bedroom. Learning how to have anal intercourse truly is an intimate act of sharing and even though still grossly taboo, more and more lovers are diving into the back door. Learn more in my guide about anal sex for beginners.
Gay curious men try it secretly behind closed doors. I hear about it all the time. Thanks to online sex shops like us, a man or woman can purchase all the proper essentials and know how to get ready for anal sex, make it clean, make it not hurt, and be as comfortable as possible while truly enjoying this exciting realm of human sexuality.
Click to buy anal toys online.