Lube Shooters, Injectors, & Anal Lube Applicators
Last Updated on October 24, 2023
We all know how important it is use to use lube for better sexual pleasure, but the reality is that it can be messy, sticky, tacky or even leave stains on our bed sheets. The anal shooter is a must-have accessory in your sex toy box.
Today I'll introduce you to an ingenious little device known as a lube shooter that injects or launches lube deep into the body to keep the liquid where it should be! This syringe applicator is a game changer to improve your sex life, and totally essential for anal play.
Table of Contents
We'll learn about the different types of lube syringes and I'll provide a full step by step tutorial and a video demo with instructions on how to use a lube applicator for anal play, penetrative vaginal sex and with male sex toys. Finally, you'll see some of the best lube shooters & launchers for sale right now online here at The Adult Toy Shop.
What is a Lube Shooter?
A lube shooter is a small plastic syringe tubes designed for even and thorough distribution of lubricant inside the anus, vagina or inside a male masturbator sex toy. The user inserts the applicator tube as deep or as shallow as they want, then press the plunger to inject their desired amount of lubrication as they draw the launcher outwards.
This useful tool for injecting lube for comfortable & body safe deep penetration has several synonyms, most notably:
Lube Shooter
Lube Injector
Lube Launcher
Lube Applicator
Lube Syringe
Purpose of an Anal Lube Applicator
When you stuff something into the one-way sphincter, you'll have sort of a squeegee effect. Inserting the butt plug can wipe off the anal lubricant can pretty much render your application useless. You'll end up with wet butt cheeks and a dry rectum. That's not good. That's where lube applicators come into play, the anal lube applicator quite literally prevents a mess.
Lube needs to be injected inside the rectum and spread evenly throughout the deep and narrow canal in order for you to enjoy sex toy insertion and penetrative sex. How's the best time to have the aptly named lube launcher nearby to make application super easy without any mess or fuss.
So how do you use this applicator device to make rectal exploration more enjoyable? What is a lube shooter anal anyway? How to I unlock orgasmic potential of penetrative anal sex to make it slick and slippery?
Improving Anal Lube Insertion
Lube shooters are absolutely essential to enhance your anal sexual pleasure. Any thick water based or silicone based gel formula is extremely important to reduce friction between the delicate tissue back there and whatever implement you're trying to insert for sexual pleasure.
Your partner's penis, a butt plug, any sex toy really, it doesn't matter: the anus cannot lubricate itself like a vagina can. You'll need to lend a helping hand via anal lube insertion with a lube injector loaded with a good dollop of viscous gel before you get started with butt stuff.
Anal lube is thicker than other regular personal lubricants and sex toy lube. Of course you can always apply your favorite brand of sexual lube in the back door entry, but it gets quite tight back there. Think about it all from an anatomical point of view and you'll quickly realize the anus is essentially a one-way sphincter.
Application doesn't necessarily have to go deep however, the whole point of the device it to inject the thick fluid just inside the sphincter to reduce friction at the entry. Furthermore, you can use it in the vagina too. This is especially useful for menopausal women who experience dryness during intercourse.
Using a Lube Injector for Vaginal Sex
Women who have vaginal dryness due to menopause benefit from using a lube injector before penetrative vaginal sex. The syringe can be inserted as deep into the vagina as desired to thoroughly lubricate the tissue within so that during sexual intercourse, there is minimal friction between the partner's penis and the vagina.
We suggest purchasing a large lube syringe because there is more interior volume inside the vagina compared to the anus, so you can wet it well before penetrative sex and use as much lube as you want. Do you want to enjoy self love with a dildo or vibrator? Use the syringe to inject lube into the vagina for better sexual pleasure before using sex toys too.
Pro Tip: Applying water based gel lube with a launcher before inserting a big or thick vibrator will make it more comfortable and limit the risk of tearing sensitive vaginal tissue when stuffing in a huge sex toy. It's a safer way to enjoy massive vibrators while fulfilling your erotic fantasy.
Using a Lube Injector with a Pocket Pussy
The most popular and realistic of all sex toys for men, the fake pocket pussy vagina is a male masturbator designed to imitate real life sex. The only problem is that unlike a real person, these masturbators are not pre-lubricated. Using a lube syringe to inject lube inside the pleasure tunnel will add more realism and comfort to your masturbation.
It's essential to lubricate a pocket pussy (or any masturbation sleeve for that matter) before inserting your erection because the dry material will encounter friction with your skin. The material can over stress and if it's pulled to hard, it can crack or tear.
Instructions are simple: Load the lube launcher, insert deep into the pussy and/or anal entry holes, press the syringe and slowly draw it outwards to distribute the liquid evenly throughout the interior.
Anal Lube Shooter Benefits
Even though using a lube shooter is good for male sex toys and vaginal sex, the most common use of a lube applicator to lubricate deep inside the rectum before using anal toys or before anal sex.
Is a lube shooter just a frivolous, unnecessary add-on? Personally, I don't think so. I use an injector at home with my butt toys. It just makes everything a bit easier.
If you try to inject anal lube by pushing it in with your finger, a minimal volume of liquid actually makes it through the entry hole. The rest kinda oozes out, hence my term "the squeegee effect". Here's a few more reasons why it's a good idea to have an anal lube applicator at hand before engaging on back door foreplay or anal sex:
Prevents the squeegee effect that occurs from external anal lube application.
The only way to thoroughly lubricate deep inside the rectum.
Heavily lubricating the anus makes penetration more comfortable.
Makes butt plug training more pleasurable.
Reduces friction during initial insertion which prevents the tissue from tearing.
Reduces lubricant waste – pinpoint application uses less volume of liquid to get the job done.
Can be used to load lube into a pocket pussy or male masturbator (since the entry hole is normally tight and small).
 
Best Lube Shooters & Launchers
If you're looking to buy a lube injector anal online, these are my favorites. Well, honestly, they are the only four we have for sale! The syringe design is simply so effective that it's all that's needed to make it perfectly wet.
Even though most sex toy manufacturers make their own, they're really all the same design, so no need to confuse the customer with too many options. I've hand picked the best lube applicators just so you know the one you're buying is one you'll enjoy using: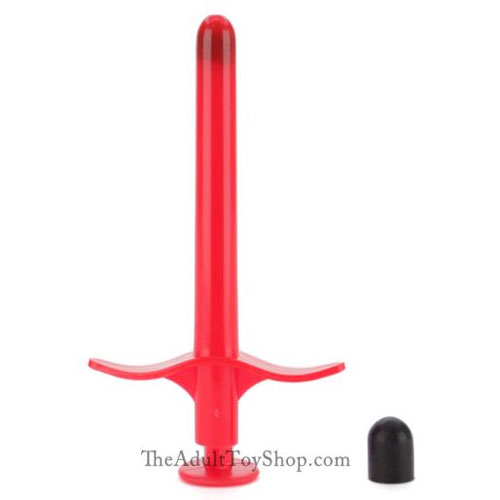 Syringe Lube Shooter is a classic lube launcher that comes in a three pack and includes one black rubber cap. For the price of one, you get 3 syringes so the value here is far superior compared to the other choices available online. The black cap assures there are no leaks when stored horizontally.
Key Features:
Includes three lube shooter syringes
Includes one black cap to prevent leaks during storage
Thin and small, ideal for light lube application
Available in blue, gray and red color options
Specifications:
| | |
| --- | --- |
| Total Length | 5 inches |
| Insertable Length | 3 1/2 inches |
| Diameter | 1/2 inch |
| Material | Plastic, rubber cap |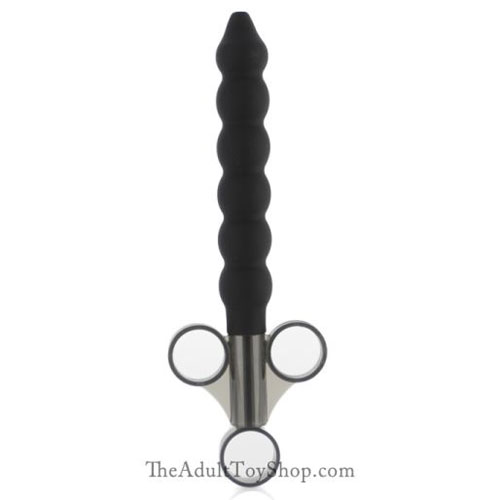 Beaded Lube Launcher is the largest lube launcher of them all with a volume of about 2 tablespoons, which is approximately double the volume contained by comparable launchers. The most notable feature is the ribbed silicone sheath permanently in place over the tube. This adds some sexual pleasure to your business and is commonly used before anal play due to its stimulating texture.
Key Features:
Stimulating ribbed texture for sexual pleasure
Holds the largest volume compared to all the others
Solid silicone sheath covers the plastic tube underneath
Best lube injector to use during anal play
Specifications:
| | |
| --- | --- |
| Total Length | 7 1/2 inches |
| Insertable Length | 5 inches |
| Diameter | 7/8 inch across the largest ribbed sections |
| Material | Plastic & silicone |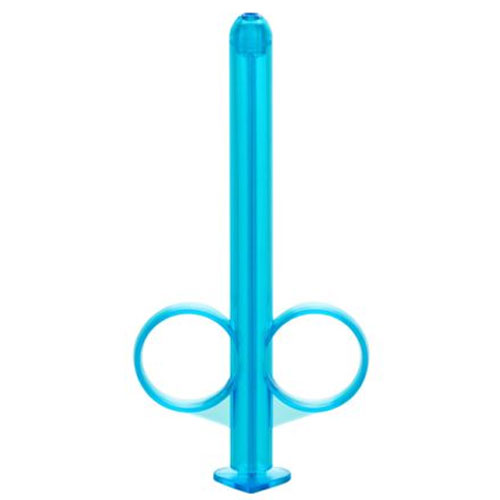 Anal Lube Injector Tube are a mere 1/2 inch wide, thinner than your favorite beginner anal toy. No worries about size here, it's all business! The 3 1/2 inch long anal lube tube assures you can thoroughly lubricate deep into the anus. It's a secret anal sex technique of the pros! Includes 2 lube tubes available in one of several color choices.
Key Features:
Includes 2 anal injector tubes
Thin size is best for beginners
Made of lightweight yet durable plastic
Available in 4 color options: Clear, Blue, Pink, Orange
Specifications:
| | |
| --- | --- |
| Total Length | 5 inches |
| Insertable Length | 3 1/2 inches |
| Diameter | 1/2 inch |
| Material | Plastic |
Anal Lube Injector Tube is the largest launcher available on the market today. "XL" means it has a higher volume capacity compared to a regular anal lube injector. You can use it vaginally or anally, even use it to load lubricant into your pocket pussy hole. Includes 2 silicone penis rings that can be used on an erect penis, or on a vibrator for a nice added squishy feel during intercourse and sex play.
Key Features:
Includes 2 silicone penis rings for added pleasure
Best lube applicator for vagina sex due to the extra volume
Includes a spill proof cap
Holds more volume compared to others
Specifications:
| | |
| --- | --- |
| Total Length | 5 3/4 inches |
| Insertable Length | 4 inches |
| Diameter | 1/4 inch |
| Material | Plastic, rubber cap, silicone cock rings |
Relax Desensitizing Lube With Injector Tip is the first numbing lubricant with a built in applicator tip! Ever wonder why butt lube bottles have a traditional cap or pop top lid when you're supposed to shoot lube into such a tiny, confined space?
This is the easiest to use and most ingenious bottle of anal lube we've seen. Pinpoint application with a nozzle tipped end. Topical Lidocaine anesthetic additive numbs the area to make penetration more comfortable. Use sparingly however, it is recommended to double up with regular anal gel lube and use it conjunction with this.
Key Features:
Injector tip is integrated with the bottle cap
Mildly desensitizes for more comfortable anal play
Available 1.1 ounces, 2.2 ounces, 4.4 ounces, 8.5 ounces
Thick water based lube is condom & sex toy safe
How to Use a Lube Applicator
Here are a few Sexpert tips and techniques to make using your lube launcher easy and effective. If you wonder how to prepare for anal sex, this is one of the best ways to get ready for first time anal.
If you have a partner, it's much easier to ask them to use it for you instead of trying to do it yourself. Although if you're on your lonesome, that's okay too, it will still work!
Remove the cap on the lube applicator (if there is one).
Unscrew the cap of your anal lube bottle.
Insert the tip of the tube into the bottle.
Pull the syringe base up to draw liquid into the tube.
Spread your cheeks with your fingers to expose the anus.
Inset the tip gradually into the anus using a slow in & out motion.
Gently depress the plunger as you ease it further into the rectum.
Once inserted to your desired depth, squeeze the trigger to empty the syringe.
After you're done your naughty business, make sure to clean both the interior & exterior of the tube with antibacterial soap & water.
Let it completely air dry before putting the cap back of (if there is one).