How to Apply Lube | How to Use Lube | Tips & Techniques
Last Updated on April 5, 2021
Ever wonder how to use lube? Anyone who is reasonably sexually experienced knows they can buy lube at any sex shop, drug store, or grocery store. You may have even tried lube substitutes like hair conditioner or coconut oil. But, did you know that using the wrong lubricant can cause big problems?
It's true! The wrong lube can mess up a condom, damage your sex toys, or just make sex not all that great. If you ever had to stop during sex to apply more lubricant, you know exactly what that feels like. Read on to discover how to use lubricant for the first time with video demonstrations on how to apply lube to make sex feel amazing.
Now the good news. Choose the right lubricant, and your sexual experiences will go through the roof. You can also experiment with different lubricants solo or with your partner, until you find the perfect one. To help you get started, consider this your primer on all things related to how to use lube for sex.
Lube is Perfectly Normal
When it comes to sexual activity, it's important to be 'ready'. Women know this whether they intend to partake of vaginal or anal sex. Guys know that moisture is necessary for anal play. Most guys also have a favorite penis lubricant for solo pleasure. Natural or store bought, sex without lube is no fun.
So, lubed sex is great sex! The problem is that there are few wives tales and hang ups that can make people a bit weird about using this miracle product. We'll explore some of these myths on how to use lube.
The most prevalent problem people have with lube is that they don't believe a woman should need it. The idea is that if she is truly horny she'll be well enough for penetration. Likewise, many guys consider it a sign that they aren't good at foreplay.
Truthfully, neither of these things are true. Women can absolutely be horny and ready for sex, and still need help from a good sex lube. Some women can even orgasm from foreplay and still need lube. This is caused by a variety of factors, including hormones. There are also times when there simply isn't time for much foreplay, and people want to get down to the main event.
Finally, safe anal play requires a good, thick gel. There's just no getting around it. Bottom line, it is normal, and sexually active people use it. So, have fun selecting the product that works best for you.
Personal Lubricant Video Demo
In this video demo, I dispel 2 common myths: Lube is too runny or too sticky. High quality personal lubricants are neither! Notice when I pour it on my finger how it doesn't just seep downwards. I also demonstrate that it's not tacky or sticky either.
A good quality lube looks just like this when you push & pull your fingers apart. (Cheap / low quality lube is sticky and gross, but rest assured, we never sell poor quality formulas in our store. We stock only lubricants that looks like this; slippery, smooth and never sticky!)
Different Types of Lube to Try
Sex lubes fall into several different categories. These are:
Silicone Based Lube

Water Based Lube

Oil Based Lube

Coconut Oil

Lubricant Gel

Flavored Lube
Before you determine which lube works best for you, you should understand how each works:
Silicone-Based Lube
Silicone is a body safe hypoallergenic lubricant. It's a great choice for people who have sensitive skin. This formula also lasts longer. That's great for those marathon sex sessions that you don't want to interrupt. Silicone is also the best lube for masturbating, especially for men.
There is one downside however. A silicone-based lube cannot be used with silicone toys. Silicone lubes will cause the material in silicone sex toys to break down over time, and should be avoided in all cases.
Finally, silicone sex lubricant is a great choice for male masturbation. It stays slick, without getting tacky while masturbating. It also keeps working even with some significant friction.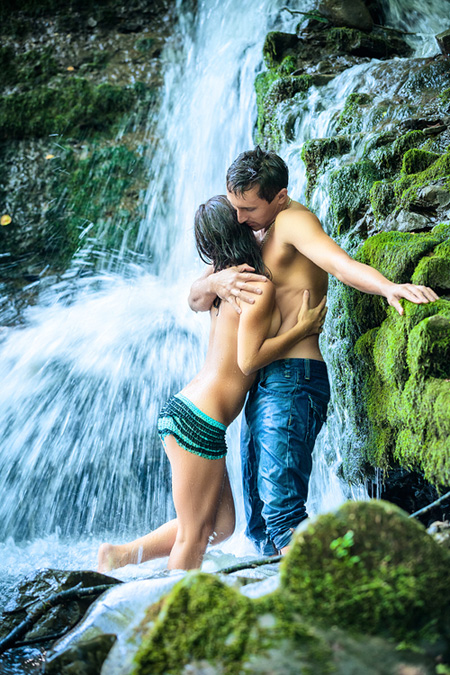 Water-Based Lube
A water-based lubricant is a good choice for any type of sexual activity. These lubricants work well with condoms and sex toys. They are also appropriate for both vaginal and anal sex, as well as masturbation and is the best lube for sensitive skin.
You'll also find that cleaning up is quite easy. Water-based lubricants wash away easily, and they don't leave any sticky or greasy residue, as such are the most popular add-on for women who buy sex toys here at TheAdultToyShop.com.
Oil-Based Lube
Oil based lubes are the longest lasting. If you want to have sex for longer periods of time without having to reapply a lubricant oh, this is a great choice for you. You can also use oil based lubes on most sex toys.
Now the negatives. As you may know, you can't use oil based lubes with condoms. In addition to this these oily formulas are hard to wash off, and can stain sheets and clothing. Finally, oil based lubes are associated with a higher rate of infection.
Coconut Oil as Lube
I have been asked: "How to use coconut oil as lube?" It occurs to me that couples have used coconut oil as lube because it has a thick viscous texture that is not runny; and that is precisely why couples use coconut oil as sex lube because it's not runny!
Honestly, I would not recommend it be used during sexual intercourse. It is not a sterile substance and can become rancid and harbor bacteria growth inside the vagina. You can use it for external masturbation however, guys use it to jerk off, ladies use it to rub the clitoris. I don't suggest to use coconut oil internally.
How to Use Lubricant Gel
Using personal lubricant gel is the preferred choice for millions of American couples because it's not as runny as the traditional water based formula. Most lubricant gels are water based so they are safe to use with sex toys, dildos and vibrators.
Most anal lubes are a thicker viscous gel because it's easier to insert into the tight sphincter without squeezing out as you try to squeeze it in!
If you wonder how to use lubricant gel for the first time, check the step by step instructions and the video demonstration below on how to apply lube. Regardless if you use pure liquid or thick gel, the steps to follow are identical!
How to Use Flavored Lube
Flavored lube is a godsend for oral sex and fellatio! There is no better way to mask unpleasant taste of semen than to coat your mount with sweet, fruity flavored lube. Men enjoy using it on her as an oral sex enhancer too.
All the types we sell are safe to ingest and safe for internal use, so go ahead and use your favorite flavor such as cherry, strawberry or even chocolate before your next blow job to make it tasty!
Flavored lubricant is completely safe to use with sex toys and also comes with the bonus feature of covering unpleasant scents from a rubber, silicone or jelly dildo.
Some Final Thoughts on Selecting Your Lube
The brand you pick is your choice. Based on research, most people are better off using a silicone or water based formula. However, oil-based is fine as long as none of the precautions apply to your situation.
These are the three main types of lubricants. However, there are hybrids which combine materials from different types of lubricant. There are also natural lubricants.
Once you have selected lube, you can think about other features. For example, would you like a warming lube to increase sensation? ( FYI - Warming lube is GREAT with dildos!) If you're interested in lasting longer before you orgasm, a lube that numbs might be the answer. In any case, always use a quality lube that is intended for sex. Avoid food based or household products, many can transmit bacteria, or go rancid.
How to Apply Lube
There's really no right or wrong way here. Some people prefer to apply lube directly to the penis or sex toy. Others prefer applying lube directly to the anus or vagina.
One thing to consider is that more is not always more when it comes to moisture. Applying large amounts may not always make insertion easier.
In fact, it could cause slippage which is quite uncomfortable for both parties. Your best bet is to apply a moderate amount of liquid or gel, test things out, then add more if you need it.
Instructions - How to Apply Lubricant:
Apply ¼-1/2 teaspoon of lubricant on your middle finger.

Wet the head with your fingers moving in a circular motion.

Using the palm of your hand, coax the liquid down the shaft in a twisting motion.

Place your palm on the opposite side of the shaft and coax it down that side.

Dry your hand with a towel.

Apply ¼-1/2 teaspoon of lubricant on your index finger again.

Spread the liquid around the vagina opening and 1 inch inside the opening.

Spread the liquid around the inner & outer labia and down to the perineum.

Upon initial penetration of the penis or sex toy, move slowly to spread the liquid evenly across the skin and prevent friction.
How to Use Lube
Showing how to use lube for sexual intercourse, but the same steps also apply for using lube with sex toys. The most important takeaway here is to make sure the head is thoroughly moistened before vaginal penetration.
How to Apply Lube
Lubricating the body is just as important as lubricating the toy. Make the vagina and labia wet to prevent friction with the skin while the partner's penis or the dildo is inserted. Smooth entry is highly erotic. Pulled pubic hairs are not!
How Much Lube to Use?
My personal motto is: "Wetter is Better" but is there such thing as too wet? If you wonder how much lube to use for sex, dildos & vibrators the answer is all the same.
Apply between ¼ – ¾ teaspoon to the top of the toy or your partner's erection. Avoid getting the bottom too wet or it will just make your thighs wet & sloppy from the thrusting motion of sex. This is simply a general guideline however and you can apply as much or as little as you want!
Applying Lube to Your Body
Applying lube does not have to be a boring, clinical task. You can incorporate it into your foreplay routine, or as part of your pre masturbation preparation rituals. If you buy a lube that doubles as a massage oil that can make applying lubricant even more seductive. Relax and enjoy the experience.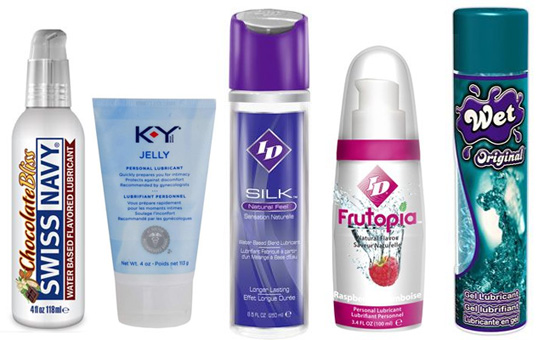 Lube For Anal Play Vs. Vaginal Play
Some people find that they prefer different types of lube and different amounts for vaginal sex vs. anal sex. This is perfectly fine, and you should feel free to experiment. We have plenty of choices for those looking to buy anal lube.
You will probably need more lube for anal sex than vaginal. Try a brand that's specially made for anal sex. If you're a bit nervous, you can try a desensitizing anal lube.
As you learn how to apply anal lube, you may need to try a few techniques out. Some people are fine applying lube to the exterior of the anus. Others find that they have a better experience if the also apply some just to the inside of the anal region as well.
Whether you are enjoying vaginal or anal sex, just remember to reapply as needed! It only takes a few moments to do this. You'll enjoy sex more, and will have less soreness afterwards.
Lube Can be Your Best Friend in The World of Sex Toys
Any toy that involves penetration should be used with the appropriate sex toy lube. In fact, you may find that you need lube for sex toys more often than with regular sex, especially for masturbation. Think about it. With sex toy play, there isn't always foreplay. You'll need a bit of help to get started with the right dildo gel.
Applying Lube to Your Sex Toys Directly
Sex toys and lube are key to a great time. To get started, first squeeze the lube into your clean hands. Use your hands to rub the lube over the entire surface area of the part of the toy that will be inserted.
This will help you to evenly spread the lubricant. In addition to this, if there are warming or cooling properties in the lube, the friction will help activate these. If you wonder how to use lube for sex toys, watch the video above that demonstrates wetting the head and shaft of a dildo.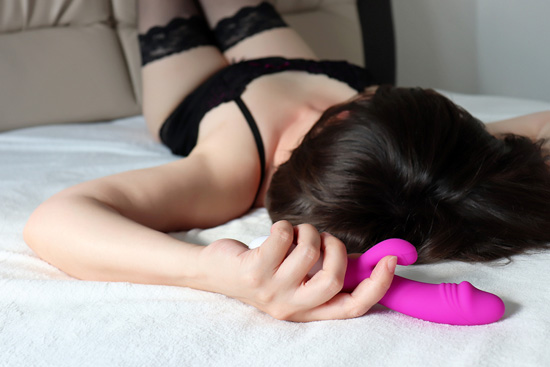 Always Keep in Mind The Sex Toy And Application
Before you apply your lubricant, keep a few things in mind. First, what is the sex toy made of. If it's a silicone toy, avoid silicone lube at all costs. Water based lubes are the best lube for silicone toys. Oil based lubricants are also a possibility, but cleanup is something to consider.
You must also consider how you'll be using the lube. For example, an intense frolic with deep, fast penetration will require plenty of wetness. On the other hand, a laid back masturbation session might need just a bit to get you started.
Of course, before you do anything, read the instructions! Your sex toy might have a specific type of lubricant that comes in the box, or the manufacturer might recommend one to you. Take that into consideration before you make your final selection. You don't want to use anything that could damage the product, or reduce your pleasure.
Lubricate With Your Pleasure in Mind
The best sex lube is one that is right for the sex you plan on having, is body safe, and that you enjoy. Do not hesitate to explore the various types of lube. There are liquid & gels for different functions. In addition to this, wetness can truly make great sex even better. You can experiment with flavored lubricants, warming lubes, cooling lubes, and numbing gels that can help sex last even longer.
Click to buy sex lubricant online.