Most Realistic Dildo | 10 Most Realistic Feeling Dildos
Sex toys come in all shapes and sizes, but the most popular of them all is the ultra realistic dildo made to look and feel exactly like a real penis. The simple imitative erection is the top dildo pick of women everywhere.
Forget fancy functions and funky features, hyper realistic dildos are meant to fulfill a sexual fantasy so it makes perfect sense that something that imitates the sensations of lovemaking will become the prized possession for personal erotic playtime.
Today we'll discover the world's most realistic dildo and discuss some of the features to look for when shopping online for a realistic dildo that brings home the sensation of hopping in bed for a romp with a real lover.
You can't judge how lifelike it is based off visual appearance, some are too soft others are too firm. Density is key, but that's hard to determine if it feels like skin just by looking at a few pictures on a website.
Leave it to the Sexperts to guide you through the process (that's me!) I'll note some of my personal favorite vibrating, black & strap on compatible choices for couples who want to mix it up and rejuvenate their kinky fun. Ladies flying solo will appreciate the suggestions because good sex is available anytime with no strings attached – your most realistic dildo will be the ultimate bed buddy!
Most Realistic Feeling Dildo Materials
Not all dildo materials feel like real skin. Silicone, rubber, gel or PVC tends to be somewhat more firm compared to TPR (Thermoplastic Rubber) or TPE (Thermoplastic Elastomer) based materials. There is an exception to the rule however – we are seeing an increase in silicone products making it to the marketplace that have a silky feeling powdery surface that feels like skin.
Technology is no stranger to sex toy manufacturing and every year I'm seeing shifts to premium silicone that actually feels like skin. The first iterations of hyper realistic silicone dildos were a lot stiffer than they are now. With that being said, silicone is no longer a determining factor of how soft and/or life like it will be.
Rubber, on the other hand, has not really changed over time. Rubber is the best choice for hardcore fast thrusting sex. It is a prime choice especially if you want a suction cup dildo to squat on over a bathtub edge or a wall. Rubber has its place in any good sex toy collection, but if you seek the most true to life experience, you might want to consider passing it over in this case.
The best real skin feel dildos are primarily made of TPE, a soft and delicate material that can be layered in varying densities on top of each other. The center core is slightly more dense whereas the outer layer is less dense; therefore, the most realistic dildos are known as "dual density". This was the hallmark feature of the famous Cyberskin, one of the first sex toy brands to have a dual density build.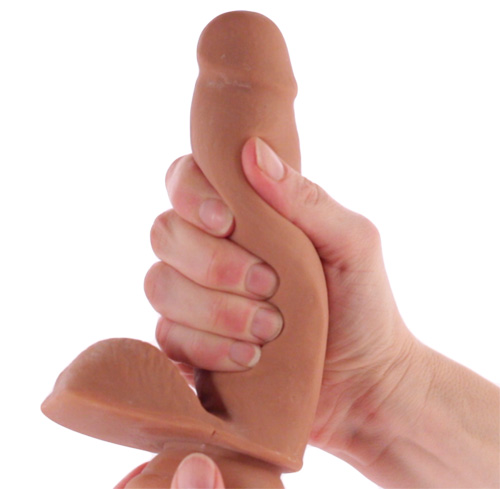 You can feel the contrasting dual density layers when you squeeze the shaft with your fingers or try to bend it sideways. The top layer moves independently from the bottom layer to imitate human skin over the firmer erectile tissue engorged with blood underneath (the basis of the male erection). The picture here of our best dual density dildo demonstrates this in total clarity.
Pros & Cons of Hyper Realistic Dildos:
Here are a few considerations when shopping for ultra realistic dildos. Consider this the essential checklist of what features you should (and should not) think about when buying the eternal erection from your favorite sex toy shop:
Pros:
Super realistic feels just like skin (obviously!)

The most realistic dildos are also some of the softest dildos on the market

Gentle, squishy material is ideal for seniors & older women

Available in lifelike skin tones including Latin & Black
Cons:
The suction cups are not very sticky (unless they are made of rubber)

Fragile material is prone to drying out over time (unless you apply talcum powder before long term storage)

Can bend, buckle or even develop small tears under heavy pressure (not recommended for rough sex!)

Premium silicone and TPE materials are more expensive than basic PVC or rubber
The Most Realistic Dildos in the World
These selections check all the boxes needed to assure you will experience the most realistic feeling dildo on the market right now. These are a good sampling of sizes to assure that every gal can locate per ideal preference from small to large, thin to thick:
Au Naturel Real Feel Dildo
Au Naturel Real Feel Dildo is a delightful creation that feels like a real penis. If you're seeking the most realistic dildo for sale at a reasonable price, this is our favorite suggestion for pretty much everyone. It fits every lady just right thanks to its anatomically correct sizing. To enhance its "friendly" experience for beginners, the circumcised head narrows slightly at the tip so it inserts into the vagina easily.
Au Naturel Real Feel Thick Dildo
Au Naturel Real Feel Thick Dildo is a delightful creation that has a strikingly hyper realistic skin like feel. If you're seeking a large real skin dildo for sale at a reasonable price, this is our favorite suggestion for pretty much everyone. It is stocky and stout, a barrel shaped wonder with a wide head and intimidating girth without unnecessary length that makes some huge dildos difficult to handle.
Medium Ultra Real Skin Dildo
Medium Ultra Real Skin Dildo is our absolute favorite medium sized ultra realistic dildo for women. If you're seeking a premium dildo that feels like real skin, stop your search and pick this one now. Grasp the shaft in your hand for the immediate impression of quality. A seductive silken exterior leads to a slightly firmer core, this dual density construction accurately imitates a living booty call buddy.
Large Ultra Real Skin Dildo
Large Ultra Real Skin Dildo is our absolute favorite large ultra realistic dildo for women. It feels like silk when stroked and warms up quickly when used. The look is outstanding complete with super realistic visual detail and slightly larger than real sizing. The testicles can be used as a handle or a cushion to sit on if you insert him all the way.
Real Touch Dildo Without Balls
Real Touch Dildo Without Balls is the first model available without balls. A fabulous high quality option for customers seeking a new toy with a luxurious aura. This small-to-medium sized extra soft and pliable shaft features a tapered head for easy insertion. Tapered means more narrow than the rest of the shaft, so if you're looking to buy a beginners training toy, this is our top rated choice.
Real Touch Natural Slim Dildo
Real Touch Natural Slim Dildo features a small rounded head with a slight indent to imitate the foreskin cut of a man's circumcised penis. The base features a set of flattened testicles that happen to make an excellent cushion to sit on. The shaft is easily bendable, especially since it's so thin, this can flex with your body to keep your experience super comfy.
Real Touch Thick Lifelike Dildo
Real Touch Thick Lifelike Dildo features a lighter surface layer that moves independently over the dense core just like skin. This is one of our personal favorite large lifelike dildos for women who stress the importance of enjoying luxurious sex toys. The slightly narrowed head makes it a snap to insert while the thicker torpedo shaped shaft fills up your inner crevasses with pure, sexual satisfaction.
Sensa Feel Ultra Skin Dildo
Sensa Feel Ultra Skin Dildo is one of the softest dildos for sale. Sure it may look very small, but the torpedo shaped shaft provides a perfectly sized "medium" girth so it feels bigger than it looks. With that being said, we'd still classify it as a small real skin dildo because the extra soft, extra squishy shaft oozes into the vagina seamlessly.
8 inch USA Cocks Real Feel Dildo
8 inch USA Cocks Real Feel Dildo is classified as "upper intermediate" size. Some ladies may find this super realistic dildo big, others think an 8 inch dildo is the perfect medium size. Even thigh it has a good, sturdy thick stance, the super soft rubber eases into the vagina easily so this makes a superb "1st big dildo" choice for women wanting to upgrade from their small dildo.
9 inch USA Cocks Real Feel Dildo
9 inch USA Cocks Real Feel Dildo is a totally elegant dick. It brings to mind a fiery hot manly stud you'd see in famous adult movies. It's the kind of dick that supercharges then sex life, stretching the vagina with pure unrestrained softness and sensual fun. It's thick, but extra soft making the squeeze more bearable for a lady who wants to experience an erotic stretch for the first time. USA cocks is also available in 10 inch.
Dual Max Dildo Vibrator
Dual Max Dildo Vibrator is a monstrous soft vibrating realistic dildo with a rarely seen combination: Big & Soft. This impressive ultra realistic large penis vibrator has what the most demanding women need plus the true skin feel to properly represent a lifelike sexual fantasy. Complete with 2 motors for better even vibrations, one under the head and the other mid-shaft.
Most Realistic Looking Dildos
Rubber can be molded into precise shapes and features. You can see the dimples and wrinkles in the balls. The testicles can be formed a certain way. The raised veins in the shaft can have minute detail that looks like a closeup of a real man's cock. The heads can be painted a pink hue to add a touch of visual appeal.
This is the advantage of a firmer material set into a precision mold, so if you're going solely for looks than pick rubber. The disadvantage as noted previously is it won't have dual density structure that makes it the most realistic feeling dildo. It will LOOK real but wont FEEL real. King Cock is currently the only line of dildos that seems to have figured out the formula and blended both qualities into one good looking sex toy fort women.
That's certainly okay however! I am not persuading the customer to steer clear from anything but a hyper realistic dildo. The benefits to the typical realistic looking cock is that it may be cheaper. The best feature according to fans of the type is that it's easier to maintain.
Why is it easier to maintain? The firm surface won't dry out over time. It will most certainly last longer than the gentle surfaces that will always dry out eventually. Sure it can take years, but chances are unless you live in a really humid environment, real feel skin will dry out and develop small cracks in the surface. There is one way to combat evaporation however:
Tips for Maintaining your Ultra Realistic Dildo:
So this leads me now into an important tip for maintaining an ultra realistic skin dildo: After washing and once the toy is completely dry, sprinkle talcum powder over the surface before storing for extended periods of time.
If you use the dildo regularly this isn't necessary. So what exactly is considered "an extended period of time"? I'd suggest longer than 2 months. Make sure to rinse the talcum powder off completely under warm running tap water before using.
Talc powder prevents loss of moisture on the most realistic dildos. It keeps the surface hydrated. If the shaft dries out too much, you'll notice micro cracks or holes in the surface which can get bigger and tear when being used due to the friction between the surface and your body.
Also to keep the delicate surface in tip-top shape, make sure to use plenty of water based lubricant. As previously mentioned, friction is rough and touch on this gentle material. Lube reduces friction and helps the shaft to glide in & out which not only helps to preserve the longevity of your toy, but makes it more comfortable and enjoyable for you!
Click to buy real feel dildos online.