How to Clean a Dildo | How to Sanitize & Wash a Dildo
Last Updated on March 17, 2022
With great pleasure comes great responsibility! In all seriousness, it's absolutely essential to properly clean your dildo at home before & after each use with antibacterial soap or spray. If you've wondered how to clean a dildo, this is the complete tutorial on how to do it properly.
Sanitizing your favorite sex toy only takes a few moments of your time, but it keeps the growth of harmful bacteria at bay and prolongs the life of the toy by keeping the surface in tip top shape.
Today we'll explore a few reasons why it's essential to wash a dildo toy with liquid antibacterial soap followed by the complete step by step instructions on how to clean a dildo properly.
How to Clean a Dildo Before First Use
This is a topic that's rarely discussed, but I believe it's just as important to clean a dildo BEFORE inserting it into your body for the first time. Here's why:
Removes any reside leftover from the manufacturing process.

Some manufacturers sprinkle talcum powder to prevent the material from drying out. Talc powder is toxic if inserted into the body.

Some materials may "sweat" during transit overseas if subjected to heat for weeks at a time. Washing will remove this sticky residue.
Dildo soap is not necessary to remove talc powder. Warm water running from your faucet and friction with your hand is al that's needed to remove the powder. Flush water over the surface and move your hand in a twisting motion until it feels slick and slippery.
Why is my New Dildo Covered in White Talcum Powder?
Some delicate materials, such as TPE, often found in hyper realistic dildos are prone to drying out. This causes microtears or tiny holes visible in the surface which can grow and spread. After the manufacturing process, there will often be an application of talcum powder over the surface to maintain moisture during the shipping and storage process. Once your new dildo arrives on your doorstep, clean this off with warm running tap water before first use.
How to Clean a Dildo: Step by Step Instructions

Run the shaft under hot tap water and twist your hand in a circular motion starting from the base to the tip the flush lubricant & bodily fluids from the surface.

Spray sex toy cleaner evenly across the surface.

Using liquid soap instead? Add some to the palm of your hand and spread across the surface.

Hold the base in 1 hand and twist the shaft with your other hand to create a bubbly lather.

Make sure to twist your thumb & index finger under the circumcised penis head. Get right under that mushroom tip!

Lather the entire surface vigorously with your hand for 1-2 minutes.

Rinse all the soap off under hot tap water for 30 seconds - 1 minute.

Pat the entire toy dry with a lint free cloth. (Why lint free? Paper towel tends to leave dust & fibers stuck to the surface!)

Alternatively, you can leave the item out to air dry. Make sure it's standing upright so it dries completely.
Glass & medical grade silicone dildos are dishwasher safe. They can be put in the top rack of your dishwasher. EXCEPTION: If your glass or silicone dildo has a motor, do not put it in the dishwasher! (In fact, a vibrator that is not waterproof should never be fully submerged at all.) What is a dildo made of? That also affects washing tips which I'll explore in detail further on.
Vaginal and anal dildos should both follow the same instructions. PVC and rubber are very similar to silicone, even gel rubber falls under the same category for washing so for simplicity's sake, follow these steps on how to clean a dildo no matter the material its made of.

How to Clean a Silicone Dildo
Silicone dildos are non-porous, hypoallergenic and tougher than they look. Because they're non-porous, they don't need the same level of maintenance that porous ones do. This doesn't mean you can get away without using dildo soap however, you'll still need to give it a good rinse.
Some people put them in the dishwasher or dip them in boiling water. These are both accepted practices, but honestly, I don't recommend it. Even though silicone is tough, in my personal experience, putting them in a dishwasher or boiling water degrades the surface over the years of use.
In summary, it's best to clean a silicone dildo with antibacterial soap and water. You do not need to buy sex toy cleaner spray with silicone however, regular hand soap is just fine.
How to Store a Dildo
Sex toy storage is just as important as cleaning. Now that's it's tidy and neat, there are a few tips on how to store a dildo that will assure it stays in tip top shape forever:
After it's clean, store your dildo in the original packaging it arrived in. The custom laser cut plastic insert is the best place to store any adult toy. You literally have received a customized sex toy storage box!
If you do not have the original packaging anymore, wrap the dildo in a soft, lint free cloth and store it in a drawer or box. Make sure the entire device is wrapped up. If a silicone surface touches another silicone surface, they can melt together!
Melting does not happen with rubber or PVC surfaces. Many toys now have a hybrid mix of rubber & silicone so always keep it away from others just as a precaution. The true exceptions to this rule are plastic & glass which will not transfer to each other.

The Difference Between Dildo Cleaners and Antibacterial Soap
I'm often asked "Do I have to buy sex toy cleaner?" and the honest answer is: "No". To elaborate further, delicate materials require these gentle sprays whereas tougher materials can use hand soap.
So why is it even offered as an add-on for sale? Why don't we just use the liquid from the pump bottle next to the sink in our bathroom?
Liquid hand soaps are much stronger and harsher than sex toy cleaner sprays. Dish soap is even harsher. (I never recommend cleaning any adult toy with dish soap!)
Dildos are delicate, (with the exception of plastic, of course. Plastic is tough). If your plaything is ultra realistic feeling or skin soft to the touch, it's actually quite delicate in comparison to real human skin.
With that being said, stronger cleaners will have a negative effect on any supple surface. They will cause it to dry out, resulting in micro cracks or tears which will evenly grow & spread thus ruining the toy.
Dildos that can be cleaned with regular hand soap:
PVC

Firm Rubber

Glass

Plastic

Medical grade silicone (hard to the touch)
Dildos that should be cleaned with sex toy spray:
Cyberskin

Ultra Skin

Soft rubber

Gel / Jelly

Realistic feeling silicone (soft to the touch)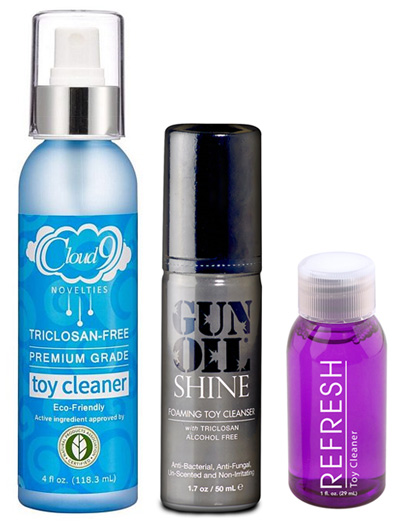 Why is it Important to Wash My Dildo?
The vagina is a breeding ground for bacteria. That's not necessarily a statement made to scare you, but this microcosm of bacteria is called "vaginal flora".
There is a finite balance maintaining proper equilibrium to keep the woman's body in good health. Disruption of this flora causes a wealth of issues ranging from bacterial vaginosis and yeast infections.
Both are separate issues that share common symptoms and both are spurred by introduction of unhealthy bacteria into the vagina. (This symptom checker can help you determine which one it is.)
Too many sex partners is often a root cause and also spreads STD's (because the act of sexual intercourse spreads bacteria from partner to partner) but also using dirty sex toys can have the same result.
Sharing sex toys is also a sure fire way to disrupt your vaginal flora. This is why you need to keep your dildos for yourself and never share. I know you're a nice person, but in this case, it's good to be selfish. (Kidding, but not really!)
Furthermore, sharing the same dildo between anus to vagina spreads fecal bacteria into the vagina resulting in potentially the same issues.
Learn how to clean your butt plug here to make sure you don't spread fecal germs to all your other adult items when being stored together. Anal toys should always stay for the butt, dildos & vibrators for the vagina.
Sexpert Advice on Cleaning a Dildo
Going above & beyond the ordinary steps above, her are a few tip and techniques that will help you maintain the quality of your dildo, keep yourself healthy and prolong the life of the mechanical components of your vibrating dildo:
1. Use a Condom
Rolling a condom over the shaft provides an impenetrable barrier for germs. This is also the only way to safely share sex toys with your friends. If you plan on transferring the device from vagina to anus, always change condoms before switching holes.
2. Antibacterial Wipes
Getting frisky in the great outdoors? Getting freaky in your tent while camping? When you don't have access to running water and a faucet, wiping the surface with antibacterial wipes is a great way to sanitize the surface. I'd still recommend that you follow the steps on how to clean a dildo when you get back to civilization with access to water, however.
3. Remove Batteries Before Storing
If your dildo has a motor, never store it with batteries inside. Over time, batteries tend to leak acid. This is a sure fire way to ruin the motor as corroded components spell the end of the vibrating fun. Never keep batteries in the motor.
4. Mind Your Lube Choice
Make note of your dildo material before selecting which kind of lube to use with it. Silicone lubricant will melt a silicone dildo, especially if its not cleaned off properly. Residue silicone lube will make your silicone toy look like a half melted candle. It's best practice to pick water based lubricant only because it's super easy to wash off after use and also will never react with toy materials.
Click to buy dildos online.