What is a Cock Ring? | What Does a Cock Ring Do?
Last Updated on September 15, 2021
If you're curious about the purpose of a cock ring, possible benefits and what it's used for, this complete FAQ will cover some of the top questions customers ask. What does a cock ring do? It's a complicated answer because there are many different types of dick and ball rings that serve many purposes.
One quickly worded answer will not suffice to fully make a curious guy understand what is a cock ring and why it's such a bedroom staple for couples across America. Follow along to learn what is the point of a cock ring and discover some unique tips and secret suggestions only the seasoned Sexpert (like yours truly) knows!
You'll learn everything you need to know about these tiny yet impacful sexual enhancement devices so you can make an informed decision on which styling best suits your personal situation.
Men who are unhappy with their purchase or find the device doesn't work properly bought the wrong one. By understanding the following information and advice, you'll be bale to pick the correct one that matches your needs.
Q. What is a Cock Ring?

A. The cock ring is a circular device that fits around the base of an erect penis. A cock ring works to increase sexual pleasure during masturbation or intercourse, and also helps to keep the erection firm for the duration of sex. ~ Mayla Green
Demonstrated in the video example shown above, I handle several styles of cock rings to help the viewer understand how they work. In the 1 minute long video, I demonstrate 6 products that differ from one another and show how stretchy each one is in comparison to the other.
One secret tip I'll share before we continue on is that if you need more erection support, a tight fitting ring is best. A loose fitting ring is not adequate enough to prevent fluids from flowing out of the penis back into the body, thus making the erection return to a semi-flaccid state.
The original intended purpose of a cock ring is to help men with soft erections keep it firm enough for the duration of sexual intercourse, but over time, several new styles have evolved and adapted to suit a variety of uses. They are not just for men with ED anymore.
Cock rings come in a variety of designs from tight fitting bands to full adjustable lasso styles for a customized fit. The best adjustable cock rings fit every penis similarily no matter how big or small. Dual rings can be worn stacked, or attached at the mid point to form a figure 8 shape. The popularity of dual scrotum/testicle straps are comparable to the single ring that fits at the base of the shaft only.

Q. What Does a Cock Ring Do?

A. The tight fitting cock ring keeps an erection firm by constricting the base of the erection and restricting flow of fluids back into the body. Penis rings with ball support, vibrators & ticklers provide erotic stimulation during sexual intercourse and masturbation to improve sensations. ~ Mayla Green
The dual style bands also have stunning visual appeal by holding his package higher giving the illusion of a bigger penis. Furthermore, the feel of the strap around the scrotum provides an intense pleasure boost – even though it may be subtle on a loose fitting device, the squishy padding back there is highly erotic for guys.
Does discreet hands-free sexual enhancement appeal to you? Try a cock ring vibrator, an easy to use, cheap and simple marital aid for those seeking to add a little more spice to the sex life.
Into more fetish and kink gear? Try a tighter fitting brace that wraps the testicles in a tightly fitting bound form. Some even edge into the realm of BDSM style play for those who enjoy intense stimuli on the scrotum during sex play.

Q. What is a Cock Ring For?
A. There are 2 answers to this question:
To maintain a firm erection

To provide sexual enhancement
To fully understand the question: "what does a cock ring do?", it's important to understand the 10 types of cock rings first because this will clarify what each device does and why it is used in the first place. If you've ever wondered why men use penis rings, this breakdown will explain it all!
Before making a purchase online, you'll need to pick which application serves you and your partner. Of course it's possible to have both at once, we call it "business and pleasure"!
In all seriousness however, some vibrating or clitoral stimulating devices are tight fitting so they keep the penis firm while stimulating his partner during intercourse. In each product description, we explain how tight or loose each one fits so you'll always know the density of the product you're considering.
Q. How Does a Cock Ring Work?
A. The cock ring restricts blood flow out of the penis, helping the wearer have a firmer, longer-lasting erection.
To understand how a cock ring works, we must first look closely at how an erection works: Erections are caused by blood traveling into the penis through blood vessels deep in the core of the penis and becoming "trapped" there for a time. This is why an erect penis feels firm, because it is engorged with blood. When the erection goes flaccid again, this means that blood returned back out of the penis on the outer surface veins.
Applying a tight fitting cock ring around the base of the penis, or around the penis and testicles together, helps keep the blood "trapped" in the penis by not allowing it to flow back out. This means the penis will be slightly enlarged, feel "harder", and be a little more sensitive to touch.
Q. What is the Purpose of a Cock Ring During Sexual Intercourse?
A. During intercourse, a penis ring will do one or all of the following:
Keep the erection firm

Delay premature ejaculation

Increase pleasure
1. Keeping the Erection Firm
The video demo above displays one of the more popular products that guys purchase to keep the dick hard. The wide brace fits snugly, a thicker band offers superior support compared to a thin ring. This model is highly effective and has been a best seller here for years. Click on the link shown at the end of the video to view the product page for more information.
Some men cannot become fully erect. The penis remains semi flaccid making it vaginal penetration difficult or even uncomfortable as the penis bends during attempted insertion. To fully understand this concept, review how an erection works.
A tight constriction band will limit blood flow back into the body once the penis becomes erect thus maintaining firmness. This is the main reason why all manufacturers will suggest a time limit of 30 minutes wearing time because it is possible to suffocate the penile tissue.
My personal recommendation is never to wear the device longer than 20 minutes at a time. And yes, they are completely safe as long as do not wear them for extended periods of time. You may use it again after about 30 minutes of resting time in between uses.
2. Preventing Premature Ejaculation
The demo above shows the best cock ring for this purpose. If your aim to to prevent premature ejaculation, the beaded ring is the perfect choice. The large bead rests at the top of the shaft adding precise pressure to help slow down the onset of the male orgasm. Click on the link shown at the end of the video to be taken directly to the product page to view more pictures.
When pressure is applied on the dorsal vein of the shaft, it slows down the onset of ejaculation. The best type of device purchased solely for this purpose is a tight fitting band with a large bead to add pressure directly to the vein.
This is a purpose on its own, men who do not have an issue becoming erect often choose this style of device simply to make sex last longer by reducing premature ejaculation.
FYI – Wearing a ring will never stop ejaculation entirely, it will always happen, but can be delayed by a few minutes at best if the proper device is used. ED and premature ejaculation are closely linked, so a constriction band is an effective remedy for both of these cases.
3. Enhancing Sexual Pleasure
The double penis ring shown in the display above has a tiny vibrator attached to the top. Press the button for hands free vibration! Both partners will feel the buzz, radiating gently across his dick and on her clitoris during deep penetrations.
The double strap prevents the device from rotating around during sex. This is one of our most popular choices for couples looking to spice up the sex life with something discreet and easy. Click the link at the end of the video to see product details.
Certain styles have a clitoral stimulator or mini vibrator attached to the top of the device. Alternatively others have a stimulator attached to the bottom, between the man's scrotum and the penis to provide perianal stimulation for the woman during intercourse.
Looking for a serious boost of pleasure? Both partners will enjoy stimulation if the device vibrates! Vibrating cock rings are a common sex toy for couples seeking hands free stimulation during sex. They are often rather cheap in comparison to other vibrators too making them a common choice for first timers.
Men who do not require extra erection support can choose any style of pleasure enhancing accessory. Many fit loosely for better comfort (because yes, a tight band can be uncomfortable as it fits snugly around the base of his dick).
Q. What are the Benefits of a Cock Ring during Masturbation?
A. During masturbation, a penis ring will:
Enhance Sexual Pleasure

Help Practice Edging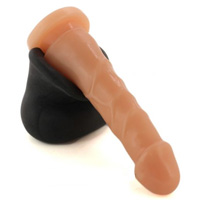 1. Making Masturbation Feel Better
The Bull Bag is purely for male pleasure. Any device with ball support or a thick strap will feel more substantial effectively increasing sensations. If your goal is to make jerking off feel better, then bigger IS better.
Choose something thick, wide or large as opposed to something thin and discreet that you won't even really feel on your dick. Thick materials like jelly offer a nice "squishy" sensation while silicone is a warmer realistic feeling padding.
Men who are looking to improve masturbation often choose a figure 8 or dual band cock ring. These are dual rings that fit around the erection and scrotum simultaneously. Some designs are quite complex with a full cage style setup that adds pressure behind the testicles.
This increases his pleasure massively, but the best part of wearing a ring such as this is hands free enhancement. All you need do is jerk off as usual while the strap adds pressure from behind. Simple and easy!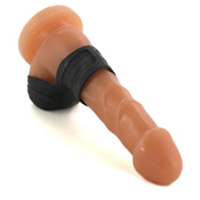 2. Edging – an Advanced Technique for Him
Mr. Big Stretcher is a popular cock and ball ring for men to wear while edging. What is edging? It is a start/stop method that allows you to increase the length of your masturbation sessions.
It has the added bonus of training you to last longer during sex with a partner. The technique is pretty simple. You masturbate just until you are about to cum. Then you stop. In a few moments, start again.
How does a cock ring work for this purpose? The added pressure on the dorsal vein from a snug constriction strap helps to slow down the onset of ejaculation making edging easier to accomplish. For some guys, the climax comes so fast they are almost caught off guard.
By practicing edging while jerking off, you can get an indication of when you'll cum and take your hands off the rod for a moment while you "cool" back down again. If you're inspired to learn more about masturbation techniques for men, make sure to check out my complete solo guide for dudes!
What is the Purpose of a Dual Cock Ring?
About half of our products for sale are double rings, also known as cock & ball rings. These are characterized by 2 rings connected together in the middle, which essentially forms a number "8" shape when you look at them from above. We've already covered the purpose of the penis ring, but how does the scrotum ring work?
When pressure is applied behind the scrotum, it has dual effect. First and most noticeable is pleasure. Having the balls contained and squeezed together by a scrotum ring is a highly erotic sensation for guys. The secondary benefit is that by squeezing the vessels within the scrotum, it can help delay premature ejaculation.
These is a 3rd secret benefit too that's not typically mentioned: The support of a dual penis and scrotum ring lifts the entire unit up higher giving the visual impression of a bigger penis. With these 3 reasons behind you, it's plain to see why cock & ball rings and those with attached scrotum bands are so incredibly popular.
Your Next Step: Reap Those Benefits!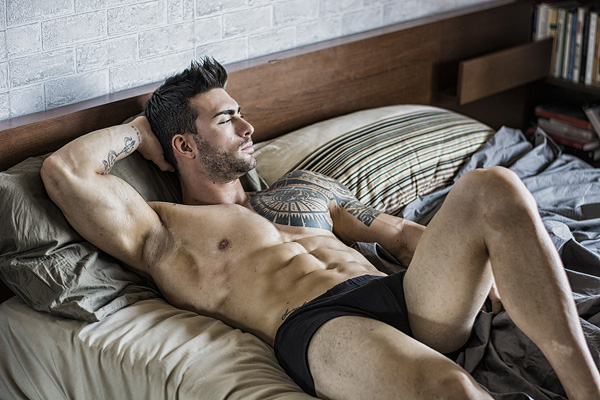 There are two essential steps for having success with a cock ring. First, and most obvious, if you need to have the right tool for the job. Make sure to consider the benefits and purposes as listed above.
Will you be flying solo or sharing a romantic tryst with your partner? Looking for simple enhancement or does your choice need to serve a purpose with a specific function? Are you over quickies and hoping to prolong the love for an all-night marathon?
After these questions have been considered, you'll need to learn how to wear a cock ring. Now migrate over to my users guide that explains in detail with step by step instructions, information on how to put it on and other steps necessary to guarantee a great experience in your bedroom.
Click to buy cock rings online.