10 Types of Cock Rings for Men | Different Materials & Sizes
Cock rings are a complex category of sexual enhancers for men. They can be used to help maintain a firm erection during sex, and add extra pleasure during masturbation. Some stimulate the partner during lovemaking, others add pressure to his scrotum to boost the power of orgasms.
I know that's a whole stream of uses and applications, certainly enough to confuse a beginner or first timer, so before you start looking for your favorite types of cock rings, it's important to understand what makes each type different.
After learning about the different types of cock rings, hop on over to my complete cock ring users guide with step by step instructions, how to put them on, video instructions and more.
A little further down in this article however, you'll find a breakdown of the 4 different types of cock ring materials. If you've wondered: "what cock rings are made of", this useful guide will explain it all and compare different materials so you know which version best suits your needs.
What does a cock ring do for men? Head to the very start for a quick tutorial on the reasons guys wear them in the first place.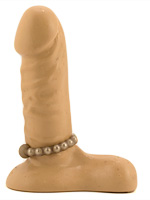 1. Penis Constriction Ring
This is the traditional style that most people envision when they think of the term "penis ring". These tension bands fit tightly around the base of a man's erect shaft and helps him to maintain a firm erection for the duration of sexual intercourse or masturbation.
Penis constriction or tension rings are typically used in conjunction with a penis pump by men with erectile dysfunction. They fit tightly are are all about business whereas many other types are also about pleasure.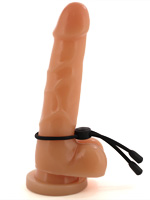 2. Adjustable Cock Ring
Adjustable cock rings are a perfect compromise between tension and comfort. The reality is the tension devices are not very comfortable to wear because they fit tightly. The adjustable style can be loosened to fit more comfortably, but the opposite effect happens too – it is less effective at maintaining an erection.
They can be adjusted by either metal snaps or Velcro. They offer a slight boost to erectile strength, most adjustable types are also spreaders (spreaders are defined below) that feel very good when worn.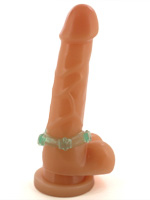 3. Single Cock Ring
The simple, discreet single band that fits around his dick. The slimline basic circular shape does not get in the way during intercourse, they rest against his pubic bone, keep the erection firm and stay in place unimpeded during lovemaking.
Most men purchase this style first because it's cheaper than the rest, making it a great risk-free trial to see if it's something you'll like. They can be stretchy silicone or sturdy rubber or metal. There are 2 sub-types here: the flat band and the thicker donut band. We'll elaborate further below.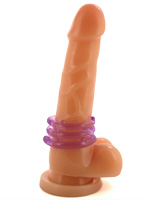 4. Stacked Rings
These consist of multiple single rings included together in one set. Often they are 3 different sizes which helps men to be more confident when making the purchase because out of 3 different sizes, one will surely fit! This is one of the best selling types because the customer gets excellent value for the money, and they come in a variety of sizes.
Even though many men think of wearing only 1 at a time, we suggest that men wear all 3 at the same time for maximum support. You can fit the largest one around the testicles and shaft together, or place all 3 over the shaft only. Stack them on your dick in sequence from largest to smallest.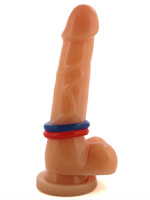 5. Donut Ring
The same as the single band, but much ticker. These are called "donuts" because they look like a thick jelly donut! Men who have a long or large erection stack these vertically on their cock to reduce the length of penetration to make sexual intercourse more comfortable for their partner.
The squishy padding also adds pleasure for both partners during the deepest penetrations. The priority is here is comfort for everyone and to reduce pain from sexual intercourse by limiting the distance a man can penetrate into the vagina. There's no need to ask how to put on a cock ring, these are the most obvious of them all!
6. Dual Cock Ring
The dual band consists of 2 rings that are permanently connected together at a single point. One band fits around the base of his dick, the other wraps around the scrotum. The testicle strap lifts his package higher giving the illusion of a bigger dick. They usually fit snugly to help prevent premature ejaculation.
Men enjoy the feel of the pressure around the testicles, and the double ring stays in place without sliding around during lovemaking. These are extra beneficial if a vibrator is attached to the top of the unit because it keeps the motor positioned in place right over the clitoris and prevents it from moving away.
7. Vibrating Cock Ring
This style of purely a sex toy for couples looking for hands free pleasure during sex play. Most vibrating penis rings are wireless and self contained, although some have separate multi speed controller units. The wireless versions are quiet and discreet, corded versions have a tremendous amount of power.
Vibrating penis rings come in a range of single vibrators and dual vibrators attached to the device in various positions to stimulate the male scrotum and/or the female clitoris. Men wear these during masturbation and position the motor downwards to vibrate on the scrotum.
8. Lasso Cock Ring
A variety of adjustable ring, the Lasso cock ring is so-called because it looks like a cowboy's lasso. The rubber band has a clasp underneath and tassels that hang loose below. It can be worn around the shaft alone, or the scrotum and shaft together. This is the best selling type because there is no chance it won't fit! Regardless if you have a massive behemoth cock or a little micro dick, the Lasso will adjust to fit your size.
One of our best suggestions for guys who ask how to use the Lasso is to tighten the band (pull the clasp towards the shaft) before sex or jerking off, then presses the button and pull the clasp downwards during ejaculation for a surge of pleasure. It's like an instant release boosting ejaculation power. The hanging tassels discreetly stimulate his scrotum during sex and/or masturbation.
9. Ring With Weighted Bead
You'll recognize this type from the little dangling bead hanging off the bottom of the device. Weights are mostly seen on vibrating rings, but from the photographs on an online catalog, you don't realize it's actually a heavy dense weighted bead! The bead is actually a solid weighted metal ball that sways independently as you move.
It's attached to the ring by a strand of flexible silicone letting it sway like the pendulum on a clock. The weighted bead taps the testicles and thighs of your partner during intercourse. The tapping sensation is described as a "tease", or even tickle that enhances sex. We like these, they actually feel highly erotic! Additionally, the constant weight pulling down on his scrotum is another kinky feeling addition.
10. Cock & Ball Spreaders
Cock and ball spreaders are complicated looking devices with multiple rings or bands attached together. The purpose is to spread the testicles apart and separate it from the erection. The feeling of having the pressure spreading the testicles is a massive orgasmic enhancement for men.
Spreaders don't actually squeeze the testicles, the pressure comes via bands that apply pressure in specific areas to make ejaculations feel more powerful. Men wear these mostly during masturbation.
11. Cock Cage
Cock cages are full braces for your entire manhood that are often used as chastity devices. The chastity cock cage surrounds your testicles, scrotum and erection in one tightly held package. Men enjoy the added stimulation from the constant pressure. For those who ask how to use a cock ring, these are the most complex, but yet provide the most pleasure from the chastity fetish.
These are made of stretchy silicone and are designed to fit any size. The entire device feels thin to the touch, so make sure to lubricate the interior to prevent it from tearing while putting it on. It will cling to your skin like tight wrap and look very manly and highly erotic.
12. Cock Ring with Stimulator
This style is a couples sex toy designed for men to wear during sex. The ring features a perpendicular extension that comes into contact with the female clitoris during penetration. These always have some sort of texture ranging from soft ticklers to a firm nub. Discover how to use a vibrating penis ring here!
We find that tighter fitting stimulating cock rings work the best because if they are too loose, gravity makes the stimulator piece have downwards, especially when the device gets wet from too much lubrication, but don't worry, we've selected only the best stimulating devices for couples that don't move around too much!
Cock Ring Materials - What are They Made Of?
In addition to the multiple types of cock rings, there are 4 materials that you'll see repeated over and over again when shopping online. Each material has a different sensation and a unique purpose so before going any further, we'll explore the different materials:
Silicone

The most common material because it's the most resilient, durable and body safe. Some silicones are fully malleable and others are firm. In each product description we'll explain the density of the device so you know what to expect when you get your in the mail.

The advantage of silicone is that is resists tearing or snapping far better than any other type. It's usually a little more expensive than the cheap rings, but you get what you pay for and they can be re-used for years.

Rubber

If you're on a budget, rubber is the cheap cock ring materials that beings home all the efficiency of silicone but only in a cheaper price tag. Make sure to "roll" them off your cock and never pull because they can snap or tear.

With proper and diligent care your rubber device will last a long time, but they are not as durable a silicone. These are also the most simple, cheap and discreet.

Jelly / Gel

This is a fancy name for a colorful softer rubber material. They are not actually made form jelly. These rings are all about comfort and can be molded into a various range of styles to look like cute characters such as rabbit and dolphins.

The famous Diving Dolphin penis ring is the worlds best selling vibrating cock ring and it is a soft jelly that is molded to look like jumping dolphins.

Metal

The least common material because it's tougher to size compared to all the other forms. These don't bend or give in anyway – they are actually sold metal. Sure they have a more manly appearance especially when chromed or gold plated, but they are not the safest option for men because they don't stretch when the penis becomes erect.

We offer fewer metal rings compared to any other type because they are the least comfortable to wear. Some men swear by metal penis rings, but it's not something that we recommend to first timers.
Click to buy cock rings for men online.