How to Use a Clit Pump for Intense Clitoral Stimulation
Last Updated on May 10, 2023
Clit pumps are a little known, (and in my opinion), totally underrated sex toy to increase arousal. The vulva pump vacuum suction is oh-so tantalizing bombarding huge suction directly over the clitoris. Learn everything there is to know about pussy pumps to experience temporary genital growth and increased sensitivity along with step by step instructions on how to use a clit pump.
The pussy pump is a super powerful sexual enhancer not just to use during masturbation by yourself, but couples are really enjoying the benefits of using a vibrating clitoral pump before intercourse and incorporating it into their foreplay routine as an essential part of intense clitoral stimulation to your most sensitive area.
Read on for everything you've ever wanted to now about these tiny yet super powerful and effective nipple and clit stimulator toys. We'll finish off today's lesson with a listing of the very best clit pump for women so you can get started on your way to superior intimate arousal ASAP and provide a detailed set of instructions and tutorial on using a vibrating clit pump with multiple suction speeds.
What is a Clit Pump?
The clit pump
is a small oblong or circular suction cup or cylinder that fits over the clitoris or vulva. Squeezing a hand bulb or trigger handle creates vacuum suction inside the cup which increases blood flow to the clitoris. This increases sexual response and intimate arousal.
Pussy pumping results in a highly sensitive tingling sensation that feels extremely erotic. This non-phallic and discreet a female adult toy is primarily used for sexual arousal, to increase libido and to relax the vagina before intercourse.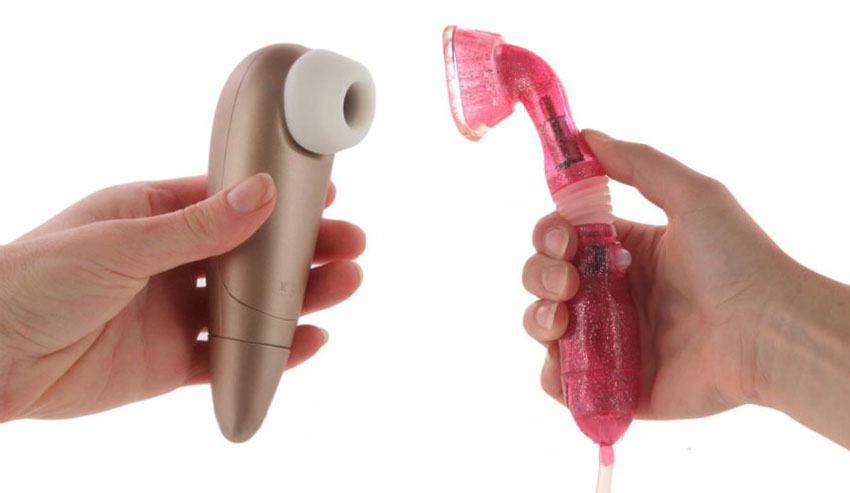 What Does a Clit Pump Do?
The cylinder or cup is placed over the clitoris or vulvar tissue, the edges of the hood are lifted over the rim of the cup. As you squeeze on the pump and apply pressure with your hand, blood is pulled to the clitoris.
A quick air release tab and complete control are common safety features assuring safe removal. Unlike penis pumps however, it is easy and safe to simply pick off the lip with your fingernail to release air pressure from the vacuum tight seal.
No other sex toy creates such an intense sensation, even the more commonly known and widely popular clit stimulator is in a different realm altogether. We're talking the difference between suction with a hand vulva pump to draw blood flow for more sensitivity versus vibration from a clit or pussy pump. Clit vibrators and clit suckers provide a completely contrasting experience and cannot be compared, (hence the penchant to own 1 of each.)
Increased Blood Flow & Temporary Genital Growth
Similar to the penis, the clitoris is made up of tissue that contains capillaries. When this erectile tissue is filled with blood, it becomes "engorged" and makes the clit and entire vulva feel and look fuller, firmer and more sensitive to touch. This is the same concept as when a penis becomes erect when using penis pumps.
Pumping also makes the clitoris more sensitive to touch which can ultimately lead to more powerful orgasms. "Blood flow to the clitoris is essential to arousal and orgasm, and clitoral pumping can facilitate that for anyone with a clitoris, regardless of gender identity, making clit pumps a very useful and inclusive sex device," says Laurie Mintz, Ph.D.  a sex therapist & psychologist who suggests the use of clitoral pumps for sexual arousal, a common stance of a good sex educator these days.
Best Clit Pumps for Intense Suction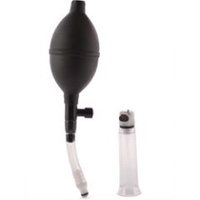 Size Matters Clit Pump is the best clit pump for those who seek hardcore, intense clit pumping. It's kinky, erotic, fetish-like and almost abusive to your poor unsuspecting clitoris.
The bulb and cylinder are detachable so that you can suck the clit deep into the cylinder and un-clip the tuning & hand bulb to leave the cylinder in place. It is the first of its kind and an impressive invention. Attach the tubing again and press the quick release valve to release air vacuum for easy removal when you're done.
The flared cylinder base assures a good air seal so that the hood & clit both get scooped and sucked up high into the cylinder. It is clear too letting you (or your lover) have a peek at the swollen button squeezed to perfection.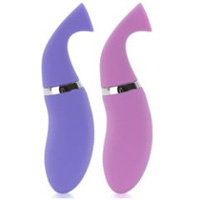 Intimate Vibrating Clit Pump is the most powerful clit pump. It uses automatic vacuum suction in a series of pulses and synchronized rhythms along with vibration. This is probably the most sexually stimulating sex toy you could ever hold against your erogenous zones.
This powerful vibrating clit pump should be on every lady's wish list for extreme external stimulation, especially this that enjoy a good string bullet vibrator, the sensation is not to far off, but add on suction and you've got the beginnings of a good external orgasm any day of the week.
Comparing Clit Pumping to What?
Here's a general rule of thumb to determine how much pumping your clitoris can handle. If you use a bullet vibrator on the strongest setting, or own one of the most powerful bullet vibrators, go ahead and pick your favorite, I'm confident you'll like the stimulation. If you find a vibrating bullet irritating, then chances are you probably won't like a clitoral pump because it will feel overly intense.
If you need to tone it down, consider the Satisfyer Pro 2 Next Generation which is an air pulse stimulator. That means it has a tiny drum inside the hole that creates pressure waves. This imitates suction without actually sucking. The burst of air is highly orgasmic which explains why the Satisfyer line of toys is insanely popular with women worldwide. The Rose clit stimulator is another sex toy that functions on air pressure instead of actual suction force.
How to Use a Clit Pump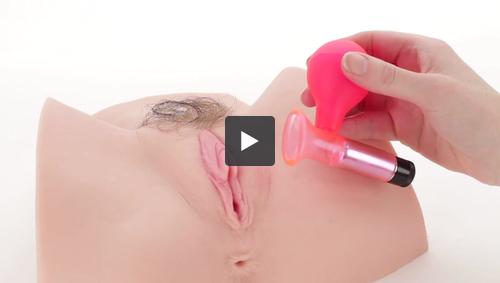 Spread some lubricant around the lip of the cylinder. This helps to seal the air and produces stronger vacuum suction.

Lift the clitoral hood and position the cylinder directly over the clitoris.

Hold the cup with one hand and squeeze the bulb with the other hand. Squeeze the bulb until the device is suctioned to your body and you feel a tingle. (Do not pump to the point where you feel pain, you may cause blood vessels to erupt!)

If your clitoral pump has a vibrator, activate the motor now.

You can leave the device in place for several minutes. If being used for sexual enjoyment, now is the time to use your favorite dildo or vibrator and enjoy a great orgasm.

When you're done, press the quick release button, located on either the device itself or the hand bulb to instantly reverse the vacuum and remove the toy. If it does not have a release valve, lift the cup edge with your fingernail.
6 Best Clit Pumps you Must Try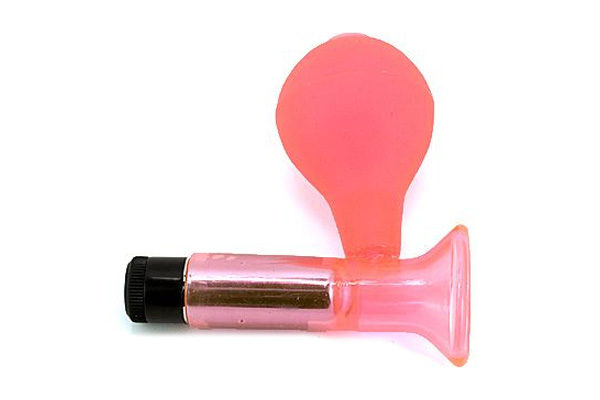 Vibrating Clitoral Sucker Pump is the most powerful sucker of all time. The bulb is permanently attached to the cylinder so vacuum suction is instantly delivered to the clitoris. One squeeze = all you need! Extra deep and solid thickly rimmed cup sucks the button up really high. Wireless vibrator adds a nice subtle tingle to this super powerful suction vibrator.
Turn the dial on the end to activate the motor after suction has been administered to the clitoris. The only "con" of this toy is the lack of quick release valve. Since suction is so strong, it can be tricky to lift the cylinder off the body after you're done. Long fingernails certainly help here, or you can rock it back and forth and get the inside of the cup wet which will eventually release the vacuum.
Suck Her Clitoral Pump is similar to the vibrating sucker toy as noted above, but this one is corded and has a separate hand bulb. This way you can control the level of suction without having to learn downwards. It is easier to use by yourself. A quick release valve makes it simple to remove when you're done.
Just like the aforementioned example, there is also wireless vibration activated by turning the dial at the end of the device. The only "con" of this toy is that the tubing is not very flexible, reviews find it to be rather stiff and cumbersome. A minor disadvantage however in comparison to the super powerful suction from the deep, solid cup.
Advanced Vibrating Clitoral Pump is the most commonly known example, it has been around for decades and the original has been re-designed to have a flexible neck. This aids in precision for when enjoying it alone, it's easier than ever before to reach the clit with the best angle for maximum suction.
Flared plastic cup is surrounded by a thick silicone sleeve with spiky texture inside. The stronger the clit pumping, the harder the spikes press into the magic button. The heavy duty stimulation and texture are totally unique. Three speed motor adds vibration which is far more powerful compared to the previous 2 models above.
Satisfyer Clit Suction Toy is a novel concept and one that you've likely seen highlighted in magazines everywhere. It's not an actual suction device, per-se. Instead, there is a tiny drum deep inside the hole which moves at supersonic speeds to create a pulse of air. This feels like suction, although it's actually pulsing air!
The stimulation feels rather intense, but unlike actual vacuum cylinders, there is no concern for going overboard and building up too much suction and damaging the capillaries. There is no suction here at all! Some find it safer, especially if you're the type who gets lost in the throes of great masturbation and lose control of how hard you use your sex toys. That's okay, we get it; fantasies are all-encompassing!
Breeze Satisfyer Clit Pump has a drum inside the hole that pulses and creates a pressure wave which emits an intensely powerful tingling sensation. The savvy reader may notice the lack of suction, but once you use this for the first time, you'll understand why it makes an appearance on the best clit pump listing. It FEELS like suction, even though it technically isnt.
Witchcraft? Magic? Call it what you want but this ingenious design is the brainchild of the popular female sex toy brand known as Satisfyer, hence the naming of this and the previous entry in the list. The top rated must-have clitoral stimulator of the year.
Contour Vibrating Clitoris Pump features a thick padded cup that provides more comfort than ever before. The wide silicone rimmed lip helps to prevent air gaps which will inhibit the vacuum suction inside the cup.
Deep within the well are firm bumps that feel great when sucked against the clitoris. The flared rim easily captures the entire vulva forces more blood into the pussy to get you in the mood for sex. A perfect stimulating sex toy for women with vaginal dryness due to menopause.
How to Choose the Best Clit Pump
There are several variations to the styles of clitoral pumps, so how do you know which one you'll like best? Use the following pointers to determine which sex toy style suits you:
Many have a quick release tab on the handle of the hand bulb. This is a safety feature, but in comparison to the importance of quick release on a penis pump, it's not as essential for a pussy pump. Why? It's super easy to stick a fingernail under the cylinder lip and peel it off of the body.
"If you're looking for a more diffused sensation, choose a product with a larger head. If you're looking for a more focused stimulation, a product with a smaller head might be a better option for you." White adds.
Another thing to consider is whether you're interested in pumping just the clitoris or if you'd like to try vulva and/or vagina pumping as well. Some products will do both, as well as have the option to add vibration. If you want to cover & stimulate the whole region, check out my review of the best selling pussy pumps that offer both clitoral and vaginal suction capabilities.
Benefits of Clit Pumping:
1. Fast & Powerful Orgasms
The hallmark benefit of clitoral pumping is the sensation that happens as a result of the increased blood flow to the specific region. Simply put, the user will experience greater arousal, heightened sensitivity, and ultimately more intense orgasms. 
2. Supports the Pelvic Floor
A closer look at female genital anatomy will show how the pelvic floor, vagina and clitoris are a closely interconnected network. Stimulating the clitoris via suction connects to the pelvic floor muscles. Pussy pumps with adjustable suction over the entire area allow you to start slow and apply as much or as little pressure to the pussy as you desire.
3. Stimulates Natural Lubrication
As a woman approaches menopausal age, the ability to produce natural lubrication often decreases due to hormonal changes. Vaginal dryness is a common issue. "Using a clitoral stimulator allows you to keep your body's juices flowing without the need for internal stimulation, which can be especially helpful as your body experiences the natural changes that come with aging," Says Megwyn White, a Certified Clinical Sexologist based in NYC.
4. Boosted Confidence & Libido
Clit pumping enhances visual pleasure. Both men and women find the sight of a bigger clit to be a turn-on, in fact males are biologically wired to be attracted to a female with a big clit. It's the same concept as using a penis pump – you will have a large clitoris for a brief period after you've used the pussy pump, but it will naturally return to its original size once blood exits the capillaries and flows back into the body.
Pussy & Clit Pump DIY
Don't want to fork over cash to buy a clit pump? That's okay, you can easily DIY clit pump at home with everyday supplies. Here are a few ways to make a homemade pussy pump, your very own erotic DIY sex toy project:
Plastic Bottle
You'll need a very soft plastic bottle with a small opening that fits over the labia or vulva. Place the rim over the pussy, squeeze the sides in and enjoy the pumping sensation. Since the bottle is solid plastic, it's doubtful you'll get the full vacuum capability of the tried and true, but hey, if you use an empty toiletries bottle it's free to try, so why not?
Plunger Syringe
Buy a plunger or oral syringe and cut off the narrow tip. Place it over the pussy and pull the plunger upwards to build pressure. Now the freshly cut tip may not be very comfortable, but if you're crafty enough you can DIY clit pumps more comfortably and line the rim with anything soft and/or padded. You can even try duct tape to soften the harsh edge.
Click to buy clit pumps online.