Satisfyer Pro 2 | Review, Instructions & Video Demo
Last Updated on October 26, 2023
One of the worlds most famous female sex toy brands, Satisfyer is widely known for making amazingly awesome products like the Satisfyer Pro 2 Next Generation clitoris stimulator for those who want a good clit sucker sex toy while keeping it classy and discreet.
No giant fake dildos here, just simplified, sleek and modern looking clit stimulators and some of the finest clit pumps for sale specifically made for pinpoint pleasure and a boatload of easy and powerful clitoral based orgasms.
Table of Contents
They've evolved to become one of the main competitors of Womanizer, another super popular sex toy brand that makes similar products with positive reviews worldwide. Not to be biased, but we give the edge to the Satisfyer Pro 2 Next Generation air pulse clitoris stimulator, the best vibrator they've ever made (in my opinion).
Today I'll list out personal tips, techniques, tutorial and full instructions on how to use Satisfyer Pro 2 and provide a full review & comparison between the different clit stimulators and other vibrators in their lineup.
Finally, you'll be able to watch a video demo of the Satisfyer Pro 2 where you can see the pressure wave drum in action and learn exactly how to use it. Finally, the million dollar question of Womanizer vs Satisfyer will be answered once and for all!
Satisfyer Pro 2 Video Demo
View this Satisfyer Pro 2 video demo tutorial to watch me follow the step by step Satisfyer Pro 2 instructions listed below. I'll demonstrate how to operate the device and exactly how to place it on the clitoris.
Notice that I turn the wand around facing the viewer and place the hole in view of the camera. Watch closely and you'll see the air pulse drum pulsing back & forth. This is the ingenious mechanism that creates the high pressure waves!
How to Use Satisfyer Pro 2 Instructions
Spread your clitoral hood with 2 fingers and expose the clitoris.
Firmly press the cup over the clitoris and make sure the clit is positioned inside the hole.
Press the bottom white clicker button to turn it on.
Press the top button on the dual clicker button (above the on button) to activate the air pressure wave.
Press the same button up to 11 times to increase the strength of the air pressure wave.
Hold the device firmly in place with your hand and try not to move it.
Count down the seconds until you reach orgasm!
How Does the Satisfyer Toy Work?
There is a tiny drum deep inside the hole that pulses back & forth at hypersonic speeds to create continuous, concentrated pressure waves. When you touch your clitoris lightly to the opening of the device, you'll feel tiny waves of suction alternated by bursts of air at a furious pace of hundreds of pulses per second. It is a clever & ingenious creation, to say the least.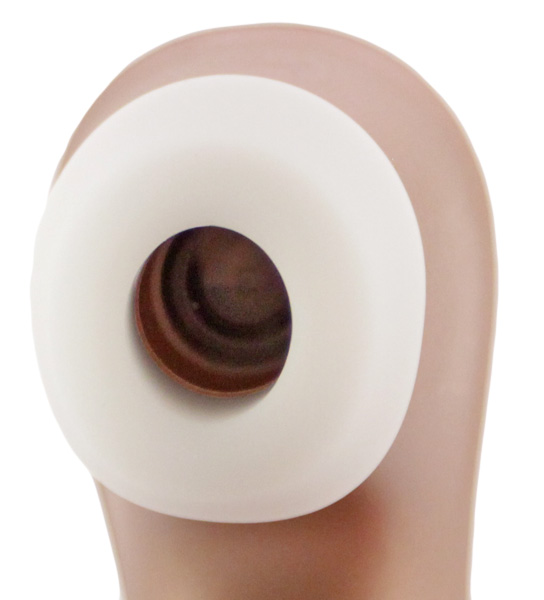 Satisfyer Pro 2 Next Generation Reviews
There are thousands of reviews of the Satisfyer Pro 2 online. Based off the high and continuous volume of reviews published, it truly seems like every woman owns one. Both positive and negative reviews can be read, but that makes sense because not everyone likes the same thing!
I tried using this with my partner. It didn't really go well... He moved the handle to the side and it lost contact with my clit and I had to re-position it. This is not a clit toy for couples use, I'd say it's something you would only use alone. ~ Judina Smith
If you have a super sensitive clitoris, I don't think your Satisfyer Pro 2 Next Generation review will be glowing. It is really intense, and yes, you can turn down the motor to a lower setting, but then why are you paying upwards of $50 for a clitoral pressure stimulator? In that case, choose a cheaper clit sucking sex toy and save yourself some cash.
If you enjoy strong clitoral suction / vibration / stimulation, chances are you will really love the Satisfyer Pro 2 Next Generation and will find excellent value in that nearly $50 you just spent. What other features come with that minor investment you just made? It's rechargeable!
The Satisfyer Pro 2 Next Generation is rechargeable. In comparison, the previous generation called Satisfyer 1 is alkaline battery operated. Any USB rechargeable vibrator will be more powerful than a battery operated vibrator. Why? The lithium ion battery that is charged by USB cable is capable of producing more power compared to a simple alkaline battery operated motor.
I own 2 other clit suckers that also use air pressure. They both require conventional batteries, and Satisfyer 2 has a USB charge which I think is a fantastic variation - it is far more powerful than my battery operated suckers. Also, it is super quiet! I really love this product. ~ Anna Bloom
What Does Satisfyer Air Pulse Feel Like?
Satisfyer Pro 2 air pulse feels similar to a clit pump or clit sucker. Even though the device does not actually create suction, the tiny drum creates supersonic air pressure waves that mimic the feel of suction. It can be compared to the sensation of amazing yet gentle oral sex, or that of having a super talented lover erotically lick and suck the clitoris.
First of all, visual impressions may lead you to believe that the white silicone cup is soft. That is not the case, it is totally solid. The surface of the silicone cup is slippery, silky and smooth, but the cup itself is completely firm. Check the video above to see me squeeze the tip.
Best Satisfyer Clit Suckers: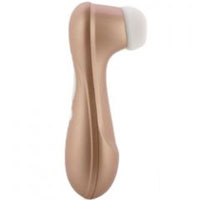 Satisfyer Pro 2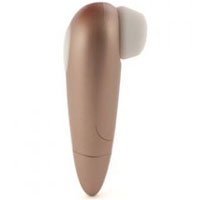 Original Satisfyer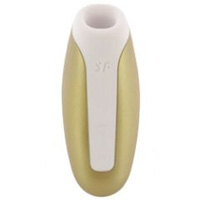 Satisfyer Breeze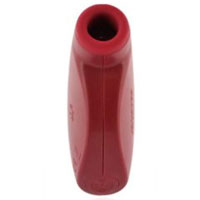 One Night Stand
Air Pulse Clitoris Stimulation Technique
You'll need to lift the clitoral hood for proper positioning. The pressure wave pulses air from deep inside the hole, and if you have part of the clitoral hood exposed to the drum, it will miss the clitoris and blow air on the hood. This feels good too, but mind you this completely "misses the mark" so to speak. This is the basic rule of thumb for any clit pump, not just a guideline exclusive to the Satisfyer.
Provided that you placed the hole right over the clitoris, now you'll really enjoy the feel. Turn on the motor and press the "+" button up to 11 times to reach the strongest setting. Sure this many power settings may seem redundant, but it's necessary for ladies with sensitive clitorises because the highest setting can be overly intense if you're not used to the feeling of air pulsing.
Features I Like Most:
Rechargeable USB cable produces a far longer running time that the previous generation that uses alkaline batteries.
Mine came pre-charged, even though the instruction booklet said to charge it for 8 hours, I didn't have to!
The pressure wave drum is placed at a full 45 degree angle on the wand compared to the 15 degree angle of some other Satisfyer toys, so it's easier to hold (more ergonomic).
15 year manufacturer warranty far exceeds the standards for any sex toy manufacturer.
More powerful air pulse stimulator compared to its predecessor.
Just as discreet as the comparable Vibrator Rose.
It looks pretty and rather elegant for a clit sucker toy.
No lube required.
What I Did Not Like:
Lacks vibration, I personally prefer suction vibrators instead.
Even though it is waterproof, functionality was greatly reduced underwater.
When the battery power became depleted, it quit working suddenly. Playtime is over, off to charge instead...
It's expensive for a clit toy, especially in comparison to the cheaper Satisfyer 1, which is very close in terms of function and pleasure potential.
Womanizer vs Satisfyer - Which has Better Reviews?
Reviews for both of these womens sex toy brands are rather even. The truth is that they are practically identical. The main and most noticeable difference of Womanizer vs Satisfyer is the size of the clitoral cup. Womanizer has a smaller cup with a thinner lip, so in theory it is easier to place over the clit.
Satisfyer Pro 2 has a wide rimmed cup so it may be trickier to get ideal placement of the drum. In my personal opinion, even though the wider cup may be more challenging to position, it is more comfortable than the narrow cup which can press uncomfortably into the surrounding tissue.
The other difference to note is that is that the handle is thinner on the Satisfyer Pro compared to the Womanizer and I think it's easier to hold, but my hands are petite so a larger gal may not necessarily agree with this statement. View the Satisfyer Pro 2 video to watch the demo and see how your hand would fit compared to mine.
The price points differ too. The Satisfyer vibrator is cheaper than Womanizer. As for quality? They are close.
Both manufacturers have good reputations in the sex toy industry. If the Satisfyer sex toy lacks engineering quality and isn't as long lasting as Womanizer, at least you have the 15 year manufacturer warranty to fall back on. This has not been in the scope of my experience, however, both all very high quality products.
Review: Satisfyer 1 vs Satisfyer 2
Satisfyer 1 is the virtually the same product but smaller, with slightly less power and operates with 2 AAA alkaline batteries. It is also nearly half the price as the rechargeable model, so if you are shopping under a limited budget, then by all means save yourself some cash and buy Satisfyer 1 instead of Satisfyer 2.
Another one to consider if you are on a budget is the newly introduced Breeze Satisfyer, a more compact version of this air pulse stimulator. This one is even smaller than the aforementioned and is super popular for women who need to boost libido or increase natural vaginal lubrication before sexual intercourse (although any of the 3 Satisfyer sex toys are equally adept for foreplay fun).
Satisfyer 2 produces more power (lithium ion batteries are naturally stronger than alkaline). The running time is quite long. I was able to enjoy nearly 2 hours of clit sucking fun on full speed. The elongated and tapered handle is much easier to hold compared to the teardrop shape of Satisfyer 1 and even the Breeze. Even though the "2" is bigger, I still found it more ergonomic for my wrists.
New & Trending Clit Suckers:
Finger Sucker
Vedo Clit Sucker
Fuzu Suction Toy
Rose Sucker Vibe
Frequently Asked Questions
Q. Is the Satisfyer Pro 2 waterproof?
A. Yes, it is fully submersible and waterproof! In my demonstration review above however, I noted that the functionality isn't as good under water, so it's best to use it on dry land for fully effective clitoral stimulation. You can submerge it completely to clean however. This is a nice feature enabling you to fully wash out lube from the cup (if you used lube with it).
Q. How long does Satisfyer Pro 2 battery take to charge?
A. The full battery charge takes about 2.5 hours for 2 hours of running time on medium speed. I enjoyed a little over 1.5 hours running time on full speed after a full charge. Even though the instruction manual said the initial charge should take 8 hours, mine arrived in the box with the battery already fully charged. Maybe yours will too!
Q. What is the difference between Satisfyer 2 and Satisfyer Pro 2 Next Generation?
A. "Satisfyer 2" and "Satisfyer Pro 2 Next Generation" are the same product. The term "Next Generation" is in reference to the "2" being the next generation upgrade from the original model. It used to have this written this on the box, but recently the manufacturer changed the packaging.
It is now more colorful and visually attractive. They also removed the wording "Next Generation" from the box. It is now simply called " Satisfyer Pro 2". You can see where they are going with this, so stay tuned for Satisfyer Pro 3 which will also add vibration to the mix! I'll post the video demonstration tutorial and complete review here once it lands on my office desk. Oh-la-la!