7 Best Anal Training Starter Kits for Beginners
Last Updated on August 8, 2023
Anal stimulation is a popular and powerful way to increase sexual pleasure during sex, foreplay and solo masturbation. All genders and sexual orientations benefit equally from anal training toys. Small anal stimulators are the best way to begin back door adventures safely and comfortably.
If you are a beginner, you'll find the best anal training kits for sale, fully reviewed and compared against some of the best training anal plugs on the market today. Check out our anal training kits here to get started. You'll learn about anal stretching and ways to make back door penetration more comfortable for your first time.
What are Anal Training Kits?
Anal training kits include a series of butt plugs or anal dildos that come in set of staggered sizes from small to large. The purpose of a multi-piece anal toys kit is to train the anal sphincter to be accustomed to larger sizes in a gradual procession one at a time.
Relaxing the Sphincter
Think of the rectal sphincter as a "one way" opening. Stuff comes out of it naturally, but doesn't go in comfortably without practice. The sphincter can easily be stretches to accommodate something with a large girth, and it really doesn't take that much effort. That's the appeal of an anal starter kit.
The best way to relax the sphincter is to use a small beginners anal toy. The most important feature to look for is something with a thin neck and flat base to prevent it from getting sucked too deep into the rectum.
You want it to stay in place right around the entry applying pressure inside the anus. This is the location of very sensitive nerve endings which when stimulate produce the immense sexual pleasure that anal toys are known for.
The End Game of Anal Penetration
Just because you want to stick something in your butt doesn't mean you're trying to set size records. Using a butt plug feels good. Anal starter toys are gentle for beginners sexual pleasure. Most people enjoy a touch of pressure back there, it doesn't have to be intense or hardcore.
Training anal plugs can be simply for getting used to the feel of something in the butt. It doesn't indicate you're trying to get used to a massive butt plug, you just want to relax the anus so that butt toys feel good, not uncomfortable.
The sensation of a vibrating butt plug is highly erotic, the tingling from the multi function vibration settings can make a person orgasm without vaginal or penis stimulation.
Top reasons people use anal training toys:
Prepping for anal sex - Beginner anal toys are much smaller than a penis, which can be overwhelmingly large for first time anal penetration.
Orgasm enhancement – Wearing a butt plug during an orgasm makes the muscle spams and clenching feel more intense thus increasing the pleasure and power of the orgasm.
Prostate stimulation – Surprise! The male prostate is inside the butt. Prostate stimulators massage the P Spot. Choosing a curved anal toy encourages prostate stimulation which makes his ejaculations stronger and longer lasting.
G Spot Stimulation – We know the G Spot is in the vagina – but wearing a curved butt plug forces the penis, dildo or vibrator to the front essentially encouraging G Spot stimulation during sex toys play or penetrative sex.
Best Anal Training Kits
If you're here seeking a recommendation on a complete anal training set to purchase, these are my personally reviewed and hand picked selection best anal trainer starter kits suited to beginners. Both men and women will enjoy benefits from these excellent anal training kits: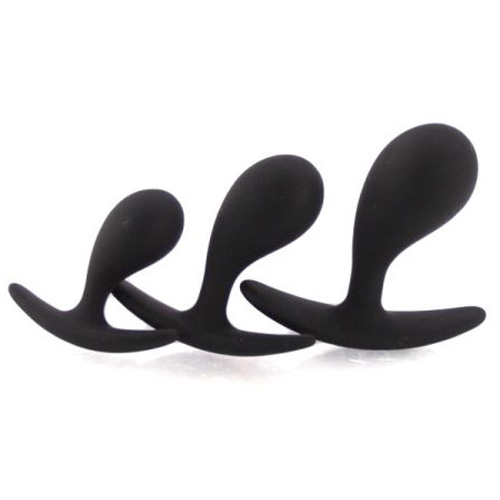 Curved Anal Training Set is my top recommendation. For men, the curved plug stimulates the prostate gland. For women, it encourages better G Spot stimulation during sexual intercourse when she wears a plug during sex. It also just happens to be one of the best couples butt plugs because it benefits him and her. It also helps a gal's vibrator rub the G spot as it narrows the space in the vagina.
Key Features:
Curved tip for male P Spot & female G Spot stimulation
Ski shaped base discreetly tucks away making these suitable for all-day wear
Made of body safe silicone
Firm tip over flexible stem for superior comfort
Specifications:
| | |
| --- | --- |
| Total Length | 2.2" | 2.7" | 2.9" |
| Diameter | .8" | 1" | 1.2" |
| Material | Silicone |
Mayla's Rating:
10/10
Even though the bulbous tip may be intimidating to insert at first, the resting shape of the curve inside the body feels absolutely incredible for both him & her. The best anal training plug set for intense orgasm enhancement.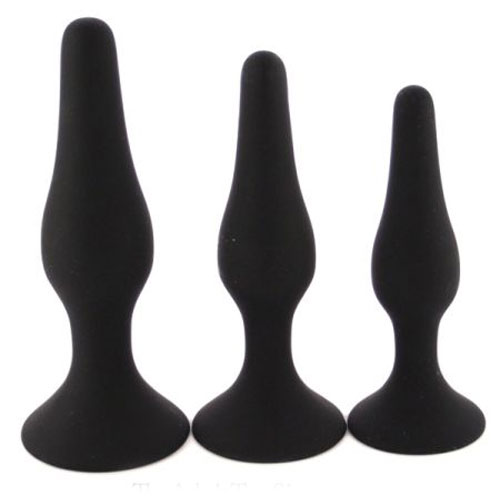 Tapered Silicone Anal Plug Kit is excellent for anal stretching since they are the largest of the 3 butt plug kits available. The large stepped sizes are incremental, each one is significantly bigger than the previous so if you wan to get used to anal penetration, this is THE kit to purchase.
Key Features:
Made of medical grade silicone
Indented sticky suction cup bases
Incremental sizes for a true anal stretching regimen
Strap on harness compatible
Popular for advanced pegging play
Specifications:
| | |
| --- | --- |
| Total Length | 4.1" | 4.5" | 5" |
| Diameter | .95" | 1" | 1.24" |
| Material | Silicone |
Mayla's Rating:
10/10
The rounded tapered tips are easy to insert, so even though the body may be a bit wide for a true newbie, the initial insertion will be easy. Just make sure to slather on a generous amount of lube before attempting to insert.
The short stem is good for adding rectal stretchering and constant pressure so you can be accustomed to the sphincter being held slightly open. Relax and enjoy!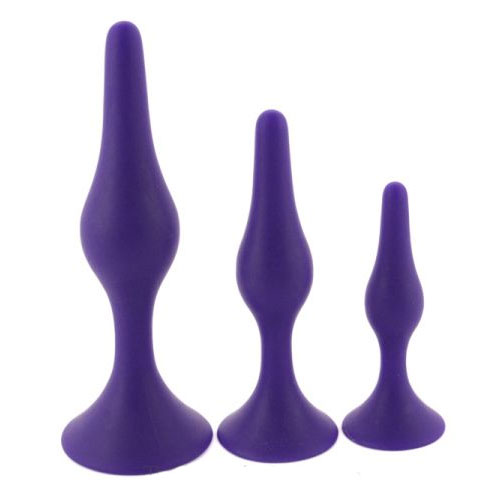 Booty Call Pegging Toys Set is my second top recommendation. Even though these are titled "pegging", they are not just reserved for anal pegging sex. They just happen to be the best training anal plugs money can buy. Sleek, gentle and high quality, these will provide a lifetime of sexual pleasure.
Key Features:
Reaches deep into the rectum
Thin girths minimize anal stretching
Stiff build for easy insertion
The smallest anal training kit available
Strap on compatible for pegging sex
Specifications:
| | |
| --- | --- |
| Total Length | 2.75" | 3.75" | 4.5" |
| Diameter | .75" | 1" | 1.25" |
| Material | Silicone |
Mayla's Rating:
8/10
These are popular because of the diminutive sizes. Even the largest one is still small in comparison to other beginner anal toys in our sex toy store catalog making this set very appealing to newbies. I knocked off a few points in my rating scale because they are so thin, it really doesn't train the anus to accept larger girths one day down the road.
Heart Butt Plug Trainer Kit is the prettiest anal training kit for women we've ever seen. If you're curious about butt plug training kits but don't like all those manly looking collections for sale out there, then we're pleased to introduce you to the heart gem silicone butt plug trio.
Key Features:
Pink butt plug kit is pretty & feminine
Heart shaped diamond base adds enormous sex appeal
Thick body & thin stem provides maximum pressure with minimum stretch
Large size increments for a true anal training regimen
Made of solid body safe silicone
Specifications:
| | |
| --- | --- |
| Total Length | 2.8" | 3" | 3.6" |
| Diameter | 1" | 1.3" | 1.7" |
| Material | Silicone plug, Plastic gems |
Mayla's Rating:
8/10
The pink color and heart shaped gem may be a turn off to some, yet appealing to others; therefore, its popularity is limited based on its polarizing styling. If you love the look, check out our other diamond anal plugs.
The shallow pressure applied directly inside the anus is the key to intense sexual pleasure, you may even have an anal orgasm just by wearing this and stimulating your clitoris. It's rather hardcore despite the innocent and fancy look.
Silicone Anal Dilators is the best anal training kit for gentle and gradual anal training for beginners. The stovepipe shape applies even stretch regardless of how deep they go so you can experiment with various depths; something I totally recommend because it feels highly erotic. These are some of the most unique beginner anal dildo style sex toys we've ever seen.
Key Features:
Solid & smooth non-phallic dildo has unisex appeal
Made of medical grade silicone
The only anal dildo training kit
Hollow interior keeps the weight down, the feel lightweight despite being solid
Open ended design allows you to apply lube deep inside the body
Small girths compared to the other choices for sale
Specifications:
| | |
| --- | --- |
| Total Length | 3" | 3 1/4" | 4" |
| Diameter | 1/2" | 3/4" | 7/8" |
| Material | Silicone |
Mayla's Rating:
10/10
For a first timer, this is the perfect anal trainer kit to try. These beginner butt dildos have a universal appeal so any person regardless of gender or sexual orientation will enjoy using them. The steady and consistent shape can reach deep for anal exploration.
The hole at the end is useful to load lube, although our sex toy reviewers found that it isn't as easy as it looks – you'll need a super skinny lube shooter or lube injector to make it all the way to the tip. Still not a deal breaker and these are so awesome I still rate them a full ten out of ten.
Inflatable Anal Expander Toy is tailor made for anal training. It is essentially a long silicone tube with an inflatable balloon at the end. Squeeze the hand bulb to inflate and press the quick release valve to deflate. If you're new to the world of inflatable anal plugs, check out our other similar sex toys since expanding anal probes just happen to be some of the best anal stretching toys.
Key Features:
The user can customize exactly how shallow or deep the tube will go
The user can choose how full too inflate the expanding balloon
Measures a mere 1/2 inch upon initial insertion
Quick release tab assures easy removal every time
Silicone bulb is more durable compared to those made of latex
Specifications:
| | |
| --- | --- |
| Balloon Length | 3 inches |
| Deflated Diameter | 1/2 an inch |
| Inflated Diameter | 3 inches |
| Material | Silicone |
Mayla's Rating:
9/10
By pumping the hand bulb, you can literally customize how much or little girth you want to experience. Start with giving the hand bulb a few pumps at first. As you get used to the stretching sensation, pump it a few more times. Initial deflated insertion is thinner than a finger!
You'll be able to attain a size far larger then any other anal training toy for sale. The reason a few points have been deducted is because there is a significant failure rate with inflatable anal toys. They just don't last as long since the seals between the balloon and the tubing tend to leak after several uses.
How to Train for Anal Sex
Once you've selected your best anal training kit, here are some Sexpert tips on how to make first time anal sex enjoyable and reap the orgasmic benefit of back door penetration.
1. Do the Douche
The top concern and hesitation people have when thinking about having anal sex for the first time is the smell and presence of natural body residue (poop, feces, whatever you want to call it).
Even if you have a bowel movement in the bathroom before anal penetration, there will be some residue left inside the rectum. Use an anal cleaner to douche your rectum before doing anything else.
2. Choose a Thick Anal Lube
The secret is to use lots of lube. The best anal lube is specially formulated to be thick and viscous. In comparison to vaginal or personal lube, the thick formula isn't as runny so it won't "squeegee" off your partner's dick during insertion.
3. Buy an Anal Dildo or Vibrator
It's worth considering anal toys that vibrate. Sure butt plugs are great for the stationary pressure, but increase pleasure with an anal dildo and thrust it in & out imitating the motions of anal sex. Obviously you would choose a vibrator or dildo that is shorter and thinner than your partner's penis so you can get an indication of what actual butt sex will feel like.
How to Choose a Butt Plug Kit
When shopping online for a small butt plug, the most important feature to look for is a flat base. It IS possible to get something lost in the depths of the rectal cavity, resulting in an embarrassing trip to the ER department to retrieve it.
A flat base means the plug can't get sucked inside the sphincter
The base will keep it in place propped between your butt cheeks
Another important reason for choosing an anal plug with a flat base is to prevent it from falling out
A thin and super slim anal training set can easily fall out when you move around or change positions during penetrative sex. The flat base keeps it "propped" in place until you remove it with your fingers.
Size Matters
When choosing the best anal training plug, pick one with a small girth. This may be a super obvious statement, but make sure to understand how big or small the plug really is. Watch our video demos on each product page. Grab a tape measure to visualize the actual measurements before ordering.
The dimensions of an anal stretching toy varies greatly, so unless the product description states specifically it is a "good anal training toy for beginners", then note the dimensions before ordering. The pictures may look small but the toy may actually be bigger than a beginner would feel comfortable using for the first time.
Best Types of Starter Toys
You've learned a lot and even seen a few examples of the best anal training sets for sale. You're not limited to the 7 selections displayed above however, you're free to pick your own plug, probe, vibrator or dildo that you like best.
Here are some of the best sex toy categories to create your own anal starter kit: