Best Couples Anal Toys & His and Her Butt Plugs
So you want to spice up the sex life with adult toys? Typically partners will seek out dildos, vibrators, strap ons and vibrating cock rings. These are familiar types of sex toys for couples that are commonly used to increase sexual pleasure and create a more playful and exploratory sex life for both him and her.
Anal play shouldn't be overlooked in your quest to find the best couples sex toys. There are many types of anal toys and butt plugs that are perfect for couples to enjoy together. Most are his and hers butt plugs, but lesbian and gay couples and people of any all genders benefit just the same from these couples anal toys.
Today's anal toy guide is made for beginners. First timers who are curious about dabbling in backdoor adventures will enjoy my hand-picked butt plugs, anal beads and other small ass toys that encourage rear-focused foreplay that results in more powerful orgasms for men and women alike.
What is a His and Hers Butt Plug?
His and Hers Butt Plug is essentially a fancy term for two anal plugs that a couples uses together (one anal plug dedicated for each partner). Couples often have sex each wearing a butt plug to increase sexual pleasure and producing more powerful orgasms from the plugging sensation and pressure inside the rectum during intercourse.
Please note the term his and hers butt plug does not denote that couple share the anal toys. Unless you are married, sharing sex toys of any kind is unsanitary – each person should have their own anal toy that never sees another butthole. There is a risk of spreading STD's through sharing sex toys, this is why it's acceptable for married partners to share.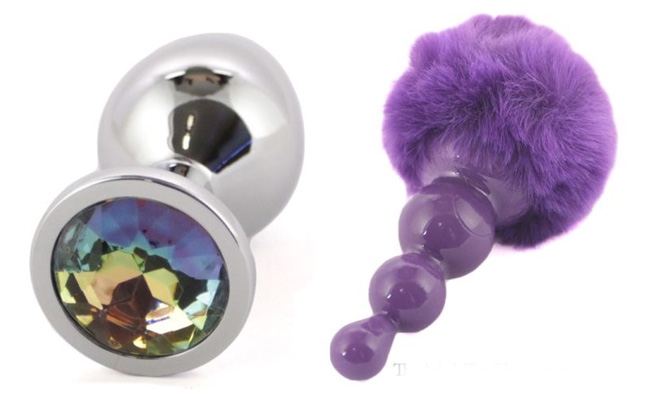 Best Types of Couples Butt Plugs
Some couples butt plugs may have feminine or masculine designs for visual appeal. I am a fan of this type of rectal stimulator since it will be easy never to accidentally mix them up! It'll be obvious which one is for him, and which one is for her.
Diamond or Jewel Butt Plugs - Your partner will see the glittering gem, heart or diamond base sticking out of the anus, so pretty anal jewelry abounds to enhance erotic visual appeal. These pretty sexual enhancers are also known as princess butt plugs and are very popular anal toys for women.
Fox or Cat Tail Butt Plugs – The furry animal tail plug adds a raw and animalistic edge to your sex life. These extravagant tail plugs are very popular for role play costumes, anime and cosplay sex games. If you want pure unadulterated sex, let your inhibitions go and try using a tail butt plug.
Other Butt Plugs for Couples – Thinking generically here, the reality is that any butt plug you like can be used during partnered sex. If you want to be discreet, pick up a butt plug with a curved base so it tucks away out of view between your butt cheeks. Inflatable or large plugs are for experts who crave intense stimulation in the anus during sex.
6 Best Anal Toys for Couples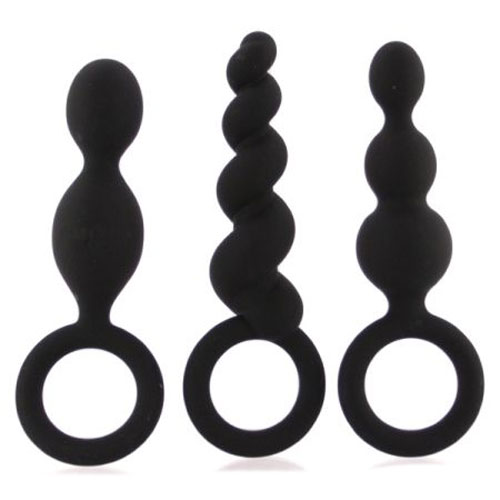 Satisfyer Butt Plug Set is the best couples butt plug kit with funky, unique shapes. You'll get all three in one set. These are excellent anal trainers since the sizes vary, but not by much. They are perfectly stiff for easy insertion especially when you slather on water based anal lube.
In addition to anal training, you'll enjoy bulbous, beaded and twisted shapes for maximum sexual pleasure. This set is one of the best anal toys for couples because of the large rounded retrieval loop. It is easy to hold onto and you can thrust it or twist it in and out of your partner as they guide you.
Key Features:
Made of hygienically superior silicone
Range of sizes doubles as the perfect anal training toys for couples
Thick retrieval loop is easy to hold & manipulate
Includes a set of three as shown
Equally pleasurable for both him and her
Specifications:
| | |
| --- | --- |
| Total Length | 5 – 5 1/4 inches |
| Insertable Length | 3 1/2 inches – 4 inches |
| Diameter | 7/8 inch - 1 1/4 inches |
| Material | Silicone |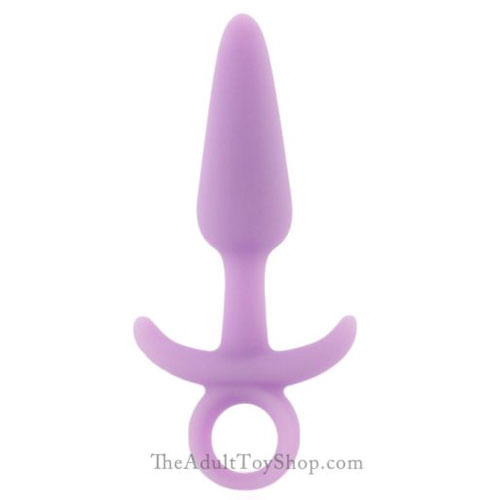 Firefly Silicone Butt Plug features a circular finger loop connected to the base of the butt plug that makes it super easy to thrust in & out or jiggle in a stirring motion. If you enjoy incorporating anal stimulation into couples foreplay, this is a neat and tidy way to do so.
You'll be keeping your fingers clean while being able to thrust the plug like a dildo. This long and sleek shape reaches deep into the rectum but never gets overly large making it a suitable option for the average person. Pink and blue colors make this is the best his and her butt plug.
Key Features:
The loop at the base keeps your partners fingers away from the anus
Long stem allows the body to reach deep into the rectum
Long yet thin shape provides amazing stimulation without being too wide
Silky smooth silicone surface feels elegant and luxurious
Pink and blue colors are the hallmark of a traditional his and her butt plug
Specifications:
| | |
| --- | --- |
| Total Length | 5 inches |
| Insertable Length | 3 1/2 inches |
| Diameter | Ranges between 1/2 – 1 inch |
| Material | Silicone |
| Color Options | Blue, Pink, Purple |
Pink Gem Glass Butt Plug is a stunningly gorgeous butt plug, in fact, we think it's the prettiest we've ever seen. If you want a sparkling gem to shimmer when he looks at you from behind, this stunning anal jewel is the perfect choice.
Available in 3 sizes so each experience level can find one to suit their desires. The pink gem is beautiful while the clear solid Pyrex like glass is shatterproof and adds a noticeable weight in the butt to improve your pleasure during lovemaking.
Key Features:
Three size options to assure everyone can find their desired width
Solid unbreakable glass butt plug enhances pleasure
Pink gemstone adds highly erotic feminine appeal
One of the most affordable glass diamond butt plugs for sale
Narrow neck and flared body prevents it from falling out during sex
Specifications:
| | |
| --- | --- |
| Total Length | 3, 3 1/4, 3 3/4 inches |
| Diameter | 1, 1 1/4, 1 1/2 inches |
| Material | Glass |
Trio Vibrating Butt Plug Kit brings home 3 different sensations in 1 convenient vibrating butt plug kit. The size of each butt plug is relatively similar, the major difference is the overall shape. It includes one bullet vibrator that inserts into the hole at the base of each toy.
If you want to give one of these to your lover, simply purchase a separate vibrating bullet and slip it inside te hole on the base of their chosen plug. The subtle vibration is quiet and discreet yet provides a trilling tingle to enhance your overall sensations during sex.
Key Features:
Vibrating butt plug with wireless vibrations
Includes three anal plugs and one bullet vibrator
Waterproof vibrator for fun in and out of the water
Compatible with all types of anal lube
The vibrator measures 2 inches long and 5/8 inch wide
Specifications:
| | |
| --- | --- |
| Total Length | 4, 4 1/4, 5 inches |
| Diameter | All 3 plugs range between 3/4 – 1 1/4 inches |
| Material | TPE - Thermoplastic Elastomer plugs, Plastic vibrator |
| Color Options | Black, Pink, Purple |
Fun Flex Anal Wand Toy is the best anal dildo for couples who enjoy anal stimulation. It is long and super stiff. The double sides structure can be used in both directions. The heavily beaded shaft is reminiscent of beads while the opposite side with the single ball goes super deep into the rectum.
Gender neutral gray-blue is suitable for both you, but if you'd each like to try it, I highly recommend each purchasing your own since it is unsanitary to share PVC based anal toys. Extra long shaft assures your hand stays far away from the dirty zone!
Key Features:
Long shaft keeps your hands and finger far away from the anus
Double sided texture of bumpy versus smooth
Stiff dildo is easy to insert into the anus when well lubricated
Our best selling anal dildo for couples
One of the cheapest anal toys in our catalog
Specifications:
| | |
| --- | --- |
| Total Length | 9 1/2 inches |
| Diameter | 3/4 inch at the thinnest point - 1 1/4 inches across the thickest bulb |
| Material | PVC |
Flexer Vibrating Anal Beads is a silent yet powerful beginner-friendly small sex toy back door foreplay fun. It's tailor made for couples, the deep silicone anal beads are stiffly connected to the handle allowing your lover to poke, prod, thrust, jiggle and simply explore the depths back there.
Available in two colors so both you can find your perfect his and hers anal toy (black and pink, respectively) The anal vibrator is wireless and waterproof and has 3 powerful speeds of vibration that originate in the tip for deep rectal stimulation.
Key Features:
Flexible shaft assures comfort when your partner controls it
Motor is located in the top bead for the deepest anal stimulation
Large handle is easy for your partner to hold
3 speed motor takes you gradually from tease to please
Waterproof for fun in and out of the water
Specifications:
| | |
| --- | --- |
| Total Length | 9 inches |
| Insertable Length | 5 1/2 inches |
| Diameter | Ranges between 1/2 – 7/8 inches |
| Material | Silicone beads, plastic handle |
| Batteries | 2 AAA, not included |
| Color Options | Black, Pink |
Best Types of Anal Sex Toys for Couples
Here are my favorite category recommendations in our adult toy shop to browse when seeking out stimulators for enhancing anal play together:
Essential Features of Couples Anal Toys
What exactly should you look for when buying the best couples anal toys online? Here are a few ideas to get you inspired to try his and hers anal sex toys during foreplay:
Anal sex toys with a "handle". Something that sticks out of the ass will be good for lovers because one partner can thrust it in and out, jiggle it around and stimulate the anus and rectum during foreplay. The anal dildo is one of the best butt toys for couples since it is easy to manipulate and move without needing your fingers to be too close to the hot spot, if you know what I mean.
Stiff or rigid anal toys & beads. Something that is soft and gooey will not be as easy to insert into the anus. Butt plugs like this are not meant to be moved around. An anal dildo with a stiff shaft or a set of long anal beads with a rigid build will be better for couples to play with during butt stuff since less effort is needed to keep it inside the rectum.
Butt plugs for the prostate. Guys enjoy prostate toys, but when their lover is invited in to handle the prostate stimulator, is is possible for him to have a P Spot orgasm without penetrative sex. Most prostate dildos have a handle that the user can rock back and forth, but a little known secret to sex play is to use the prostate toy on him while masturbating him or giving a hand job. Sexpert tip for you!
Do Couples Have Sex with Butt Plugs?
If you are well versed in the world of anal play and know the benefits of a butt plug during sex, then you'll understand why couples have sex with butt plugs. Both him and her will use a butt plug at the same time and leave it in place during sex.
The pressure back there makes the muscle clenching of orgasms feel more intense. The same applies for men and women, therefore his and hers butt plugs are often worn while the couple is having sex.
The secret to making this back door sex toy a success is to choose a butt plug with a thin stem and flared body. The wide body will "plug" the anus and the contrasting thin stems prevents it from falling out during sex.