Sex Toy Storage | How To Properly Store Sex Toys
With great pleasure comes great responsibility. Sex toy storage is extremely important for your health and safety, but also to keep your dildos & vibrators in tip for shape for years to come. Today I'll divvy up tips and techniques on how to store sex toys properly and safely.
I'll cover advantages and disadvantages of sex toy storage boxes and bags, how to treat your special silicone sex toys and provide some ideas on how to store your sex toys for free.
For free? That's right! No need to buy sex toy storage cases and containers, I have some secret ideas to discreetly keep your dildo storage away from prying eyes.
How to Store Sex Toys
The most important tip is to make sure the surface is completely dry before storing. It doesn't matter what type of container you are using, putting it away wet can harbor bacteria growth since the humidity of the moisture won't be able to dissipate in a timely manner.
I'm not going to cover cleaning and sanitizing here today because I'm assuming you've already done that. If not, head on over to the guide on how to clean a dildo for tips and techniques on proper cleaning techniques.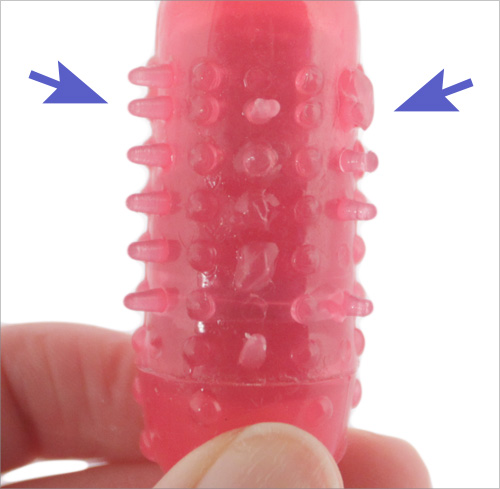 After cleaning, dry the toy with a lint free cloth OR leave it standing upright on your counter top overnight or until completely dry.

Remove the batteries (if applicable).

Fully charge the motor with the USB cord (if applicable).

Put the toy in your storage device of choice.

If multiple items are kept together, make sure they are not touching each other (wrap them individually in a facecloth).

Keep the storage device away from direct heat sources such as furnace vents.

Avoid areas with high humidity such as bathrooms.

If you're storing it in a bag, make sure that heavy things don't inadvertently squish the bag!

Keep it stashed discreetly in a drawer, cabinet, closet or under the bed.
Sex Toy Storage Box & Bags
Your sex toy has a free storage container included with your purchase. What is it? The original packaging it came in!
That's right, the best way to keep sex toys is in the original manufacturer packaging. The plastic clamshell is the best sex toy storage case. The original box is also tailor made to keep enough air circulation around the toy to preventing it from melting if you live in as hot, muggy or tropical place. The box just happens to be the right size for your toy too!
The only time storing dildos & vibrators in the original box or plastic clamshell isn't practical is if you have a huge collection of adult toys. These boxes and clamshells simply take up too much space.
Discretion is important. You wouldn't want a ceiling high stack of adult toy boxes in your closet, so in this case, using a bag is a wise choice. How to store sex toys with limited space? Satin dildo storage bags are really popular.
Some high end drawstring satin storage bags have a hygienic interior lining that resists bacteria growth. You can also throw a simple satin bag in the delicate cycle in your washing machine, just make sure to use cold water wash and hang to dry.
Sex Toy Storage Dos & Dont's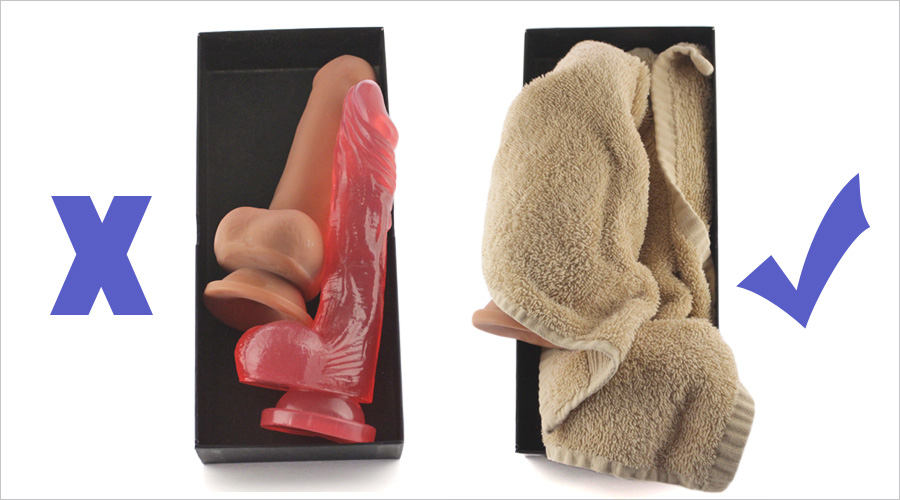 The following list features important tips, advice and ideas for the best ways to store your sex toys without damaging the material or creating an unhealthy environment:
Never store sex toys side by side with the surfaces touching each other.
Surfaces are notorious for melting together. This happens due to a chemical reaction between silicone compounds, TPR, TPE and rubber surfaces.
Melting is not going to occur within hours, rather it is a slow process that happens over the course of a few days or even weeks.
Wrap each dildo in its own facecloth before storing them together.
When each toy has its own dedicated facecloth, you're accomplishing a couple different things. Most notably, it keeps the surfaces apart so they won't melt.
Next, the thick cloth prevents scratches, dents or tears in the event something heavy gets set on top or the items are squished together in a drawer.
Lastly, it's easy to replace the facecloths regularly with a freshly laundered one for hygienic purposes.
Don't store sex toys in plastic bags.
Plastic can't breathe, so if you are having a heat wave in your city, there is a high chance the toy could melt. It's almost guaranteed to melt too if you keep it too close to a heat source like a furnace vent.
Even if it doesn't completely melt, delicate surfaces like the realistic skin materials such as TPE or soft silicone will develop creases and wrinkles from the plastic bag pressing into the surface.
Rechargeable sex toy? Charge the motor before storing.
Leaving a rechargeable motor constantly depleted negatively affects the motors longevity in the long term. You should always charge the vibrator before storing.
Furthermore, you'll be ready for action again at full speed next time some personal pleasure time is on deck!
Battery operated sex toy? Remove the batteries before storing.
Alkaline batteries are notorious for leaking when left in the battery compartment. Always remove batteries after use, no matter how often you use the vibrator.
Batteries should never be left in for any amount of time. If they corrode while in the compartment, the motor won't work anymore.
Click to buy sex toys online.