Best Male Masturbators & Masturbation Sex Toy Review
Last Updated on January 3, 2023
Tenga, Lelo, Fleshlight, pocket pussy, automatic, hands free; you've likely heard of these famous male sex toy brands and accompanying descriptive terms, but do you know exactly what they mean? Which of these are the best male masturbators that are worth adding to your sex toy collection?
It can be a daunting task to find the masturbator for men because there are several variations available for sale in adult sex shops online. The best male stroker for one guy won't necessarily appeal to the next. All dudes are different, and so are their jack off stroker preferences.
In today's guide, I'll give you the grand tour of mens masturbators describing the similarities and differences of each type of male sex toy. Along the way, you'll discover the best masturbators of each subcategory that way once you're at the checkout page, you'll be confident knowing the jack off toy you've selected will be the best one for you.
The term "male masturbator" and "male sex toy" are interchangeable, but "male sex toy" is a broader term and can include prostate toys and cock rings too. Think of mens masturbators as designed for the penis only, or basically something to stick his dick into.
8 Types of Male Masturbators
Since there are so many different styles, shapes, sizes and features of ejaculators within this category, it's important to understand their differences and how they feel on the penis. This way each guy can find the best male sex toy for his personal sexual pleasure & preference.
1. Realistic Masturbators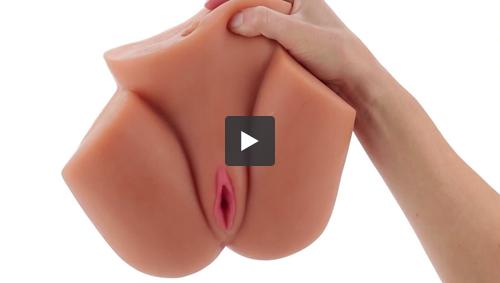 Most commonly known as a pocket pussy, this style of sex toy for men looks like its namesake: a pussy. Some are dual entry with a vagina and anus. If you are seeking life like visual appeal, this is by far the best sex toy for a guy to purchase.
Realistic masturbators come in all skin tones such as white, Latina and black masturbator to add to the realism of the experience. The life sized torso masturbator replicates the thighs, belly and sometimes even the waist or breasts of a woman.
Pornstar masturbators are exact replicas of a famous porn star, the most popular being Sasha Grey, but pretty much any famous porn star has squatted in a mold at some point to make her own pussy toy. Some even squirt to add more realism to your sexual fantasy.
Features of a Realistic Masturbator:
Looks like a real vagina and/or ass.

Soft material replicates the silkiness of human skin.

Biggest selection out of all male masturbators for sale.

Porn stars pocket pussy toys are anatomically correct.
5 Best Male Masturbators:
2. Vibrating Masturbators
If the sex toy is electric, battery operated or rechargeable, it falls under the category of vibrating masturbator. A bullet vibrator is often the source of the vibration, often with multi speed vibrating patterns or settings to add a pulse or quake to the material which translates into better pleasure around your cock.
The vibrating penis masturbator can be either placed at the end for stimulation on your penis head, or near the entry for stimulation on your balls. You can often choose the placement of the vibrator, but some higher quality best male masturbators feature a pouch or pocket to slip the vibrator that way the cold hard plastic vibrator stays away from your dick. This just makes it more comfortable for you overall.
Features of Vibrating Masturbators:
Vibration greatly enhances sexual arousal.

Vibration is optional – not required to use the toy.

A good way to experience vibration on your balls for the first time.
5 Best Masturbators for Men
3. Egg Masturbator
Japanese masturbators dominate this category with original tube, Tenga cup or egg shaped styling that stimulates the tip of the erection, not always the entire shaft. (What is Tenga anyway?) These closed ended egg masturbators create suction around your cock and simulate a blowjob. The Tenga Masturbator is by far the most famous of all Japanese masturbators.
Features of the Egg Masturbator:

Stimulation just for the penis head only.

Non-phallic and discreet design.

Makes a great shower masturbator for men.
4. Mouth / Blowjob Masturbator
Some blowjob masturbators are designed to look like a women's mouth and lips. Others are designed to replicate oral sex complete with an anatomically correct tongue and throat texture. Some are both, essentially diving up this subcategory into two distinguished parts.
The best way to determine if the blowjob masturbator toy will create suction like oral sex is to see if the end is closed. A closed ended male masturbator sleeve will build up soft vacuum suction as you stroke your penis in & out which creates suction imitating a blow job.
Features of a Blowjob Masturbator:

Suction encourages powerful orgasms for men.

Some really do feel like a blow job.

A different style of sex toy compared to the pussy strokers.
5 Best Masturbators:
5. Anal Masturbators
Either a small anus styled entry or a full big booty masturbator, these are sex toys for men that look like a butt. The ass hole can be painted and puckered, or simply just a round opening. Fans of anal sex will often select the anal masturbator for their preferred visual satisfaction and enjoyment during masturbation.
Features of the Anal Masturbator:

Good visuals for guys who like anal sex.

Doggy style masturbators look really exotic.

Often have bumpy tunnels to imitate a real anal canal.
4 Best Masturbators for Back Door Action
6. Masturbation Sleeves
Also known as the tube masturbator, masturbation sleeves are squishy jelly like and feel like a gentle gel on your cock. Silicone masturbators are a step up in quality often vibrate or have uniquely textured tunnels.
The uber famous Fleshlight is a perfect example of this penis stroker style which includes a discreet storage container. Sleeves with canisters feel tighter than the others, but you'll also be able to remove the sleeve and use it separately. The container is a great way to keep it discreetly staged and stored away from everyday life.
Best Features of a Masturbation Sleeve:
The best non-phallic looking toy for men.

Squishy jelly like material offers a totally unique sensation.

Vast range of interior tunnel textures available.

Best choice to use as a shower masturbator.
5 Best Male Masturbator Sleeves
7. Fantasy Masturbators
You may be familiar with the Bad Dragon masturbator, the odd fantasy style mens penis sex toy that looks like everything but a vagina! The squirting masturbator enhances your fantasy sex and the money saving homemade masturbator easily falls into this category too.
Although sex with a cantaloupe costs just as much as a cheap hand held masturbator, so don't degrade yourself to f**king fruit, just spend $10 on a quick jack off sleeve and be much happier and less emasculated. A sock will chafe and you'll simply feel silly cumming into a sock.
Some are designed like a foot for fetish foot sex, and there are others that look like breasts for titty sex. Pretty much any fetish or fantasy you can think of, rest assured there is a mens sex toy to match. Not all need to look like a vagina to qualify.
3 Best Masturbators for Fantasy
8. Automatic Male Masturbators
Autoblow is the most famous and high end brand name of automatic male masturbator, but for guys shopping for something at a cheaper price point, we have a few good options for sale. The hands free masturbator is a highly desired feature for men seeking hands off sexual stimulation, intense orgasms and powerful ejaculations. This often denotes something such as a suction cup that sticks to a tabletop so you can jack off hands free into the tube.
The electric masturbator is another feature since all you do is press a button and the thing rotates, vibrates or has suction. They often have multi function vibrating modes or multiple vibrating patterns to choose from. Easy-peesy hands free, automatic male sexual pleasure.
Click to buy mens sex toys online.