Realistic Masturbators | 10 Most Realistic Male Masturbators
Last Updated on October 4, 2021
A good male sex toy sleeve accomplishes more than just helping a dude jack off. Male masturbators should fulfill a sexual, fantasy and provide great visuals and a tactile feel on his penis that imitates intercourse.
Realistic masturbator toys are often what a man turns to when he wants to enjoy the tightness, warmth and texture of a woman's vagina or ass during sex. Hands free vibrating and silicone vagina & ass stroker sleeves are top rated selections for a true lifelike experience. Guys seek a realistic pussy toy for tactile & visual satisfaction during masturbation.
Since men are highly aroused by visual stimuli, the most realistic male masturbators not only feel life like, but they look true to life complete with accurate sizing & detailing replicating the real thing. These features are what makes the best realistic masturbators stand above the others. What does a pocket pussy feel like? Learn what the experience is really like here!
The 5 Most Realistic Masturbators You Should Try:
At the time of this publication, the online sex shop has 55 realistic penis masturbators for sale of both pussy & ass varieties. Today I'll select the 5 most realistic based on the following criteria.
First of all, it should be life sized. Now not all men can afford to spend a hundred dollars on a full size, ultra realistic pocket pussy formed from a porn star, so I'll minimize the selections to a typical standard within a more average price range that guys can afford. You'll find these nicely distributed through my list of best adult toys for guys.
Cheap is always a good feature. Now I don't mean cheap as in quality. But cheap as in price. So even though these are not all giant, the vagina lips or anal entry is sculpted to be as lifelike as possible even though the sleeve as a whole is a reasonable, compact and hand held size.
Lastly, the 5 most realistic masturbator toys have an interior tunnel with a ribbed or bumpy texture with the accurate tightness that imitates the sensation of a vagina or anus. This is the trickiest feature to shop for since one cannot tell what the interior stroking tunnel looks like from images, so I'll describe then in words.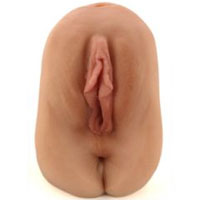 1. Alexis Amore
A long time favorite of men across the USA. Alexis Amore has been around for at least a decade and remains one of the top rated, best selling and most realistic male sex toys ever created. The lifelike coloration and movement of the wide open lips will impress the user while the vibration adds a tingle of pleasure.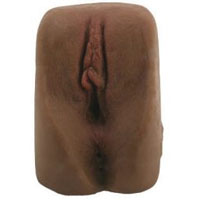 2. Lacey Duvalle
The best black realistic masturbator ever made, Lacey Duvalle has the softest, most pliable stretchy skin while the large rectangular shape is easy to grasp. She feels delicate, wrapping your cock with a sensually soft padding. An automatic luscious sexual experience for him, and this one even vibrates too!
3. Jana Cova
The perfect compromise of actual life size & fleshy realism, Jana Cova comes with double vibrators that insert into each side next to the entry hole providing even stimulation to your cock as you thrust. Wide rectangular shape is easy to hold and can be used hands free if you set it on a table top.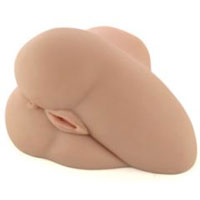 4. Side Saddle
We are sure excited about Side Saddle! It's the first of its kind featuring a provocative pose. Enter her in side saddle position for a visual treat that is unique from all your other pocket pussy sleeves in your stash. Large 8 inch size is great for hands free penetration and the long bumpy & ribbed tunnels easily fit a big dick.
5. Cock Tease
Dual layer skin with dense bumps inside the tunnel shows you exactly what sex with a woman feels like. Cock Tease is one of those perfectly crafted men's jack off toys that gets everything right. An excellent idea, ingenious design and one that is a best seller over here. You'll love it, I promise.
5 Best Realistic Male Masturbators
What's the difference between "best" and "most realistic"? Honestly, not that much! The main criteria for differentiating between the 5 products listed above and the 5 listed below are mostly a focus on price. They are also body molds of a woman's bottom half, check out our blowjob masturbators for those that look like a mouth and provide suction.
When I'm helping a male customer find a good realistic self masturbator to buy, I'll suggest the ones below first because they are more kind to the bank account and more compact making them easier to store and more discreet to have around. That certainly does NOT mean the ones above are lesser in anyway, it's just a different type of list!
1. Lexi Belle
The uniqueness is the real feature here, Lexi Belle's fingers are spreading her pussy lips as you enter to provide the eager fantasy of a young lady eager for your love. Large, thick and padded sides provide a warm, luscious feel on your erection during masturbation. Small in size, big on feel.
2. Caliente Latina
Thick and plump, Caliente Latina is my absolute favorite brown Latina masturbator for men. Super lifelike fluffy pussy lips wrap your cock with the utmost in realism. Ribbed stroker is easy to hold in your hand and exit hole at the back allows for quick and easy clean up.
3. Travel Life Size Pussy
The best selling ultra real mens sex toy in a reasonable, discreet size perfect for travel! Travel Life Size Pussy measures 6 1/2 inches long and stretches easily up to 10 inches so guys with a big erection will enjoy complete coverage while plunging deep inside the finely ribbed tunnel.
4. UR3 Masturbator
If comfort is a priority, UR3 Masturbator is the best treat you can give yourself for a good jack off session. You might be thinking "hey, it doesn't look real", but it FEELS real. The surface feels like velvet and the tunnel is loose compared to the others making it the best for men with a thick erection.
5. Virtual Companion
I know there are more lifelike looking toys out there, but Virtual Companion is tailor made to bring home the most lifelike experience possible. This is the adult toy for guys who want to know what sex feels like. Slather plenty of water based lube and enjoy the slippery ride that feels oh-so great.
Life Like Anal Masturbators
Are you a back door kind of guy? The anal masturbator should be your top pick. Most guys associate sex toys with the realistic pocket pussy, but the anal pocket ass is the same concept only from "behind". Check out these 2 top rated and favorite realistic ass masturbators complete with the best detailing of a real woman's anus. Some are even tighter than vagina sleeves to better replicating the tighter anal entry in comparison to vaginal entry.
Kristina Rose
The all-time best selling open ended pocket ass for men, Kristina Rose has better detailing and coloration compared to all the other jack off sleeves out there. It looks just like the real thing when you plunge into the tight anal entry hole. Inside, the deeply ridged pleasure tunnel mimics a real rectum to imitate anal sex.
Bang It
A simple and discreet closed ended ass masturbator for guys who want a quick and cheap stoker for jacking off in the morning. Bang It has wide, flared ridges on the outside help your hand keep a grip, especially if used in the shower. Twisted interior tunnel provides a unique texture unlike any other anal masturbators.
Vibrating Realistic Masturbators for Men
Some of these automatic masturbator toys vibrate. How do vibrating pussy masturbators work? You'll receive a small egg or bullet vibrator inside the box that slides into a small pouch on the back of the pussy face. If there is no hole, then the bullet rests at the opening at the back of the tunnel.
Vibration certainly is not necessary, but guys who have tried it really think it boosts pleasure substantially. I know men are simple characters compared to ladies, so a sex toy with a bunch of features is normally a detractor for him when shopping online. If you could try 1 thing new this year, why not a vibrating realistic self masturbator?
Check out the video demo above to see what the silicone surface looks like when the motor is running at full speed. The waves make it wiggle & sway in a rather sensual motion. Now imagine your penis plunged deep inside that sleeve and how incredible masturbation would feel...
Realistic Pussy & Ass Masturbator Toys
Enhance realism with a life like penis masturbator that has 2 entry holes: pussy and anus. Some of the more advanced and complex products have 2 separate tunnels to keep the pussy & ass separated. When you jack off into 1 hole, the sensation contrasts the other hole to help reinforce the sexual fantasy of sex with a real woman.
Having 2 entry points on your realistic pussy & ass is not a necessity, but the models that do typically have a better lifelike representation and are more accurately sized. They are often life size allowing them to be placed on a table for hands free penetration.
Most mens masturbation toys have 2 openings that empty into the same tunnel after the first 1 or 2 inches of penetration. In my personal opinion, this makes the toy easier to clean after you're done because you only have 1 hole to wash out ejaculate, not 2 holes to clean.
DIY is a popular pastime for many hobbyists, and male masturbation toys are no exception! Of course they're quite hokey, but just for fun check out my article on how to make a pocket pussy to see how the crafty dudes do it.
Most of them vibrate, my reasoning is that the device already has multiple holes so a guy can insert the bullet vibrator into the unused hole and keep his penis away from coming into direct contact with the solid plastic vibrator inside his extra soft and pliable pocket pussy toy.
Click to buy your realistic fake pussy.