Beginner Anal Toys | 12 Best Anal Toys for Beginners
Last Updated on March 8, 2023
Thinking about first time anal toys for beginners? Of course you are! Welcome to the butt stuff bandwagon. You're about to embark on a fantastic adventure packed with supercharged orgasms and a more adventurous sex life. I'm pleased to introduce you to the wonderful world of anal toys.
Beginner anal toys are tame, designed with visual cues in mind to resist the taboo image of yesteryear erasing the dirty image of anal sex and butt play. Couples, men and women are enjoying the sexual pleasures of small anal toys for beginners together during foreplay.
Today we'll cover the very best beginner anal toys and anal training toys while providing a quick breakdown of the various types of starter anal toys worth your consideration. Let's start not at the top, but at the bottom, haha!
Beginner Butt Why?
First, a quick anatomy lesson for your safety and comfort: The anus consists of two sphincters: an inner one that you can't control, and an outer sphincter that you can control by consciously relaxing it and let it accept something going in backwards. Remember, the anal sphincter is originally designed as an exit hole, not an entry hole!
Alas, mother nature placed a highly concentrated mix of sensitive nerve endings here and it just happens that touching them, adding pressure and vibration stimulation from an anal dildo results in intense sexual arousal for women and men too. It's no secret that the best anal dildo for men is nothing more than a vibrating butt plug that stimulates the prostate gland. In conclusion, we humans are enjoying using this sphincter as an entry point for powerful orgasms.
As your body gets more accustomed to various sizes of toys, you can move on to bigger toys or body parts as you wish, but not everyone wants anal sex as their main goal. Sometimes just a teensy-weensy poke from a butt plug back there is all that's desired (and required, for that matter) to improve your sexual pleasure and make orgasms stronger. The same applies to both men in terms of prostate stimulation and women.
Best Types of Beginner Anal Toys
There are several different types of starter butt toys for sale, but not are all necessarily suited as good small anal toys for beginners. The following styles are excellent beginner anal toys and have a vast range of small, short and thin options available for sale: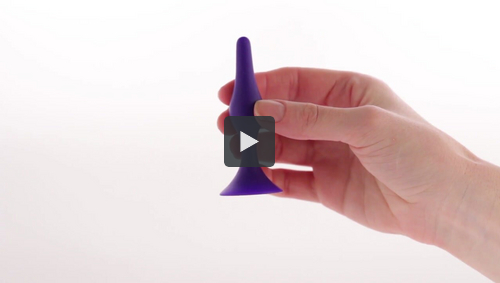 1. Butt Plugs
What is a butt plug? Butt plugs get their name from being sex toys that essentially "plug" the rectum. They add pressure to the first few sensitive inches of your butthole.
If you look at a butt plug, there is a narrow tip that gets gradually larger and a base that tapers back down before the flared or anchor shaped base. The wide bottom is great for keeping a plug to stay in places. The vibrating anal plug adds an unmistakable tingle.
The butt plug is designed to ease into your body and then sit there, which sounds boring, but they're actually filling your body, rubbing against the sensitive nerve endings from the inside. They are the easiest to use because all you do is lube it up, then "set and forget". Perfect to wear during penetrative sex.
An anal plug with a wider body will resist popping or falling out too since the widest girth rests inside the sphincter, which closes around the thin stem. This is the best butt plug type to wear hands-free. The only disadvantage of a beginner anal toy is the thin girth which can easily slide out of the sphincter.
Something that small and thin may not stay in the rectum without a helping hand to hold it there, and it can easily "pop" out of your butt when you've changing positions during partnered sex. Since it is really small, the sphincter might not have enough mass to grab onto and hold there.
2. Anal Dildos
Dildos for anal are similar to vaginal dildos & vibrators for women, but the main feature of those better suited for first timers is they are small. Truth be told, a person can shop from any standard sex toy store's catalog and pick any random small dildo and stick it in their butt.
I think butt dildos are a good starter anal toy for beginners because they are often much thinner than a butt plug which is a more comforting thought for a true first timer, especially if they have never used anything to penetrate anally before.
The thin steady shaped dildo shaft is more sleek and inviting, easier to insert. The disadvantage is that they will fall out if not held in place. Especially the beginner anal dildos, let go with your hand and it will slide right out. These are for anal play, the literal term for butt stuff foreplay using sex toys.
Anal vibrator dildos up the pleasure factor by adding a vibrating motor to the dildo shaft. The tingling of a buzzing motor in the rear is exuberantly exciting and something I really wish every person will try at some point in time. It's excellent during masturbation and moments of shameless self love.
3. Anal Beads
Anal beads are excellent small anal toys for beginners because they are graduated which means the first bead is small and they gradually increase in girth as the strand progresses until the end. This way each person can choose how deep or how shallow to insert it.
If you want to sample only the first few tiny beads, by all means enjoy "just the tip!" The more you enjoy the sleek bumpy sensation inside the anus, the deeper you can go. Long anal beads feature a super non-threatening gradient in size, with the first few beads being accessible to any butthole, no matter how nervous its owner.
How to use anal beads? Anal beads are meant to be pulled at the insert of orgasm, but you can push & pull it in & out as a kinky form of anal play (which I recommend you try at some point, folks really enjoy the sliding sensation back there).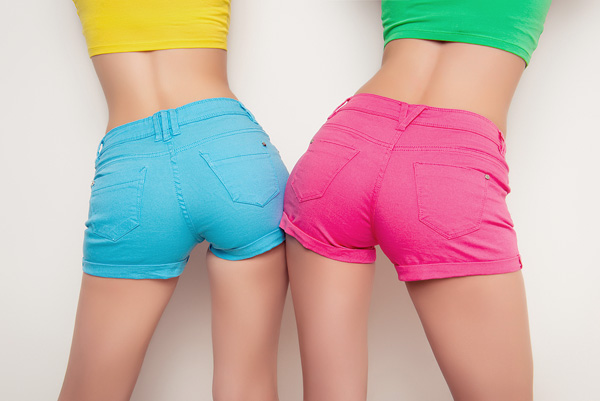 12 Best Beginner Anal Toys
Small anal toys are the best butt toy for starters. Seems obvious, but I've seen people who were enticed by the visual appeal of a larger toy and weren't comfortable with using it. It's really important to notice the size of the toy, but rest assured all the selections below are small and thin.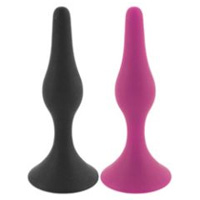 1. Small Luxe Beginner Butt Plug
Small Luxe Beginner Butt Plug is the epitome of introductory first time anal toys. It's long enough to be noticed as it pokes gently deep into the anus, but thin for minimal interference. All the while, the belly maintains a totally reasonable girth. Tiny in comparison to other beginner butt plugs for sale. It can bend and flex as needed to prevent too much poking when worn.
Total Length: 3/14 inches

Diameter: 3/4 inch across the thickest point
2. Wave T Small Butt Plug
Wave T Small Butt Plug is a soft, friendly, approachable butt plug perfect for newbies. It has the flexibility and softness of jelly with the required sturdiness for quick anal insertion. The smooth wave shape slides in effortlessly and gently, when well lubricated it will snuggle right into place instantly. The single bulb in the middle of the shaft applies mild erotic pressure right behind the sphincter.
Total Length: 4 inches

Diameter: 5/8 inch across the top, 1 inch across the bulb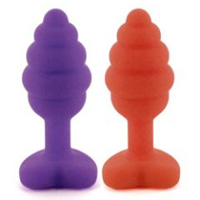 3. Small Heart Diamond Butt Plug
Small Heart Diamond Butt Plug is one of the best beginner anal toys a gal could own. The sensually smooth solid silicone is formed into a visually impressive collection of graduated ribbed stacks which provide a fun dose of pleasure compared to a regular smooth ass plug. When your muscles in the groin clench due to orgasm, you'll notice the texture as it skyrockets the intensity of your orgasms. The gem anal plug is as pretty as it gets!
Total Length: 2 3/4 inches

Diameter: 1 1/8 inches
4. Tee Beginner Pegging Toy
Tee Beginner Pegging Toy is an excellent anal training toy for those interested in pegging sex. A partner is not mandatory however, this little anal probe is just as good when you're alone. The tall yet narrow base also makes this a great all-day anal plug effectively tucking between your butt cheeks with total discretion. So many uses for this simple yet fun design!
Total Length: 4 1/2 inches

Diameter: 1/2 inch across the tip, 1 inch mid-shaft
5. Unicorn Beginner Vibrating Anal Toy
Unicorn Beginner Vibrating Anal Toy has the skinniest tapered shaft that is a first timer's dream to use. Small and gentle, the way a first timers vibrating anal toy is supposed to be, the best anal vibrator for sale anywhere. Lightly vibrating to provide a little extra to your experience. The smooth, shiny rubber looks good, and the solid ridges are a real treat to your sex life.
Total Length: 5 3/8 inches

Diameter: Ranges between 1/4 – 7/8 inches

Batteries: 1 AAA, not included

Motor: Multi-speed
7. Mini Whopper Anal Dildo
Mini Whopper Anal Dildo has life like features with a soft easy bend and lovely little rounded head. The slight mushroom tip adds wonderful feeling without overdoing it. The flattened suction cup base is perfect for slipping through a strap on harness O ring for while the tiny overall size makes this soft penis perfect for first time anal exploration. Mini Whopper Vibrating Anal Dildo is the same toy, but comes with a super powerful internal 3 speed vibrating motor.
Total Length: 5 3/4 inches

Insertable Length: 4 3/4 inches

Diameter: 1 inch
8. Butt Buddy Beginner Anal Toy
Butt Buddy Beginner Anal Toy is a super slim ribbed vibrating probe that brings first timers an incredible delight. Sure we can make this claim about all slim vibrating anal toys for beginners, but this one is special, it's the best vibrating anal toy for beginners, both men and women. The small stature is the tamest way to try ridiculously strong vibration which effortlessly boost orgasm intensity.
Total Length: 5 inches

Insertable Length: 3 inches

Diameter: 7/8 inch tip, 3/4 inch shaft

Batteries: 2 AA, not included

Motor: Multi speed
9. Slender Tulip Anal Vibrator
Slender Tulip Anal Vibrator is thin as a finger so it's the least threatening of all first timer anal vibrators. The top has a oblong sphere - sort of like a tulip blossom, hence the namesake. The motor just underneath this bulbous tip vibrates deep exhibiting the awesome erotic joys of deep rectal vibration all from a modestly sized butt vibrator.
Total Length: 7 inches

Diameter: Tip is 7/8 inch, shaft is 3/4 inch

Batteries: 2 AAA, not included

Motor: Multi speed
10. Petite Teazer Anal Vibrator
Petite Teazer Anal Vibrator is thinner than a finger and the smallest anal toy available for sale. For the curious, there is no better choice to try for the first time. Slide it in further and the finger thin shaft nestles nicely inside limiting stretch. Once fully inserted, the thin neck rests over the opening while the powerful wireless and waterproof vibrator and its pouch sit directly on the exterior of the body.
Total Length: 5 inches

Insertable Length: 4 inches

Diameter: Ranges between 1/4 – 3/4 inch

Batteries: 3 cells, included & installed

Motor: 3 speeds & 5 vibrating patterns
11. Intro Anal Beads for Beginners
Intro Anal Beads for Beginners is the smallest anal toy molded together on a slick & slippery stand. Furthermore, the slippery sensation whilst sliding out of the anus is gaining in popularity quickly making these the best beginners anal beads available for sale. You won't be disappointed!
Total Length: 10 inches

Diameter: The largest bead is 3/4 inch, the smallest bead is 1/4 inch.
12. Dilators Thin Anal Dildo Kit
Dilators Thin Anal Dildo Kit is designed for vaginal or anal training, dilation and stretching to help the body eventually accommodate something with a thicker girth. The probes are stiff, but if you put pressure on them with your hand they can bend. This assures they won't collapse during insertion and maintain the right level of firmness for vaginal dilation and/or butthole training.
Insertable Length (small | medium | large): 3 inches | 3 1/2 inches | 4 inches

Insertable Length: inches

Diameter (small | medium | large): 1/2 inch | 3/4 inch | 7/8 inch
What About an Anal Training Kit?
Some customers shopping online for beginner anal toys are drawn to anal training kits. After all, they are a collection of butt plugs and dildos made for newbies, right? Those preparing for anal sex will find better use for the back door training kit than someone seeking to enjoy anal play simply to enhance sexual enjoyment and make foreplay more adventurous.
Anal training kits include a stepped collection of rectal plugs ranging from small to large which train the anus to accept something with a bigger girth, also known as anal stretching.
Just because you are a beginner doesn't mean you want to stretch the anus wide and engage in anal sex or wear a thick bum plug during sex. That is not necessary, if your final goal is simply to enhance orgasms with back door stimulation, there is no need to break size records with something huge.
Click to buy anal toys online.