Best Clit Suckers & Vibrating Clit Sucking Toys
Last Updated on May 31, 2022
The best clit suckers are sex toys that really SUCK! (However that is a GOOD thing!) If you've wondered what is a clit sucking toy or searched online how to use a clit sucker, this complete users & buyers guide will answer all of your questions so you can enjoy powerful, multiple orgasms on the fly and you'll discover the pure intense joy of air suction technology.
How do vibrating clit sucker toys work? Watch my video demonstrations on different types of clit sucking vibrators and vagina sucker toys for women so you can easily decide which mini sex toy you'll like best. You can see the suction in action to give you an idea of what it will feel like on your body.
Today we'll talk a little bit about clit suction toys, powerful female clit pump toys for multiple orgasms and answer common questions I receive on a regular basis. I'll offer some tips & techniques and let you know the best way to use one to enjoy one of the most erotically charged and kinky pleasure sensations a lady could experience.
What is a Clit Sucker?
A clitoral sucker is a small clit toy with a suction cup or air pressure drum for precise clitoral stimulation. The secret of sexual pleasure comes solely from powerful concentrated vacuum suction or air pressure pulses over the targeted body part.
Optional wireless suction and vibration modes are additional features we see on most clit sucking vibrator sex toys. Some women can climax from the vibrating clit sucker alone, others require additional stimulation from a vibrator or dildo to really make the sexual experience complete.
The best clit sucking toy is a device that rests over the clitoris, vagina (or both). The edge of the device follows the contours of the body to provide a complete air seal allowing vacuum suction to build inside the device when air is pumped out with a hand bulb. The end result simulates oral sex.
Best Clit Sucking Toy Pleasure
There are many moving parts working hand in hand to create the stimulating effect. There are some clitoral suckers that have many complicated parts and the odd clit suction sex toy that even vibrates. We vibe and love triangle are some of the most famous with several intensity settings.
Several vibrating clit sucker toys are fashioned like butterfly vibrators. These types are larger and typically cover the labia and vagina too and create a fuller pumped feel compared to the pinpoint reach of the tiny round cups.
The butterfly styles are commonly used by couples during foreplay, the stimulation is less direct and more subtle so it helps gals with vaginal dryness get in the mood for sex. These feel less like oral sex compared to those with direct contact.
Some women use a nipple suction toy for indirect clitoral stimulation. Its' a sneaky way to save money because nipple suction devices are typically cheaper than clitoral suction toys. A secret of the sex toy industry!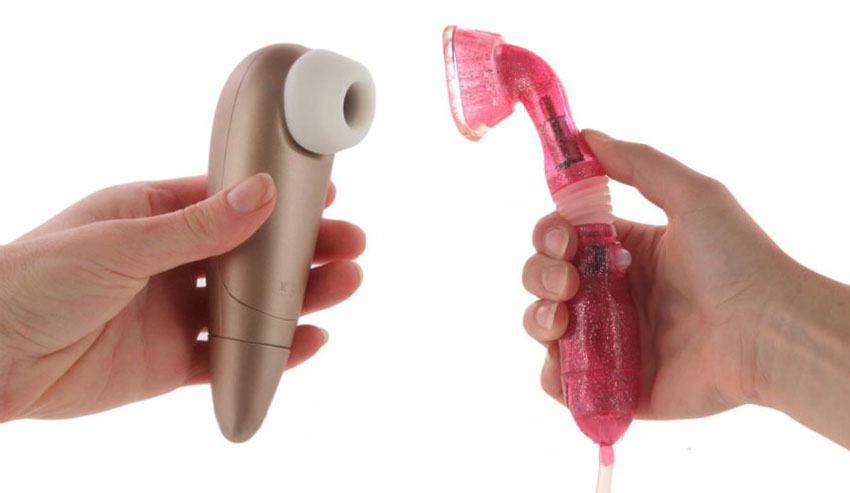 How Does a Clit Sucker Work?
A Clit Sucker toy works by creating suction or air pulse over a small concentrated spot. Vacuum pressure draws blood into the tissue and makes the clitoris feel tingly and more sensitive to touch.
This effect translates into powerful sexual arousal for women. It can be enough for some women to enjoy a powerful orgasm, and also encourages the vagina to produce its own natural vaginal lubrication. It even helps gals experience multiple orgasms!
When the clitoris is engorged with blood, it feels very sensitive and reacts better to touch, licks and rubs. It's a similar concept as when a man gets an erection. His penis tissue fills with blood and gets firm and more sensitive. He likes his erection being touched, it feels good. It's the exact same response with her erogenous zones. It just BEGS to be touched!
Air Pressure Clit Sucking Toy
Some of the best clit sucker toys technically do not create sucking action, in fact, they work in the complete opposite way. Deep inside the cup lies a tiny pressure drum that pulses at hypersonic speeds, for example the Rose clit sucker.
Although they do not create suction, the furious blast of pressure waves simulates a sucking sensation. The famous Satisfyer Pro 2 Next Generation is an example of air pressure clit stimulator that imitates vacuum force on the clitoris.
What does a Clit Suction Toy Feel Like?
You'll notice a few things when using a clit sucking toy for the first time:
A "tingling" sensation

Your vagina gets wet

It feels more sensitive to touch

The clitoris gets bigger (temporarily)

Air pulse stimulators blast hypersonic bursts of air which feels similar to suction. (My Satisfyer Pro 2 review says it all!)
You'll feel wet almost instantly upon use. The intense, precise stimulation encourages the body to prepare for sex, and the way it does that is to lubricate the vagina! Women who experience vaginal dryness benefit from using a clitoral sucker toy. Clit sucking vibrators & pleasure air technology will be your favorite toy. Even light suction will double the pleasure of your other toys.
Since the sensation of touching is vastly amplified, it improves sexual stimulation. When a extra sensitive clitoris is touched, the body has a natural reaction to lubricate the vagina in preparation for sexual intercourse.
In the case of vaginal dryness, stimulating the clitoris is a great way to encourage the body to be sexually responsive. It's all physiology – the clit sucking vibrator forces the clitoral tissue to be engorged with blood and makes it more sensitive.
Some women buy a clit sucker toy to get a bigger clitoris, but it's important to note the size gain is only temporary. It will return to its natural size & state after sexual stimulation has ceased.
How to Use a Clit Sucker
Wipe a small drop of lubricant around the edge of the sucker cup. (This helps to seal the air and produces stronger suction.)

Press the lubricated cup over the clitoris or vagina. (Be sure not to get public hair inside the cup or it may cause an air leak and you'll have reduced power).

Hold the cup with one hand and squeeze the bulb with the other hand. Squeeze the bulb until the device is stuck to your body and you feel a tingle. (Do not pump to the point where you feel pain, you may cause blood vessels to erupt!)

If your clitoral suction toy has a vibrator, activate the motor now.

You can leave the device in place for several minutes. If being used for sexual enjoyment, now is the time to use your favorite dildo or vibrator and enjoy a great orgasm.

When you're done, press the quick release button, located on either the device itself or the hand bulb to instantly reverse the pressure and remove the toy.
How to Use a Vibrating Clit Sucker
For full instructions on the smaller more precise devices, check out the tutorial on how to use a clit pump here to make it feel like oral sex. Or watch the video below for a step by step instructions on how to use a vibrating clit sucker:
12 Best Clit Sucker Toys
Personal preference prevails because it depends on what features you like and how sensitive your clitoris is to touch. Typically women who are shopping for clitoral suction vibrators do not have overly sensitive clitorises because these produce lots of stimulation and if you're new to the world of female sex toys, this may not be one to try first!
With that being said, I'll assume you want a powerful toy. So that narrows down the selection to one with an oblong cup and ticklers inside. Add vibration too, this can make the difference between a gradually building orgasm to instant orgasm. They seriously are that substantial, the following is my list of 10 best clit sucking toys:
1. Vibrating Clit Sucker
Vibrating Clit Sucker is the strongest vibrating clit sucker I've ever seen. It's wireless and compact so it has none of the issues facing the styles with long tubing. The bulb attaches directly to the top of the vibrator and it's quite big compared to the small device, so one squeeze is all you need to ram the clitoris high into the deep cup.
Turn the cap on the other end and it activates the motor. The vibration is intense and tingling. The only complaint on this toy is there is no quick release valve so you'll have to manually pick out the clit. This toy is NOT for sensitive gals!
2. Suck Her Vibrating Clit Pump
Suck Her Vibrating Clit Pump is a fabulous tiny wireless vibrating clit sucker with a stiff enough cup to surround the magic button and draw the hood into the deep cup with extreme pressure – all for extreme pleasure! It's also one of the more discreet models and the easiest to use.
You'll find the quick release vale a good addition here because the power is almost too much for some women. If you like to give the button of love a good beating, choose the body safe wireless Suck Her with its impressive intensity levels now.
3. Satisfyer Pro 2 Next Generation
Satisfyer Pro 2 Next Generation, the next generation is one of the worlds most famous sex toys for women. It is a waterproof, USB rechargeable clitoral stimulator toy with a super discreet, non-phallic design that erases any inhibitions or taboo thoughts you may have about trying a clitoral stimulation sex toy.
Attached to a handle is a deep rimmed cup with a tiny drum that pulses at whisper quiet hypersonic speeds. This is also commonly known as pleasure air technology. The resulting sensation is a brisk air pressure directly on the clitoris replicating a "sucking" sensation. It compares to the love butterfly clitoral stimulator, but we give the final vote to Satisfyer Pro 2. The powerful air pressure waves are simply amazing.
4. Breeze Satisfyer Clit Sucker
Breeze Satisfyer Clit Sucker is one of the most silent clit suckers because it doesn't actually vibrate, but it pulses instead which results in plenty of power with little noise. Air pressure waves deliver the sexual goodness over the entire clitoris. Ergonomic body safe design and a solid silicone cup makes it easy to use and target the clitoris with a lashing of pleasure.
The air suction based rechargeable vibrator motor includes a USB cable that attaches by magnet to the back of the device, then plug in the USB cable to charge the motor, which only takes an hour or so for several hours of run time.
5. Advanced Clitoral Sucker
Advanced Clitoral Sucker is a discreet and pretty clitoral vibrator for women that offers multiple suction modes and features a removable head.. As a result this is the go-to for most women and the one I recommend most.
Seniors enjoy this stimulator because it helps the vagina produce natural lubrication; therefore, is great to use before sexual intercourse and as a part of foreplay. It features a built-in wireless vibrator that enhances sensation subtly. This is also the best choice for someone shopping for a first timers clitoral suction vibrator.
6. Contour Clit Sucking Vibrator
Contour Clit Sucking Vibrator is made specifically for women with large clitorises featuring the widest and longest of all solid suction cups. The pumping action parallels any other smaller cup and the interior of the smooth silky silicone layered cup has ticklers for added sensation.
Sleek stylish ergonomically designed body safe vibrator with wireless vibration complete the luxurious looking package. It's so simple that if you've wondered how to use a clit sucker, the basic design is virtually self explanatory!
7. Original Clit Sucker Toy
Original Clit Sucker Toy is the first of its kind that first came into the market decades ago. It still holds its own in the world of newly innovated clitoral suction toys because it has a solid plastic cup with removable silicone sleeve that produces enough stimulation to keep any lady happy.
It includes a silicone sleeve that adds a layer of warm and comfort without sacrificing pumping potential. Wireless vibrator lessens the burden of extra cords getting in your way too. The motor is located high up in the handle effectively positioning the brunt of the vibrating power right at its intended target.
8. Nipple & Clit Suction Toys Set
Nipple & Clit Suction Toys Set is a set of 3 silky smooth pliable silicone pump bulbs for women who enjoy the titillating stimulation of constant suction during foreplay and masturbation. Each bulb has a small concave side for your thumb making sure you get a good grip for maximum force as you squeeze the bulbs.
I've noted previously how great combining clitoral suction with nipple stimulation affects your sexual pleasure, and this is the hallmark example of such a sex toy set. The extra wide flared cups provide great coverage and the large squeeze bulb create powerful suction.
9. Turbo Clit Suction Tongue
Turbo Clit Suction Tongue is a combination of oral sex simulation toy and vagina pump. It features extra thick stiff jelly lips and a lightly flexible tongue that inserts about 1 inch into the vagina. It's surely one of the most original sex toys for women.
The whisper quiet vibration speeds feel higher intensity due to the tiny motor deep inside the probe. The base has a round gentle suction cup so you can squat on this over your bathtub, and the pumping action imitates a lover's deep kiss.
10. Venus Butterfly Clit Sucking Toy
Venus Butterfly Clit Sucking Toy is an innovative design that seems to be creating waves in the sex toy world, it is a powerful tool for intimate arousal to provide indirect stimulation. The user can control the depth of penetration while the labia get drawn into the large silicone padded solid cup.
The wireless vibrator has rows of firm spikes that tease the vaginal opening, try it as a precursor to lovemaking and during penetrative sex. For mature women, the vaginal tease and labia suction are a good way to relax in preparation for sexual intercourse as the vibration settings ignite a sexual response.
11. Butterfly Clitoral Sucker
Butterfly Clitoral Sucker is a more sedate version of the toy displayed directly above. It has the most feminine appeal of all clitoral suckers for women. It is the top choice for beginners because if its friendly appearance, but don't be fooled – it's all business once nestled against your body!
Long ticklers flex and nestle against your labia while the wide butterfly body with multiple vibration settings rests perfectly in the palm of your hand. Subtle, gentle vibration makes this the best sex toy not to scare a timid beginner and well suited to a sensitive senior.
12. Air Touch Clit Suction Vibrator
Air Touch Clit Suction Vibrator is the next generation of clitoral sucking vibrators for women. It is a rechargeable vibrator that inserts into the vagina. That forward curved shaft is perfect for G-Spot stimulation. The cup rests over the clitoris and has very soft sides so regardless of your body shape or how deep your vagina is, you'll be able to get the right fit.
This rechargeable wireless vibrator with internal stimulation has automatic suction; simply press a button and it begins! I love this one because it culminates everything a woman needs for a good, strong orgasm: vaginal vibration, G-spot stimulation AND clitoral suction. Every erogenous zone gets a little bit of self love, enjoy a better sex life and deep vibrations from this regular vibrator with suction function.
6 Types of Clit Sucking Toys:
Looking through a catalog of clitoral suckers can be confusing. There are so many different looking styles that all produce intense orgasms like the Satisfyer Pro and we vibe melt. It's certainly not like buying a dildo where they all appear relatively similar, certainly one of the more peculiar type of sex toys that remains largely unknown. These have assorted shapes, sizes and features. These are some styles that are most common:
Air Pulse Stimulators

A small drum embedded deep into the cup pulses at supersonic speeds which blast a highly concentrated burst of air out of the cup. Place your fingertip over top and you'd be fooled if you didn't think it was suction. Interestingly, that's exactly what it feels like! These are the most modern of all clit sucker toys and often are found with USB rechargeable motors as opposed to battery operation.

Vacuum Suction Stimulators

The original style of clit sucker is exactly as the name implies, made famous by the we vibe melt. A hand bulb is squeezed which draws the air out of the cylinder cup and creates a vacuum. When pressed firmly over the clitoral hood, all air gaps are sealed creating powerful vacuum inside the cup which draws the clitoris high into the cup. Blood is forced into the tissue which makes it feel tingly and erotically sensitive.

Small Oblong Shaped Cup

These clit suction sex toys are designed specifically for targeted clitoral suction just like a lover talented at oral sex. The ergonomic egg shaped cup nestles under the labia hood and fits perfectly around the base of the clit. The most powerful suction vibrator style often with a soft silicone head.

Large Oblong Shaped Cup

These are more commonly called "vagina pumps" or "pussy pumps" because they target a wider area on the body. They add pressure over the labia and vagina together. This is the style that gives the area a puffy appearance and is the top choice for exotic dancers. I published a list of the best vagina & pussy pumps, so check 'em out!

Textured Clit Suckers

These clit suction sex toys can be either tiny or big, but they all have 1 feature in common: They have ticklers or soft spikes lining the interior of the cup. When the vacuum suction pulls the skin into the cup, it comes into contact with these textured nubs and increase erotic enjoyment, just like Womanizer toys.

Vibrating Clit Suckers

Adding an insane boost of pleasure, the vibration takes the whole experience to turbo mode! Since these devices are so tiny to begin with, the vibration is minimal simply because there isn't much space to hold batteries. If you prefer discreet toys that operate in near silence, the vibrating clit sucker is a fantastic choice.
Can I Use a Clit Sucking Vibrator on my Nipples?
Yes, absolutely! I mentioned that briefly above, but I'll elaborate further now. A nipple sucker toy and a clitoral sucker toy are completely interchangeable.
The only major difference in nipple toys are round to fit around the nipple and areola whereas clit suckers are typically oblong to fit under the hood and around the clitoris. They are small enough to be used during penetrative sex.
Just because the device is circular and completely round does not mean it won't work. It will still produce excellent suction. Some women prefer using nipple sucking toys on the clit because they are smaller and more hands-free. The typical clitoral based suction sex toy has tubing and hand bulb whereas nipple toys typically do not.
If you want to have sex or walk around wearing a clit sucker, using a nipple toy on your clitoris is a better option because it's less cumbersome and has less parts, also it's lighter weight than the traditional style with tubes and a hand bulb.
If you're looking for a new design then consider buying a nipple toy for the clitoris. You can also learn everything there is to know about nipple suckers here too, complete with instructions and tips.
How to Clean a Clitoral Sucker
Wash the suction cup with antibacterial sex toy cleaner or liquid hand soap and rinse well with water. Avoid getting too much water into the tubing because it can be difficult to completely dry out. If the wireless vibrator is connected to the toy, do not get water into the battery compartment.
When storing your clitoral sucking vibrator, be sure not to crimp or bend the tubing because if it stays that way for prolonged periods of time, the tubing can weaken. Roll the tubing up in a circular motion before storing to prevent kinks.
Your First Clitoris Sucker Sex Toys
Clitoral sucking sex toys are one of those unique little niches of kinky female erotic devices that enhance sexual pleasure. They are little known and vastly misunderstood, others are super popular like Womanizer toys, we vibe melt and the love butterfly clitoral stimulator. I hope this guide has answered your questions and if you didn't know what a clit sucker is, and don't know how to use one, you should be well versed in the topic now!
Clit suckers are perfect for ladies with vaginal dryness. They are awesome when combined with a dildo. It makes you feel super horny, and is perfect to use before a sexual encounter with your lover. The best clit sucker toy has many uses and is a worthy addition to any women's sex toy collection.
Click to buy clitoral suction pumps.