5 Best Pussy Pumps | What Does a Pussy Pump Do?
Last Updated on May 11, 2022
Pussy pump toys are one of those little known female sexual aids that help a woman get in the mood for sex. The best vagina pump will amplify sensations and produce a powerful sense of erotic arousal making it a fabulous sex toy to use during foreplay.
What does a pussy pump do? The concept is simple: By creating vacuum suction over the labia, vagina and clitoris, it increases sensitivity.The expected result? Puffy, engorged labia and clitoris that feel tingly and much more sensitive to every touch.
A vibrating pussy pump enhances stimulation to extreme levels. Today I'll teach you how to use a pussy pump sex toy and provide my top 5 favorite vagina pumps for sale along with a video demo and step by step instructions on using it.
What is a Pussy Pump?
The pussy pump is a sex toy for women that has a curved cylinder or cup that follows the contours of the labia & clitoral hood. A hand bulb creates vacuum suction inside the device which enhances female sexual stimulation and pleasure.
Some vagina pumps vibrate, a small motor positioned at the top of the device spreads vibrations evenly across the surface of the toy. The suction cup can be small for precise clitoral stimulation (also known as a clit pump), or large or rectangular shape that that covers the vagina, labia and clitoris together.
What Does a Pussy Pump Do?
A pussy pump creates suction over the vagina, labia and clitoris. When pressure builds inside the toy, this creates the opposite reaction inside the tissue – blood is forced into the region which increases both sensitivity and the size of the lips and clitoris.
As a result, the vagina feels "tingly" which helps the body produce its own natural vaginal lubrication. As such, pussy pumps are best for women with low libido or vaginal dryness.
How to Use a Pussy Pump
Although not a complicated sex toy to use and quite similar to the instructions on how to use a clit sucker, there are a few tips that will make your pussy pump work better and feel good. After all, you want the best bang for your buck, right? Follow these vagina pump instructions for extreme pleasure and arousal.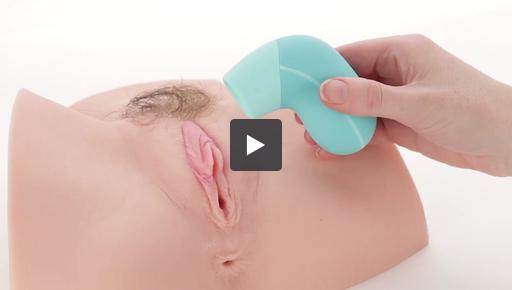 Trim your public hair around the labia. This will help to generate a better air seal.

Spread a small amount of water based lubricant around the edge of the toy, just enough to moisten it.

Press the device over your pubic area with one hand.

Squeeze the hand bulb to build up suction with the other hand.

If it vibrates, activate the motor now.

Leave the pussy sucker toy in place, or you can press it harder to push the tickler spikes (if applicable) into your skin.

Once you feel the tingling sensation, press the quick release valve and remove the toy.
What Does a Pussy Pump Feel Like?
While not as pinpoint precise as a clit sucking vibrator, you'll feel even vacuum suction underneath the device. This translates into pressure and suction. Some women claim it feels exactly like oral sex. I would have to agree, although oral sex is a bit more involved due to a tongue circling your naughty bits, but the sucking sensation feels pretty much the same.
Do pussy pumps feel good? If you love oral sex, then you'll think that pussy pumps feel good and you'll love what they do to your sex life. Not just for solo masturbation, the are fun to user together during foreplay with your lover. Anything that amplifies touch is a good thing when it comes to sex!
5 Best Pussy Pumps
The following is my personal hand selected list of the very best vagina pumps for women. Each listing includes essential specs and a brief review. Interested in the Clitoral Rose? Check the link for the full review and demo. These are all the large styles for full coverage. If you are looking for the more pinpoint suction sex toys, makes sure to check my clit pump review mentioned previously for the smaller style of sucker toys such s the We Vibe and Satisfyer Pro 2.
1. Original Pussy Pump Toy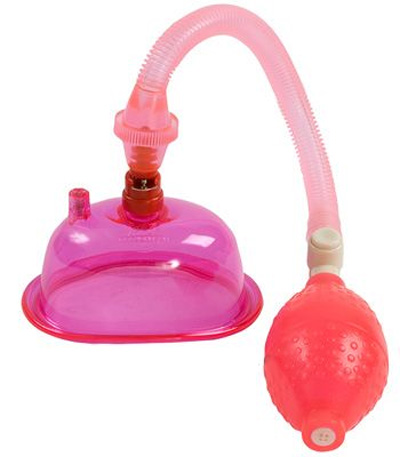 Original Pussy Pump Toy is the top of the list, best in function, lacking somewhat in comfort but still garners top marks for effect. If you search online for Doc Johnson pussy pump, this should be the first result. It is Doc Johnson's own original creation. A large pussy pump for women who are more keen on function than comfort.
If you read between the lines of that statement, I'm implying that it's not as comfortable to use compared to others, but its pussy pumping is highly effective! What's going on here to warrant reviews like that?
It's solid, made entirely of plastic. Other sex toy makers may add thick silicone or rubber cups that surround the labia and add a cozy, cushy feel. Not here. This one has immense, powerful suction that draws your pussy lips high into the deep cup.
The result? A fully pumped, highly sensitive vagina eager for sex, dildos, fingering, whatever comes next in your opinion! Doc Johnson crafted this to give you an intensity unparalleled to all other small clit pumps or large vagina pumps.
Flexible vacuum hose and firmly reinforced connector assures it will never kink and reduce suction capability. Quick release button on the handle instantly clears the suction and lets your pumped pussy return to its natural (albeit highly sensitive) state.
It's also one of the cheapest to buy so when your attempt at making your own homemade pussy pump toy fails, this is the basic version you'll come to purchase here. (It's a story we've heard before, they are hard to DIY compared to most other sex toys!)
Pros of the Doc Johnson pussy pump:
Strong & super intense suction capability

Inexpensive for what you get

Kink-free vacuum tubing is of the highest quality

Quick release valve for instant removal
Cons of the Doc Johnson pussy pump:
Least comfortable of all the options

If your pussy is very small or extra large, it might not fit

No options for purchasing a soft cup liner

Connector can be difficult to detach for cleaning
2. Butterfly Vibrating Pussy Pump
Butterfly Vibrating Pussy Pump is all about comfort, class and celebrating femininity. Super soft rubber cup inlaid with elegant sparkles, topped with a butterfly sex toy shape is the best pussy pump sex toy for nice girls.
Flip it upside down to see roes of tall, floppy spikes. This texture adds pleasure to the labia during use. When suction power is activated, the soft ticklers lay flat and press against thew skin producing a slight sexual stimulation. It's an excellent precursor for sex!
Looking for a vibrating pussy sucker pump toy to use during foreplay or solo masturbation? Here you go! The separate battery controller loads with 2 AA batteries and produces intense multi speed vibration.
Sure some women review that the corded control unit is annoying to deal with during sex and kink play, especially during BDSM, but in my opinion, it's much stronger than any other vibrating pussy pump for sale. So sure you have to contend with cords, but it's really strong.
The butterfly wings are not just for style, they are perfectly ergonomic! In this case, when you hold the suction toy, the wings are the naturally built in "handle" to help you place it in the right spot covering your vagina, clitoris and labia before pumping your pussy.
If you are shooting home movies, making a video or just want to take erotic pictures for you partner, this one is leaps and bounds above the rest for it's sexy look in pictures and videos. Get kinky ladies!
Pros of the Butterfly Vibrating Pussy Pump:
Large flexible cup contours the labia & clitoral hood

Trigger handle for vacuum is easier to use than a hand bulb

The "wings" are a handle for easy maneuvering

Powerful multi speed vibration
Cons of the Butterfly Vibrating Pussy Pump:
Pink color & glitter does not appeal to everyone

Sides of the cup are not long enough to reach from thigh to thigh

A pricey toy compared to the rest

Thin tubing can bend and kink easily
3. Venus Butterfly Pussy Pump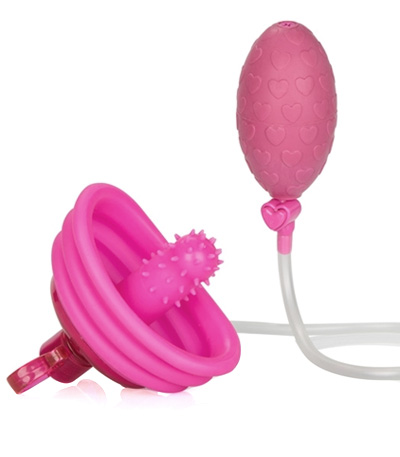 Venus Butterfly Pussy Pump is a smooth transition into the third place spot. It's similarly named to the second best pussy pump above, but there are major differences in form and function.
Firstly, for those who had negative reviews about the cords from the power control unit, this one features wireless hands free vibration. The cell batteries loaded directly into the vibrator. Twist the cap to create a waterproof seal and activate the single speed motor.
The next differentiating feature is the penetrating textured nub inside the suction cup. The solid spiky nub simulates oral sex, but instead of a soft and floppy tongue that licks your pussy and accomplished nothing, this spiky probe vibrates the vagina – but just the opening, no further in to ignite a fiery, passionate sense of sexual arousal.
The firm concave sup is not nearly as soft as the butterfly above, but it provides a great air seal regardless. In terms of flexibility, it is right in the middle between the Doc Johnson pussy pump and the pumping toy above. If you want to sex toy to get your erotic ideas flowing and craving dildos or vibrators, this is THE choice for you.
A quick release button on the handle safely removes the device after use. One click of the button and all the vacuum is released. If using during BDSM play, it's fun for your partner to adjust the depth of the wireless vibrator into the hollow nub, they control your pleasure!
Pros of the Venus Butterfly Pussy Pump:
Concave small cup fits petite women very well

Best chance of experiencing an orgasm from the vaginal plug

Vibrator can be removed and used separately

Fully waterproof design
Cons of the Venus Butterfly Pussy Pump:
Cup is firm and not very malleable

Vibration is not as strong as other options

Tubing is thin and prone to kinking

Bulb is small so it can take a long time to pump
4. Vibrating Bunny Vagina Pump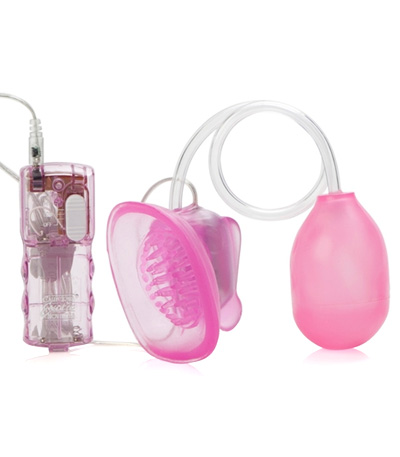 Vibrating Bunny Vagina Pump is the softest and most flexible pussy suction toy we have available for sale. If you previously tried a firm pussy sucker and were unhappy with how hard it presses against your skin, this is the best option to try.
The jelly soft rabbit stimulator on top adds elegant styling and is the perfect choice for video shoots and erotic pictures texted to your lover. It looks good but without being overly girly in comparison to the aforementioned butterfly vagina pumper. Reviews also agree this is a more toned down version without all the fluff.
Extra powerful vibration radiates throughout the sucker cup and teases you nicely. It is highly arousing and a sexy choice for ladies who want to feel what oral sex is like without having a sloppy lover down there. Nice and clean, tidy and effective!
Inside the cup lies several jelly soft ticklers that dance and tickle your labia while pumping, it even reaches high enough to stimulate the clitoris! The arousing experience over the lips feels nice. Now grab the oversized giant squeeze bulb and force suction into the cup. The opposite reaction of the ticklers being forced on your lips stimulates the senses.
Pros of the Vibrating Bunny Vagina Pump:
Extra soft, flexible and comfortable cup offers even coverage

The rabbit stimulator has powerful multi speed vibrations

Long ticklers inside increase sexual pleasure

Large hand bulb creates vacuum suction almost instantaneously
Cons of the Vibrating Bunny Vagina Pump:
Quite expensive for a pussy sucker pump

The softness of the device reduces the force of vacuum suction

The bulb is not as sturdy and can be hard to hold

Lack of quick release valve means you'll have to pick it off your lips
5. Turbo Suction Tongue Pussy Pump
Turbo Suction Tongue Pussy Pump is the final in my 5 best pussy pumps listing. This one is not like the rest, an original design for extreme foreplay and a common choice for lesbians.
Why is it a popular vagina sucker toy for lesbians? It's really interactive, the flat base can be used in a strap on harness and it also makes the perfect handle. I'd say it's the pussy sucker toy made for 2 and in my experience helping customers online, lesbian couples buy this one more than any other.
The extra thick, extra slippery tongue sticks out far and features a tiny vibrating motor. It's quite with a high pitch tingle very close to the feel of one of those tiny vibrating bullets. It replicates a tingling hummer or the feeling from a tongue vibrator too.
The cup stands at a steep angle, but you'll find that works best when using together with your partner anyway. Press it never the top of the labia, place the tongue like probe into the vagina and active the motor. Squeeze the bulb to create powerful suction to pile on the extreme pleasure.
There's a little of everything in this unique sex toy for women! One of the notable things I should mention is this one was around way back in the early 2000's when I was working in sex shops in my hometown. That's a good thing to say because many adult toys are discontinued after a period of time (1-5 years) but the Turbo Suction Tongue lives on!
Pros of the Turbo Suction Tongue Pussy Pump:
Long, slippery probe for vaginal stimulation

High pitch, tingling internal vibration

Wide, flat base is strap on harness compatible

Large rimmed cup feels slick when lubricated
Cons of the Turbo Suction Tongue Pussy Pump:
Vacuum suction is not as strong as some other choices

Lack of quick release valve on the hand bulb

Even though there is a suction cup, it's difficult to squat over it while solo

Cords & tubing that can get in the way during strap on play
Other Suction & Pumping Sex Toys for Your Consideration
Now that you are aware of the orgasmic potential of toys for pumping erogenous zones, there is 1 more type that must be mentioned before concluding today. Nipple suckers provide similar stimulation but typically come in a pack of 2, one for each nipple, obviously!
They stay in place on the breasts during masturbation and sexual intercourse and provide consistent often very powerful suction force. They are used by both men and women, all sexes and genders from gay couples to lesbian lovers. Everyone benefits!
Click to buy pussy pumps online.