Nipple Suckers 101 | How to Use Nipple Sucker Toys
Last Updated on March 9, 2023
Nipple suckers are the logical choice for curious first timers interested in nipple play and stimulation. They are far less threatening (and scary) than clamps and are a cheap accessory to add to your sex toy collection.
Using nipple sucking toys helps to prolong foreplay and adds intimate playful enhancement for you and your lover. They encourage you to fully explore each others bodies and harness the benefits of that tiny yet powerful erogenous zone that holds a wealth of erotic potential.
Today we'll cover the best nipple suckers available for sale and explore some of the most common features so you can make a confident selection at the checkout and be ready for "titillating" fun – so to speak! Not into bdsm? Don't worry, regular couples everywhere are enjoying tit stimulation with nipple suction toys. It's totally normal theses days, no longer stamped with the seal of kinky or weird.
If you love to spend plenty of time on breast play, you're not alone. Enthusiasts are always on the search for ways to intensify their pleasure, and make nipple play more fun. What better way to do that than with toys! Make sure to take a quick peek at our selection of nipple suckers and toys online.
This guide will show you how to use nipple suckers and related accessories to create some amazing experiences. Don't worry, if you're more 'curious' than 'experienced', this article will give you some great tips on exploring this fantastic erogenous zone.
How do Nipple Suckers Work?
Nipple sucker toys work by creating "sucking" sensation focused on the nipples. To achieve this, a cylinder or a pump with a wide opening is placed over the areola, then even pressure is applied with a hand. The video demo shows how the instant vacuum force generated from squeezing the nipple sucker bulb is enough to let it "stick" to the body, all hands free.
A plunger is pulled upwards OR a bulb is squeezed – either method results in the same reaction inside the cylinder. Air pressure is created which draws the nipple deep into the cylinder giving the user a feel as if the nipple is being sucked.
How to Use Nipple Suckers – Step by Step Instructions
Squeeze the bulb with your index finger & thumb.

Place the nipple suction toy over the nipple.

Let go of the bulb.

The vacuum suction will keep the device in place, hands free!

When ready to remove, lift the base of the cup against the skin with a fingernail to release the air vacuum inside.
There are 2 typical applications for using nipple suction cups:
The Quick Burst: Short & sweet for sexual arousal, the suction cups are removed after a few seconds. Used as a part of foreplay to get your mind in the mood for sex.

The Long Game: The suction cups are left on for 10-20 minutes to keep the nipples engorged with blood which heightens sensitivity for the duration of sex.
In the second application above, the theory is parallel to men who use a penis pump. Vacuum suction maintained inside the cylinder keeps blood in the tissue of the penis making it plump, full and more sensitive to touch, just like how nipple clamps feel. The exact same concept applies to nipple play under vacuum suction inside the cylinder. FYI - It is safe to leave the tit suction device in place for up to 20 minutes.
Best Nipple Suckers for Beginners:
Are you a newbie here? Below are a couple of the best nipple suckers for beginners. These are soft and silky feeling, a basic description of silicone nipple suckers. Silicone enhances malleability and provides a more gentle, delicate touch around the areola. On the contrary, if strong powerful suction is what you seek, then rubber would be a preferable material choice for you.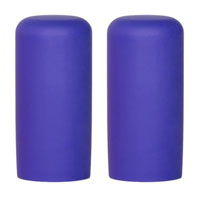 Beginner Nipple Suction Toys
Beginner Nipple Suction Toys are perfect tit suckers for curious first timers. In fact, these nipple suction sex toys are so ideal for newbies, we put the word "beginner" in the name! Soft and pliable silicone tubes are super malleable and gentle. All you need to do is hold it over the breast, squeeze the tube with your fingers, then let go! Squeeze repeatedly for nipple pumping suction action.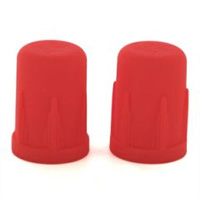 Red Silicone Nipple Suction Cups
Red Silicone Nipple Suction Cups are a perfect option for those looking to try nipple toys for the first time. The longer rectangular dome permits more air to be sucked out so even though they are small, they are plenty powerful.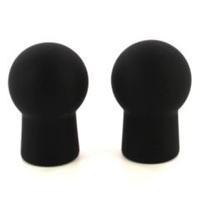 Silicone Nipple Suckers
Silicone Nipple Suckers are a gentle option for those who want to enjoy suction, but in a more gentle form. The black silicone sucker cups provide gentle suction across a wider space.
Sexperiments Nipple Suction Cups
Sexperiments Nipple Suction Cups let you observe the action happening inside the cylinder! The flared cup rests more comfortably against the areola, leaving plenty of space for it to get pumped.
Best Nipple Sucking Toys for Visual Appeal
There's no doubt that nipple sucker sex toys add visual appeal. First, just wearing them adds a kinky aesthetic that is undeniably hot. They can be as dramatic looking as clamps (just without the pinch). The sexy look can even rival lingerie, dare we say! Men nipple suckers are stylishly masculine and provide a stunning fetish look and guys everywhere are picking up a pair to play with.
Below are a few examples of the best selling tit suckers for men, but let it be known they are actually unisex – women and even all genders enjoy them just the same. They are hot picks for guys simply because of their more masculine appearance.
Boosters Nipple Suckers
Boosters Nipple Suckers feature oversized bulbs that provide forceful suction across a wider space. The bulb is larger than most giving the ability to squeeze more air - and thus creating stronger suction.
Play Nipple Suction Toys
Play Nipple Suction Toys are tall to offer pinpoint suction directly over the nipple for precise suction. These tubular shaped nipple toys offer the user light suction with minimal distraction.
Pro Large Silicone Nipple Suckers
Pro Large Silicone Nipple Suckers go far beyond typical nipple suction found on an ordinary toy, if you're looking to upgrade your pleasure these are a perfect match for you. The cup is wide enough to surround the entire areola!
Erector Nipple Toys Set
Erector Nipple Toys Set is the complete nipple suction toy for getting hard, perky nipples that last for the duration of your sexual romp. This set includes 2 bulbs and 3 sets of rubber rings.
Not only are the best nipple suckers listed above stylish in appearance, but they also give the tiny nub a swollen, engorged look. Imagine yours or your partner's swollen, fully erect, and sensitive to touching, licking and even a hot breath from your mouth. The effect is only temporary, but it is sexy as hell.
Be aware that using nipple sucker toys on a regular basis can make them permanently larger. But, it's a small change. You'd have to really make an effort, so don't focus on that. Think of them as erotic devices for sexual arousal.
It's also important to understand that they are already sensitive. Don't overdo it. Suction that is too intense or that goes on for too long can make them more sore than sensitive. Squeeze bulb style nipple suckers limit the strength making them a safe choice. The bigger the bulb, the more suction they have so if your nipples are already super sensitive, buy small nipple sucker toys instead of large ones.
Clit and Nipple Suction Toys
There is a distinct crossover between clit pumps and nipple suckers. The main difference is that when you purchase a clit sucker, you get 1 device. When you purchase nipple suckers, you get 2 devices. They are completely interchangeable and you can use each one on either body part. Knowing this information, the customer can double the size of their selections, you can shop for each one at the corresponding category.
There are so many types of nipple suction toys that techniques vary depending on the features of each one. Let's take a look at some of the more common types. They are only a step away from pussy pumps which share the same instructions but they're designed for the labia and vagina instead of region "up north", obviously by the name, of course!
The most basic of these uses simple suction. With these, you simply press in until the toy seals over the tit and creates a suction. From there, you can press and release the cup. Enjoy the same stimulation "down south" with a clitoral pump. In fact, ladies commonly incorporate both these sex toy types together at the same time.
Keep going until you reach the right level of sensitivity. You can then keep the suction attached, or move to oral and manual stimulation.
Clit Nipple Suction Set
Clit & Nipple Suction Set is a set of 3 silky smooth pliable silicone suction pumps for women who enjoy the titillating stimulation of constant suction during foreplay and masturbation.
Kink Lab Nipple Suckers
Kink Lab Nipple Suckers are perfect for nice girls! The pretty flower cap keeps your femininity intact while the screw style sucker creates intense suction underneath.
Nipple suckers with squeeze bulbs are amazing as well. Some have a separate bulb for each breast. Others have a single hand bulb for both. These are great fun, because either you or your partner can squeeze and release for maximum effect.
Some nipple sucker toys rely on a twisting or pulling motion to create suction. You place the toy over the breast, then draw back or twist to create the suction. Later, when you decide to release the pressure, you simply untwist.
You can also purchase nipple suction toys that use a small, electric motor to suck them deep into the pump. These are great because they maintain a very steady suction. With some, you can even adjust the intensity.
Finally, some nipple sucking toys come with tiny vibrators that buzz against your already sensitive yet tiny erogenous spot. Use vibrating nipple pumps according to the instructions for an experience that gives you enhanced pleasure.
Best Vibrating Nipple Suckers
Always on the quest to improve pleasure, it's no surprise that some clever sex toy manufacturers have crafted a way to incorporate mini vibrators with nipple suckers. After all, vibration makes everything feel better, right? Absolutely!
At the time of this publication, we have 3 vibrating nipple suckers available for sale. One is wireless and 2 are corded. Here they are ranked according to popularity, and my personal recommendations:
Vibrating Nipple Pumps
Vibrating Nipple Pumps are extraordinarily intense! Look inside the cups to see long soft spikes that ram against the nipple and radiate a powerful tingle from the wireless vibrator strategically placed directly above the spikes.
Fetish Vibrating Nipple Suckers
Fetish Vibrating Nipple Suckers have extra wide flared cups for full tit coverage. Each sucker cup is topped by a super powerful, high pitch tingling wireless vibrator . These vibrating suction cups will stay stuck to your breasts for days!
Vibrating Nipple Suction Cups
Vibrating Nipple Suction Cups are a first of its kind, totally unique and certainly with a kinky edge! If you're looking for an original vibrating nipple toy to enhance sensation, this quiet, powerful suction vibrator is a must-have.
PRO TIP: Vibrating nipple suckers that are connected together by 1 tube and operated by 1 vacuum bulb can be a challenge to use alone. Our sex toy testers determined that having a partner to help you makes it easier to hold the cups on your breasts while you use your hand to squeeze the hand bulb. Flying solo? Be sure to purchase nip toys with each their own separate vacuum bulb so you can apply them to the breasts one at a time.
Using Lube & Gel with Nipple Suckers
Both men and women use nipple gels and creams along with their nipple suction cups. It can be a lube to assist at maintaining a better vacuum seal in the bulb or cylinder. It can be a tingling gel to heighten sensation. It can be both!
You'll find nipple gel and pastes in small tubes like lip gloss. It is a waxy product you smear over the areola. They can also be flavored and scented to encourage a nibble here, a lick there; you get the picture!
Some have moisturizing properties to prevent them from feeling oversensitive. They should never feel chapped or tender when you finish. They should certainly never crack or bleed. If you have these issues, you may need to use more lubricant or female stimulation & tingling gels.
Not only will these protect the fragile skin, many of these thick lubes and stimulating gels can make them even more sensitive and engorged. If yours are particularly prone to soreness and chapping, consider using lanolin between sessions in the bedroom.
What do Nipple Suction Cups Do?
Nipple suction cups are designed to increase sexual pleasure. A seemingly simple answer, but if we examine the body's nervous system and reaction to stimuli, it makes total sense from a physiological standpoint. Let's examine why breast stimulation feels good in the first place.
In 2006, a scientific survey questioning men and women about their experience of nipple stimulation was conducted. Results indicated that nipple stimulation was reported to enhance sexual arousal in 82% of women and 52% of men.
In 2011 Nan Wise, Ph.D., AASECT certified sex therapist and a neuroscientist published a study exploring the sensory wiring of the breasts to the brain. Turns out stimulation of the nipples activates the same pleasure hot spot in the brain—which we now call the genital sensory cortex—as stimulation of the clitoris or vagina. (Same goes for men, by the way.)
If you enjoy oral stimulation, you are going to be absolutely blown away when you begin experimenting with nipple suckers. These amazing little toys used intense suction to create blood flow to the area. They work equally for men & women, but men may need to trim the hair around the areola in order for the suction ups to create a good vacuum seal.
This creates enhanced levels of sensitivity. Activate the suction and release repeatedly, and they become engorged and even more sensitive. For those asking how to nipple orgasm, the suction device and pump is a must have toy that amplifies orgasmic pleasures.
Then, licking, sucking, touching, even nibbling on them can feel positively amazing. In fact, with a bit of work, you can bring yourself or your partner to orgasm solely through breast suction play.
Nipple Sucker Sex Toy Shopping Guide
How do you pick the ideal nipple sucker? First, keep in mind that there's a toy for everybody. Now, consider your anatomy, and what you like best. A large nipple suction toy with a wider mouth is going to pull in both the nipple and at least part of the areola. A small sucker toy one will focus on the button only.
Would you like constant sucking, or would you prefer pressure that comes and goes? An electric or one with a screw action will stay in place with consistent pressure. One with hand pump allows you or your lover vary how much suction you experience. Keep in mind if you have 2 separate cups connected by tubing, you'll likely need your partner's helping hand at positioning them on your breasts. Some of them can be tricky to use alone.
Don't forget about the overall appearance. That's an important part of the experience as well. A small pair of pink pumps look feminine, and are pretty subtle. On the other hand, black cordless nipple sucker sex toys have a decidedly kinky look that can be extremely erotic. How about vibrating nipple suckers? A more expensive option at double or even triple the price compared to cheap bulbs, but one heck of a great ride nonetheless!
Click to buy nipple toys online.