Our Favorite Nipple Vibrators
Let's be brutally honest. When most people think of vibrators, nipples aren't the body part they are considering. In fact, when it comes to sex, nipples often get the short end of the stick. That's a shame, because nipple play can be amazing.
Both men and women enjoy nipple vibrators. In fact, everyone enjoys the same erotically stimulating, sexually arousing effect regardless of gender. Guys are starting to understand the appeal and experience the boost to the enjoyment of masturbation & foreplay, so vibrating nipple toys are not just for ladies anymore. We like to see them used in foreplay, it's an excellent precursor to intercourse.
Done right, it can seriously intensify things in the bedroom. In fact, stimulating the nipples impacts the same area of the brain that lights up when the clitoris is licked or stroked. Some women can orgasm through nipple stimulation alone (aka nipple orgasm). And let's not leave the guys out. They too can enjoy nipple play. For some, the pleasure is just as intense as it is for a woman.
How to Enjoy Nipple Play
Think of this like any other erogenous zone. Figure out what you and your partner enjoy. Like any other sexual act, there's no way to do this wrong. Some people enjoy the gentle stimulation of rubbing, licking, or massaging.
Others prefer to make things a bit more intense with gentle pinching and biting. If you prefer to make things a bit more intense, there's absolutely nothing wrong with that. As long as you play safe, it's perfectly fine to play rough. You can try out nipple clamps, or getting a bit harder with pinching and biting play.
If you haven't engaged in much nipple play, start slowly. Use your mouth and hands. Begin with gentle touching and stroking, then build up to something more intense. Try backing off for a bit, and then ramping things up again. Before you know it, you will learn exactly what works best.
Vibrating nipple suckers are hands free! Try nipple suction toys while playing with a vibrator.

Ask your partner to use a nipple vibrator on you while you're blindfolded.

Vibrating nipple clamps combine constant stimulation AND the hard pinch that feels so erotic.

Use clitoral stimulating gel on your nipples. The tingling feel heightens sexual response.

Bullet vibrators are not just for the clit! Hold on tight for the most intensely powerful nipple stimulation.

For an intense cooling effect, use toothpaste on your nipples while using the vibrator.

Alternate tickling with a feather to buzzing vibration. The light & hard contrast makes your whole body tingle.
Vibrating Toys For Nipple Play
Everyone knows that vibration can enhance sexual pleasure. This is true for nipple play as much as it is for other pleasure zones. To help with this, there are a variety of nipple clamps, pumps, and teasers that have vibrating features. Try some out to add some additional fun and kink to your sex life.
A little unknown secret of the sexperts: Use a clit stimulator on your nipples!
The clitoris and the nipple have a similar shape, and a closely related size therefore, the tiny sex toys are interchangeable! Women and men who know how good erogenous zone stimulation feels purchase clit toys to use on the northern half of their body, not just down south! Also, a small vibrator is best because it covers such a tiny space and provides pinpoint massage.
How to Choose a Nipple Vibrator
Before you do anything else, think about the sensations you crave. Do you like heat? Are you turned on the idea of intense vibrations, or just a gentle buzz? Would you rather have a sucking action, or pinching and clamping? Vibrating nipple toys have so many different features, you'll want to make a list of 'must-haves' before you start shopping!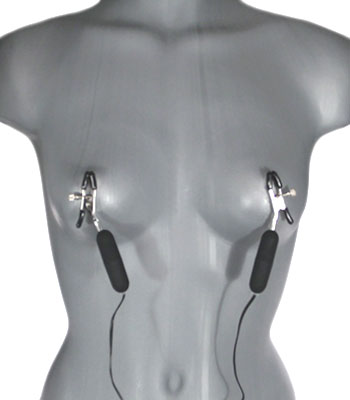 Best First Vibrator
Your first vibrator is always a bit of a gamble. In many cases, the best vibrator for beginners is an adjustable model. Why? When you first try a nipple vibrator, you may be a bit surprised at its level of intensity.
You may find that you prefer something much gentler, or something with a bit more power. With an adjustable nipple clamp like the Niplettes, you can play around with your new toy until you get the exact sensations that you like.
Another option for your best first vibrator is to go with a lower priced model. The Barrel Nipple Teasers are well under twenty dollars. They're also hands free so that you and your partner can be busy with 'other' things.
Vibrating Nipple Clamps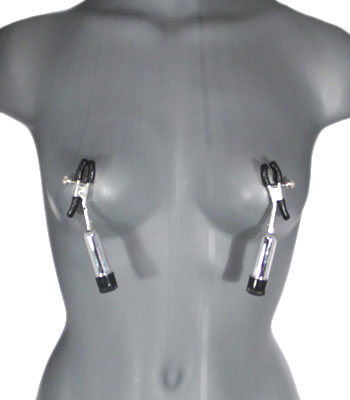 Nipple clamps work by pinching down on the nipples. They can apply just enough gentle pressure to provide light stimulation, or enough of a 'pinch' to really take your breath away. Everyone has different percentages. The important thing is to buy a toy that is made for this purpose. This will ensure you don't have any broken skin or other injuries.
Some nipple clamps work with a spring action. Others work by tightening or loosening screws. We recommend the screws if you want to be able to adjust the pressure of your clamps.
If you think nipple clamps are a turn-on, try adding a vibrator to the mix. These Wireless Vibrating clamps can be screwed into place, and turned on.
Vibrating Nipple Pumps
Nipple pumps or nipple suckers are used to create a pleasurable, sucking action. These toys can often provide a more intense, and more constant pressure than oral stimulation can. These are also a great option for when your partner's mouth is (ahem) otherwise engaged. Check out the Vibro Nipple pumps that combine intense suction with pleasurable vibration, one of the best vibrating male nipple suckers.
For something a bit more unique with a very intense sensation, you can also try the Vibrating Nipple Cups. These suction onto your nipples with the help of two small squeeze pumps. Then, they stay in place as the two vibrators work in direct contact with each of your nipples.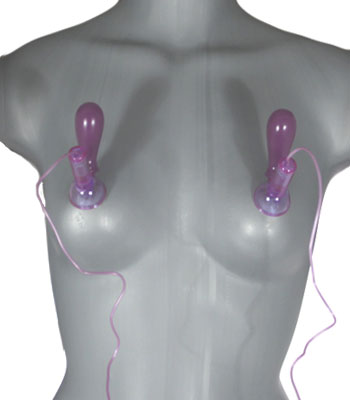 Nipple Gels
If you really enjoy nipple play, you can make the experience even more intense by adding a cream or gel that is designed specifically for this purpose. Products like the Erect Nipple Gel add a tingling sensation that is extraordinarily pleasurable.
Combine these with a vibrating nipple toy to really blow your or your partner's mind. For a more budget friendly product, try the Nipplicious gel! You can get it in sexy flavors like, Cherry Pie.
Click to buy nipple vibrators online.