How to Use a Strap On | How Does a Strap On Work?
Last Updated on July 26, 2021
Strap on harnesses are sneaking their way into bedrooms across the country. A new go-to sex toy for couples, we will expose insider tips & extensive guidelines helping visitors discover a new niche in the sex life by this overtly kinky device.
You'll learn how to use a strap on, (I have some new ideas you might have never seen before), learn more details about what is a strap on, and discover numerous answers to the commonly asked question: how do strap ons work. Consider this the best Strap On guide ever written.
Table of Contents
Information
Buyers Guides
Q. What is a Strap On?
A. The strap on is a 2 part sex toy for couples that includes a dildo or probe shaped device held in place by a harness which attaches to the hips & thighs of the person wearing it. Strap ons are used for penetrative sexual intercourse, either vaginal or anal and used by both heterosexual and lesbian couples.
This wearable sex toy includes the following 2 items that connect together:
Strap on Harness

Dildo
The dildo attaches to the front of the strap on harness and one partner wears the strap on harness on their body. It fits around the waist, thighs or both. The dildo on the front of the harness can be used for vaginal sex, or anal sex, also known as pegging. How common is pegging, you may ask?
What They Do: This toy features two parts: the harness and the dildo. The harness straps around your hips and legs allowing you to penetrate your partner with the strap-on dildo attachment, which has a flat base. They are intended to re-create the sensation and experience of sexual intercourse.
Why do Couples use a Strap On?
Simply for playful spirit! Trying new & naughty things is a secret to an amazing sex life. I'll be the first to admit, and I hate having to use a cliche like that, but in a loving marriage, sex will become routine and ordinary. Expanding the sexual comfort zone includes trying things like sex toys.
Experiencing something new is a fun secret personal experience to share forever. Men with erectile dysfunction will use a hollow strap on because they are unable to get an erection and have intercourse with their partner, so this method allows the couple to enjoy the motions and intimacy of lovemaking despite ED issues.
Using a strap-on dildo is silly, expect a night of giggles & goofiness because that is what will happen. Strap on sex is rarely serious – not like the depiction in adult films, a loving couple will laugh together as they explore this strange new way to play. My single greatest reason to encourage couples to try harness play is simply because of its fun nature. ~ Mayla Green
How to Put on a Strap On
These are basic steps on how to use a strap on, but if you'd like more detailed instruction, scroll below for more tips and advice to customize your erotic pleasure with your partner. This is the step by step guide on how to put on a strap on.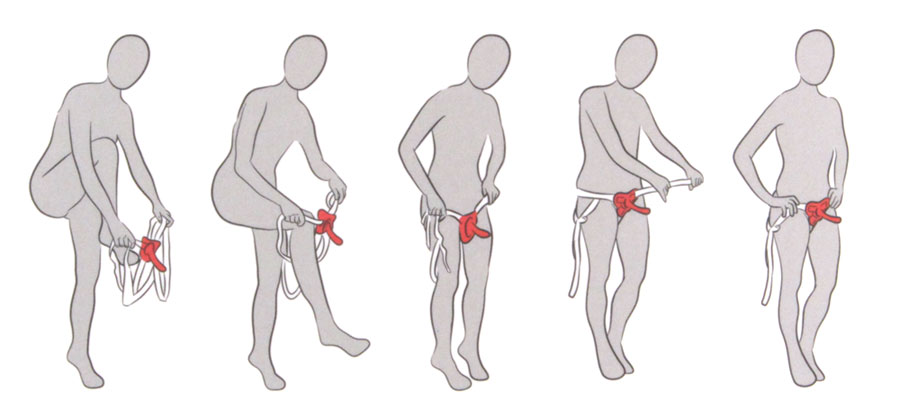 This is assuming you have purchased the standard Universal style harness that includes an O ring that attaches to the front with metal snaps. If you do not have snaps on the fabric, then you would simply omit the steps that refer to how to attach a dildo. The basic steps remain the same however, so in a nutshell, this is how to use a strap on:
Remove the O ring from the harness.

Slide the dildo through the harnesses O ring.

Attach the ring to the harness with the metal snaps.

Step into the harness as if you were putting on pants or underwear.

Adjust the hip straps so the harness fits at your hip bone.

Adjust the thigh straps one at a time until the device fits snugly over your pubic bone.

Lubricate the dildo well.

Hold the dildo with your hand to penetrate your partner.

Once the dildo is inserted, you can enjoy hands-free strap on sex.
Several dildos & vibrators are excellent harness attachments. Unfortunately, these products hide within their respective categories, never considered for strap-on use. Here, we'll highlight what to look for when making your own harness system. A creative mind can pick a few things and create an original one-of-a-kind sex toy for thrusting into practically any hole on a body.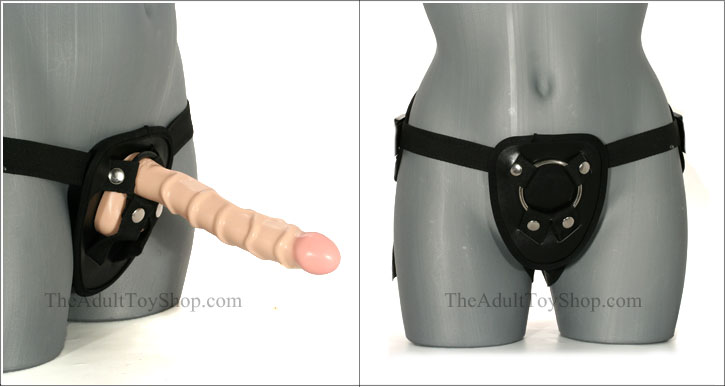 Products demonstrated: Ballsy Super Slim Penis & Universal Harness
How to Make a DIY Strap on Dildo Harness Kit
You can create your very own DIY strap on dildo kit. Any harness with a removable attachment can be used to create your own unique version. We've made it easy to narrow down the harnesses with removable dildos via menu filter option. These products already include an attachment. To start from the ground up, purchase one of these 3 harnesses-only choices.
The newest option is the Universal Harness. This popular product is a remarkably sturdy option with a fantastic back brace for a high level of comfort. For more color and a wild touch, the Fur Strap On Harness Kit is an excellent option that includes a blindfold (although in my opinion, the user needs to see what is happening!). Lastly, the SX harness is a lighter option, simple & elegant.
Customize Yours!
Check out the DIY strap on dildo kits:
Making your Dildo Fit the Harness
When asking how to use a strap on, most people are referring to how to make sure your dildo fit! The standard size for a harness ring is 1 3/4 inch inside diameter. If a dildo is too thin, it will slip out of the ring. If it is too large, there may be difficulty getting it to slide all the way down. A secret to making your own harness kit is getting the right sized ring for the job. Consider ring sizing like shopping for shoes: It cannot be too big or too small & the right measurement makes it fit.
How does a person acquire more rings for a strap-on? To diversify options, visit the local hardware store and purchase a rubber or metal & O-ring from the plumbing department or hardware section. A person can collect a good assortment of sizes to give a dildo the most solid fit.
Two options exist: Rubber & metal. Rubber can bend helping the ring to slide over variances in girth such as a mushroom head or expand to accommodate a slightly flared base. Metal is the best long term option. Metal rings are solid, whereas rubber rings may break over time. They both have pros & cons, but it is so easy to purchase other rings at a hardware store that the ring material should never be a deterrent when choosing a harness.
Suction Cup Dildos for a Harness
The best attachment naturally made for harness sex is the suction cup dildo. Having the firmest fit, a dildo with a large circular base keeps the shaft pointing straight forward – dildos without this circular extension tend to flop slightly downwards.
There are 2 ways to attach a dildo:
The Fashionable way:

As demonstrated in the photo below, push the suction cup through the ring. Correct ring sizing is a must - too big, and it will slide out - too small, and the suction cup may deform when trying to push the edges through the ring.

A word of caution, long term use can eventually cause the suction cup to detach from the dildo. The chance of the suction cup detaching increase if handled vigorously but another trip to the hardware store for some super glue or a silicone compatible bonding agent to make a quick repair job.

The Practical way:

The second way to attach a dildo is by wrapping the straps over the top of his testicles. Slide a ring down the entire shaft starting from the tip. Offering a much better sturdy fit, a dildo sticks straight out without gravity taking its pull downwards or the motion of the ocean causing its suction cup to break off.

This is indestructible sex at its finest. Furthermore, this fit requires minimal interaction when trying to change positions. A dildo stays in place solidly, no need using a hand to maneuver penetration & the dildo will not go anywhere. Just thrust forward and hit any target easily!
Left: The Fashionable way
Right: The Practical way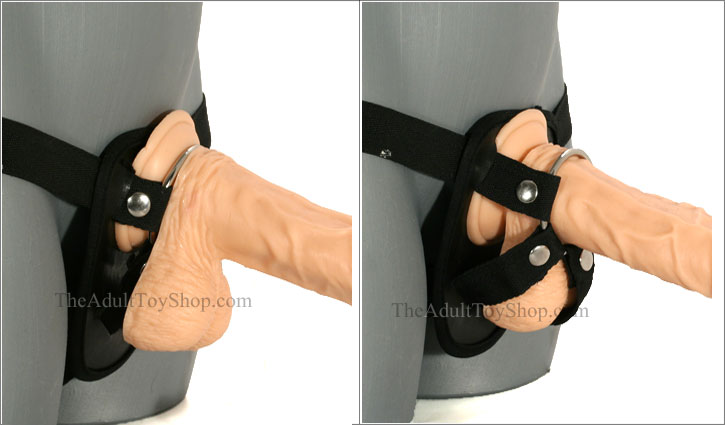 Round & Flat Base Dildos
A dildo does not require a suction cup to be a superb harness attachment.
Any sex toy with a flat back will do; improvise with ring diameter (remember that trip to the hardware store?) and get kinky with it! The Super Cock is my personal favorite alternative attachment.
They almost seem to be made with harnesses in mind & longer testicles give the shaft leverage to stay upright while its flared tip prevents it from spilling over and falling out. Type in "Super Cock" in the search bar and the first 8 products are perfect sex toys for this purpose. That is not all though; many other flat bottomed sex toys can work, please view the photograph below for a couple of demonstrations.
Left: Super Cock, the finest dildo for strap on use.
Right: Anything with a flat base will do, be creative!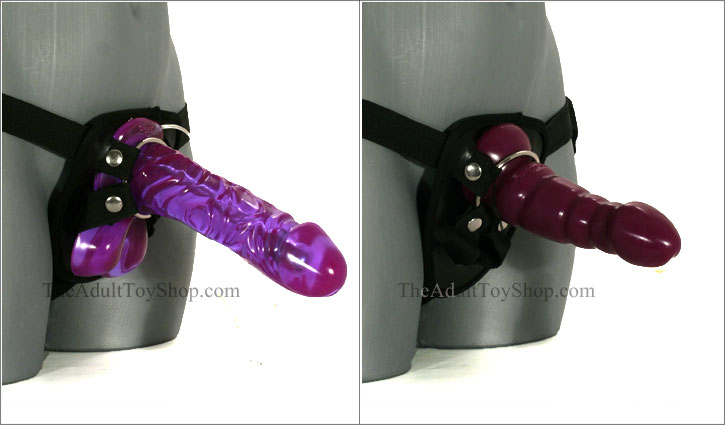 Strap on Attachments: Thinking Creatively
The most common category where couples shop for strap on attachments is the link provided, but there are also other clever sex toys that can fit and serve a nice variety of purposes. I have covered all the best dildos and inspired a shopper to make their own choice, but let's take creativity a step further now. Butt plugs are wonderful, attachments. Almost every butt plug has a flat base as a safety feature preventing it from pushing all the way into the anus, and the flat base is a characteristic essential of the best selling pegging toys & kits of all time.
We can take advantage of this feature and make your own little hands-off butt toy. A butt plug will hold firm, lacking leverage from a longer shaft it is going to stay in place, better than any dildo. Overly kinky minds are surely buzzing with anticipation now A little butt poke with a partner's thrust from behind is cool - leaving hands free to nipple tweak, clitty poke and penis stroke. THAT is astounding sex-play!
Many prostate massagers have a flat base too, all in the name of safety again, but any harness lover will interpret this as the perfect g-spot accessory ever made. A g-spot attachment for a harness is a popular option, but most g-spot vibrators are a straight shaft and impractical for harness wear.
A prostate toy has the same curve (the prostate is technically the male g-spot, even located in the same spot only in a different hole) so purchase a prostate massage for g-spot use. (A cautionary note, never use a sex toy in the vagina that has been in the anus – purchase a new one for dedicated vaginal use).
Left: A butt plug is the perfect shape.
Right: Prostate massagers = G-spot massagers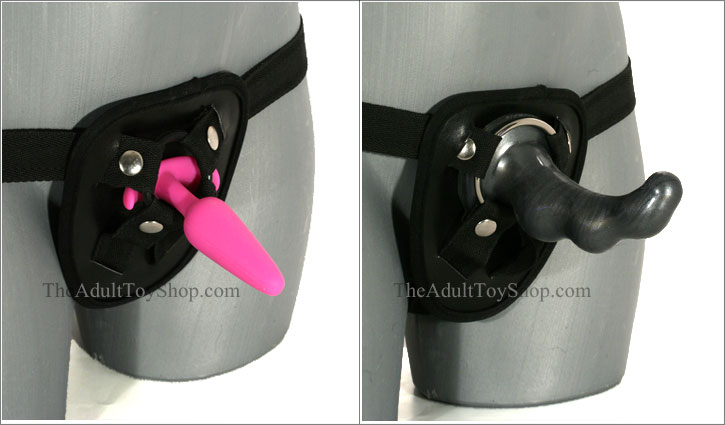 How to Choose a Strap on Dildo
Want it extra kinky? Check out the review if our squirting strapons.
Want it super realistic? As much as we love realistic feeling ultra soft dildos like Cyberskin, they are simply too delicate and floppy for a good strap on experience. Cyberskin is an extremely malleable material, too soft to stay pointing forwards when attached to a harness. Cyberskin suction cups can deform if used inside a harness O ring. Furthermore, they can easily slip out of the ring when action gets too hot & heavy.
Of course, one may purchase a smaller ring, but over time, thrusting may cause a divot in the base. Removing the dildo can cause slight tears in the surface of the skin from friction of the straps and ring. Cyberskin dildos & vibrators are ideal for hands-onplay. I listed some of our most realistic suction cup dildos here for those who want sex to feel very realistic.
We've seen many glass dildos marketed as excellent harness attachments, after all they usually have a flat round base, so it sounds perfect! In reality, glass is not a wise choice for a harness attachment. I tried the glass dildo seen in the photograph below and it is just too heavy.
Always pulling downwards and continuously tugging on the waist straps, we could see stretch marks forming on the harness backing from the stress of the weight. Even though we had a metal ring, the base seemed to shimmy itself out of the holding. A firmer dildo is going to work best. Think rubber ideally, or firm gel works too.
Consider the use too; learn how to insert a dildo to be sure the size, width, girth and dimensions are not too big to take into the body. Keep your size choices at the forefront of your mind when seeking the perfect choice for you & your lover.
Left: We love glass sex toys, but they're too heavy
Right: We love Cyberskin dildos – but they're too soft.


How do Strap Ons Work: Vibrators that Fit a Strap On
Even though our online sex shop is stocked with 80 strap-ons, only a mere 18 vibrate. Check out the best vibrating strap on dildos all in one spot here! The reality is that most harnesses come with a non-vibrating attachment. You can be creative and make your own vibrating set, here's how:
Strap on sex is a like a dark addiction, or pure chocolate (some say they are one-of-the-same). After a single taste – you want more. Luckily an adult can rarely exhaust options for sex toys that can be incorporated for this purpose. A vibrator with a flared base can also work, although not necessarily as attractive as a flat dildo with a wide base. This position allows the user to enjoy vibration in the kinkiest sense of play.
A tapered tip normally ends in a rounded base, the intended purpose of such designs is to offer the user a convenient handle to grab while self pleasuring. Slide a ring over the top and nestle it as far as it will go. An advantage is the user will feel some vibration so shimmy the harness lower. This positioning can be targeted towards the pubic bone and tossing a bit of vibration into the love zone. Here are two examples of flared vibrators that work with this arrangement:
How to Use a Strap On: Dildos that Don't Require Work:
To purchase a pre-made strap-on package, a couple different styles of harnesses (aside from those with removable attachments) are as follows:
Hollow Dildo

Usually the choice for men with erectile dysfunction. The hollow dildo is a firm shell that straps onto the waist. Being firm, the hollow strap on dildo does not collapse so women can wear them too. Some are remarkably large, but they need to be big in order to provide space for the man's penis. Some models are so large that an entire erect penis can be stored inside. Women with a "big urge" can have the lusty sex they crave while still engaging in the same lovemaking motion with their partners. It is the ultimate fantasy come to life.

Every hollow dildo we have is firm, a soft one will simply not work (in actuality, a soft hollow dildo is a penis extension - a skin-like soft prosthetic penis extension a man slides over his erection.) Men with erectile dysfunction cannot use a penis extensions, but they can use a strap on harness.

Please be aware; however, hollow dildos are substantially large in diameter. For sex in a realistic human size, consider a harness with an open base that is unisex with a smaller penis attachment. A favorite strap on for men with ED is the American harness: The straight penis: (American Dildo Harness) and the curved penis: (American Whopper Strap On). In addition, these two are the most life like pre-made life sized combinations.

The Vac U Lock System

Vac-U-Lock is adult sex toy maker Doc Johnson's answer to making harness shopping easy. It worked, this set is strikingly popular and even a household name. Say Vac U Lock strap ons and many adults know the purpose of the product. Purchase a pre-made Vac U Lock kit or base harness alone or add on a piece that says "Vac U Lock" in the title for interchangeable options. They offer a good range of options supplying customers with a nice click-and-play style of interchangeable sex toy.

They are a little on the pricey side, but the quality is superior to most other harness brands. The harness has an open bottom allowing men to wear with plenty of room for the scrotum & penis to hang below. Filter Vac-U-Lock Harnesses on the menu to see them all.

The only potential inconvenience with Vac U Lock attachments is they stick to the plug firmly, sometimes TOO good proving difficult to remove. Sprinkle 1/4 teaspoon of talcum powder inside the hole located on the base of the attachment which will help to lubricate enough it for time of removal. Removing the piece in a twisting motion is more effective than trying to pull it off directly.

The white accordion style bottle (shown in the photograph below) is Doc Johnson's own dispenser. The premise of the accordions function is an upward squeeze will evenly distribute the power upwards into the hole. It works, but makes a mess if applied upwards.

We suggest holding the attachment upside down, spraying into the hole, then plugging the hole with the thumb, turn the dildo upright and shake well to spread the powder around. In my opinion, using a small bottle with holes in the top, like a herb seasoning jar works much better. If your home is void of Doc Johnson's powder, any baby powder or talcum powder is a perfectly suitable replacement.
Left: Base Vac-U-Lock harness with plug attached
Right: Attachment bottom, plug & talcum powder dispenser.

How Much are Strap Ons?
Pricing varies according to complexity of the device and quality of the materials. Pre made kits cost between $40 - $120, but there are more economical ways to go. If you wonder how much are strap ons because you have to stay on a strict low price or cheap budget, make sure to check out our sex harness section and purchase a separate attachment. By combining these 2 separate pieces, you can go as cheap or as expensive as you like.
The real answer to the question how much are strap ons depends on what features are important to you and what features you can forgo. For example, vibrators are more expensive than non-vibrating attachments. Slim butt plugs or prostate toys will also be cheaper than a full size realistic dildo. Pegging sex toys are cheaper too, simply because the attachments are thinner than average and less material equals lower cost.
How much are strap ons? Your imagination is the limits and you can spend as little or as much as you want making your own super kinky sex toy for couples, or a tame teaser for trying something new in the bedroom.
Shop online for Strap On Dildos.