How to Use a Strapless Strap-On: Everything You Need to Know
Whether you've heard about strapless strap-ons before or came in here by accident (we won't ask), you're probably still wondering - are strapless strap-ons even a thing?
As grotesque as they might sound, yes, they are. Moreover, they've become quite a big deal in the sex toy community.
And no, it's not a joke. These mysterious yet fascinating devices take over more people's bedrooms each year. And while it might seem a bit extreme now, by the end of this guide, you will understand where the hype comes from.
Or perhaps you've already made up your mind and are here to learn how to use your new shining vibrating strapless strap-on?
Whatever your reason for being here is, (un)buckle up and warm up your kegel muscles. Here's everything you know about how to use strapless strap-ons. First, though, let's talk basics.
What Is a Strapless Strap-On?
A strapless strap-on is a slimmed-down version of your good friend - a strap-on dildo. What is the difference between the two? The harness, or rather the lack of it.
To better explain how strapless strap-ons work, it would be nice to know what one looks like.
Et voilá! A vibrating strapless strap-on dildo in all its glory.
The rounded part on the top is called the bulb, pony, or saddle. That's the part that goes inside the wearer. The larger, dildo-shaped part goes inside the receiver.
The idea here is simple. The saddle sits inside the wearer, so there's no need to use a traditional strap-on harness. What holds a strapless dildo in place is the sheer strength of one's pelvic-floor muscles.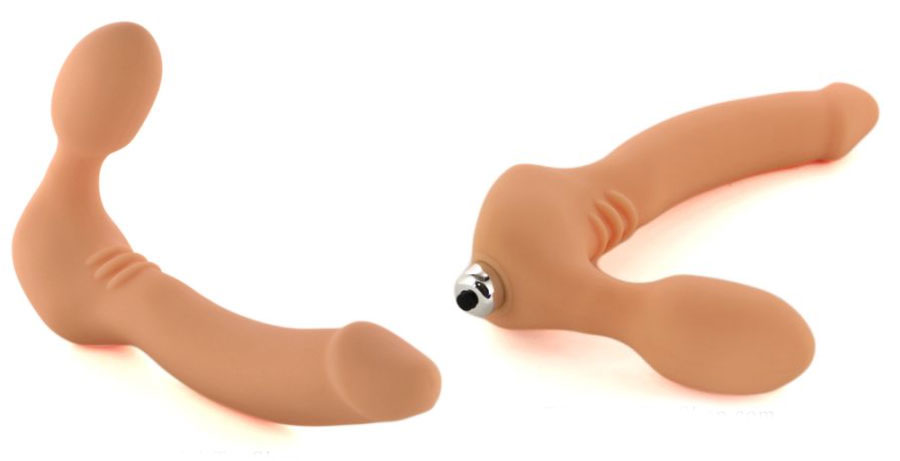 So yes, ideally, the person who wears it should have a vagina.
The question you may have is why? What are the advantages strapless strap-ons have over their traditional harness counterparts? There are several:
strapless dildos stimulate both partners;

they take much less time to put on, allowing you to get straight into the action;

they are more intimate, as one person can feel their partner's reactions;

strapless strap-ons are typically cheaper than realistic strap on dildo sex toys with strap-on harnesses;

they are more comfortable to wear during sex;

strapless strap-ons are very versatile and can be used in various scenarios.
So yes, there are plenty of reasons to consider buying a strapless strap-on dildo (if you still haven't done that).
However, there are also several things you should consider first. The most important one is that you need strong Kegel muscles to use a strapless strap-on. Using it takes a lot of stamina and strength, which can ruin the whole experience if you're not ready.
And since we're already talking about using a strapless strap-on, let's learn how to do it.
How to Use Strapless Strap-On Toys?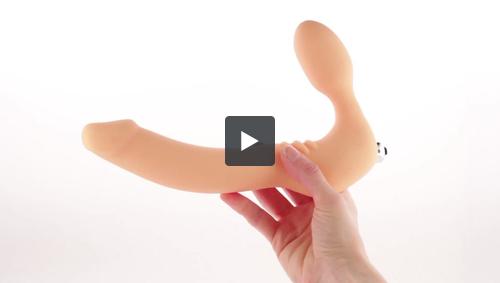 The first thing to do before using your strapless strap-on is to warm up. In other words, you need some foreplay first to get aroused. Not much difference from when you read my tutorial on how to use a strap on.
And yes, we know - can't I just go straight in?
In theory, yes, you can. However, when aroused, you'll find inserting the strap-on much more comfortable. You should also remember to use lube on both ends. As a rule, always use water-based lube on silicone strapless strap-ons.
Okay, once you're aroused and your sex toy is all lubed up, insert the saddle inside the vagina. If it fits comfortably and sturdy (use your Kegel muscles to hold it in place), insert the dildo-shaped end inside your partner (who should also be warmed up).
If it's your first time using a strapless dildo, start slow and adjust your tempo to your and your partner's liking. The great thing about the best strapless strap-ons is that you can feel your partner's reactions more intimately.
The best part is that, as you use the sex toy, the saddle horn rubs against your G-spot. So yes, prepare yourself for some intense sensations.
Use it until you both come, and if you're still up for it, continue with your bed shenanigans. Once done, remember to clean yourself and the dildo. Dry it up, and store it away from dirt, dust, and curious eyes.
Simple yet elegant strapless strap-ons are (did we just channel our inner Master Yoda?), wouldn't you agree? Using one is very straightforward, but it can provide extremely intense sensations for both parties.
How to Keep the Strap-On In?
Yes, it's time to talk about the elephant in the room. How the hell can you keep the strapless strap-on in for so long?
After all, it gets wet and slippery down there, especially when using lube. If there's no harness, won't the strap-on fall out once you insert it in this slippery environment? Add to that the penetration, the movement it involves, and the resistance of whatever you're penetrating. All these factors can make things even harder (that's what she said).
So what does it take to keep the grip on the strap-on's saddle? As said, having strong Kegel muscles is a must, but there are also several other factors to consider.
Strengthen Your Pelvic-Floor Muscles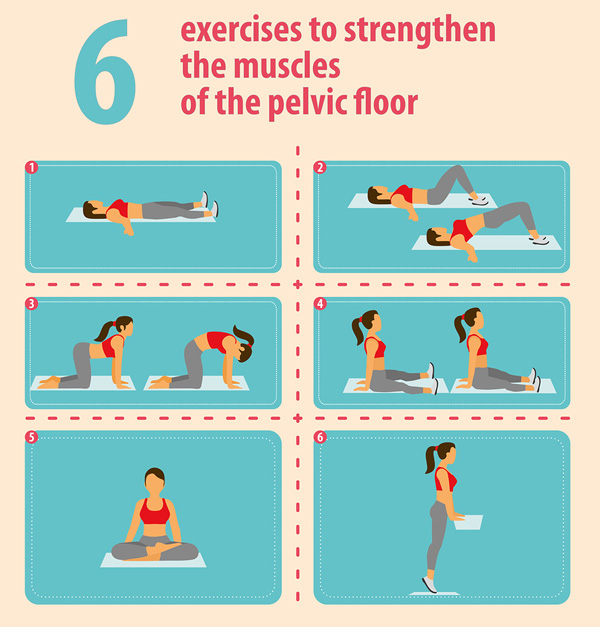 If you don't want the entire strapless strap-on experience to turn into a bull-riding contest, you need to strengthen your pelvic floor muscles (also called Kegels or PC muscles). They are the muscles that maintain the grip. If they aren't strong enough, the strapless dildo will keep falling out.
How can you do that? By exercising your PC muscles.
Many exercises are available online, so we won't get into too much detail here. That's not the purpose of this guide. We only want to tell you to do them safely. Ovestressing your Kegel muscles can do more harm than good.
One thing you might try is Use Kegel Weights For Vaginal Strength And Tightness:
These tiny weighted balls can help increase the strength of your Kegel muscles and provide some stimulation, combining pleasant with practical. You only need to insert Kegel balls inside your vagina and keep them there for a while by engaging your PC muscles.
Depending on how strong your pelvic-floor muscles already are, a month or two of Kegel exercises should be enough to hold your strapless strap-on comfortably in place.
Pro tip: Don't squeeze your glutes when using the strap-on dildo. Tensing your butt won't squeeze your Kegels but deactivate the muscles. Try to resist the butt-squeezing urge.
Experiment with Different Positions
Even with strong pelvic floor muscles, you might still struggle to keep the strapless dildo inside as you thrust inside your partner. The problem might be the position. The solution is to rethink your strap-on strategy.
The best idea here is to try sex positions that don't require you to thrust. Instead, let your partner do the work. For instance, if you're the strapless strap-on wearer, let your partner stay on top and ride you. It will make things easier for you and let your partner control the speed and depth for increased pleasure.
Purchase the Right Vibrating Strapless Strap-On Toy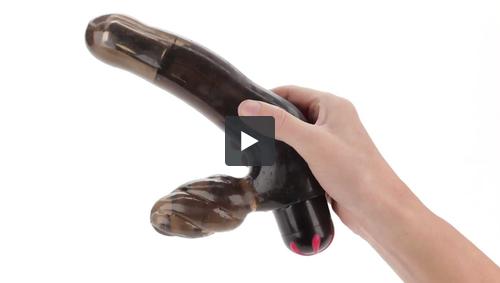 Like other sex toys, strapless strap-ons come in various shapes and sizes. Some might not be suitable for you, and there's nothing worse than uncomfortable sex.
How to pick the suitable vibrating strapless strap-on from the best strap on harness, then?
Use your experience with sex toys, like vibrators or dildos. Think about the sizes and shapes that work best for you and use that experience to your advantage.
The next thing is to learn about different types of strapless strap-ons. Some come with smaller bulbs, others with larger saddles. You will also find vibrating bullet strap-ons, rabbit strap-ons, and even adjustable strapless dildos.
As a newbie, we'd recommend using a strap-on with a larger saddle horn. They are easier to grasp and keep inside, thanks to the curve.
What If the Strapless Strap-On Dildo Still Falls Out?
Okay, you've strengthened your Kegels, tried different positions, and used various strapless strap-ons. Yet, the toy still falls out. Can you do something about it?
Yes, for instance, you can use a harness. Yes, we know that the whole point of strapless strap-ons is to use them without one, but sometimes, there's no other way.
There are several types of strap-on harnesses, so be sure to browse through them to find the one that looks the most comfortable. Most of them work brilliantly with strapless dildos, so be sure to try them out if you find using your strap-on without a harness too challenging.
Another solution is to... give up. The case might be that strapless strap-ons aren't your cup of tea. If you find them too difficult or uncomfortable to use, don't force yourself into using them during sex.
Instead, you can use a traditional strap-on or any other sex toy you find enjoyable. There are tons of sex toys to experiment with, and it might take a while to find the one that suits you best.
Is Strapless Strap-On Worth It?
That depends. While the best strapless strap-ons can take your sex experience to another level, they might not be your thing. And there's nothing wrong with it. Choosing your strap on is such a matter of personal preference.
On the plus side, a strapless strap-on can be more comfortable as it doesn't require all those awkward straps to put on and keep the dildo in place. Secondly, it stimulates both the wearer and receiver, which is a great recipe for more intense and intimate sex.
The disadvantage is that you need strong Kegel muscles to use it. Otherwise, it will just keep falling out, which isn't the perfect scenario as things are heating up. Also, while normal strap-ons can be used by anyone, strapless ones require a wearer to have a vagina.
Is a strapless strap-on worth it, then? As with anything regarding sex, it's a personal preference. Unless you and your partner aren't both 100% behind the idea of using a strapless strap-on dildo, getting one doesn't make much sense.
On the other hand, if you're looking for a way to spice up your sex life, a strapless-strap on might be the answer for your struggles.
Best Strapless Strapons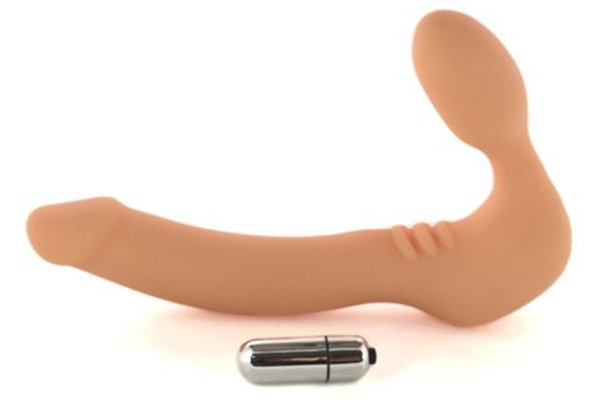 Simply Strapless Dildo features a perfect ergonomic design that really works. The bulbous vaginal plug stays in the vagina better than other with a slim shape. The thin neck acts like a butt plug keeping the large ball inside the vagina. Stiff and sturdy silent vibrating dildo includes a bullet vibrator.
Specifications:
Total Length: 9 1/2 inches

Dildo Length: 8 inches

Dildo Diameter: Slightly under 1 1/2 inches

Batteries: 3 cells, included

Motor: 3 speeds & 5 vibrating patterns
Black Strapless Strap On is a vibrating dildo with a powerful motor placed right at the end of the tip. This provides deep down stimulation for the partner. The spiraled vaginal dildo feels good for the wearer. Slick and slippery, this blunt vibrator for couples is a favorite of ours!
Specifications:
Total Length: 8 3/4 inches

Dildo Length: 6 inches

Dildo Diameter: 1 1/2 inches

Batteries: 2 AA, not included

Motor: Multi Speed
Wrapping Up
And that's a wrap! Are you ready to unbuckle your strap-on harness and go all the way with a strapless strap-on? If yes, feel free to browse our catalog and find the perfect sex toy for your strap-on adventures.
If not, no worries. We're certain you'll find something in our store to help spice up your sex life.
And if you've already purchased your strapless strap-on dildo, we hope our guide has answered your questions about using it. As you can see, it's not complicated at all.
Remember to work on your pelvic floor strength. Having strong Kegel muscles is a must with strapless strap-ons. Otherwise, the toy will keep popping out as you play with your partner, which is not ideal.
Follow our tips, and soon enough, you'll become a real strapless strap-on pro with your partner begging you to use it.
FAQs
Are strapless strap-ons better than traditional strap-ons?
That depends on how you look at it. For instance, some find harnesses uncomfortable to wear. Traditional strap-ons are also less intimate, as they only stimulate the receiver. For more comfort and intense sensations, strapless strap-ons seem like a better choice.
However, it has to be said that strapless dildos are less versatile, as the wearer must have a vagina. They also require the wearer to have strong pelvic-floor muscles to prevent the toy from falling out. They also come in a lesser variety, so finding the perfect shape and size for your toy can be difficult.
What is the difference between a strapless strap-on and a double-ended dildo?
Double dildos are straight or slightly curved, whereas strapless strap-ons end at an angle that allows the wearer to keep it inside when using it. The one part of a strapless strap-on is also shorter, while a double dildo looks like a regular internal dildo with two rounded ends for both parties to use simultaneously, hence the name double sided dildo referring to its two heads.
Do I need to use lubricant with a strapless strap-on?
While it's not required, we always recommend using lube with sex toys. It makes the experience much more comfortable, especially if you use your strapless strap-on for anal play. However, be sure to use water-based lube on silicone toys. Silicone lubricant doesn't work too well with silicone sex toys.
Click to buy strap ons online.