How to Use Anal Beads | How to Insert Anal Beads
Last Updated on June 25, 2021
Anal beads are one of the original types of anal sex toys invented and documented decades ago. Today, millions of Americans use them. They are not just a popular choice for gays & lesbians, but heterosexual men & women enjoy them equally and couples everywhere think they're one of the best additions to sex. Simply put, the purpose of anal beads transcends sexual preference and gender identification.
Introduction: Even though they are one of the classic sex toys that people stick in their butt, men & women often ask me questions about them, so its obvious that many don't fully understand the concept behind these butt toys.
Common questions include: How to use anal beads, what are anal beads, how do anal beads work, what do they do and how to insert anal beads. Continue on for the answers to all these questions before you buy anal beads to learn extra tips & advice – it's everything you've ever wanted to know!
Q. What Are Anal Beads?
A. Anal beads are an interconnected strand of round or spherical shaped balls placed along a silicone strand or a nylon string. They are inserted into the anus and pulled out to increase sexual pleasure. They can be used with a partner during sexual intercourse or alone during masturbation.
There are 3 main types of anal beads:
Single Piece Silicone Anal Beads
A single piece molded strand with graduated sized beads ranging from small on the tip to large near the retrieval loop at the opposite end.
Plastic or Metal Anal Beads on a String
Plastic or metal spheres with holes punched through the center. These are placed along a nylon cord or string separated with knots along the way.
Vibrating Anal Beads
The motor can be placed either at the tip to be felt deep inside the rectum, or at the end for stimulation directly on the sphincter.
Q. How Do Anal Beads Work?
A. During both the male and female orgasm, the muscles within the anus & rectum pulse and spasm. The sequence of anal beads being pulled out of the bum one by one mimics this pulsing & spasming sensation to greatly amplify the pleasurable effect of the orgasm.
Some users rip the anal beads out before orgasm and that's okay too, the balls work to increase pleasure even without the presence of muscle clenching orgasm because the bumpy feeling is highly erotic. The contrast between large bead and thin strand stimulates the nerve endings around the anus.
Q. What Are Anal Beads For?
A. The purpose of anal beads is to increase sexual pleasure. Simply using them alone is not enough to bring a person to orgasm, they are an add-on to the sex toy collection and work in unison with other adult toys to turbocharge personal pleasure.
It's no secret that back door stimulation is a ticket to unrelenting powerful orgasms, and anal beads are one of the best accessories because they are typically smaller than most butt plugs and probes so people who are not interested in something big to stick in the butt often choose butt balls because of their smaller size.
Of course we also have plenty of large, huge and big anal beads for extreme anal users; and on the opposite spectrum, there are just as many small, tiny graduated sizes best for beginners and first timers. Long anal beads are most popular but if you don't want to go deep, then choose a shorter version instead.
Q. What Do Anal Beads Do?
A. Anal beads increase sexual pleasure from the combination of fast movement and heavy texture as they are pulled out of the rectum at the onset of orgasm.
Before you find out details on how to use anal beads, it's good to do some research first to find out if its something you'll actually enjoy. They are not for everyone. Sure you know what they look like and have seen pictures online, but what do anal beads do? What is their purpose in the bedroom?
They tuck into the rectum in a tidy row and stay there until the moment they are pulled out. Some people like to rip them out, and even though it sounds harsh, it feel great. Remember they are not inserted dry, each ball is lubricated and they literally glide out of the rectum in a quick, rhythmic flow .
Q. How To Insert Anal Beads
A. Anal beads should be inserted one at a time. Make sure each bead is well lubricated before you pop it into the rectum.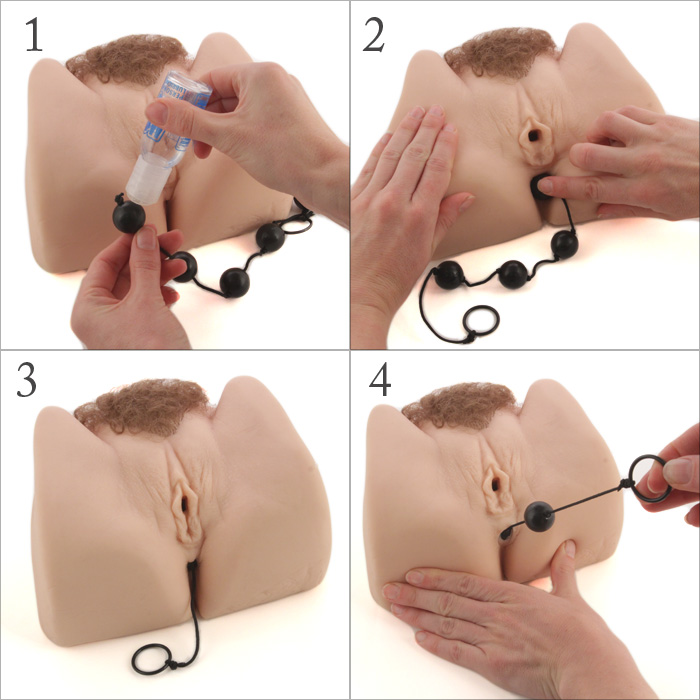 Customers who ask me how to use anal beads are actually asking how to insert anal beads, because this is half the practice! Check out my video demo or follow the step by step instructions as follows:
Apply anal lubricant to each bead focusing mainly on the ones at the inserting end.

Spread your butt cheeks and wipe anal lube around the sphincter.

If metal or plastic beads:

Insert the beads one at a time into the anus using your index finger.

If single strand silicone unit:

Hold the middle of the strand with 2 fingers and insert it with a few firm pushes.

As your rectum becomes filled, use 2 fingers to "pop" the remaining ones in.

If you can't fit them all in – that's okay! Leave the remaining beads hanging out.

Line up the retrieval ring with the butt cheeks to keep it out of the way, especially if you'll be sitting down.
Q. How To Use Anal Beads
A. Just before you feel the climax starting, grab the loop at the end of the strand and wait until the muscles in your groin pulse (indicating the start of the orgasm). Pull the beads out. You can pull the loop fast or slow based upon personal preference.
Once you've discovered how to insert anal beads, you're half way there, literally! All kidding aside, once they are inserted, now it's time to put them to good use. Here are the step by step instructions on how to use anal beads:
Follow steps 1- 6 above to insert the anal beads.

Enjoy sex, playing with your dildos or masturbation while leaving the beads in place where they are.

As you feel your orgasm approaching, grab the retrieval ring (or the bead closest to the sphincter if you were unable to insert all the beads).

At the onset of orgasm (just as you begin to feel the vaginal muscles clench for women, or at the time of ejaculation for men) pull the beads out in a smooth, consistent motion.

Be sure to clean thoroughly after use by using sex toy cleaner spray.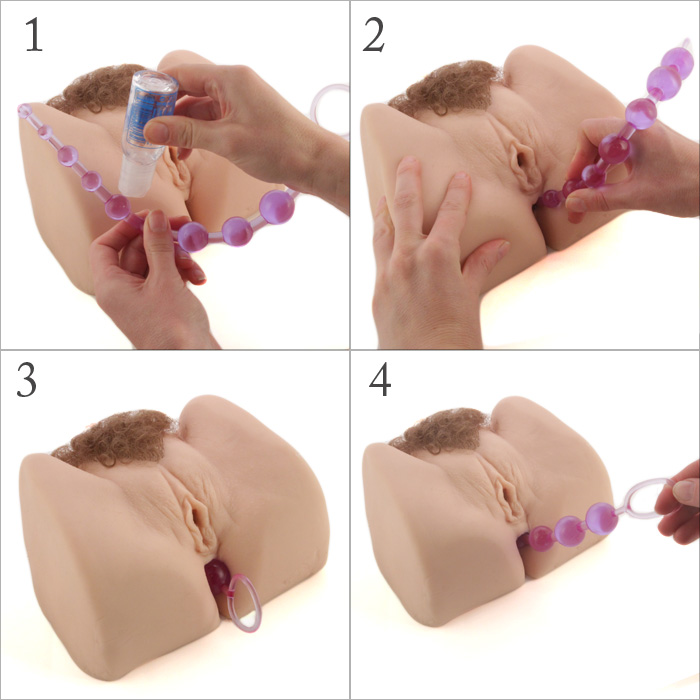 Q. What Do Anal Beads Feel Like?
Anal beads feel like a "thump, thump" as they are pass the sphincter while slowly being pulled out one by one. When anal beads are ripped out quickly, the thumping feels more continuous, or connected and is best described as feeling like a "ribbed" sensation.
Think of it as the same concept as when you drive quickly over potholes in the road – going slowly will emphasize each divot and bump. If you drive quickly, they all seem to blend together seamlessly into one smoother sensation. Anal beads feel the same way.
With that being said however, the individual sensation feels different based on when they are being pulled out. If you pull them during orgasm, the muscle clenching pulses will match the pulses of the sphincter as each bead is pulled out. The result is sexually incredible. This is the moment when anal sex beads shine.
Homemade & DIY Anal Beads – Safety Considerations
You'd assume that I have conflict of interest when I advise people not to DIY anal beads or make homemade anal beads yourself. I sell them online, so obviously, I don't want anyone making DIY anal beads as this can cut into my sales volume.
Honestly, butt beads are so cheap in the grand scheme of sex toys that the amount profited from these is so minimal. I'm telling you never to try homemade anal beads because they are not safe. Simple as that.
Why? Single strand pieces can not tear inside the body. The strings used to connect metal or plastic beads are strength tested and certified safe to use. There is considerable pressure placed on the balls when ripped out of the butt, if you DIY your own using twine, it can possibly break and some of the beads can get lost in your butt, requiring a visit to the emergency room.
For safety reasons, spend the $8 and buy beads that are designed specifically for this purpose. Never stick foreign objects into your butt. Just don't.
Time to Try for Yourself!
Now that you have watched my video and read instructions on how to properly use anal beads, it's time to start shopping and discover this whole new realm of adult sexual pleasure. If you're shy about suggesting it to your wife or husband, try it alone during masturbation. Do it in the shower. Enjoy the feel of your brand new powerful orgasms!
Click to shop for anal beads online.