My Adventures With Anal Stretching Toys
Last Updated on June 25, 2021
I'll be honest. I am not one of those girls who takes a super-enthusiastic approach to anal sex. I don't even own that many anal toys for women. On the other hand, my partner does! And, since I am, in the words of the wonderful Dan Savage, 'GGG,Good Giving and Game!', I decided to make myself as accommodating as possible. Yes, I mean that literally with anal stretching kits & toys of various sizes, my new favorite anal toy type.
My goal was simple. I decided to experiment with vibrating anal toys and other devices after reading about anal sex for beginners. I wanted to be able to comfortably accommodate my partners penis without screaming in pain, or asking him to pull out. If I could also learn to enjoy the stretching anal experience, that would also be wonderful. Consider this the abridged version of my anal sex diary.
First: My Anal Stretching Recommendations
The two most important things you should remember before stretching your anus are:
Butt plug training takes time to do safely!

Relax and enjoy the process with a respectful and supportive partner.

Expect discomfort, but if things get super painful that's your sign to stop!
Recommending anal stretching kits, or anal training toys like butt plugs can help you to successfully enjoy anal play. This includes anal sex, butt toy play, gaping, even DP. But, you need to play it safe to avoid injury. Here are my rules for safe anal training products:
Go slowly.

Start with small size butt toys.

The anal training kit is your best friend.

Use plenty of lube.

Follow proper sanitation protocols.

Start small and move up. (Hint: Use anal beads to start).
How do I Make Sure Everything is Safe And Sanitary?
First, if you plan on using fingers (yours or your partners) make sure your hands are washed, and your nails are clean and cut short. Next, if you use toys, they should be properly sanitized before hand.
Follow the instructions. Many anal toys can be boiled or put in the dishwasher. Others must be hand washed. Finally, when you're done, clean everything up before putting them away for the night.
My Early Anal Stretching Diary
I decided that the only way this was going to work was to make the process as pleasurable as possible. To do that, I am listed the help of my boyfriend, and the illuminated frisky finger vibrator. Both were there to make me feel as relaxed as possible before each session, and most importantly to reward me for any progress I have made.
My partner and I would begin each session with an anus massage, lots of making out, and even more foreplay. The idea was to get me into a relaxed and lubed up state with the help of orgasms, oral sex, and very relaxed muscles. The finger vibrator size also helped me to concentrate on a bit of self-pleasure when the anus training sessions got a bit intense.
Our first sessions involves plenty of lube, and our fingers. I experimented with different lubricants, and found that I preferred the Uranus silicone lubricant. I choose not to use an anal desensitizer, because I wanted my body to tell me when it was time to back off a bit.
Especially thanks to the lube and foreplay, it didn't take me long to feel ready for my first anus toy. We decided to start with the mini beginners anal toy. This vibrating anal probe is pretty small, but still definitely noticeable.
I didn't think I'd be able to do the initial insertion by myself. But, I used plenty of lube, laid on my side, and relaxed. It first I could only insert the toy, then leave it in briefly. I kept working at it, and before long I could leave the butt plug in place. Eventually, I could even tolerate some light thrusting regardless of size.
Progressing…
Even though the first anal vibrator I tried was working well, moving to the next level was very intimidating to me. But, I knew I had to. In terms of girth, my boyfriend is probably on the right side of average. I needed to up my game. I upgraded to the booty buzz anal vibrater. At one inch in diameter it was going to give me significantly more stretch than I'd tried before.
Again, I relied on my boyfriend to help and encourage both verbally, and through touching and foreplay. He also helped with insertion. He was in the unique position to be able to see what was going on in a way that I couldn't. So, he could suggest different positions that he thought might help. We tried doggy style anus sex, on my back with knees pulled up to my chest, on my side, and flat on my tummy. We found that on my back with knees pulled up to my chest was easiest at least for the initial insertion in my butt.
Getting it in at first was a difficult. It took several times. In fact, the first night we gave up, and decided to try again later. 
Finally, after much effort and deep breathing, we got the product in my butt. No thrusting this first time, we just turned on the vibrations for about five minutes so I could experience the sensations. Can I just say that vibrating anal dildos are the way to go here. Something about those sensations just can't be replicated anywhere else.
I was a bit sore the next day, but it wasn't so bad. Best of all, I was feeling quite confident! It was time to conquer the next challenge. I felt strangely excited at the prospect.
I knew if I could handle the Corked Vibro Plug, I could handle my boyfriends penis. This was 1.25 inches around. So, one night we had a few glasses of wine, and got started. 
Holy cow! This was a big boy. Eventually, we got it in. I kept it in place for a full twenty minutes. It was pretty uncomfortable. Thanks to my boyfriend, and the finger vibrator I was able to get through it. It was still a smaller stretching sex toy than his penis.
Slowly…
The last butt toy we tried was the Prowler. In spite of it being so large, and really intimidating looking, it was actually the best vibrating anal toy I experienced. This time, I was able to pass full control over to my boyfriend. The prowler comes with a handle, and the vibrating control is at the end of the handle. 
Using plenty of lube, my boyfriend was able to get the vibrator inside of me surprisingly easy. It was uncomfortable at first, but I was able to get used to the thrusting action pretty quickly. We also tried vaginal sex with the Prowler still inserted. The combination of vaginal thrusting and pressure from the other side thanks to the anal vibrator gave me one of the more intense g-spot orgasms that I've ever experienced.
Our Top Anal Stretching Toys:
Jellies Anal Kit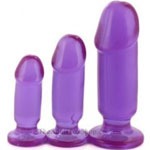 Jellies Anal Dildo Kit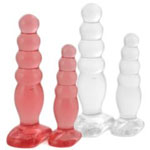 Anal Training Kit
Training Kit
Tush Teaser
The Ram Inflatable Plug
Will I Reach my Goals?
As of now, my boyfriend and I are able to enjoy anal sex and butt plugs as long as we take things slowly, like learning adult toys step by step. No, we aren't engaging in wild, rough, anal romping. And, I'm an absolute hard no on the matter of double penetration. Eventually, I'd like to get to the point where anal sex feels so amazing that I crave it. Still, I'm happy where I am right now. It's added a new dimension to my sex life, and relationship with my boyfriend, and he has certainly shown his appreciation for my efforts.
Other Anal Stretching Advice For Noobs
If you want to enjoy anal play, I cannot emphasize the benefits of anal stretching enough. Before you start, here are some things to consider.
The anus is absolutely an erogenous zone. Having anal sex should be pleasurable, and it should never be an agonizing experience. Go slowly. Try fingering, oral/anal pleasuring the butt, and external massagers for stretching to start. Make sure that you orgasm at least once during each session. The more you can associate this with pleasure, the better.

Try deep breathing and a brief meditation session before you begin. You can also use deep breathing during the insertion process to make things a bit easier.

Make sure that you and your partner are on the same page. Things need to go at your speed. It's also very important for everyone involved to manage their expectations.
For my boyfriend and I, anal sex is something we enjoy occasionally. Yes, he likes it more than I do, but that's okay. I still find the act satisfying. Even better, I love that we have made anal play a part of our normal foreplay routine. Who knew that a vibrating butt sex toy would become one of my most well used vibrators?
Click to shop anal sex toys online.