Couples Vibrator Buyers Guide | Mayla's Best Vibrators for Couples
Last Updated on October 18, 2021
Couples vibrators are a tiny niche of adult toys but have massive potential for improving our sex life. When we think "vibrator" we instinctively think of a sex toy for women. Many partners are now bringing these personal vibrators into the bedroom and enjoying with them together. They're not just for solo masturbation anymore, but incorporated into foreplay and sex.
Introduction: They are called sex TOYS for a reason, and they should be FUN! In response to a desire to make sex more fun, the entire niche of couples vibrators was created. They're especially useful for married partners who have a ho-hum, ordinary or boring sex life. It happens to the best of us and there is no shame in seeking accessories to spice things up in the bedroom.
In today's article. I'll explore more about what features make the best couples vibrator, offer some examples of fun toys you should try with your partner and provide step by step instructions on how to use couples vibrators.
Since there is no dedicated category to this specific types of sex toys for couples, so I'll document some of our favorite suggestions for duos looking to make sex more adventurous, exciting and fun.
A sex toy isn't something you should only use when your partner is away! Partners with healthy sex lives often use toys and other accessories together to enhance their sexual experiences. One item that can make for amazing sexual experiences for both of you is the vibrating sex toy.
Sex vibrators come in so many shapes and sizes, and can be used for a variety of purposes. There are toys for clitoral stimulation, g-spot, prostate massagers, and dildos for the perineum. An adult toy can be used during foreplay or to enhance intercourse.
What is a Couples Vibrator?
Definition: A couples vibrator is a sexual aid that stimulates the woman's clitoris during lovemaking to increase her pleasure. They help a woman achieve a more satisfying orgasm, and provide lovers with a fun and new experience in the bedroom.
This is a relatively loose term however; really, any vibrating adult toy that enhances a couple's sexual experience could be considered a "couples vibrator". As long as you are using it for mutual pleasure yeah, it is a couples sex toy. This is your time to think creatively and bring pretty much any type of sex toy into the bedroom for a wild and kinky time.
That said, certain vibrators are definitely designed for couples, more so than some others. For example oh, the device may be designed for one partner to hold while using it on the other. Another may be designed to use during intercourse.
Different Types of Couples Vibrators and How to Use Them:
There are many different types of couples vibrators. They can be divided into two major categories. These are internal sex toys that involve penetration, and external sex toys that do not.
Internal vibrators include prostate massagers, g-spot vibrator, or vibrating dildos. That's just to name a few. External vibrators include clitoral stimulators, vibrating penis rings, and fingertip massagers.

Types of Couples Vibrators:
Vibrating Rings

Finger Vibrators

Bullet Vibrators

Vibrating Anal Probes

Sex Toy Kits

Prostate Massagers

Vibrating Penis Sleeves

Strap on Harness with Vibrating Dildo

Vibrating Pegging Accessories
How do you Use a Couples Vibrator?
The answer to this question depends on the type of vibrator you have chosen. It also depends on your preferences, and your partner's preferences as well.
One of the best ways to learn is simple experimentation. You can also watch videos, even read the instructions on the box. As long as both of you are happy, and enjoying great sex, there's no wrong way to use a vibrator for couples.
If you are interested in playing with any sex toy together, check out my sex toys videos that offer ideas on what women like. If you follow the techniques displayed in my guide, you're guaranteed to do what she likes.
This brings up a good point – do women like couples vibrators? What if her partner is handling it all wrong? It certainly can happen because not all guys know what feels good for a woman. By watching my demos on all types of adult toys that can be brought into the bedroom and played with together, you'll be inspired to try new things together.
It is your sex life savior for those who are stuck in a sex rut. Married partners really benefit from using couples vibrators since it makes things more interesting and more fun, with a nice dash of wild sexy primal sexual instinct thrown in for good measure!
When it comes time to use a new couple's vibrator, or any other toy, there are a few guidelines to follow:
What Kind of Couples Vibrator Should we Get?
Once again this depends on the experience you and your partner are looking for and what you consider the be the best sex toy for couples. You can start by thinking of ways your sex life could be even better. For example, if intercourse is not as amazing for her as you would like, try a vibrating cock band. The constriction will help him last longer. The vibration will bring her to an intense orgasm.
Maybe he's interested in a bit of anal play. That's a great reason to bring in a massager with the ability to offer prostate massage. Consider your interests, needs, and fantasies as a couple. Then, set a budget for buying a couple's vibrator. Now, get ready to go shopping!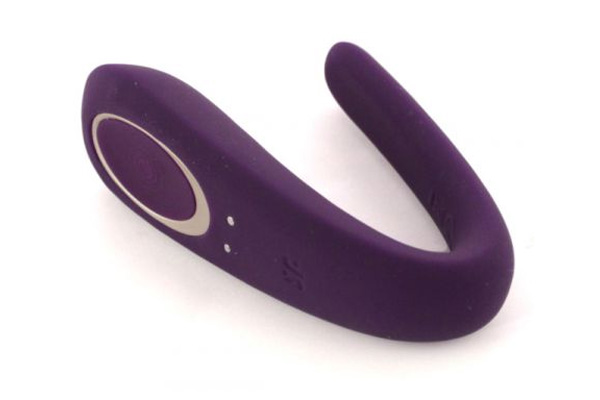 Satisfyer Classic Couples Vibrator is the epitome of sexual sharing, both partners experience the same sensations at the same time. How is this possible? This sleek and low profile "U" shaped vibrator inserts partially into the vagina while the wider end rests over the pubic bone.
The rechargeable couples vibrator includes a USB cord that takes about 2 hours to charge for a 1.5 hour running time. Entirely waterproof and hypoallergenic, this is the perfect body safe option that can be used literally anywhere!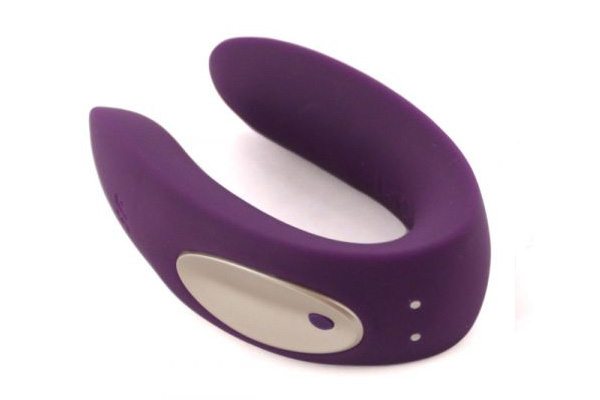 Satisfyer Double Plus Couples Vibrator is an upgrade from its predecessor above. This model features 2 motors. The first motor is located near the tip of the vaginal probe and the second is under the opposing tip for external / clitoral vibration. This is an exciting hands-free vibrator for couples looking to spice up the sex life with something totally unique.
The rechargeable couples vibrator includes a USB cord that takes about 2 hours to charge for a 1.5 hour running time. Entirely waterproof and hypoallergenic, this is the perfect body safe option that can be used literally anywhere!
Wearable Couples Vibrators
This style is different from all other types because it is worn on the woman's body like a strap on. Wearable vibrators are playful and fun, they enhance her pleasure by providing hands free vibration during sex play. They can be worn during sex because if the low profile design.
They also provide a level of modesty for her as they cover up unshaven pubic hair stubble and look sexy, kind of like wearing erotic lingerie. The Micro Venus Butterfly shown in the video demo is my best wearable couples vibrator because it's the smallest and the butterfly shape not only looks feminine to further enhance your ladylike appeal, but the tingling vibration is a real addition to the enjoyment of sex play.
It's the only kind of couples vibrator that allows full freedom of movement, It stays in place by adjusting around the legs and hips so you can change positions freely and move without needing to re-adjust.
Best Couples Vibrators
If you're ready to start shopping for a vibrator, here are a few items that might fit the bill. These are my all time favorites and the best couples vibrators that are used during foreplay, arousal and sexual intercourse.
The list of best couples vibrators is divided among the different types as mentioned previously, because you can't rate them all together. Each category really needs its own attention, so depending on what TYPE of couples toy you're looking for, rest assured the one you pick from this list is the best of itas kind. Now take a look at some of the best vibrators for couples online:
Couples Vibrators for Sex – Vibrating Rings
The best cock ring vibrators are the original hands free sex toy for couples. When most people ask "what is a couples vibrator?", the first thing they have in mind is the vibrating ring.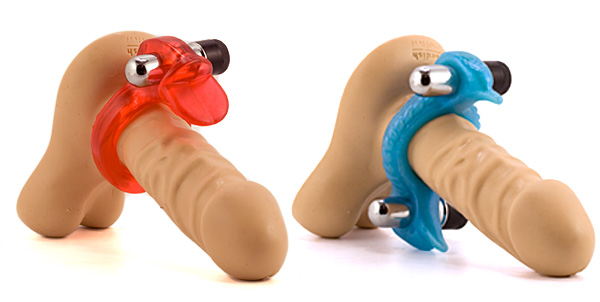 The next question that comes to mind is "how to use a couples vibrator", and the ring is the simplest sex toy for partners – he slides it over his erection, turn on the motor and have some fun! There are no complicated steps on how to use a couples vibrator, it really is easy and the most common choice for beginners since it stays out of the way and is super discreet.
So how do you use the vibrator for couples? He wears the ring on his erection and it stimulates her vagina and clitoris during sexual intercourse. Some styles have dual motors that also vibrate per perineum during deep penetration. It's the only truly hands-free couples vibrator.
Why do Couples Like Ring Vibrators?
When partners are seeking a first time sexual enhancer, I like to suggest a vibrating ring just like this one (Basic Butterfly Ring). It is super discreet. Actually, there is no other sex toy as discreet as this! It's so simple, wireless, waterproof and hands free.
One thing lovers appreciate is not having to fumble too much with a device during lovemaking, and the vibrating ring is the best couples vibrator that stays out of the way. The vibration stimulates his erection and her vagina /c clitoris at the same time. The deeper he goes, the better it feels too, so it encourages good, hard sex.
Bullet Vibrators for 2
Not just for solo use anymore, the magic bullet vibrator is now known as the most powerful vibrator for couples. It's the only way a woman and a man can orgasm at the same time with ease.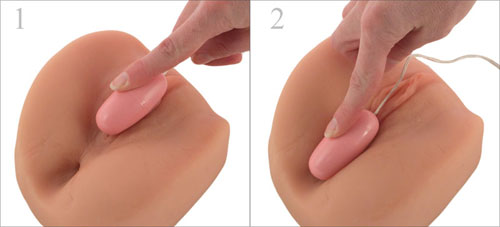 According to me (and other accomplished Sexperts across the web), it is the single best sex toy for partners because if it's ability to time the peak intensity of your climaxes together. Here are two choices I love most:
Why do Couples Like Bullet Vibrators?
The bullet is the best vibrator for couples who experience low libido or vaginal dryness. The highly concentrated stimulation directed at the clit and nowhere else is a powerful precursor to intercourse because it looses the vaginal tissue and helps the body be naturally lubricated, which makes penetration feel more comfortable for the woman.
In this video demo, I show the Crystal Bullet Vibrator which is a perfect stimulator for lovers to enjoy together. Her partner can use it on her as a part of foreplay and sexual arousal. It also helps lovers to be more engaged in physical intimate pleasures instead of a quick minute long session. Using a toy like this helps to make the love last longer!
Remote Control Vibrators For Couples
What better way to enjoy a naughty romp than to pass control over to your partner. Give them the remote to help them learn what makes you feel amazing. This is also a great option for lovers who are into domination and submission. Check out these models:
Finger Vibrators
If you already use your fingers during foreplay, add a small intimate stimulator like the fingertip vibrator to really get things going. These compact devices lead to amazing sex, and are great for travel! Take a look:
Why Couple Use Finger Vibrators
They are very simple, you don't even need to modify your current sensual massage techniques. Just keep doing your same thing but now you'll have a tiny vibrator attached to your finger! A lovely way to enhance foreplay. In my complete finger vibrator guide, I explain ways to use these fantastic small couples vibrators together before sex even begins.
One of their hallmark features is that it combines G spot touching, clitoral rubbing and vaginal stimulation all at the same time. If you want to head towards the backdoor, I have some techniques that are for anal exploration ideal for first timers. Try it on the perineum too for explosive female sexual arousal, or use it on your man's butt while giving him a blow job.
G-Spot Vibrators
G-spot toys are popular with lesbian partners as well as straight duos. They are the best way for a woman to enjoy a string internal orgasm and are often used by partners during foreplay to get her in the mood for sex. Learn how to use a G Spot vibrator before you give it a whirl yourself!
Here are a couple of options that are worth a second look:
Why do Couples use Vibrators for the G Spot?
Most people assume G spot toys are for women who want to masturbate alone. That's farther from the truth! Sexperts like myself know the intense orgasmic potential that comes from finding the location of a woman's G Spot BEFORE sex, but he majority of the general public does not.
If she has a G-spot orgasm before intercourse, the vagina is naturally more relaxed, more lubricated and her primal sexual urges are fully functioning. In short, after a woman n has a G-spot climax, she'll be wanting more. Now this is where her partner comes in and they have hot, wild, explosive sex. The G-spot vibrator for couples shown in this video demo is the Smooth Satin G, one of my personal favorites!
Prostate Toys
Let's not forget about the men. They enjoy the sensations of an anal vibrator as well. Here's two to check out as you shop:
Pegging Toys
One of the most popular kinky bedroom trends is pegging sex. Our couples pegging toy guide has some neat suggestions of vibrating and non-vibrating dildos that work with a strap on harness for partners wanting to try this kinky, erotic act together.
What About Smart Vibrators?
This is something that's really exciting. one of the best parts about owning a partner's vibrator is that each of you can oh well the other one to control your sexual experience even from afar. There are adult toys on the market that can be operated with a remote control or a smartphone app.
This can be done with your partner in the same room as you, or your partner across the country. One person simply inserts or otherwise wears the device, and the other one controls it from their end.
Some couples communicate while this is going on. Others prefer the slightly kinky are element of surprise. As long as the rules of safe sex or followed, you can do whatever makes you and your partner happy.
There's absolutely no reason that these have to be used as part of solo play only. Vibrators can and should be a part of your sex toy collection!
Interactive Vibrating Toys for Couples
Small stimulators make excellent sex toys for lovers because they are used to stimulate the clitoris to get her libido fired up while her partner gets a first row view of the action. She enjoys the tactile stimulation, he/she enjoys the visual stimuli. Consider a clitoral pump for suction as they are a powerful way to get in the mood for sex yet require a delicate hand to operate - the perfect adult toy for 2!
Kinky couples are enjoying using Ben Wa balls during sex. We have several vibrating ben Wa balls for sale, but most partners find the circumference too large for actual sexual intercourse. Instead, she'll use them during foreplay while the internal stimulation drives her purely crazy. It works, I can attest to this personally! Find Ben Wa balls for the best orgasm and delight in how much fun it is to share this experience with your lover infront of you (or underneath you, or behind you... you get the picture!)
Click to buy vibrators online.