How to Use a G Spot Vibrator | Tutorial & Instructions
Last Updated on March 9, 2023
G Spot vibrators are one of the best female sex toys for intense orgasms. These personal massagers are also extremely versatile, you don't need to use it for vaginal penetration, it can be used to stimulate the clitoris and nipples too.
The curved tip and ergonomically friendly design makes this a fun sex toy for couples to play with during foreplay. The sexual arousal and vibrating pleasure will set the mood for frisky love and kinky romance while the clit vibrator is a nice addition to enhance the strength of your orgasm.
Today I'll provide a complete tutorial on how to use a G Spot vibrator with step by step instructions and even a few video demos. After that, we'll explore how to hit g spot with dildo or curved vibrating sex toy for internal and external sexual stimulation resulting in awesome orgasms with your partner sure to make you very satisfied.
G Spot sex toys provide powerful pleasure both men and women can share, and even benefit from together since the P Spot or male prostate spot mirrors the female G Spot but only located in the butt instead of the vagina. Everyone will find something to learn today, explore the wonders of the G Spot sex toy!
What is a G Spot Vibrator?
The G Spot vibrator is a sex toy with a curved tip used to stimulate the G Spot. The curved tip typically reaches a 30 to 45 degree angle which is the ergonomic shape that will find the G Spot instantly upon vaginal insertion. Many G Spot sex toys for women have a clitoral stimulator attached to the shaft and dual motors for extra pleasure.
Where is the G Spot Located?
The female G-Spot is located 2 - 3 inches inside the vagina facing the front of the body. It is a small gland of highly concentrated nerve endings embedded in the tissue inside the anterior vaginal wall. To the touch, it has the texture, shape and size best described as feeling like a "soft walnut shell".
In my educational article titled "What is the G Spot?" you'll find a wealth of information about how to locate it, how to stimulate it and how to squirt after G Spot massage.
How to Find the G Spot
To find the G Spot, insert your middle finger into the vagina and slide it up the wall towards the pubic bone while rotating your fingertip in a tight circular motion.
You'll feel the small gland because it has a different texture from the soft surrounding muscle tissue of the vagina. Watch my video demonstration for step by step instructions.
When you locate the G spot, initially you may feel the need to urinate, but once you massage the gland in a slow circular motion, or press on it by moving your fingers in a "come here" motion, the urge to urinate is quickly replaced by a feeling of sexual arousal.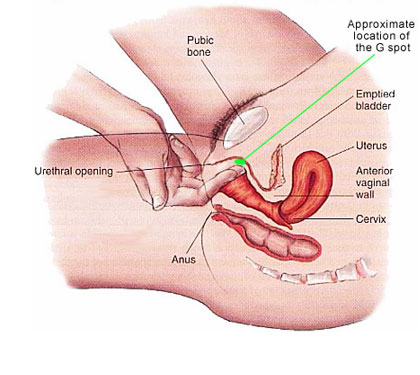 How to Use a G Spot Vibrator
Unlike most other sex toys for women, G-spot toys require the user follow a specific set of instructions to achieve the final result. We like to think of it as a step by step recipe for awesome orgasms!
This full tutorial and step by step instructions will provide endless and super powerful orgasms and intense sexual pleasure. Perfect for when you're masturbating alone with sex toys or enjoying female vibrator toys and dildos with your partner.
G Spot Vibrator Instructions:
Lubricate the tip and the first few few inches of the shaft with water based lubricant.

Hold the toy in your hand between your thighs, and point the curve towards your belly button.

Note the position of the toy in your hand before inserting it in your vagina. (This way you can make sure to keep the curve facing forwards after insertion.)

Insert the 1st inch of the shaft into the vagina and add pressure to the front of the wall.

Slide the toy slowly up towards your belly button while maintaining pressure on the front vaginal wall.

When you feel the tingling sense of urination, stop moving the toy and hold it in place.

(If you are deeper than 4 inches but did not feel the Gspot, you've gone too high and missed the mark. Remove the toy and re-start at step 4.)

Once you feel the gland, activate the motor. (Note: Be careful not to turn the device sideways or it will slide off the gland.)

Once the vibrator is on, jiggle it back & forth and up & down very slightly and enjoy the sensation.

Alternate between moving the vibrator as described in the step above with holding it still and applying firm pressure forwards.

Rub your clitoris to increase pleasure.

At the onset of orgasm, thrust the vibrator in & out. (Don't thrust it more than 1-2 inches however because you still want vibration focused on the gland).
How to Stimulate the G Spot with a Vibrator
Not all women want to necessarily have a G Spot orgasm with a vibrator. Often it is used to enhance sexual response and to help her body produce natural vaginal lubrication. They are also used by couples during foreplay because massaging the gland relaxes the walls and makes intercourse feel more comfortable.
Small G Spot toys are also a great way to get the mind & body in the mood for sex! Even mini vibration feels nicer than fingers or even a non-vibrating dildo so even if you don't want to use a large toy for women, consider a slim or thin toy just to help you prepare for sex.
The same techniques are applied regardless of your personal best G Spot toy you have. Simply follow steps 1-8 in the category above about how to use a G spot vibrator.
Instead of jiggling the device, just hold it there until you feel yourself get wet. The longer you hold the toy in place, the more intense the erotic sensations will feel. The video demo here also repeats the full instructions.
How to Squirt with a G Spot Vibrator
Some women use a G spot vibrator to squirt. Squirting during orgasm is a very cathartic sensation, a super powerful, all encompassing experience that requires both Gspot AND clitoral stimulation.
Many women purchase a G Spot Rabbit & clit vibrator to squirt because it stimulates all the erogenous zones needed in order for the body to experience what is commonly known as female ejaculation.
Follow the instructions above, but once you've reached the orgasm, continue on with hard pressure on both the clitoris and the Gspot. Squirting occurs after the initial orgasm fades, so it takes extra time and consistency to "keep the boll rolling", so to speak.
Hold it there until you feel the need to pee and once the urge overcomes you, let it all out in the moment of orgasmic squirting joy! Female ejaculation feels like urination, but accompanied by intense erotic sensations that surge through your whole body.
Using G Spot Sex Toys to Orgasm
If you do not have a clit and g spot vibrator, we suggest that you buy a bullet vibrator to use at the same time as your internal vibrator. We are often asked how to have a G-Spot orgasm with sex toys, and combining internal & external stimulation is the best way to do it!
My step by step sheet with bullet vibrator instructions features tips for better orgasms, so make sure you review that blog entry before you tuck yourself away in the bedroom for personal private playtime.
If you want life like feeling sex, buy the realistic G spot dildo and use the bullet at the same time. This is a better way to enjoy a true erotic fantasy.
During partnered sex, using G Spot sex toys helps the vagina to lube itself and relax. The tissue feels more welcoming to penetration and intimacy is more enjoyable, especially for women in menopause. Follow the strap on how to use a G Spot vibrator in the tutorial or video demo above and do this before sex. Incorporating G Spot stimulation into foreplay is a great way to spice up the sex life.
G Spot Vibrator Vs. Curved Dildo
G Spot sex toys are distinguished by a forward curve designed to massage and stimulate the titillating hot spot inside the vagina. They are a top rated sex toy for powerful, pulsating female orgasms. The G Spot dildo has a curved shaft also used to stimulate or locate the male P Spot.
These two types of sex toys are interchangeable, but each subcategory will provide the user with a different sexual sensation. G Spot vibrators, such as slim stimulators, wild G spot rabbit & clit vibrators are designed for complete orgasmic arousal. The tip can be small and pinpoint for direct internal contact and powerful stimulation on the erogenous zone only.
In comparison, the curved dildo is usually a realistic dildo with a head, veined shaft and balls at the base, only curved mid-shaft. These often have a suction cup base so you can squat on it in the tub or shower.
Using a G Spot Dildo with Your Partner
The G Spot dildo can also be strapped onto a strap on harness for kinky couples dildo play. We'll explore the contrasting sensations between slim & small massagers and large & thick styles to compare and review their differences.
Here are a few pointers on using a G Spot dildo during partnered sex:
Use lots of lube. This will add a slick layer to make vaginal insertion more comfortable.

Don't insert the dildo shaft too far, remember the G Spot is only 2-3 inches inside the vagina.

Purchase a clit and G Spot vibrator to play together during foreplay. The intense blended stimulation is a Godsend for a gal with low libido.
Once you feel well versed in the secrets and techniques of the pros, hop on over to my list of the best G Spot vibrators to find your new favorite. For such a seemingly simple female sex toy, there are many complexities and style differences that some ladies love and others don't. It's most helpful to watch the video demons and note various functions and feature before making your sex toy purchase online.
Click to buy G Spot vibrators online.