G Spot Toys 101 | Best G Spot Toys for Women & Men
Last Updated on September 8, 2021
Unlocking the key to G Spot orgasms is a ticket to pure erotic bliss. I'm not just spitting out a stream of fancy words here either, it's absolutely true! Today we'll explore the widespread yet little know realm of G spot toys and the differences between them. Where is the G Spot located?
G spot sex toys consist of various shapes, sizes, functions & colors spread out throughout the online sex toy catalog. You'll rarely find one specific section with everything listed in one place because sex toys for the G Spot consist of several styles spread throughout any adult toy catalog. They're everywhere!
What does that mean for the shopper? Finding the best G Spot toy can be confusing. Best one, you say? Why yes! Check out the best vibrator for the G Spot, my personal favorite top pick across all of the subcategories to be mentioned below.
One super hot trend we're seeing right now is that men are buying G Spot sex toys at a furious pace. Why? For prostate stimulation! If a man does not find a shape or size he likes within the P Spot toys category, then he''ll hop on over the to G Spot toys category and pick something made for women.
The truth is they are totally interchangeable. Males and females can use the same G Spot toy designs, just in a different hole, obviously! Learn how to use G Spot vibrator for instructions, tips and advice on how to get the most pleasure possible.
Sexual pleasure is somatic, which means that mind, body and soul are interconnected. Those who approach sex with this mantra often have a better experience and much stronger orgasms. "When people begin to pay attention to their pelvic muscles, it often happens that intense feelings are triggered, together with the recall of significant interpersonal events." Says Emily Nagoski, Ph.D. Sex educator and bestselling author as she was re-reading the G Spot, an insightful book about discoveries of human sexuality.
What are G Spot Sex Toys?
G Spot toys are sex toys with a curved or angled tip designed specifically to stimulate the G Spot, a spongy, thickened area of tissue one to three inches inside the vagina on the vaginal wall. (The male G Spot is located in a similar location, but only inside the rectum facing the front of the body.)
The tissue engorges and increases in size and sensitivity with arousal. While the location is reported to provide a deep, full-body orgasm, it can be hard to reach and often requires some pressure to properly stimulate. This is why all G spot stimulators require a curved tip, the angle provides noticeable pressure on the gland. The toys may also use vibration or textures like bumps or ridges to enhance the sensation.
Mayla's Best G Spot Toys
There are 5 different types of G Spot sex toys that are interchangeable between men & women. The main difference between stimulators made for each sex is that male G Spot toys are also known as prostate toys. This is actually an interchangeable term. They are often black in color whereas those made for females are often pink, purple or have a feminine design and/or color.
1. Male G Spot Toys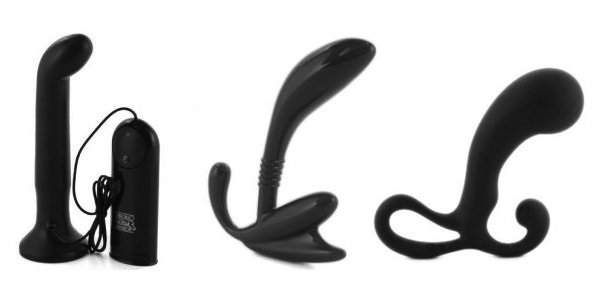 Even though most people associate the best G Spot toys with women, men benefit just as much and can experience similar internal based orgasms from the male G Spot, properly known as the P spot, or prostate gland. Interestingly enough, using a male prostate massager is the same technique as using a female G spot toy, regardless of vibration.
The technique and concept are similar regardless of gender. The device is inserted 2-3 inches inside the body and rubbed on the anterior wall to stimulate the gland. Not all G spot toys for men vibrate, but it's a feature totally worth seeking. The buzzing vibration offers a radical level of sexual stimulation that a non-vibrating probe simply doesn't have.
Male G Spot Toys are more commonly known as Prostate Toys. They are oriented towards guys simply because they are typically black in color. Similar vibrators for women are mostly pink or purple. Despite the color difference, the functionality, size & design are all the same.
Dark, plain colors have masculine appeal for men.

Some have scrotum stimulators for external stimulation.

Vibrating & non-vibrating options available.

Smaller toys are popular for beginner pegging sex.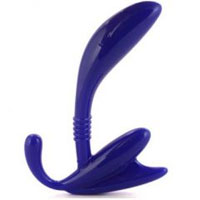 Apollo Male Prostate Toy
The Apollo Male Prostate Toy is one of the fanciest styles of male G Spot toys we've ever seen and works especially well for first timers. The shark fin base works extremely well for handling too; an innovative design we're big fans of - and you will be too.
2. Vibrating G Spot Toys
The most self explanatory and common style of G spot toy for women is the vibrator with a curved tip, more commonly known as "the G Spot vibrator". To further clarify the exact meaning of this style of personal massager, I must mention that anything with a motor in the shaft is termed under "vibrator" anything that does not vibrate is a "dildo".
The single most important feature they share in common is the presence of a curved tip to massage the internal magic erogenous zone. This feature earmarks the best rated vibrator for women. This is a top level category that has subcategories within its type that I will explore further below, so let's keep reading my friends!
Extensive range of sizes & functions available.

Discreet, non-phallic shapes are commonplace.

Beginner and/or simple styles are cheaply priced

Powerful vibrations produce intense orgasms.
Cloud 9 G Spot Vibrator
Cloud 9 G Spot Vibrator is one of the nicest stimulators we've ever offered for sale. The extra thin shaft is a nice contrast to the big head, you may not even feel the shaft at all, just the feeling of strong vibrations inside. A wonderful feature customers have really grown to love and one of my personal favorites.
3. G Spot Dildos
The non-vibrating G Spot toy is known as the G Spot dildo. The curved G Spot dildo is my favorite suggestion for ladies seeking this type.
The presence of a circumcised penis head replicates the sensations of intercourse during in & out thrusting motions, but at the end is a little surprise – it mashes against the female hot spot.
It is the hallmark of what an excellent G Spot dildo should be! Most are realistic with circumcised penis heads and life like erection details, but they have a steep angled shaft for that lusted-after pinpoint internal massage.
Most are phallic shaped (meaning they look like a curved penis) but some are smooth silicone and pink or purple colored, designed specifically not to look like a penis. The majority also have suction cup bases for a few reasons.
Firstly, they are compatible with strap on harnesses. Secondly, suction helps them to stand up on their own. Most simply fall over because all the weight leans to one side. If you want to combine a realistic sex toy and an interior orgasm, the life like curved dildo is a great choice.
Most realistic feeling & looking option.

Typically strap on harness compatible.

Only non-vibrating choice.

Option of a suction cup base.
Small Curved Dildo
Small Curved Dildo always feels cozy inside; but don't worry, its not too soft so you'll still enjoy the brisk G-spot touch. In fact, this is one of our favorite G-spot dildos for women and the smaller size makes it ideal for beginners too. Also available in a vibrating version, and another that comes in a 9 inch length.
4. G Spot Rabbit Vibrator
An absolute marriage made in heaven! The combination of vibrating rabbit stimulator for the clitoris and curved shaft that inserts into the vagina produces the highest orgasm potential out of any other sex toy combo. I am such a fan that I won't hesitate to call this one of the best styles of personal massagers for women ever invented.
If you're unfamiliar with the rabbit style vibrator, learn how a rabbit vibrator works first then you can understand why matching clit vibration with internal vibration is the pinnacle of female sexual pleasure.
We honestly don't have too many G spot rabbits, there are not that many available on the market these days (which I think is really unfortunate) but the one that we do have is one of my all time favorite vibrators for women.
It is shown here in the and called the Advanced Rabbit Vibrator. If you're seeking serious pleasure and powerful stimulation, you must buy this one. Trust me, it will be all you ever need! It's one of my personal all-time favorite vibrators.
Powerful orgasm potential.

One of the largest Gspot vibrator types.

Combines intense rabbit clitoral stimulation.
5. G Spot Clit Vibrators
Now here's a style that is very common, unlike the rabbit blend, a G Spot toy with a clit stimulator is a common style that many women are familiar with. No surprise to hear these are one of the top rated vibrator designs for women. They cover everything a lady needs for a thrilling orgasm all in 1 fancy device.
Some are super complex with silicone shafts, rotating heads, waterproof motors, dual motors and spinning beads. Some are small, others are big, the size range is quite impressive too. Pretty much anyone can find exact specifications according to personal preference.
Sure features are nice, but they are not always necessary. You can still get a good one for cheap. It's a massively diverse realm of female adult toys. I think it's also an extremely important style for ladies because as stated previously, combining internal AND external stimulation (especially vibration) is a ticket to unrelenting orgasms.
Multiple orgasms even, paving the way for squirting (also known as female ejaculation). I find it more possible to squirt with a G spot clit toy that with any other kind of massager.
The Dual G Kiss (shown in the video demo here) is my preferred recommendation because it's cheap but yet super powerful. The wide thumb is an excellent sex toy for the G spot while the thick spiky clitoral extension has a neat higher pitch tingle that provides the perfect sensual rush.
Vast range of available sizes from small to large.

Combines internal & external stimulation.

Modern features such as rechargeable motors & rotating heads.
Click to buy G Spot vibrators online.