10 Best Finger Vibrators | Finger Dildos & Sex Toys
Last Updated on July 13, 2022
Small finger vibrators are a mini nubby bullet style sex toy sleeve that you wear on your hand specifically designed to spice up the sex life and make foreplay more interesting. Fingering vibrator toys are perfect refresh if you're feeling bored with your same old bedroom routine and want to boost your sexual pleasure and clit stimulation.
Let's face it – sex becomes stale after a while. The joys of exciting erotic encounters give way to a comfortable routine. Comfort is great, but it lacks the pizzazz and spark that's present in a new relationship.
Not to fret however, all you need to do is familiarize yourself with the magic of a mini fingertip vibrator sleeve, rabbit or G spot finger dildos and open the door to exciting and erotic adult playtime romps.
Today we'll cover reasons why a couple should try one of these tiny adult toys, a few tips to make it more fun, and offer examples of various styles of two finger sex toys and dildos that will improve lovemaking by stimulating the clitoris during sex.
Finger Vibrators Best for Discreet Fun
I often coach clients who have been married a long time, or are living common law for several years. They love each other dearly, but the romance is long gone and they are seeking ways to make sex fun again. The best finger vibrator is my top pick for a couple to incorporate into lovemaking. Why?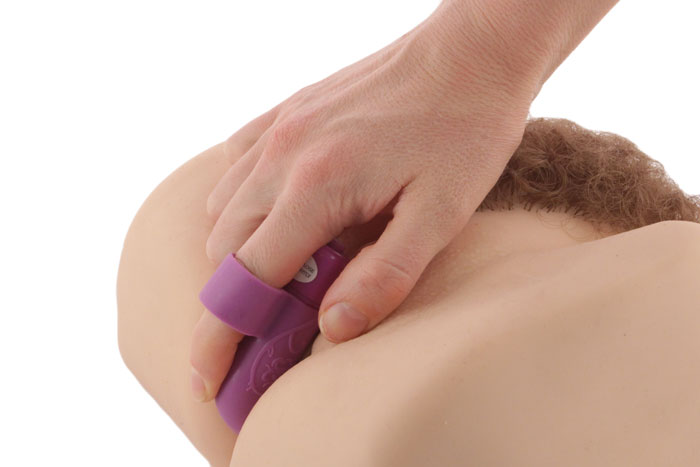 Finger sex toys are the most discreet of them all. They completely lack a phallic appearance, so women and even men who would feel awkward about bringing a life like looking penis dildo into the bedroom can enjoy this mini adult toy without a strange aura circling about. They are also very quiet!
As such, small fingertip vibrators for women are the best option for newbies who would never normally consider a using typical phallic adult toy together. These small clit stimulator toys are discreet, cute, colorful and very basic with a similar design to a bullet vibrator for the clitoris, but only with a built-in strap.
Another positive feature is the price tag. They are cheap in comparison to most other varieties to minimize the punch to your bank account. You can save that $100 dildo for another day.
Clitoral stimulation during sexual intercourse is a sure fire way to increase pleasure and the hopes of timing orgasm to occur simultaneously. This is my number one reason to try any small vibrator for the clitoris. The clitoral stimulator needs to be small enough to fit between the partner's bodies and vibrate directly on the clit.
It just so happens that's exactly what finger dildos have! A curved tip that surrounds the clit in addition to the buzzing motor hidden underneath the nubby silicone or rubber surface that's greatly increases stimulation.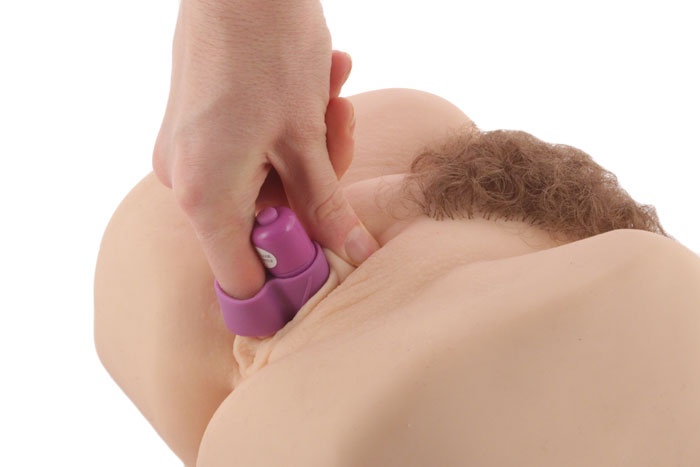 Fingering Vibrators are Made for Great Sex
It might seem at first quite obvious what to do, but there are a few extra techniques that only a "Sexpert" knows! My loyal and dedicated blog readers enjoy my free advice, and I am just as happy to dish it out!
I previously published a guide with instructions on how to use a finger vibrator so I won't repeat this information again, but please check out that guide for full instructions to know what to do once you've received yours. It contains loads of awesome suggestions that you'll see in the photos here, such as the good 'ol "clit pincher" and the "G-spot rubber" just to name a few!
Best Sexual Positions For Finger Vibrators:
Couples often ask how to incorporate fingering toys into sex. Here are my favorite 4 suggestions to try:
Missionary
The most typical position for couples with a regular, routine sex life. Why? Because missionary is easy and ergonomic for our body shapes. Simple as that!
Finger sex toys are perfect for missionary position because all you need to do it place your hand over the groin, press the button to activate the motor, target the curved tip on the clit and lay there, sex as usual.
Except this time the vibration will stimulate you increasing sexual response and enhancing female libido. Easy-peesy!
Doggie Style
In my opinion, this is the easiest position for a one or two finger vibrator to target it's magic stimulation on her clit. The woman wears the vibrator on her finger tip, her partner has their hands free to maneuver her pelvis to their appropriate position for vaginal entry. This results in more precise pressure & movements since she is the one handling the device.
During foreplay, normally the partner will wear the toy on the index or middle finger tip or thumb and massage their partner's body. When it comes time to reach an orgasm however, I like it best when the woman handles the toy because she knows exactly how to place it and how much pressure to use in order to enjoy a strong orgasm.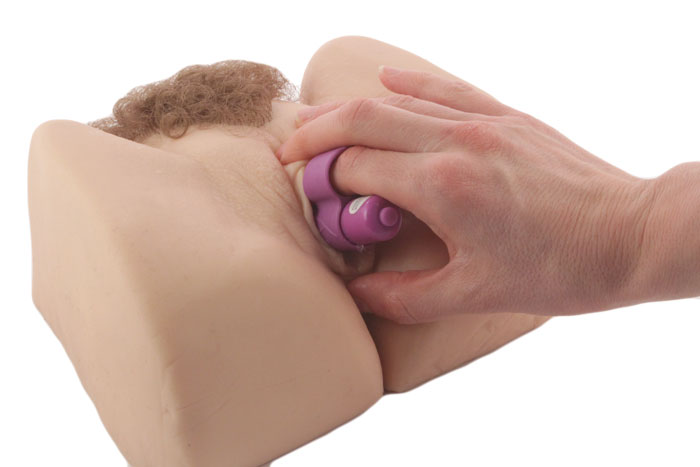 Spooning
This is a very intimate position for wearing a fingertip vibrator because the partner can stimulate the nipples, massage the body in titillating fashion and stroke around the clitoris. Think of it as a tease, during a slow build up to the climax, avoid direct clitoral contact.
Spend some time teasing the nipples, a highly charge erogenous zone for women. This position also allows the woman to wear the vibrator on her hand and do the work herself if she prefers to maintain control.
Finger Sex
I know what you're thinking – this is technically not sex – but I still think it counts! If you notice the demo photos I've posted alongside this information, you'll see that the thumb gets fully involved in stimulation. This is foreplay at its finest, the perfect couples vibrator.
Finger sex is an important precursor to good lovemaking as its an ideal way for the couple to fully experience the joys of intimate pleasure. It's the perfect sharing of mind body & soul in preparation for the final act.
I encourage couples to enjoy a finger sex toy during foreplay because it's a great way of prolonging your session. When you're trying to spice up the love life – quickies have to go! The slow anticipation of what's to come guarantees a fiery, climatic end for both of you.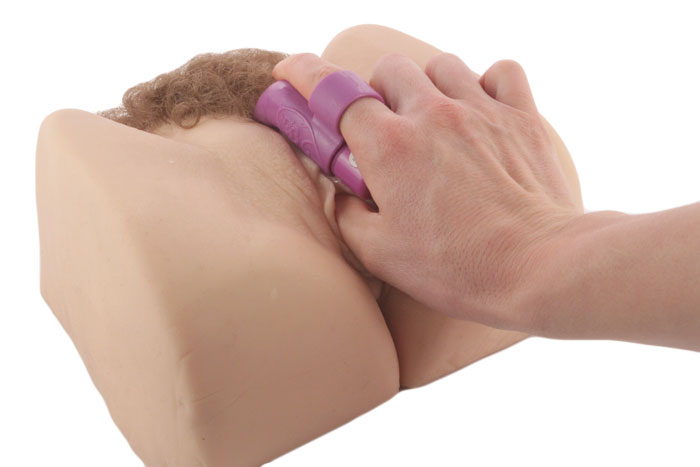 10 Best Finger Vibrators
Here are the best finger vibrators for beginners. The selections in this list are perfect for foreplay and often my go-to sex toys for couples seeking something discreet to spice up the sex life.
If you're seeking something a little more on the kinky side, scroll past the list to the 3 types below consisting of two finger vibrators and dildos for internal vaginal use. The choices here are designed for clitoral stimulation (although you can certainly be creative and use them on the nipples of vaginal insertion too!)
1. Ripples Finger Vibrator
Ripples Finger Vibrator is a heavily ribbed, firm silicone finger vibrator with flexible finger straps to keep it in place. We found it fits rather snug so if you have exceptionally large fingers, it might be on the tight side for you.
For the regular person however, you'll find it never slips off your finger so you can even insert your finger into your partners vagina and get real deep in there! It is one of the best fingering sex toys for full vaginal penetration because it won't slip off and maintains a low profile on your hand.
2. Bang Her G-Spot Finger Vibrator
Bang Her G-Spot Finger Vibrator is an extraordinarily exciting addition to foreplay. Transform your finger into a G-Spot vibrator and watch her enjoy a thrilling orgasm under your control. The motor is practically silent assuring your discretion.
Firm and sturdy silicone sleeve fits tightly on the index finger with 2 silicone straps. We like that it fits tightly – this prevents it from slipping off the finger while moving back and forth inside the vagina. Solid spiky bumps along the surface add a grippy, erotic texture that makes each touch feel more sensitive.
3. 50 Shades Finger Sex Vibrator
50 Shades Finger Sex Vibrator is the firmest option of them all delivers a great buzz without loosing intensity through the high quality rigid silicone surface. This is the best finger vibrator in my opinion!
Inspired by the Fifty Shades of Grey movie series, this jet black waterproof pleasure tool has minimal stretch on the top loop so it doesn't sag and/or slip away from where you're pointing.
44730800 02568717
4. Play with Me Finger Vibe
Play with Me Finger Vibe is one of the only multi function fingering toys that features 3 speeds and 5 patterns such as thumping, escalating, pulsing and slow roller coaster vibrating patterns.
A sturdy waterproof silicone sleeve available in 3 colors with firm spikes underneath the curve that grip the clit and provide a highly erotic texture when rubbing back and forth. A firm curve delivers superior pressure on your hot spot. Also great for female and male nipple play!
5. Frisky Fingertip Vibrator
Frisky Fingertip Vibrator is covered in soft bumps to add a gentle, sensual texture while rubbing. Squishy soft just like jelly, small and even waterproof!
The steep curve feels decadently squishy on the body so this is the best finger vibrator for comfort. It's super quiet too and has 3 speeds operated by clicking the button on the base of the bullet. It is available in pink or purple.
6. Cloud 9 Finger Vibrator
Cloud 9 Finger Vibrator offers superior texture and a "prickly" sensation which feels simply magnificent on the female clitoris. It is wider than the rest with long and flexible ticklers.
A tiny wireless bullet is permanently nestled inside the plump sleeve and provides a higher intensity, high pitch tingle that has a powerful erotic impact on the nipples. The rounded head enters the vagina with a nice, blunt girth that has extra kink factor for her.
7. Satisfyer Rechargeable Finger Vibrator
Satisfyer Rechargeable Finger Vibrator is a revolutionary concept, taking the typical finger tip vibrator and doubling the length, you get a supercharged one of a kind sex toy for couples that upgrades your foreplay experience in a serious way.
The mild angle of the vibrator follows the contours of your hand to your palm. The rechargeable couples vibrator includes a USB cord that takes about 2 hours to charge for a 1.5 hour running time.
8. Color Pop Small Finger Vibrator
Color Pop Small Finger Vibrator is oooey-gooey gummy soft. This disposable finger vibrator is the smallest & softest one we have for sale. The deeply ribbed surface "flaps" over the body when pressure is applied while you rub up & down.
It has an unmistakable sensation and lots of fun texture for such a tiny device and can be used on the index, thumb or middle finger. It is the most budget friendly of all mini sex toys for women too.
9. Illuminated Fingering Vibrator
Illuminated Fingering Vibrator not only lights up as the name implies, but it flashes and flickers in a series of color lights. A fun addition to find your way under those dark bed sheets.
The feel is slightly more firm than most of the other toys on this list, so if you like stronger and more direct clitoral contact, this one should be high on your list today.
10. Silicone Finger Sex Sleeves
Silicone Finger Sex Sleeves can be used anywhere. I literally mean anywhere! Keep 1 for the butt, 1 for the G spot, 1 for his prostate, 1 for the clitoris. Includes a 4 pack of brilliantly colored, heavily textured small silicone sleeves.
The natural curve is ergonomic for your hand position during body massage and sexual stimulation. A concave cut-out on the top to leaves the knuckles exposed so you can bend your hand easily while doing your handiwork.
11. Extra Touch Finger Dildo
Extra Touch Finger Dildo is one of the kinkiest finger sex sleeves we've seen! Even though this article claims to list 10 best finger vibrators, I have to add this totally funky finger dildo. It is shaped like an overly large finger, you'll even notice the fingernail detail and rounded finger tip pad at the end. The top third of the silicone sleeve is firm for forceful pressure on the G Spot. The middle of the shaft can bend if you want to move your hand in a "come hither" motion to easily find the G Spot.
Q. Can I Change the Batteries on my Finger Vibrator?
A. Most finger dildos are designed to allow the user to access the vibrator battery compartment to change the batteries. Simply unscrew the cap that sticks out from the sleeve to access the battery compartment. If the battery compartment is not accessible, it will say so in the product description (noted as a disposable finger vibrator, because once the batteries are dead, you throw it away).

With disposable finger tip vibrators, the sleeve blocks access to the battery compartment but once the batteries are dead, a crafty person may be able to pry open the door with a screwdriver to replace the batteries. No guarantees you won't break the door, but it's always worth a try!
3 Types of Finger Sex Toys
When originally introduced to the marketplace, the best finger sex toys were made for external clitoral stimulation. Now we're seeing cool new trends such as the double finger dildo and the G Spot finger vibrator and even an entire vibrating double glove that covers the whole hand! It's a kinky departure from the conventional and I think the new variety is awesome.
1. G Spot Fingering Vibrator
G Spot Fingering Vibrator is perfectly designed for vaginal insertion and for G-spot massage. The rounded and textured end has a contour that easily locates the G-spot.
Tight straps hold it snugly to your digits preventing it from sliding off while inside the body. This is my personal favorite G Spot finger dildo ever made, nice and stiff to deliver excellent pleasure. A completely self contained wearable vibrator even has a removable mini vibe so you can change the batteries.
2. Two Finger Vibrator
Two Finger Vibrator combines G-spot and clitoral massage is a secret to female sexual pleasure. Although the secret is out pretty much all adults know that, the NEW secret is to add the two finger vibrator to the mix.
While the hand curved inside the body (the required motion for G-spot massage) the palm of the hand presses the vibrating tongue hard against her clitoris and labia. The perpendicular vibrating bullet provides intense stimulation, surely enough for a fabulous orgasm.
3. Double Finger Dildo Sleeve
Double Finger Dildo Sleeve is a hardcore, heavy duty vibrating foreplay sex toy with a vibrator placed over the palm of the hand. The sheath is double size for the index and middle digit to fit together.
The front is a heavily ribbed gel rubber with limited flex so when your lover massages you internally, you'll feel all that texture at once. The G spot stimulator feels like a solid bump for maximum pressure. External vibration completes this super fun sex toy for couples.
Finger Dildo Shapes & Features
The egg sex toy is another close variant, but the most notable difference is eggs are hand held and lack a strap to fit it over your hand. They are purchased for similar reasons and share similar techniques, but are still a different subcategory of clit vibrators for women. Check out the aforementioned article for information about egg shaped vibrators.
The one thing all fingering dildos have in common is that they have a strap that fits over a the index or thumb. From there however, various styles have different features that each provide a unique experience and sensation to the user. Here is a quick summary of the features and what that means for you:
Small Fingertip Vibrators

Covering literally only the tip of the finger, these are the smallest vibrators of any kind allowing the couple to enjoy a sex toy with without having a cumbersome device between bodies during sex.

The mini size is often a popular feature shoppers look for, but the con is they are not capable of producing strong vibration compared ot the large ones, and are often rather weak.

Ribbed or Nubby Fingering Vibrators

Texture is always fun! When you slide the toy up & down within the labia, she'll enjoy this arousing texture; it an an excellent libido booster for her. Most finger dildos have texture of some kind. Soft bumps are more gentle, but firm bumps are more noticeable.

Which is a better choice? That decision is completely up tp personal preference. Personally, I think firm is better because you'll feel it more.

Non-Vibrating Finger Dildos

A ribbed or bumpy sheath that fits all the way down to the knuckle and often straps around the palm or wrist to keep it in place during vaginal insertion and/or G Spot stimulation. The sleeves do not vibrate and are most often used for anal stimulation and/or male prostate stimulation.

This is the most hygienic way to enjoy anal fingering play. They are often heavily textured and the stiff rubbery surface is a delight when rubbed over the clit either up & down or in a circular motion.
Click to buy finger vibrators online.