6 Best Wearable Vibrators for Hands Free Stimulation
Have you ever heard of the Venus Butterfly? You may think it's just a sex technique, but it's also one of the most original womens sex toys that strap on the body for hands free clit stimulation. It's known as the wearable vibrator and today I'll detail a few reasons why you should try one at home and provide a full tutorial and instructions on how to use a wearable vibrator.
Further on, you'll see a review and comparison of the 6 best wearable vibrators for hands free clit stimulation. Looking for a boost of sexual pleasure? Need a bit more sexual arousal before getting intimate with your lover? Strap on vibrators offer consistent clit vibration.
Boring sex life? Spice it up with a wearable sex toy or remote control vibrator. These hands free strap on vibes are a fun and creative way for lovers to add a touch of excitement to sex toy play. Treat your clitoris and vagina to a wealth of tingling pleasures with a hands free strap on clit vibrator today.
What is a Wearable Vibrator?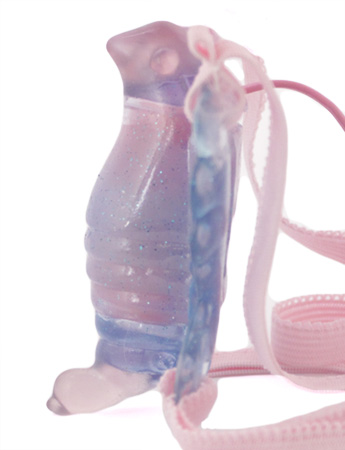 Search online for wearable vibrators for sale, and you'll find a few different types of sex toys on offer. The truth is, this is a vague category that can encompass different styles. Some strap on. Others operate with Bluetooth or remote control. Some are wireless.
Features that distinguish wearable sex toys from everything else are the following:
Remote control operation

Bluetooth connectivity

Hands free stimulation

Adjustable strap on clit vibrator

Internal egg or ball vibrator with retrieval cord

May be discreet enough to wear in public

Can be worn on your finger
In my personal opinion, the term wearable vibrator means a strap on hands free vibrator. Remote control operation or Bluetooth connectivity does not necessarily mean it belongs in this category. I would classify these styles of sex toys as long distance vibrators instead.
So with that classification in mind, let's continue on with the 6 best hands free strap on vibrators for women:
6 Best Strap on Wearable Vibrators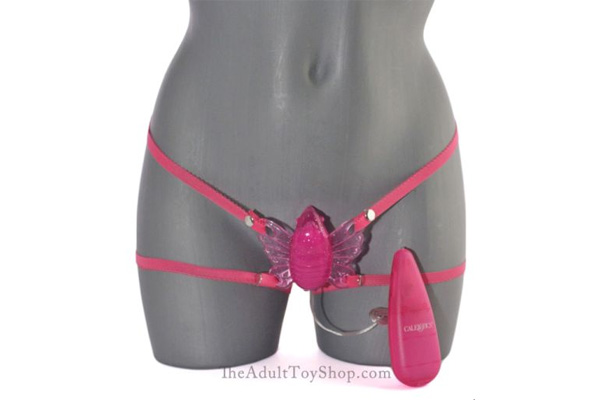 Original Venus Butterfly Wearable Vibrator is the first strap on vibrator for women and paved the way for other varieties to come. If you didn't already know, the natural shape of the butterfly vibrator is the most ergonomic fit for a women's body. The butterfly belly stuffs itself between the labia and vibrates over the vagina entrance.
Butterfly head and antennae flicker against the clitoris. The wings wrap around the outside of the labia. The straps keep it in place so that she is free to move about all while the stimulation stays constant. The motor is large and powerful while covering a wide swath over the labia and vagina.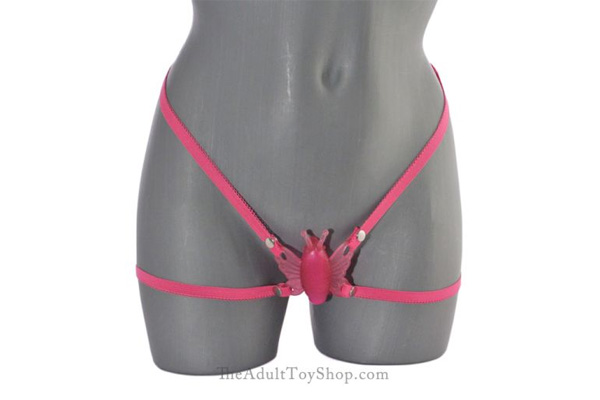 Micro Venus Butterfly Wearable Vibrator is the next iteration in the series which has now been shrunk, re-made wireless and completely waterproof which we praise for its added versatility compared to all other strap on vibrators of this type.
The self contained vibration is quiet and very discreet making this one of the top choices to use in public. Its tiny size is far less bulky and more lightweight compared to the original Venus Butterfly, but as a consequence, its motor isn't as powerful.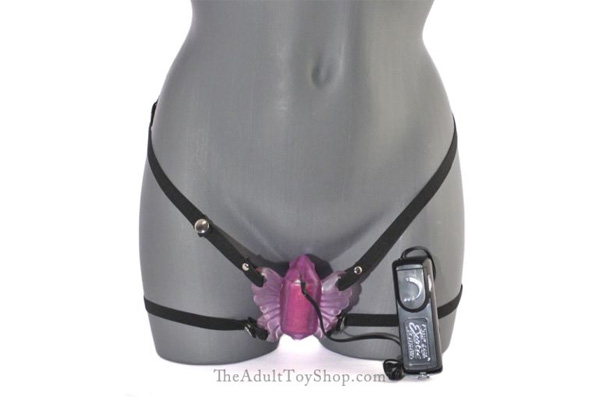 Venus Penis Hands Free Vibrator is the first with an internal vaginal dildo! The stout penis shaped plug vibrates with thumping ferocity while the wings and tiled head provide all the external stimulation a lady needs to get in the mood for sex.
The wearable dildo stays shallow for maximum teasing and arousal. If you have issues with vaginal dryness, this is one of the best strap on sex toys to wear for self love and premiums erotic arousal. Stretchy elastic straps fit plus size bodies.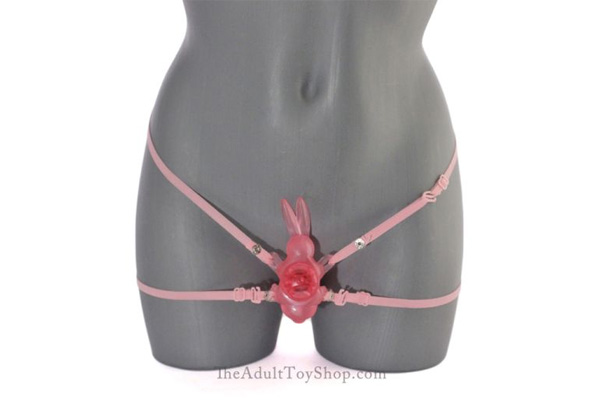 Bunny Hands Free Clit Vibrator is a strap on rabbit vibrator in the literal sense, featuring long bunny ears for external labia teasing and a solid penis probe that vibrates internally. The ears are long and floppy. When powered up, the flickering strap on rabbit vibrator ears tease the clitoral hood.
As a contrast, the vibrating dildo is solid and long to reach deep into the body for erotic stimulation. The motor is at the tip so when you're wearing this in public, no one will hear the buzzing noise. Completely waterproof and wireless which we think is a good feature.
Venus Butterfly Hands Free Vibrator is a big, sturdy and attractive butterfly vibrator that straps around the waist and thighs to provide hands free clit stimulation. It is larger than most so plus size gals can benefit from total coverage over the public region. The vaginal vibrations are a wild and naughty tease.
The tiled wearable butterfly vibrator head reaches the clitoris easily and the curved tail tickles the perineum. It is full on intense sexual arousal at its finest. Don't be dissuaded by the corded controller, it produces plenty of power and will certainly leave you happy.
Rotating Venus Penis Wearable Vibrator is the best wearable vibrator for maximum internal and external sexual stimulation. The grand feature is the dildo that gyrates in a 360 degree circular motion. It actually rotates inside the vagina for a thorough erotic massage. There is a second motor in the butterfly body that vibrates between the labia for a supercharged intense experience.
The large controller may seem intimidating to some, but let it be known this wearable vibrating sex toy is powered by 3 batteries as opposed to 2 like all the others, and each motor is independently controlled. To quickly conclude, it's mega powerful!
How to Use a Wearable Vibrator
When you learn how to use sex toys, the vast majority have a specific tutorial or instructions to follow. You've stumbled across one type pf adult toy without a list of steps to follow. Here, your creativity takes over. It's your chance to think of ways to enjoy it. There are a set of steps to follow to put in on your body however, so here's how to wear the vibrator.
Our wearable vibrators have elastic waist and thigh straps that are fully adjustable. You will be able to adjust it to your exact body shape, but before adding your favorite to the shopping cart, make sure to check the specs and see of the maximum waist size will fit you. The maximum waist size is listed in each product description.
Pull the plastic sliders to loosen the straps or unclip the metal fasteners

Step into the waist strap first

Connect the thigh straps next

Position the vibrator over your clitoris

Insert the dildo into the vagina (if applicable)

Adjust the straps to help the device stay in place

Activate the motor and do your thing!
When you're done, make sure to clean it properly with sex toy cleaner or antibacterial soap and water. Detach the straps if you want, but I suggest cleaning the straps too. Just hand wash and lay out to dry. Never put it back in the box wet or it can mold if not exposed to air long enough to dry. To store your wearable vibrator, just keep it in the box it came in!
Fun with Your Hands Free Clit Vibrator
What to do with a hands free clit vibrator? Here are a few ways to enjoy this female sex toy oddity:
Wear the strap on clit stimulator during sex.

Use a wearable vibrator while doing chores at home.

Wear it to spur up sexual excitement while getting ready for a big date.

Pick one with a remote control and use it in public for naughty foreplay.

Text your lover a nude pic but while wearing your strap on butterfly.
Didn't have time to clear pubic hair stubble? The hands free vibrator is your secret way to hide pubic hair stubble during sex play! I personally like using this types of interactive adult toy with my partner because it provides constant clit vibration. Unlike the egg or bullet which you need to hold with your fingers, this one stays in place making it the best choice for those active sex sessions.
If you enjoy anal sex, wear the strap on vibrator with a vaginal dildo to complete your exotic experience. You'll enjoy the trifecta of female arousal: clit, vaginal and anal pleasure all at once. Can you say massive, explosive orgasms? Why yes, to be expected!
There are many ways to enjoy the kinkiest of all couples sex toys so get creative, cheeky and just let yourself have some fun in the bedroom (or beyond!)
Click to buy wearable vibrators online.