Diamond Butt Plugs: Beauty in the Butt
Last Updated on April 28, 2023
Anal sex toys can be taboo and certainly naughty, but in recent years, diamond butt plugs are here to change all of that! Jeweled plugs add a feminine sparkle as the gems add bling and exotic appeal to your sex life.
Women will often purchase a diamond butt plug as an unexpected surprise for their lover. Insert it before a lusty bedroom encounter and let their partner notice the shimmering anal jewelry peeking out between the butt cheeks. Enjoy added pleasure and boost to your orgasm from the shape of the butt plug in the anus.
The flared base with a crystal end is stunningly sexy, exudes brilliance, totally modern and engagingly erotic. The diamond butt plug is one of the hottest trending adult toys today.
What is a Diamond Butt Plug?
A diamond butt plug is an anal toy with a sparkling gemstone embedded in the circular base of the device. The diamond gem remains visible even when the plug is inserted into the anus and adds erotic visual appeal for the onlooker.
The jewel can be circular and cut like a multifaceted real diamond or heart shaped like a princess cut. It can be clear or colored in pink, purple, blue or multi-color hues. The plug can be made of silicone, aluminum metal / steel or glass.
No More Ugly Anal Toys!
The exposed base of an old school anal plug is ugly. Often the surface is jagged because this is where the toy's mold was cut during the manufacturing process as it was released from the curing station.
Some plugs were filled with a lighter jelly like substance inside the firm rubber shell, so you can see a jelly circle smooshed inside the outer shell. It's just not attractive at all.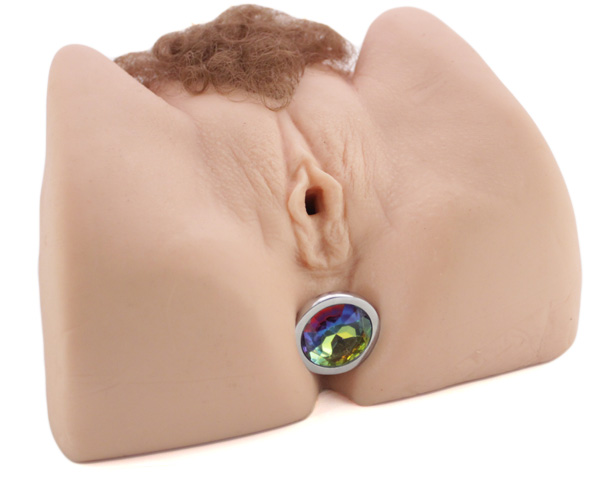 Shine Like a Diamond Butt Plug
The adult sex toy industry is no stranger to evolution, and the diamond butt plug just happens to be one of my favorite innovations of all time. It really empowers you sexually to know you've got this shimmering gemstone peeking between your cheeks. You just feel sexy wearing a jewel butt plug, just like a princess.
Most Swarovski gem butt plugs are small or medium sized and more suited to the female body. Manufactures are aware of their targeted customer base and typically women a aren't interested in setting size records with something overly huge. The selection of jeweled butt plugs for women is perfect for beginners too because the majority are rather small.
Silicone and stainless steel or metal is most commonly seen. Rubber is old fashioned now, and ladies prefer luxury so the silky smooth silicone or shiny silver metal matches the elegant tone of the reflective heart or circular diamond embedded in the base. Jeweled plugs are hot trend for stylish gals. Some even have a flower or rose petal detailing on the end.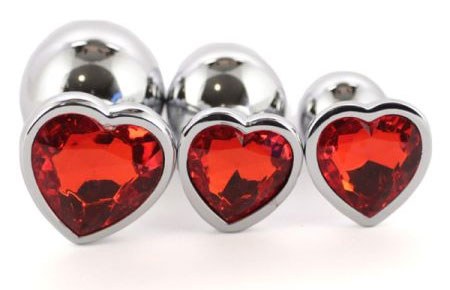 Gem Anal Sex Toys
Sure your pretty butt plug for women has a pretty anal sparkle to add visual enhancement, but did you know there are several different types of diamond anal plugs with gemstones?
The jewelry is either permanently set into the base of the plug, this will be the case if the anal toy is made of metal or glass. Those made out of silicone will often have a pouch or a rim surrounding the base with a separate diamond pushed into the rim.
You are able to remove it from the plug and put it back in, but we wouldn't advise you do that unless you need to remove for deep cleaning because the thin rim can stretch over time and the diamond will simply fall out, especially if you're moving around a lot.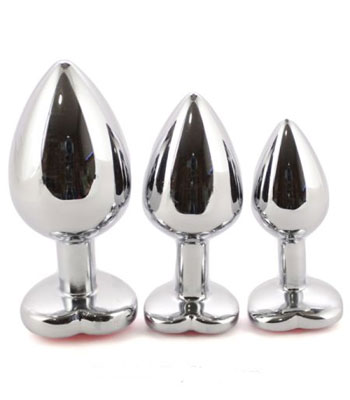 Metal Diamond Heart Plug - $19
Metal plugs are prefect for temperature play, you'll love the dazzling deep color of the heart shaped princess cut diamond too.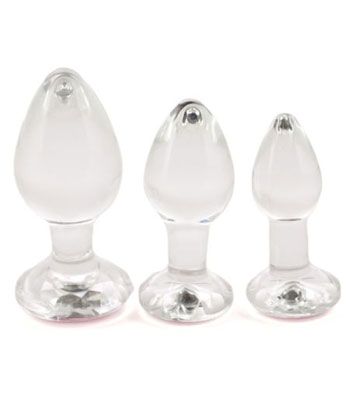 Pink Gem Glass Plug - $19
Heavily weighted glass plug with pink diamond gem in the base adds a highly erotic sensation to penetrative sex and fun foreplay.
Diamond Anal Plug Material Comparison
If you're a beginner to all of this however, verse yourself first on the benefits of a butt plug to find out why people are sticking things in their butt for a better orgasm during sex in the first place. Common jewel anal toy materials include, in order of popularity:
Metal: Aluminum or Stainless Steel

Glass

Silicone
The crystal can be circular, multi faceted like a real diamond or heart shaped. The face of the crystal can be flat for more discreet wear or multi faceted and "dome like" just like a real diamond ring. This cut is used specifically to capture light and reflect more radiance when the plug is used.
Color choices vary too but pink is the most popular color choice we sell closely followed by red and multi-colored plug. Rose and flower shape butt plugs are becoming more and more popular too, certainly worth an experiment in the bedroom to increase pleasure.
Diamond Butt Plug Pros

Diamond Butt Plug Cons

No other butt plug has such striking visual appeal, it simply looks good

The circular or heart shaped diamond will prop between the butt cheeks and stay in place

Wide base under a thin stem prevents it from popping out of the rectum

Spade shaped top adds pressure directly inside the sphincter for intense stimulation

Lack of shape variations, they only come in the traditional "spade" shape

The diamond gem may fall out after repeated uses if it's not enclosed in a silicone rim

Anal toy experts may find the largest size still underwhelming for their needs

Can be difficult to clean the space behind the gem without the glue being compromised
Which Material Feels Best?
Metal and stainless steel will be cold and hard. They provide an exciting, invigorating sensation. Some metal butt plugs are hollow to keep the weight down so they feel more gentle despite the solid surface.
Glass is comparable to metal, however the major difference will be the extra weight. Glass butt plugs feel heavy putting more pressure in the rectum for a more noticeable feel. These are the best choice for a strong orgasm.
Medical grade silicone is the warmer option between the three choices. It also has a silky or velvety texture and have multiple options of different sizes available for purchase. To reduce friction, anal lube is highly recommended.
Reviewing the Best Diamond Butt Plugs
Looking for a great gift? Love putting stylish things around you? Want to treat yourself with jewels and bling? Here are my top plug recommendations and their accessories specifications to make an orgasm feel better, more pleasure is always a good thing for your loved one!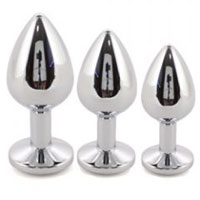 Metal Diamond Butt Plug: Video Review
Metal Diamond Butt Plug is the standard spade shaped stainless steel butt plug that literally "plugs" the anus and adds pressure directly inside the rectum. The spade shape targets the location of highly concentrated nerve endings to produce intense sexual pleasure. The stylish stainless steel plug is available for sale in 3 sizes:
Small:
Length: 2 3/4 inches

Diameter: 1 1/8 inches across the thickest point
Medium:
Length: 3 1/8 inches

Diameter: 1 1/4 inches across the thickest point
Large:
Length: 3 3/4 inches

Diameter: 1 1/2 inches across the thickest point
Lucky Diamond Silicone Butt Plug: Video Review
Lucky Diamond Silicone Butt Plug features a clear crystal base with a four leaf clover arranged with acrylic gemstones. The entire plug is made with similar technologies that other manufacturers have been known for decades. Velvety smooth and super elegant. One of my personal favorites!
Medium:
Length: 2 3/4 inches

Diameter: 1 1/8 inches
Large:
Length: 3 1/4 inches

Diameter: 1 3/8 inches
Heart Diamond Butt Plug: Video Review
Heart butt plugs are a type of princess plug with a hear shaped diamond in the base. That's not the gleaming feature of this heart diamond plug however (pun intended!) The best part is the ribbed stacked surface of the plug body itself. It has a heavily ribbed texture that you will feel inside the butt.
Even though the Medium Heart Diamond Butt Plug is named as such, I still find it on the small size for a person who is shopping for a true intermediate sized diamond butt plug for sale. Both of these are prefect for beginners and the best anal toys for women wanting to buy their own anal training kit since the size differential between the aforementioned and the Small Heart Diamond Butt Plug is minimal.
Small:
Length: 2 3/4 inches

Diameter: 1 1/8 inches
Medium:
Length: 3 1/4 inches

Diameter: 1 3/8 inches