10 Best Jewel Butt Plugs | Gem & Diamond Butt Plugs
Last Updated on August 30, 2022
Women everywhere are jumping on the princess jewel butt plug bandwagon. The secret is out: Using anal toys improves sexual pleasure and amplifies the intensity of orgasms. The crystal diamond butt plug is the answer to the requests for more feminine anal plugs. Traditionally, men are the ones who will use anal plugs to encourage prostate stimulation, so most are darkly colored, large, long, masculine or simply plain looking. Not very attractive to the ladyfolk out there, myself included!
Jeweled butt plugs are changing all of that however. Jewel butt plugs are a hot and wildly popular new trend for ladies to wear a small purple, blue or pink diamond gem butt plug to add serious sex appeal and a hefty dose of erotic flair to the bedroom. Admire the pictures and watch the video demo to see how they look when inserted and how they capture & reflect the light as you move around.
Why Buy a Jewel Butt Plug?
Shiny things are pretty. Anal sex is not pretty. So if we add these two together, we've effectively made ass play more fun, feminine, princess like and friendly. Anal jewelry is actually a popular trend because it gives her partner something erotic to notice and a Swarovski gem, diamond or jewel butt plug adds a "pretty" edge to the otherwise "dirty" anal sex act.
Women will often buy a diamond butt plug as an unexpected surprise for their lover. Insert it before a lusty bedroom encounter and let their partner notice the shimmering anal jewelry peeking out between the butt cheeks. The crystal end is stunningly sexy, totally modern and engagingly erotic. If you're a beginner to all of this however, verse yourself first on the benefits of a butt plug to find out why people are sticking things in their butt during sex in the first place.
The exposed base of an old school anal plug is ugly. Often the surface is jagged because this is where the toy's mold was cut during the manufacturing process as it was released from the curing station. Some plugs were filled with a lighter jelly like substance inside the firm rubber shell, so you can see a jelly circle smooshed inside the outer shell. It's just not attractive at all.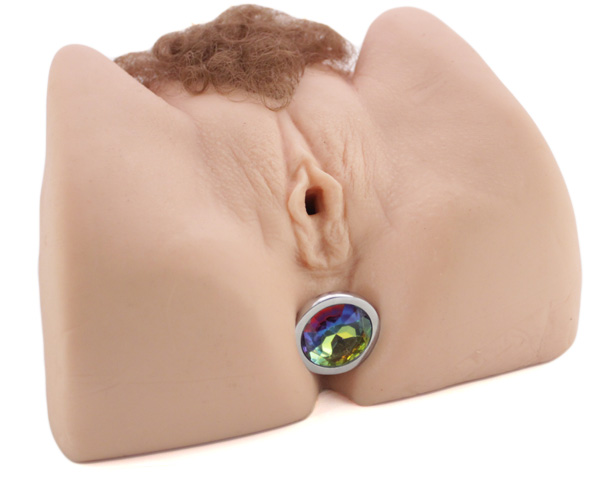 Shine Like a Diamond Butt Plug
The adult sex toy industry is no stranger to evolution, and the diamond butt plug just happens to be one of my favorite innovations of all time. It really empowers you sexually to know you've got this shimmering gem peeking between your cheeks. You just feel sexy wearing one, just like a princess.
Most Swarovski gem butt plugs with a jewel are small or medium sized and more suited to the female body. Manufactures are aware of their targeted customer base and typically women a aren't interested in setting size records with something overly huge. The selection of jewel butt plugs for women is perfect for beginners too because the majority are rather small.
Silicone and stainless steel or metal is most commonly seen. Rubber is old fashioned now, and ladies prefer luxury so the silky smooth silicone or shiny silver metal matches the elegant tone of the reflective heart jewel or circular diamond gem embedded in the base. Princess plugs are hot trend for stylish gals. Some even have a flower or rose petal detailing on the end.
10 Best Jeweled Butt Plugs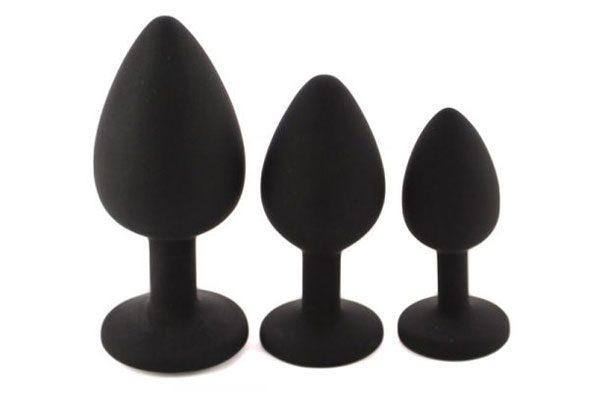 Silicone Jewel Butt Plug is available for sale in 3 sizes. The exaggerated spade shape has purpose: While many slender butt toys will fall out of the anus if you move around too much, the sudden spade shape over the finger thin neck guarantees this won't popping out anytime soon. Tuck it in there nice and deep and let the jewel peek out from the black rimmed base.
The solid silicone plug is stiff and firm, but if you stroke the surface with your finger it feels like silk. It's one of the luxurious options for sale and the diamond shines in predominantly pink & green crystal hues. Black is always a desired color for anal toys and the non porous surface is easy to sanitize after use.
Available in 3 sizes, each sold separately.

Length: 2 3/4" | 3" | 3 3/4"

Diameter: 1" | 1 1/4" | 1 1/2"
Rear Assets Gem Butt Plug is a rainbow hue of shimming colors made of aluminum metal. The artistic personality will absolutely adore this gorgeous diamond anal plug. Beautiful is an understatement, it is a piece of art! Chrome plated radiant iridescent rainbow colors look incredible, no other sex toy shines with brilliance like this.
Even though Rear Assets is available in 2 sizes, both sizes are very small. Even the "medium" size option is very small in comparison to other anal toys that are typically classified as "medium" size. Both sizes are excellent choices for beginners and they make a perfect anal trainer kit for ladies who have never inserted anything into the back door before.
Available in 2 sizes, each sold separately.

Length: 2 3/4" | 3"

Diameter: 1" | 1 1/4"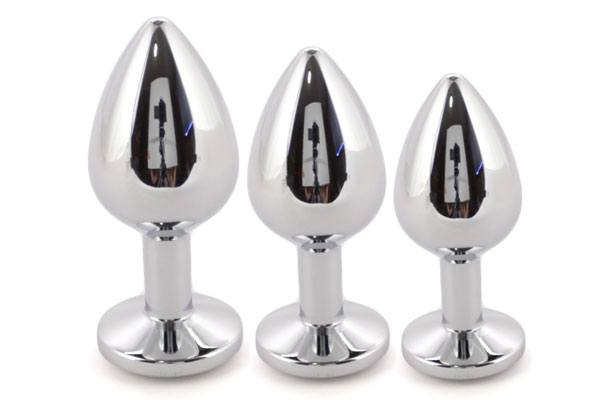 Metal Jewel Butt Plug has the highly desired "spade" shape that minimizes the continuous rectal stretch yet has a wide belly big enough to apply even pressure around the inside of the anal sphincter. It targets pressure over the concentrated zone of nerve endings directly inside the anus to improve sexual pleasure.
It won't fall out of your butt because the neck is so skinny and thin in contrast to the thicker shape immediately above. Gorgeous jeweled butt plug with gem shines a multi color hue including pink, green, red, blue and purple. Solid stainless steel adds a good amount of weight back there to up the kink factor a little bit. Kinky meets crystal butt plug!
Available in 3 sizes, each sold separately.

Length: 2 3/4" | 3 1/8" | 3 3/4"

Diameter: 1 1/8" | 1 1/4" | 1 1/2"
Long Jewel Butt Plug has a slender, longer shape compared to the aforementioned and makes a solid addition to your sex toy collection. The tall plug shape reaches deeper than a typical anal toy but maintains width at a more reasonable level allowing you to try something that sneaks into the nether regions of your rectum without causing too much of a stretch during entry.
Slick, smooth and solid silver colored metal structure is a real delight, it's very heavy and substantial despite the diminutive size. (Even the large size isn't overly big, we'd call it more "upper intermediate".) If you're seeking a variation to the typical shape, I'm confident you'll love this one.
Available in 3 sizes, each sold separately.

Length: 3 1/2" | 4 1/4" | 5 1/4"

Diameter: 1 1/8" | 1 1/4" | 1 1/2"
These are 2 color options and 2 sizes, separated into 2 product listings in our catalog. Small Heart Diamond Butt Plug  is excellent for beginners. The next size up is only slightly bigger, the Medium Heart Diamond Butt Plug. The sensually smooth solid silicone is formed into a visually impressive collection of graduated ribbed stacks which provide a fun dose of pleasure compared to a regular smooth anal plug. The bumps pop in one by one, and when your muscles in the groin clench due to orgasm, you'll notice the texture as it skyrockets the intensity of your orgasms.
The base has a clear multifaceted gem shaped like a heart. It shines bright like a diamond. When the plug is inserted, the diamond heart gem peeks out from between your butt cheeks like a tiny adornment of jewelry.
Available in 2 sizes & 2 colors, each sold separately.

Length: 2 3/4" | 3 1/4"

Diameter: 1 1/8" | 1 3/8"
Lucky Diamond Butt Plug is here to bring the luck of the Irish into your sex life! Spunky and fun, the base features a four leaf clover of acrylic gems encased in pure silicone. The entire plug, stem and diamond casing is made of high quality, silky smooth jet black silicone.
The four leaf clover has a more detailed cut compared to any other jewel butt plugs on our list, so if you want to dazzle, this is a prime choice. The multifaceted imitation diamonds reflect light and sparkle as you move. The gems are cut so nicely, the brilliance is even visible in low light.
Available in 2 sizes, each sold separately.

Length: 2 3/4" | 3 1/4"

Diameter: 1 1/8" | 1 3/8"
Jeweled Silicone Anal Beads are here to break up the monotony of shapes in this list. Not just for show however, they deserve a spot on this best jewel butt plug list! A nice blend of anal beads and plug offer more versatility in one nicely sizes moderate toy that appeals to a wide range of people. The thin profile won't stuff you full, but reaches deep into the nether regions of the rectum further than a typical anal toy would. Pull them out quickly at the onset of orgasm for a fantastic thrill. Beautiful circular jewel base shines a rich rainbow hues of colors.
Available in 2 colors, pink & black.

Length: 4 1/2"

Diameter: 3/4 inches across the top bead, 1 inch across the bottom bead
Pink Gem Glass Butt Plug is here to prove that even nice girls enjoy sticking glass in their ass! All joking aside, this is one of the prettiest pink gem butt plugs we've ever seen. The solid unbreakable glass is really heavy so you will feel the weight as it adds pressure which enhances sexual pleasure.
If you're new to all of this crazy stuff, then consider purchasing the smallest one, this pretty pink crystal plug is teensy-weensy and super cute. Even the biggest one isn't too large so that women can experience a good filling sensation without going overboard with size. The elongated spade shape tucks nicely inside the rectum without feeling like its too wide.
Available in 3 sizes, each sold separately.

Length: 3" | 3 1/4" | 3 3/4"

Diameter: 1" | 1 1/4" | 1 1/2"
Metal Heart Butt Plug is made of metal and perfect for temperature play. Pop the plug into the freezer for a few minutes before insertion for en erotic chill. Alternatively, dip it in hot water water for a spicy hot tingle back there. Metal maintains its current temperature for a while before adjusting to your body temperature, so it's a fun way to add new sensations to your intimate repertoire.
Heart butt plugs are prized for their feminine appearance. The base has a beautiful red heart shaped gem that peeks our of your ass when worn. Of course you can't see it – the sight back there is a kinky treat for your lovers eyes!
Available in 3 sizes, each sold separately.

Length: 2 3/4" | 3 1/4" | 3 1/2"

Diameter: 1" | 1 1/4" | 1 1/2"
Gem Silicone Butt Plug Set is THE best jewel butt plug trainer kit for sale. What makes this so great? Many anal trainer kits are quite large and not every lady wants to insert something really big. If you want to try anal jewelry during sex but want the maximum size to remain reasonable, this set is your ideal choice today.
This stylish pure silicone gem butt plug set includes all 3 items as shown. Even the biggest size is relatively tame and shouldn't scare a curious beginner who wants to experience the hype behind rectal pressure. The smallest one in the series is teeny-tiny, a friendly and pretty jeweled butt plug perfect for beginners.
Includes all 3 plugs.

Length: 3 1/2" | 4 1/4" | 5 1/4"

Diameter: 1 1/8" | 1 1/4" | 1 1/2"
Heart Butt Plug Trainer Kit is an anal training kit for women that includes all 3 sizes as shown. Beginners can easily use the 2 smaller sizes, but be sure to apply plenty of thick lube to "pop" it inside the rectum quickly. During insertion, the largest width is only felt for a mere second before the sphincter can relax around the finger thin neck.
The solid plug is naturally stiff and firm, but if you stroke the surface with your finger it feels like silk. If used during sex, you'll notice the amplifies G Spot contact as it pushes your partner's penis (or dildo, or vibrator) towards the G Spot during penetration.
Includes all 3 sizes.

Length: 2.8" | 3" | 3.6"

Diameter:  1" | 1.3" | 1.7"
Types of Jewel Anal Plugs
Sure you have a pretty anal jewel to add visual enhancement, but did you know there are several different types of jewel anal plugs? The jewelry is either permanently set into the base of the plug, this will be the case if the anal toy is made of metal or glass. Those made out of silicone will often have a pouch or a rim surrounding the base with a separate jewel pushed into the rim.
You are able to remove it and out it back in, but we wouldn't advise you do that unless you need to remove for deep cleaning because the thin silicone rim can stretch over time and the gem will simply fall out, especially if you're moving around a lot.
Common jewel anal toy materials include:
Metal: Aluminum or Stainless Steel

Glass

Silicone
The crystal can be circular or heart shaped. The face of the crystal can be flat for more discreet wear or multi faceted and "dome like" just like a real diamond ring. This cut is used specifically to capture light and reflect more radiance when used.
Color choices vary too but pink is the most popular color choice we sell closely followed by red and multi-colored. Rose and flower shaped butt plugs are becoming more and more popular too.
What is a Princess Plug?
I'm about to introduce you to a brand new term for your sex toy dictionary: Princess plugs. It is essentially another term for a jeweled anal toy. Another term addressing the feature of a shining sparkling adornment that looks elegant, regal and high class, hence the princess namesake.
Swarovski crystals are often used which adds a bit more luxury compared to the more commonly used zirconium crystals. I have yet too se a real diamond used, but I'm sure in the near future that will be a thing stocked in sex toy shops online. The two terms go hand in hand so when you hear one, it's a synonym for the other.
How to Use a Jeweled Anal Plug
Regardless of the material chosen, lubricant twill be you best friend. You can use regular water based lubricant or silicone based lubricant, but my personal pick would always be anal lube. It is the same as vaginal lube, but made thicker and more viscous, so when you squeeze the toy into the rectum, it doesn't just squeegee off all the liquid.
A note of caution however, if your jeweled anal plug is made of silicone, never use silicone based lube with it. Choose water based formulas only.
Apply lube to both the plug and your anus.

Insert the plug into the anus with a slow twisting motion.

Spread your butt cheeks and "prop" the gem into place so it visibly peeks out.

To remove, grab and pull the entire circular (or heart shaped) base of the plug, do not pull on the gem only.
Cleaning your Gem Butt Plug
At first glance, cleaning & maintenance of a gem butt plug seems straightforward. Isn't cleaning this type comparable to any other type of anal toy? Take a closer look at the base to see if yours just may require a bit more specialized care.
The majority of gems are encased into a groove on the base, held in place by a silicone lip that slightly wraps over the exterior of the gem. If you peel back this rim, the jewel can be removed from the base. We don't recommend this however because if the silicone rim tears, or stretches even a little bit, it may be impossible to place the gem back in its pouch.
The reason I'm even mentioning this is because it is possible for detritus and liquids like lube or soap to get inside the pouch. For hygienic reasons, it's best to make sure this does not happen. Of course if unwanted body residue gets inside the rim, you'll need to carefully pick out the jewel and make sure to sanitize the interior with sex toy cleaner or antibacterial soap.
If your jeweled anal plug is made of metal however, then the diamond is permanently glued in place, so this extra note of maintenance does not apply in your case.
Click to buy jeweled butt plugs online.