What Does a Butt Plug Feel Like?
Have you ever thought of spicing up your sex life with the help of sex toys? If so, you should get yourself familiar with butt plugs. 
Wearing a butt plug can significantly improve your intimate sensations, regardless of your sexual orientation. 
So, what exactly does a butt plug feel like? Find all the answers here!
What Is a Butt Plug?
A butt plug is a sex toy used for anal stimulation during sexual intercourse, masturbation, or oral sex for double penetration.
What is a butt plug for? Butt plugs can also be used casually to stretch the anus and prepare it for bigger things, like bigger sex toys or a penis. Stretching the muscles can help make anal sex much more comfortable. 
There are many types of butt plugs available on the market to enhance sexual play. You can find classic small butt plugs to more advanced ones like anal beads or vibrating butt plugs, operated with remote control, for even more pleasure.
What Does a Butt Plug Look Like?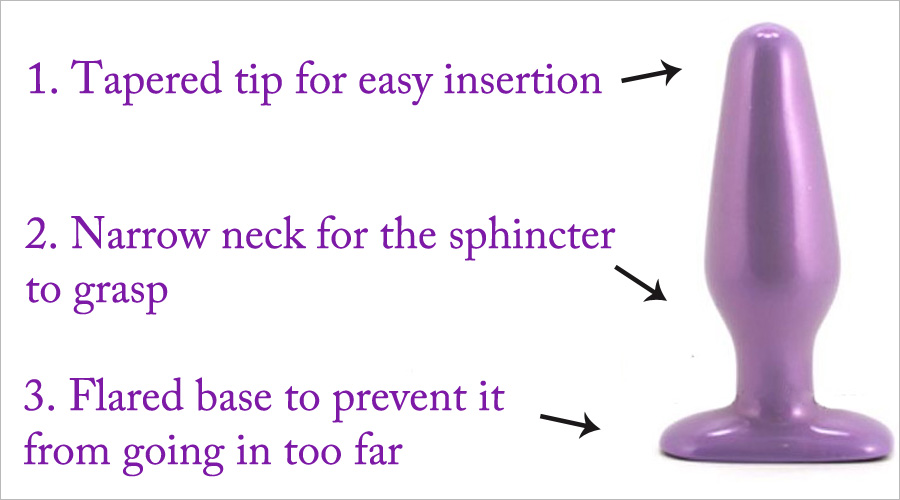 A typical butt plug is divided into four parts: the tip, the bulb, the neck, and the base. Each of those elements will give a different sensation to your body.
Tip
This is the top part of a butt plug that goes into the anal opening first. Most butt plugs have tapered tips to allow for easy insertion.
While some plugs feature a gentle taper, others may be slightly more aggressive. Basically, the taper of a tip will indicate whether inserting the plug will be easy or more challenging.
Bulb
The largest part of a butt plug - the bulb - will provide internal pressure against your anus. The thicker a bulb is, the more intense feeling of "fullness" you will feel in your backside. A small vibrating anal plug will be a fair compromise between girth and space allotted for a vibrator to sit.
However, the thickness of the bulb will also determine how easy the plug is to insert. While thinner plugs may be roughly an inch or less in diameter, the larger models can be over 2 inches in width, which will require your anus to stretch more to insert it.
Neck
The neck is an extended slim section placed between the bulb and the base of a butt plug. Once the plug is inserted, your rectum will wrap around the neck, providing you with a feeling of enjoyable pressure in your anus. Similarly to the plug's bulb, the thicker the neck is, the more intense the stimulating effect it will give.
Base
A butt plug is ended with a base, which usually comes as flared base or T-bar base. A flared base is usually thicker than the neck, which makes the plug perfect for masturbation and sexual intercourse, but not necessarily ideal for extended use.
On the other hand, T-bar-based butt toys are designed to sit securely between your buttocks, making long-term wear, for example, in public, more comfortable. It can have a pretty sparkling jewel, gem or diamond butt plug that looks like anal jewelry, perfect to make you feel sexy.
How to Insert a Butt Plug?
In fact, you will never know what a butt plug feels like until you try it yourself. It's time to get the action started then!
Preparation
First and foremost, the key to inserting a butt plug safely is using a generous amount of butt lube. Unlike the vagina, your anus does not self-lubricate, so it's crucial to moisturize the area properly.
You can opt for a water-based lube, which is non-sticky and easy to wash off, or a silicone-based lube - a more slippery and long-lasting lube alternative. Make sure to avoid using silicone-based lube with a silicone butt plug, as it may erode the material.
Keep in mind that the lube is likely to feel quite cold against your skin, which may be a little unpleasant. Luckily, you can make it feel nicer by warming up the lube before applying. Simply place the lubricant bottle in warm water for about 20 minutes, and then use the lube on your skin as well as the plug.
Another thing that may disturb the butt plug insertion, especially if it's your first time, is muscle tension. The best thing to do before putting in the sex toy is to relax your sphincter muscles by rubbing around your anal area and inserting a finger. Once you're sufficiently relaxed, you can now try the toy.
Inserting the butt plug
Start by pressing the tip of the plug against your anus and gently applying pressure so that the plug slowly but consistently goes further in. Don't worry if you tense up in the meantime - just relax and try again. As the plug goes in, your anal muscles will stretch, allowing you to go deeper. It might feel odd at first, and it's totally normal.
The most important thing is that you shouldn't feel pain when inserting the plug. If things begin to hurt, don't go further in, as it may lead to serious injuries.
When will you know that you've inserted the plug? Right after you cross the thickest part of the bulb, the rest will go down much easier, and eventually, the plug will just "pop" right in place. Once it's placed, you can adjust it as necessary.
Wearing a Butt Plug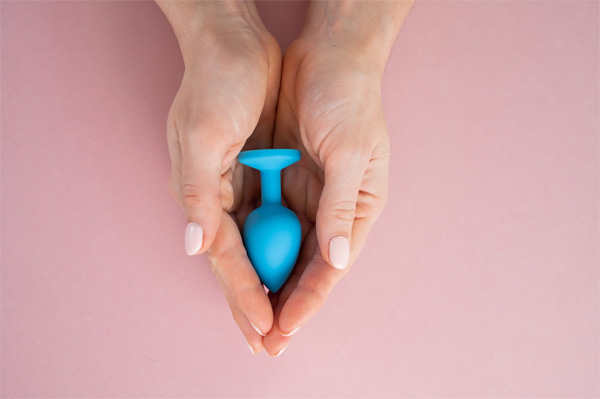 Now you have fully inserted the butt plug, you can experience the sensations it gives to your anus during different daily activities. In general, a butt plug feels like a sense of "fullness," which will be similar to the feeling of having to poop, although still a bit different. 
You may feel uncomfortable at first, however, with the regular use of a butt plug, you will get used to it. Eventually, you will be so familiar with that feeling that you will barely be able to tell it's inside.
Walking with a butt plug
When you try walking with a butt plug for the first time, you may naturally feel the urge to spread your legs with each step. Try not to do this because others may notice that you're hiding something down there! It's best to first walk with it around the house before heading out, so you can properly get used to it.
While walking with a butt plug inside, you will experience friction between your buttocks and the plug's base, which is likely to be an issue at first. This is usually more intense with flared base plugs, that's why using a butt plug with a T-bar base is better in this case.
Sitting down with a butt plug
You may experience that sitting down with a butt plug inside is quite uncomfortable due to the increased pressure, especially when sitting on a hard surface. The shape of your plug plays a significant role in the way the pressure is applied. 
If you're using a flared butt plug, the sides of the base may also dig into your skin while you're sitting down, causing more pressure and potential discomfort. For this reason, it's recommended to use anal toys with T-bar bases or similar types suitable for everyday wear. 
The Effects of Wearing a Butt Plug 

There are a lot of nerve endings in the anus, so both women and men can enjoy the pleasurable effects of wearing a butt plug during intercourse. Although they may not feel the same way due to anatomical differences, the presence of a butt plug can significantly enhance sexual sensations no matter the gender. 
A female partner will feel internal pressure from the anus to the vagina. A butt plug provides more pressure on the vaginal wall making the vagina feel tighter. This can make the vaginal penetration more stimulating for both partners, leading to a much more intense orgasm on both sides.
Mayla's Top Picks:
Tease Vibrating Plug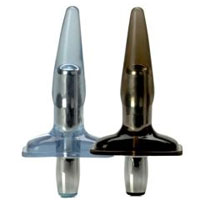 Booty Glider
Luxe Beginner Plug
Jewel Butt Plug
A male partner, on the other hand, can use a butt plug to enhance his orgasmic experience through prostate stimulation. This gland can be stimulated both internally and externally, and butt plugs can provide both types of stimulation at the same time. 
While butt plugs offer physical benefits to our bodies in the form of sexual sensations, especially during a sex act, wearing them also provides mental stimulation. For example, many people like wearing butt plugs in public, and there are a few good reasons for it. 
A discreet public butt play can work as a turn-on and make us sexually aroused, or it can be a way to tease one's partner. Apart from that, some butt plug enthusiasts simply like the idea of having a "naughty secret" that only they know about. Using a butt plug can even help us feel sexier!
How to Remove a Butt Plug?
Just like with inserting a plug, keep in mind to take it out equally slowly to prevent potential injuries. It may be helpful to apply some more lube to the area to provide a smoother removal.
Once you're ready to take it out, grab the base of the plug and pull it gently. You may find it helpful to make the "push" movement when removing the plug - similar to taking a bowel movement. 
Once the plug is out, check it for feces (don't be surprised if you find a little stuck to the toy - it's totally normal) and clean it thoroughly. Clean up your bum as well, and you're good to go. If you find your butt to be sore after removing the toy, it's best if you give yourself a few days to rest before another plug-play.
The Bottom Line
If you're looking for ways to improve your sexual life, using butt plugs is certainly one of the best options.
They can be used to prepare you or your partner for anal penetration and to elevate the intimate sensations during intercourse or masturbation. You can also wear them around the house or in public for some mental stimulation. 
If you're curious about how butt plugs really feel at the back door, the best way is to try them out yourself. With our helpful guide, you will be able to enjoy anal play and bring your sexual game to the next level. Get ready for some butt fun!
Click to buy anal toys online.