Vibrating Anal Dildos | 5 Best Vibrating Anal Dildos for Beginners
Vibrating anal dildos are a targeted and specific type of anal toy enjoyed equally by both men and women. Listed alongside the more recognizable shapes and styles such as butt plugs, beads and other anal toys for sex and/or masturbation, anal vibrating dildos bring home just as much pleasure.
In my humble opinion, the straight up & down anal dildo shape is better suited to beginners compared to butt plugs which are often flared and a little bit scary to stick in your bum, especially if you've never stuffed a toy into your anus before.
Today we'll explore the wonders of the vibrating anal dildo for beginners, talk about inflatable options, and focus on why vibration matters so much when it comes to enhancing sexual pleasure through anal stimulation. There's lots to cover here, so let's get started!
Non-Vibrating vs. Vibrating Anal Dildo
Search for anal toys online and you'll see thousands of styles. Search for vibrating anal toys online and you'll see a narrowed down list, but often the same styles only with a small wireless vibrator sticking out of the end, or a corded battery control unit with a hidden vibrator somewhere in the body of the plug.
Narrow that down even further to search for vibrating anal dildos, and the selection is sparse. As a sex coach, I'm constantly suggesting to my clients to try vibrating anal sex toys. The buzzing stimulation is a fantastic addition to just the regular probe or dildo shaft.
Some clients will say "I don't want vibration" but if you consider the price increase for adding on a vibrator motor to the device, it's really not that much. My response is "You don't need to turn it on if you don't want to, but it's always there in case you want to try it!"
Most men and women choose not to buy a vibrating sex toy because they are worried about the extra fuss of loading batteries, making sure to keep water & lubricant out of the battery compartment and storing it properly, but the biggest concern is the noise it makes.
When you insert a vibrator into the body, your skin, bones, tissue, and the general mass surrounding the motor muffles the sound. In short, your body is excellent insulation for noise coming from the motor. Even a small vibrating butt plug is much more quiet inside the body than outside the body.
So in conclusion, buying a vibrating anal dildo provides extra stimulation ready at any moment. If you don't want it, then leave the motor off! Trying a wireless vibrating anal toy is a good choice because there are never cords to get in your way. You'll be none the wiser when enjoying the back door pleasure as it enhances the power and pleasure of your orgasms!
Realistic Vibrating Anal Dildos
This is the typical realistic looking phallic penis shape you'll often see in a womens vibrator. Not just for ladies however, men enjoy using vibrating anal toys too. The shape of the mushroom or circumcised penis head is a real thrill, the erotic pop and massaging sensation offers a thrilling contrast to the veined shaft underneath.
It's not just for gay men either. Straight guys often use a vibrating anal dildo as a pegging attachment that their lover connects to a strap on harness for pegging sex, as opposed to the vibrating butt plug which tends to be shorter. The phallic butt dildo shaft is longer than a plug making it easier for his partner to maneuver and penetrate from behind.
The smooth, straight shaft glides in easily (with plenty of anal lube in place, of course!) What is pegging? It is a popular activity for heterosexual couples across America (and the world now since we are sexual trendsetters!) Many of these types of harness compatible butt toys have a curved tip for male prostate stimulation, but its not always necessary.
5 Best Vibrating Anal Dildos for Beginners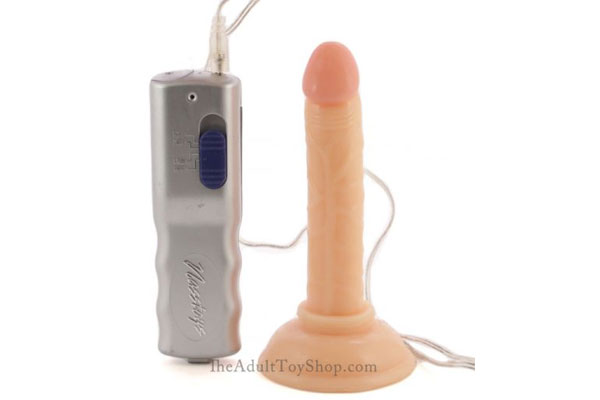 4 Inch Whopper Anal Dildo is my favorite for newbies. This is the best vibrating anal dildo of all time because the thin 1 inch wide shaft eases in nicely, and the 5 inch length limits how deep it can go. Of course a deep anal dildo is always a top pick for anyone, but this one keeps girth at a minimum making it an enjoyable experience going deep without being too large. 3 AA batteries provide enormous power too!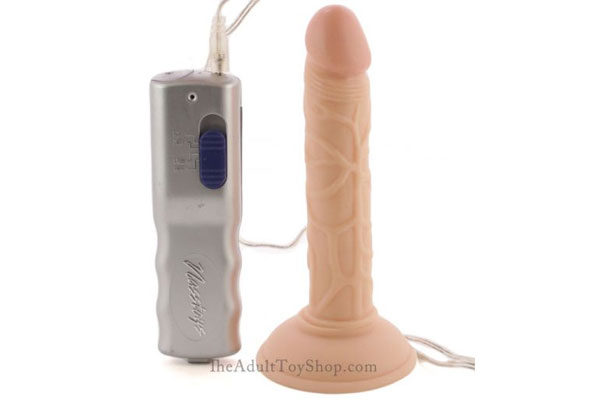 Mini Whopper Anal Vibrator Dildo is the next step up in the series. Men and women both benefit from anal training, and this is the perfect upgrade to the aforementioned anal sex toy. It is barely thicker at a mere 1 1/8 inches diameter with a similar length of 5 3/4 inches. The big suction cup base is like a plunger for thrusting because forceful movement in the ass is a highly erotic experience for many people. 3 AA batteries provide enormous power too!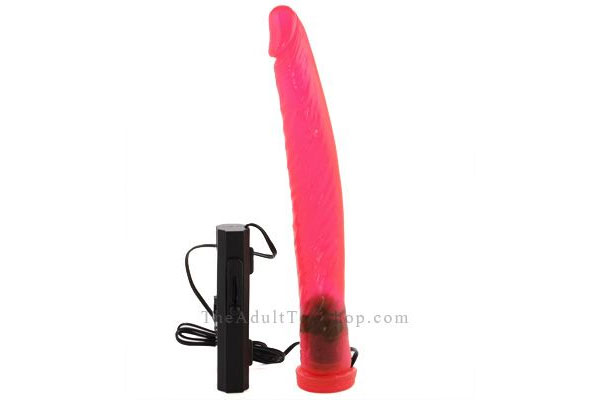 Beginners Anal Tickler is the longest and deepest anal toy ever made. Of course you won't be able to insert it all the way, but the added length is perfect for doubling as a handle. It isn't ergonomically friendly to reach behind and control a small vibrator in your butt, so having the extra length sticking out makes it easy to customize your angle and customize your depth. Tiny penis shaped head inserts smoothly too.
Slender Tulip Vibrator is not the typical penis like anal probe, but please don't discount it by its peculiar looks, it is the best vibrating anal toy! This is, in fact, typically sold as a vibrator for women, but I've added it to the vibrating anal sex toys section because the tulip shaped tip is perfect for anal stimulation, one of the finest anal toys for beginners. The wireless and waterproof shaft is thinner than a finger, and the small size won't scare a beginner. It is made of solid plastic to provide a firm touch inside the anus and the vibration is rather wild!
Vibro Butt Buddy is the most powerful vibrating anal dildo ever made. It is tiny and ribbed for added pleasure if you choose to thrust in & out during foreplay. The motor is so well engineered it never loses strength as the vibrations spread evenly around the solid, silky coated butt probe. Rounded tip focuses vibration deep inside the rectum. I know wireless is more popular, but the best feature of a corded vibrating butt dildo is that it can hold more batteries, therefore producing more power!
Anal Dildo Vibrators that Inflate
One of the best vibrating anal dildos for those who seek extreme pleasure is the inflatable anal dildo. The secret here is that the shaft is straight and inflates evenly. This distributes pressure along the entire length of the rectum. When deflated, most are extra small for anal training purposes.
You insert it deflated, pump up the balloon and once inflated, it stretches huge inside your rectum but minimizes stretch on the anal sphincter itself. This is a safe way to enjoy maximum girth and a massive size without concern of causing discomfort to the opening and surrounding tissue.
For "experts" who like huge expansion back there, the inflatable butt plug is a parallel option that often has a bigger girth than a dildo shaft simply because of the resting diameter of the spade shaped anal plug. This limits possibility of sphincter injury even though it inflates to massive proportions inside the butt.
Click to buy anal dildos online.