12 Best Glass Butt Plugs | Glass Anal Plug Review & Comparison
Last Updated on August 26, 2022
While most of butt plugs available for sale at any sex shop are commonly made of made of either silicone or rubber there's another option to consider. Not only do glass anal plugs provide a totally unique experience compared to those made of one of the more common materials, but they're also typically colorful and, dare I say, almost like little pieces of art?
Now if combining the words "glass" and "butt" together make you, well, pucker up, I totally get it. How an earth can this be fun? Why is a thing anyway? That said, as long as you choose one of the best glass butt plugs from this list — all of which are made with one very particular type known for safety — you've got nothing to worry about. Chances are you'll discover something new and really dig glass anal toys forever.
Pro Tip: Glass butt plugs are best for temperature play. What does that mean? The contrast between natural body temperature and something either hot and cold being inserted into the vagina or anus provides a strong erotic sensation.
A glass dildo is the more commonly known sex toy for temperature play, but a glass butt plug is tailor made for back door fun. Nothing compares to the kinkiness of a sudden chill inside the butt! Glass anal plugs are perfect for this, since the rectum is highly sensitive so inserting a chilled or heated probe into the anus creates a thrilling tingle across your whole pelvis.
Powerful and kinky stuff! How to do this? Put your glass anal toy in the freezer, or dip it in hot water before using. It won't take long, maybe 5 or 10 minutes max. Don't worry about cracks, the material can handle sudden and extreme temperature fluctuations.

10 Best Glass Butt Plugs
My personal top picks are right here for you! Glass just happens to be the best butt plug for women because it feels great and looks good. list that incorporates all materials, but these are made of durable and body safe Borosilicate for those who want to narrow down on this uniquely specific style: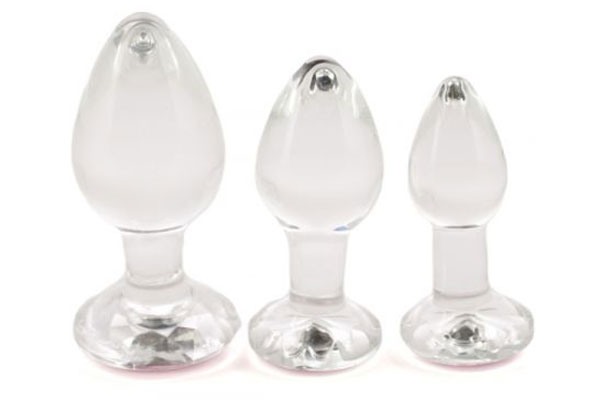 Pink Gem Glass Butt Plug is the most feminine anal sex toy we've ever seen. The multi faceted circular pastel pink gem looks like a piece of jewelry. Inset within the clear frame, it exudes elegance more than any other toy that you stick in your bum.
Think butt stuff is dirty? Think again! The princess gem butt plug is a beautiful jeweled accessory proves that even nice girls enjoy wearing butt plugs during sex. Diamond butt plugs are a popular trend right now, and several of them just happen to be made of glass.
The elongated spade shape tucks nicely inside the rectum without feeling like its too wide. The princess diamond plug has a thin stem that limits stretching of the sphincter to make it more comfortable to wear. All your partner will see is a shiny, brilliant pink gemstone peeking out between your butt cheeks that glimmers as you move.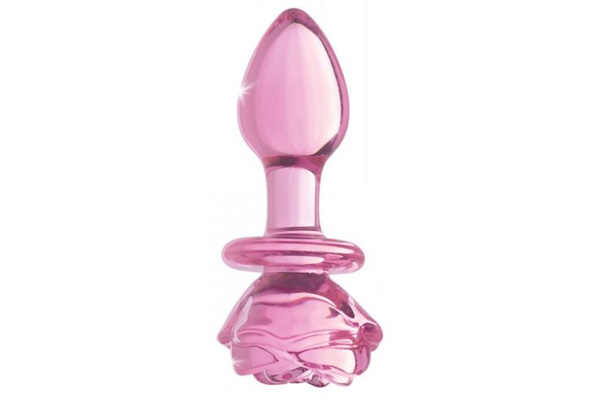 Rose Glass Anal Plug is as pretty as it gets! Rose glass butt plugs are the newest fad in women's anal toys. Often tinted pink, these elegant creations are feminine and just downright gorgeous. Look closely and you'll see it really does look like a blooming rose, with petals hand blown like a piece of art.
When worn, your lover will see the flower peeking out between your butt cheeks. Super sexy, super stylish and a great way to add a touch of class to anal sex play. This new addition is available for sale in two sizes, small and medium.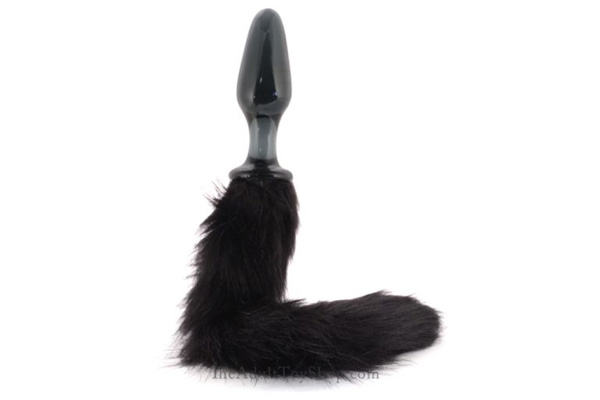 Glass Fox Tail Butt Plug is a heavy duty medium sized glass gently tapered glass butt plug with a silky faux fur fox tail fixedly attached to the base of the plug. If you're unfamiliar with tail butt plugs, it's a hot fad following on the heels of gem and jewel anal toys.
Tail plugs are certainly higher on the kink factor. I love to see a combination of different types of sex toys, it proves that every person can really find the best anal toy for their personal desires easily since there are so many combinations available!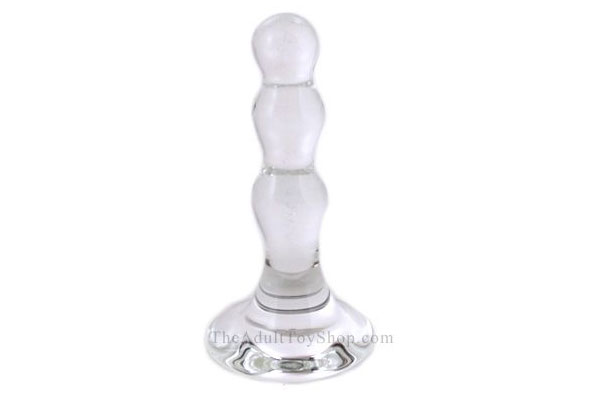 Triple Play Glass is the best beginner glass butt plug without question. The bumpy ridges are smooth and rolling so it provides an interesting texture when you insert it into the butt. It's difficult to decipher from the pictures, but inside the middle of the shaft is a swirling helix of colors displaying a subtle rainbow starting from the tip to just before the flat base.
The base is round so it can fit in a harness but it also sticks in the butt cheeks well to prevent it from popping out. Reasonable length goes deep enough to give you an erotic poke from behind, kind of like a small wand toy.
Pacifier Glass Butt Plug is a medium sized anal plug with a blunt head for immediate stretching upon insertion. It's not overly large so that even the casual intermediate user will enjoy it, but it may be too intimidating for the true beginner.
Bumps surrounding the wide neck add a nice bit of texture and give the muscles something extra to gasp keeping it in place. Retrieval ring is handy if you wan to thrust it in and out like a dildo.
Galileo Glass Butt Plug is the prettiest I've ever seen. Literally a piece of artwork that can be proudly displayed in your erotic toy cabinet. It is both short yet wide, designed specifically to provide a thorough stretch immediately upon anal entry.
This form adds solid pressure to your most sensitive nerve endings. Best reserved for experts since the girth of the head reaches an impressively huge 1 1/2 inches wide!
The Juicer Glass Anal Toy is huge and full of naughty kink. The large flared spade head is an instant punch in the butt. The long bumpy body has a noticeable texture. On the bottom you'll notice a small handle type of appendage.
This is where the name "Juicer" comes from, it's meant to look like a juicer that you twirl to extract liquid from fruit. In this case, you twist it while its inside the body in the name of naughty kinky anal play. A hardcore and rather extreme choice that is a best selling large glass butt plug for experts.
Pink Flower Glass Anal Plug is an all time favorite anal training glass plug for women. It's pastel pink shade has a feminine nice-girl look wile the rounded base is in the shape of a flower, a blooming daisy to be exact.
It looks absolutely adorable, and highly sexy according to the partner who sees the flower peeking through between the butt cheeks! A great top rated pick for a first timer.
Icicles Mini Glass Plug is a combination of anal beads and plug rolled into one perfect little package. The best feature about the triple bulbs is that the top one is really small, thinner than a finger so the true beginner won't be scared of using it.
The next 2 bulbs increase in girth subsequently ending with a thin neck and small flared bottom that tucks between your cheeks discretely. My best suggestion for any beginner, clear color is a good unisex choice!
Titus Beaded Glass Anal Plug is a double ended glass toy for adventurous folks who want 1 toy that provides 2 sensations. It features a smaller stature making it a suitable choice for those who want to buy slightly larger glass plug in the sake of training.
In fact, this can be considered a training toy as-is because the bumpy beaded half is small and the round anal plug half is bigger. The other advantage of a double sided plug is that the exposed end can be used as a handle for anal foreplay and couples exploration.
Are Glass Butt Plugs Safe?
Glass butt plugs are incredibly safe. They are made from a special type of glass designed to be completely safe for insertion and use inside the body. It is known as borosilicate glass, which happens to be the same material that Pyrex containers are made from.
Borosilicate can withstand extremely strong heat, as well as the wear and tear of kitchen life which means they are resistant to cracking should they be dropped from high up in your pantry. They can certainly resist chipping or cracking if they accidentally all out of your butt, so you never need to worry about it breaking! In summary, the structure is extremely durable and thick, so there is zero chance of it cracking or breaking while it's inside of you.
There are other benefits of glass anal toys, too. Unlike silicone, this material is compatible with any type of anal lube, whether it be water based, silicone based or a natural gel.
There are some safety precautions you want to take before using a glass butt plug. Like with any other anal play toy, you want to start out small and work your way up so that your anus sphincter has time to acclimate to the toy.
Anuses don't stretch the way vaginas do, so they need gradual training to accept a larger girth without causing damage. Purchase something small, once that inserts smoothly, then its time to upgrade to a medium girth and finally, go for the large one for maximum stimulation. To keep things clean before, during, and after anal play, try taking a bath or shower, or use an anal douche if you want to feel squeaky clean.
4 Types of Glass Anal Toys:
Before shopping online, it's important to know some basic information about the 4 different types of glass anal toys:
1. Glass Anal Plugs
The typical spade shape with an anchor base defines the best glass anal plug. The standard shape that is the first thing that pops into mind when you say the word "anal sex toy", this classic form features a spade shaped or rounded body, a thin neck to give your sphincter something to grasp.
This contrast in girth helps the body to hold it in and prevents the anal plug from falling out. Especially useful with glass anal plugs because glass is heavier than a rubber, or pretty much any other material for that matter.
At the bottom, you'll see a curved or round anchor type base which prevents the device from being sucked too far inside the anus. This is a safety feature essential to any small to medium size anal toy no matter the material. My guide about the purpose of an anal plug explores in detail the reason for the shape.
2. Glass Anal Beads
Not your typical anal beads on a string, these more closely resemble the single piece strands that are formed out of gel rubber or silicone. The major difference to note between regular anal beads and glass anal beads is the fact the strand is solid. Obviously, because the source material is hard as a rock whereas the aforementioned styles can bend and flex as needed.
The sensation between the 2 are not even comparable. If you're wondering how anal beads feel, they are totally different. Glass beads tend to be big, the large beads are not typically reserved for a true beginner but experienced users are the most common fans of this style.
3. Glass Anal Trainers
Anal training sets are wildly popular regardless of what the toys are made of because they consist of a series of anal toys in gradually increasing sizes. The purpose is to train the anus to be able to accommodate larger girths.
Unlike the vagina, you can't go just sticking something large into your butt without damaging the tissue. This is where anal training kits come into play, pun intended, of course! Start small and work your way up to the size that feels best for you.
4. Glass Anal Dildos
Glass dildos for the vagina are really popular. A little known Sexpert secret is that a the glass dildo doubles perfectly as an anal dildos too! Why? Glass wands are thinner and smaller than a typical dildo for women. They are completely non-porous and the only safe sex toy to be used in both the vagina and anus (you must wash the dildo between switching holes, of course!)
Glass is heavy and gets expensive if the shaft becomes too substantial, so huge butt dildos and wands are not really a common novelty you'll find in a sex shop. It's true that any glass dildo can also be used in the butt. The best crossover sex toy that works well for both men and women!
Click to buy glass butt plugs online.