Glass Dildo Guide | How to Find the Best Glass Dildo
Glass dildos are one of the most unique sex toys a person can try. They are also shrouded in myth and mystery. Today I'll explain everything you've ever wanted to know about glass sex toys and provide all the info needed for each person to select the best glass dildo according to their personal desires.
If you're unfamiliar with glass sex toys, you may think it's might not be a good idea to stick something made if glass into the vagina or anus. After all, what if it's cracked or breaks? Aren't the shards dangerous?
The truth is there are a few different types of glass used to make everyday household items. From your favorite wine or whiskey glass to a glass window pane to a Pyrex measuring cup, these are all different types of glass with unique characteristics.
Are Glass Dildos Safe?
When you drop a glass on the floor, it shatters into a million pieces. When you drop a Pyrex measuring cup on the floor, it bounces and rolls and remains undamaged. Glass dildos are the same. They are made of solid, pure and sturdy Borosilicate glass which is cured to be solid, crack-proof and most importantly, shatterproof.
As a result, you'll instantly notice that a glass dildo or glass butt plug feels heavy and substantial in your hand. Compared to a silicone dildo, which is well known to be heavier than jelly or rubber for example, glass is much bulkier. This is the solid Borosilicate structure that also makes it safe to use. More info can be found in my guide on how to use a glass dildo.
The Best Glass Dildo vs. Everything Else
Why even buy a glass dildo? There are a few benefits that glass toys have that other wand sex toys don't. First of all, they are most most elegant and beautiful. Some hand blown creations are literal works of art with colored swirls and patterns of color that are absolutely beautiful to look at.
The favorite feature of a glass toy is temperature play. This harnesses the senses to create an erotic, even kinky response that massively enhances sexual pleasure. That may sound like a bunch of mumbo jumbo at first, but once you delve into this slightly kinky sex act, it will all make sense to the senses!
Of course, not everyone is going to love a glass toy or anal plug. While TPR, TPE or rubber dildo toys have a bit of give and flexibility, glass is hard and inflexible. So if you like your dildos to be flexible and move with your body, then glass might not be right for you. But, if you like rougher penetration, then glass is great.
What is Temperature Play?
Temperature play is the term for any sexual act that involves the application of heat or cold. In this case, the glass dildo is cooled or heated to increase sensation during penetration. It is enjoyable for both vaginal stimulation and anal play. Temperate play is most often associated with BDSM, but anyone can do it, even the most vanilla couples enjoy experimenting with the temperature changes.

The good thing about temperature play is it's multi-functional and totally adaptable to your needs and your other glass toys. You can do it solo, partnered, with a toy, for anal stimulation, without a toy, etc. The options are basically endless!

Glass dildos retain temperature for much longer than silicone or rubber. They can also handle extreme temperature changes. Run it under warm water and it heats up. Put it in the freezer and chill it for 20 minutes before use. Enjoy penetration and treat yourself to the sensual sensation of hot and cold on your erogenous zones. This is very popular for ben wa balls.

Glass is also great if you're really into shower sex, because shower sex typically requires silicone based lube. The running water quickly washes away all traces of water based lube and you'll end up with dry sex in a wet shower. Funny irony, that one!

If you didn't know already, silicone lube breaks down silicone sex toys. So when you plan to use sex toys in the shower, glass or metal work best thanks to the copious amounts of silicone lube you can slather over them.

The Best Glass Dildo Benefits
Sensitive skin? Allergies? Glass is easy to clean because it's nonporous, so this is one of the easiest types of toys to share with partners. Glass dildos are also hypoallergenic for people who are especially sensitive. They can also be used for both anal and vaginal (but make sure to wash it before switching holes).
Here are a few more reasons to love it:
Solid pressure = hardcore pleasure
The hard, unforgiving surface is really intense. This translates especially well for female G Spot stimulation and male prostate stimulation.
Easy to insert
Some of the really soft dildos can buckle and bend upon insertion. You'll never have the problem there, it will pop right into your hole of choice!
Compatible with all lubes
Love silicone based lube? You know it's advised by Sexperts across the world to keep your silicone lube far away from your silicone dildos. But it feels so slick and slippery! Well, feel free to liberally douse a glass toy with as much as you want!
Temperature play
Glass retains temperature much longer than any other sex toy material. It is slow to adapt to your body heat while the warm water heat or cold water chill lasts longer. You can also add cooling lube or warming lube to extend your sensual fun too.
Smooth, friction free glide
Most materials are not friction less. You can experience a pinched labia or pulled pubic hair easily with pretty much any other adult toy in your collection. That just won't happen here, it glides endlessly for the ultimate in elegant, sensual pleasure.
Non Porous
This is a big deal for hygiene. If you are concerted about keeping your adult toys sanitary as possible, the non porous glass toys do not provide a bed for bacteria to grow. The non porous surface is the easiest of all to clean since there are no micro cracks or holes for bacteria to hide.
6 Types of Glass Sex Toys
Most types of sex toys are available in a form of Borosilicate glass. This adds a nice variety to many male or female sex toy collection and are suited to anal play or vaginal penetration. These are the main types of glass sex toys for your consideration, followed by a few examples of the best glass dildos for sale.
1. Glass Anal Dildo
Size will usually dictate the difference between a glass vaginal dildo and glass anal dildo. Otherwise that, the shapes and form can be the same with the exception of the glass butt plug. It can look like a small penis or little smooth dildo with a curve for G Spot stimulation or prostate massage. The best glass anal dildo typically has a diameter less than 1.25 inches across.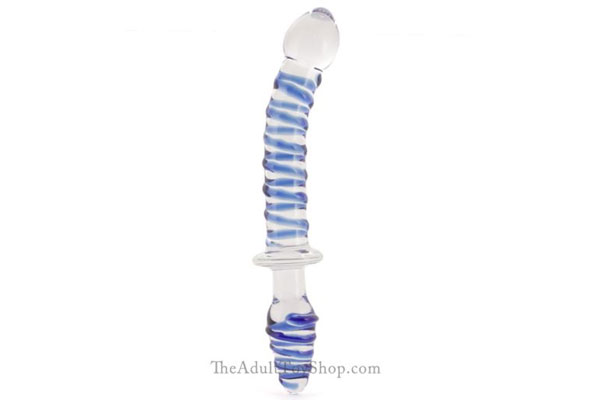 Mr. Swirly Glass Anal Dildo doesn't have to be reserved for your butt only, it is technically a double ended dildo with equal treats for both the back door and front door. The obvious here is the butt plug end. The quintessential spade shaped butt plug with close ribbed spirals offers a wealth of texture. The other end is suitable for prostate massage but women enjoy the curved shaft for G Spot stimulation.
Anal Wand Glass Dildo is a fun probe for the back door. Anal play pleasure increases when your partner pokes and probes this back there during foreplay. The series of rounded raised dots add a totally original and unmistakable sensation unlike any of your other anal toys. 1 inch girth is suitable for intermediate users, beginners may find it a bit too big.
Juicer Glass Butt Plug is the perfect option for couples foreplay, twist, push & pull to your lovers delight. The flared head, narrow shaft and lightly colored raised dots add all the texture you'll need. Want to hear something extra kinky? Take a look through the base - an unobstructed view begins from the round base all the way to the tip. You'll be able to see deep inside your partner's body!
2. Small Glass Dildo
Small glass dildos are most common simply because the weight of a big glass dildo can be somewhat cumbersome when masturbating alone. It can be hard to handle such a heavy thing "down there." The typical realistic small shaft is has an insertable length of about 6 or 7 inches long with a girth of about 1 to 1.5 inches.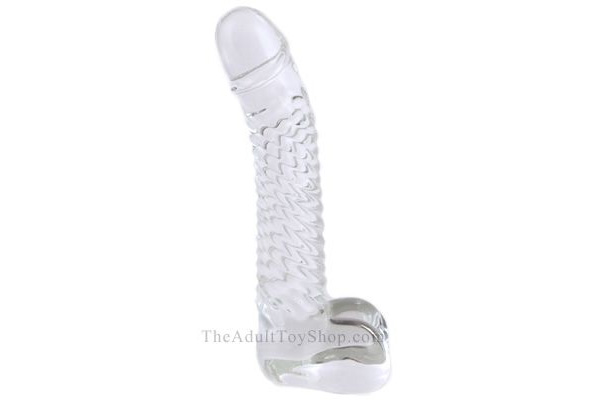 Twisted Small Glass Dildo shaft has a deep swirled pattern running along the surface. The swirl feels really neat during thrusting too, a nice contrast ladies love. At the top, the smooth angled head touches the g-spot or prostate (yes, this is great for guys too!) with ease. At the bottom, a pair of perky testicles rest in your hand easily during play sessions, and also help the dildo to stand upright.
Beaded Slider Glass Dildo has a neat feel since the beaded sections are connected in oblong and asymmetrical ways. It' a true funky feel. A loop lies at the bottom making this toy fun for couples to poke & prod into each others bodies! If you're the creative type of person, you'll see endless joys in this interesting, cleverly shaped glass sex toy.
3. Large Glass Dildo
A full sex toy for maximum kink, the girthy large glass dildo is a true wonder in any sex toy collection. The main advantage of a large shaft is that it will retain heat or cold longer than one that is smaller. Most of these realistic large dildos look and are shaped like a man's penis, eternally erect with the firm touch from out of this world!
Large Glass Penis Dildo is the biggest & best glass dildo. The gently curved solid glass penis has an ergonomic form that's perfect for personal playtime. The curve assures the finest body fit for the receiver - it will glide in effortlessly without poking unwanted places inside. Furthermore, it is the best option for a glass strap-on harness attachment as the round base easily remains secured by a harness O-ring.
Spiral Icicle Glass Dildo is so pretty, it's like a piece of art. Absolutely gorgeous! A tightly wound series of spirals twist their way around the shaft ending at the flat rounded base. The waves are raised from the surface so you can actually feel them as you thrust in and out. The smooth, seamless head inserts easily and rubs you inside in all the right ways.
Double Trouble Glass Dildo is a double ended dildo! With a full 9 inches to play with, you'll be able to experience the swirled end or the bumpy end without the opposite side interfering with your experience. Swirls and bumps are common features for glass sex toys, and now you can try both in one toy.
4. Curved Glass Dildo
Men are buying curved glass dildos like you've never seen before! They are sticking them up their butt for prostate massage. Nothing stimulates the prostate gland better than a curved glass dildo. It rams the gland with ferocity and produces fast orgasms for him. Shop for one with a minimal insertable length to make sure you find the P spot without going too deep.
Red Head Glass Double Ended Dildo is easy to hold and always appealing to look at. The semi-circle shape of the shaft offers ideal ergonomic positioning when you're laying the bed by yourself. It is one of our favorite couples dildos because of the dual ended design that is easy for your lover to use on you making this is kinky yet interesting addition to your sex life.
Mr. Swirly Glass Beginner Dildo is your perfect secret bedroom friend! The solid angle touches the G spot easily and as you tilt the shaft forwards towards your belly button, it presses it even harder. Super slimline design is excellent for beginners, the shaft itself is only 3/4 inch wide, but add on the raised swirled pattern and it maxes out at a mere 1 inch across.
5. Glass G Spot Dildo
The best glass G Spot dildo is one of the must-have sex toys for women. I'm on a crusade to get the word out there, the G Spot stimulation is mega intense. With a sim,ilar effect on the ale prostate, hardcore and heavy duty G spot massage is perfect for kicking off a powerful internal based orgasm.
G Ring Small Glass Dildo is a perfect sexual enhancer toy for both men and women. Women can use it in the vagina for G spot stimulation. The short length and forward curve makes it simple to find the G spot. The rounded head sits atop a thin stem with a mild wavy form. The smooth texture is a real delight while the popping head provides a tantalizing treat to the senses.
6. Glass Heart Dildo
Glass sex toys are super elegant. Hand blown glass dildos can be a work of art. A glass heart dildo typically denotes a swirled or sensual shaped sex toy with a heart shaped "handle" perched on top. It's a romantic option for Valentine's Day gifts and certainly one of the most sensual dildos money can buy.
Click to buy glass dildos online.