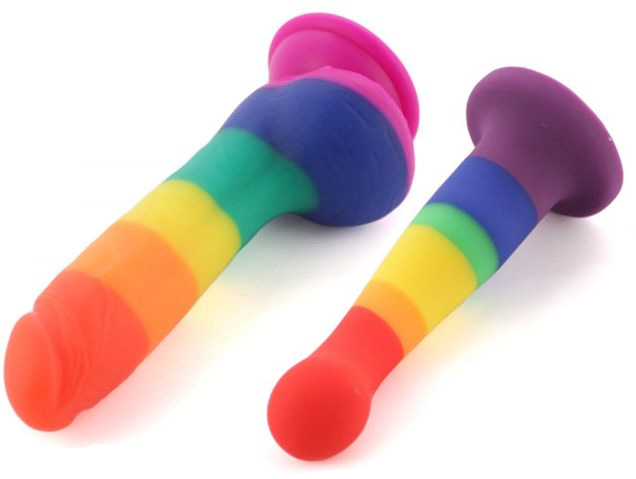 Rainbow Dildos | 5 Best Rainbow Pride Dildos & Strap Ons
Liven up your sex life with a vividly colorful rainbow dildo! If you're bored of the same 'ol pink, purple or skin tone colored dildos for sale, choosing a fun multi color option like a rainbow vibrator or dildo is a fun way to add a splash of playful color to your sex toy collection.
Gay and lesbian lovers enjoy adding a touch of pride to their adult adventures together with a pride dildo or vibrator. We are happy to offer one of the first rainbow strap ons for sale which is quickly becoming a hot commodity for lesbian partners.
Today I'll show you the 5 best rainbow dildos, highlight a super cute pride vibrator, and review the newest trending silicone multi color strap on for couples who appreciate luxury and want to add a dash of playfulness to erotic playtime for two.
All of the dildos have a suction cup or flared base that can fit into a strap on. If you already own a harness, you can easily fit one of these toys into your O ring for strap on sex. The last addition isn't technically rainbow colored, but it is a proud gay pride vibrator that was just added to our online catalog last week and I figured it's a worthy addition to this list. Enjoy!
5 Best Rainbow Dildos
Click to buy dildos online.