What Is a TENGA? A Beginner's Guide to TENGA Sex Toys
Discreet, unusual, portable, and super fun - this is how we'd describe TENGA, a revolutionary brand that brought innovation to the world of sex toys. Its non-traditional and obscure designs have earned the loyalty of many men and as of recently, women, too.
Originally a men's sex toy brand, TENGA has paved the way to the top of the industry, from selling cheap single-use toys to releasing masterpiece masturbators year in and year out.
TENGA's comprehensive collections of various unique sex toy designs for men, women, and couples are way ahead of the market at the moment. Not only are they recognized worldwide, but they also offer products for an affordable price.
While clit suckers and magic wands for women have been normalized, TENGA does its part to standardize sex toys for men. Luckily, the brand is rocking it, as we can see from its wide range of collections.
Relax, release your belt, and dive down to explore TENGA's world of pleasure.
TENGA Background Check
The creative mastermind behind TENGA is Koichi Matsumoto, who previously worked as a mechanic for supercars. In his early 30s, Koichi felt the urge to innovate and create, which motivated him to pivot into an entirely different field.
Satoshi Chatani, the President of TENGA Europe GmbH, recalls in an interview how Koichi was visiting various shops selling all sorts of electronics to gain inspiration. And indeed, he did find it.
This Japanese sex toy brand was established in 2005. In 2017, the company had already grown to 70 employees and offices all over the globe.
The company doesn't stop surprising and keeps developing a whole range of sex toys. Moreover, the CEO of TENGA Health Care, Masanobu Sato, has initiated a program focusing on sexual wellness (more about that later).
Who Are TENGA Sex Toys For?
Most people can recognize TENGA for its design with primarily red colors and toys that are mainly created for men or people with penises. That is how the brand started. Now, TENGA has drastically expanded and started a line with products for vulvas.
Some sex toys are designed for solo use, while others are for partnered pleasure.
Ultimately, the company's main goal is to "bring more pleasure to more people." This includes people of the younger and older generations. Older people have the same sex drive as the young. As a result, TENGA met the demand by creating a toy that requires minimum effort to reach the climax.
Since TENGA has spread all over the world, its product demand has shifted as well. As Satoshi Chatani mentions in an interview, male-targeted sex toys are highly popular in Japan.
Whilst in Europe, it is the other way around - 80% of such products are offered to women. The trend may shift once again since TENGA now promotes masturbation toys for women in Japan.
TENGA's Single-Use Men's Sex Toys
TENGA features many collections that include at least a few models. There are lots of TENGA Egg lovers, while other people enjoy using a reusable TENGA Flip hole. Finding a toy that you will fall in lust with is easy with TENGA. Intense stimulation is also guaranteed.
Most TENGA products are available worldwide and feature predominantly male masturbators and mens adult sex toys. However, women aren't left all by themselves - TENGA has released a few sex toys that girls deserve. But first, let's talk about adult toys for men:
Deep Throat TENGA Cups
TENGA cup is not your ordinary fleshlight - it excels in many ways. You won't last long with it!
The deep throat cup has earned its name for the incredible modes of suction that will give you a whole new level of experience. It is one of the best male blowjob masturbators for sale right now.
Its shape resembles a sand clock, and it's pre-lubricated so that as soon as you pull it out, you can get straight to work. It's an amazing pleasure toy for one-time use when you are traveling or just experimenting with different innovations out there.
TENGA cup is a must try for every man. It comes in different models and will provide toe-curling pleasure.
TENGA Egg
These eggs are so realistic nobody is going to realize they are sex toys until you reveal your secret. Your kinkiness shouldn't wait; you can carry a TENGA egg with you and hit it anytime you feel horny.
The size, portability, and discreetness are over the top, not to mention the different sensations you will never forget.
There are 17 TENGA eggs with different textures. You can also get a pack of Easy Beat or Hard-Boiled eggs, among other sets.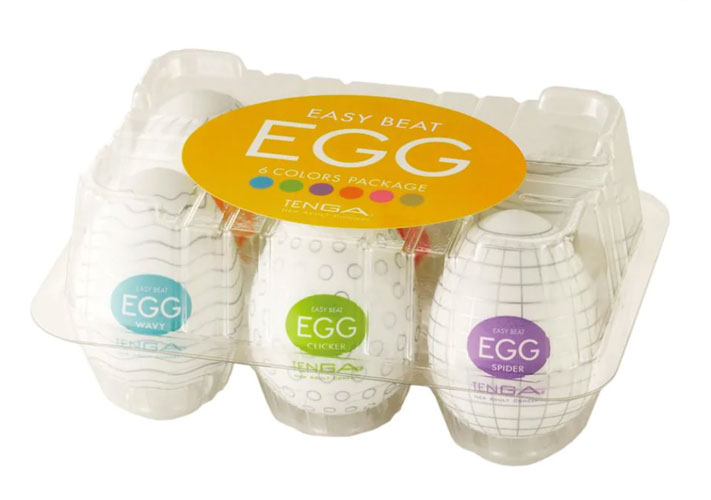 The best TENGA eggs are those included in the Easy Beat collection. As the name suggests, they will stretch gently on your penis head and won't hurt your sensitive glans.
They might look simple at first, but don't be deceived by their round shape. The different textures in each egg will make your toes curl. As you stroke your cock, your orgasm will be like nothing you have experienced before.
Every TENGA egg feels different. This is a perfect pack for those looking to spice up their hand job game.
Hard-Boiled Eggs Pack
We will be repeating ourselves, saying that every TENGA egg is unique. The texture is never the same, and you will never get bored while milking your cock.
The main difference between the standard pack is that Hard-Boiled TENGA eggs use a harder gel, making masturbation a bit more difficult for some.
Our advice for beginners is to start with the Easy Beat pack and then experiment with others.
Reviews suggest that the best TENGA eggs here are Surfer (Blue) and Shiny (Orange). Again, the innovative and futuristic texture added to the TENGA eggs is unmatching. The sensation is unbeatable - try it out for yourself.
Others
Disposable masturbation toys include Pocket TENGA and the Cool TENGA Series.
The Pocket TENGA looks exactly like an oversized condom pack, which you can inconspicuously carry around and jerk off when the urge comes.
The Cool TENGA Series includes TENGA cups with cooling gel for those in favor of experimenting with temperatures.
TENGA's Reusable Men's Sex Toys
1. Tenga Spinner Series
Whatever your kink is - the TENGA Spinner is a miracle. This TENGA product features easy cleaning, spiral patterns, and toe-curling pleasure.
The masturbation sleeve literally twists as you stroke it up and down. It grabs your cock tight, and the textured surface rubs you all the way through.
Squeeze in some lube, grip it, and get ready for the exciting orgasm of your life.
Although it looks soft, going hard won't tear it. It's built to survive the harshest stroke you give it.
2. TENGA Flip Hole Series
TENGA products in the Flip Series are probably the most "traditionally" looking ones. They have a prolonged shape that fully accommodates your dick. And as you slide it, gripping the soft handle, you are in control of how tight and intense you want it to be.
The Tenga sex toy also resembles the Deep Throat Cup, but it has a mode futuristic design. Some models look truly luxurious and premium in comparison to TENGA eggs.
We highly recommend playing with a slide cap on the rear to change the intensity and suction during masturbation.
3. TENGA Air Tech Series
TENGA released the Air Tech Series to upgrade their sex toys from the Deep Throat collection. They've certainly done a better job this time, improving the handle and design. They surely kept the signature colors but have remodeled the inside of a toy.
TENGA Air Tech toy will surely intensify stimulation if you've only been using your hand before.
4. TENGA 3D Series
TENGA 3D masturbation sleeves are ecstatic, simple, and incredibly powerful. This beast will become your go-to sex toy when you feel the drive to jerk off.
No other fleshlight can beat the suction it has. Moreover, the various shapes give you a different feeling each time you fuck it, especially when you stroke it in circular movements.
I'd call this jack-off sleeve the best masturbator for men, so if you've ever had problems with stimulation, no more will it be the problem.
5. TENGA Geo Series
Pocket pussies are nice, no one argues, but TENGA Geo Serious is a work of art. If you want to be catching your breath every night and enjoy the ecstatic of your sex toy - you'd better choose Geo.
Not only is it easy to clean and reusable, but it is also soft with a lot of pleasing ridges.
The abstract ball shape made of rubber stretches nicely and fits dicks of all sizes.
6. Crystal Series
Your buddies will get jealous seeing this masturbation sleeve from the Crystal series. They might not even realize it is a sex toy as it looks like a sophisticated sculpture or lava lamp!
You can freely display it at your hand's reach: on the bookshelf, desk, or bedroom. The headache of hiding a masturbator is instantly gone.
With just a few drops of lotion, TENGA Ball will smoothly slide with little effort from your side. The toy is both appealing, stretchy, and soft.
Its futuristic floating shapes will not only move along with your hand but also proving something no other sex toy has had before - gripping pleasure.
TENGA's Couples Edition - the Smart Vibe Ring
Unlike men's sex toy collection, TENGA's collection for couples is a bit humble - we believe it's only for now. It features:
Essentially, it's a cock ring with a sticking vibrator on it to place on a vulva during sex.
The ring is body safe and stretches up to 31mm. If you are concerned your beast will tear the ring apart - you can put your worries aside. The material is pretty durable and stretchy.
Those couples that get bored with flat surfaces may try this sex toy in the bath.
Iroha+ Series for Women
Irona and Iroha+ series is a set of various vibrators shaped as a ball or prolonged ones.
Iroha Rin+ resembles regular vibrators we all are used to. However, Iroha Temari, Minamo, Ukidama, and a few others feature unique designs and top-notch quality materials.
Some vibrators look so discreet that you can place them anywhere around your house, and nobody would suspect a thing. For example, Iroha Ukidama is a vibrator by day and a night lamp by night - or vice versa, whenever the urge comes.
Iroha+ is an updated collection of sex toys by TENGA. Each toy has a distinctive shape with ribs and stronger vibration.
TENGA's Mission to Improve Sexual Wellness
What we rarely see are sex toy manufacturers aiming to spread awareness about sexual wellness. This is yet another factor that sets TENGA apart from other luxury
adult toy stores
online.
TENGA conducts studies regarding sexual wellness that includes researching and developing products, along with supporting studies about sexual dysfunctions.
The project is led by the CEO of TENGA Health Care, who himself faced sex life problems. Hence, his own experience fuels him to help others enjoy a sex life with science-backed treatments.
How to Use TENGA Products?
TENGA toys have sophisticated shapes and textures, but they are actually easy to use. Sex toys for women look pretty straightforward, but products like the TENGA egg or Crystal can be confusing at first. However, as soon as you unpack the magical toy, the whole picture of how to use it appears.
Here is what you need to do:
Squeeze lube into the hole and a bit around the entrance.

Insert your penis inside the opening and slide it up and down.

Every stroke will bring you closer to climaxing. Treat yourself to a mind-blowing night.

Dispose of a single-use masturbator or clean and dry a reusable one.
Final Verdict
TENGA eggs, Spinners, Crystals, and more are available to you to explore your sexuality and tame your sex drive. Their toys are unique, made of high-quality materials and dust-proof coating.
The geometrically satisfying shapes and soft-to-touch toys look rich and sleek. TENGA's approach to creating toys is unlike any other manufacturer.
You've probably noticed that there isn't a single sex toy resembling human anatomy - and this is probably why TENGA managed to stand out from the crowd. If you are looking for a luxury yet powerful sex toy, shop for TENGA at The Adult Toy Shop.
Click to buy male masturbators online.