I Tried Edible Underwear | What is Edible Underwear Made Of?
Last Updated on September 7, 2021
I think that the key to enjoying  a great sex life is combining adventurousness, kink, and a sense of humor. That's why I jumped at the opportunity to give edible panties a try. I mean, the whole notion of candy underwear is a bit silly isn't it? What is Edible Underwear Made Of?
On the other hand, humans have been combining food and sex for years. I get it! I really do. Licking whipped cream off of someone isn't my cup of tea, but I love a great flavored lube or edible sex accessories.
So, I decided to be adventurous and take this challenge. Who knew? Maybe candy lingerie would become a new fetish for me.
What is Edible Underwear?
It's just what it sounds like! Candy panties are made from edible materials. Think of it like a fruit roll up with plastic straps. You put them on, and your partner eats them off. Then, hopefully they continue eating you. Although, that seems unlikely. Imagine eating an entire underwear's worth of something, then continuing to pleasure your partner! That seems like a...lot.
Since I was going to be the wearer, I thought I should warn my boyfriend about what was coming. Let's just say his reaction was  hesitant. His idea of fun is decidedly not munching on a cherry pantie.
I reminded him that men's edible underwear is also a thing. I even offered to buy a pair of edible male underwear for him, so he could experience this from the other side. He wasn't impressed. Maybe that was because I requested a picture of him modeling his edible thongs for men. So, the rest of this will be about my wearing the underwear.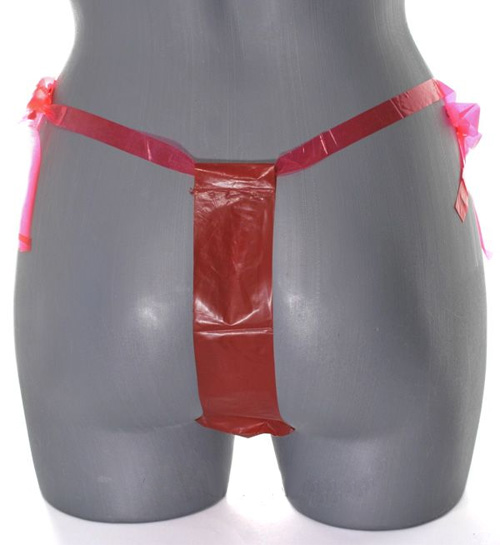 What is Edible Underwear Made of?
I ordered a pair of mens edible underwear to try. I'm not sure how to describe it. Imagine turning a bunch of fruit roll ups into a pair of panties. That's what it's like to wear an edible bikini. I also purchased a bra. That was also made of stretch, fruit material.
I was curious to see if there were any other options. So, I looked up some reviews on eating edible underwear for men. It turns out that fruit leather is the industry standard.
However, if you don't mind enrobing your loins in something similar to those dime store candy necklaces, you can get hard candy underwear. Hard pass.
Eating Men's Edible Underwear
My package arrived in just a few days. Now it was go time. The panties seemed self-explanatory. They were a standard thong bottom that tied on each side. It was a pretty snug fit. If I ever wanted to wear these again, I'd definitely look for queen-sized edible panties.
Fortunately, my boyfriend was there to help me navigate getting the panties on. Let me tell you, the process was absolutely hilarious.
By the time we finished, I was laughing so hard I couldn't breathe. It was becoming very clear that these are much better as a gag gift than something you'd wear in an effort to be sexy.
What about the bra? I'm not going to lie. We took one look at the edible bra, and both agreed it would stay in the box.

So, there we are in our bedroom. I'm standing there in nothing but a pair of red, fruity panties. I looked at my boyfriend, and said, "You know we still have to use these." "Oh yeah." he responded. I'm thinking he was regretting his decision at that point.
Still, he made a great effort. He started by licking the panties. He said the taste was pleasant enough. Unfortunately, I couldn't feel a thing. We decided he should accelerate things a bit by gnawing on the panties. Well, that didn't work out well either. They were too chewy, and it would have taken him hours to finish.
So, he did what any good boyfriend would do. He ripped them off and chucked them across the room in order to give me a proper head session. That was much better. Next time I will just don a pair of vibrating underwear when I feel like upping the kink factor.
Final Thoughts
While I wouldn't recommend women's edible underwear for a serious attempt at improving your sex life, I don't regret the experience. My boyfriend and I got to spend some quality time together. We laughed and enjoyed ourselves. Orgasms were had. My final verdict is that these are a funny novelty, but not a romantic tool.
Click to buy adult gag gifts online.