How to Make a Homemade Pocket Pussy | DIY Pocket Pussy
Last Updated on October 4, 2021
A good male sex toy can be expensive. If you want to save a few bucks or let your "creative juices flow" and make a DIY pocket pussy, many household items can be used to make a simple yet effective homemade sex toy for men.
Sure you can find more detailed, complex step by step instructions elsewhere online, but we want to keep the
arts & crafts time at a minimum, and the masturbation pleasure time at a maximum
! If you don't want to buy a
pocket pussy
online, here are 4 easy home made masturbators that you'll actually enjoy:
Bubble Wrap

The best DIY sex toy material because it comes pre-studded! You'll enjoy the infinite bumpy texture, bubble wrap is tailor made for jerking off and my best suggestion for a guy who wants to make a homemade pocket pussy. You don't even need to get fancy. Just fold it in half.

You can make it complex and incorporate other household items too. Line the interior of a plastic tennis ball can with bubble wrap. Not much can go wrong here, this is the BEST media for making your own DIY masturbator. The only downside to bubble wrap sex toys is that it's noisy and if you have paper thin walls, others may hear you jerking off.

A Sock

The quintessential and stereotypical object for men to ejaculate into, as long as you pick the right sock. The reality is, most thicker socks made of polyester or sheep wool can chafe the skin on your dick and cause irritation. You'll want to line it with something soft and smooth first.

Try cutting up a rubber glove and laying it inside the sock. Also those extra thick heated socks are good to use because the thick fuzzy lining won't chafe and feels very comfortable. Unfortunately, it won't last very long and the material will get quickly packed down, but for a few sessions, it will be great.

Just don't buy expensive socks to use, because you would have been better off buying a masturbation sleeve to begin with. Masturbator sleeves are cheaper than fancy sport branded heat socks. Make sure you put your money where it counts!

A Sponge

Ah yes, the good old spongy foam block, perfect for sticking a dick into. It's lightweight and forgiving surface is one of the most comfortable ways to jack off on a dime. You can squeeze your hand to make it feel tight, or keep it loose and jerk off quickly which is exactly how to use a pocket pussy. Out of all homemade male sex toys, this is by far the most discreet.

The only downside is that it's a sponge, therefore, it absorbs everything and isn't the easiest thing to clean. You cum will pile up in there, and eventually, it will turn nasty, so make sure you buy a 6 pack of sponges because you'll need to replace them every 2nd or 3 time depending on your volume.

1 Liter Soda Bottle

Cut the top off the bottle and make sure to line the newly cut seam with duct tape or a layer of thick glue so you don't cut your skin while jerking off. Don't be one of those epic embarrassing ER visits that everyone in the USA will eventually find out about. Word of an incident like this spreads like wildfire!

Fill the soda bottle with jello to enjoy a sloshy, sloppy good time; the wetness isn't too far off the feeling of a woman's vagina. Just be sure to heat up the jello first so it doesn't shrink your woody! You can also be creative and stuff a handkerchief in there, fill it with strawberries or small bouncy rubber balls or soft squishy foam stress balls. Whatever your nasty mind can think of, be the genius you know you are.

Pringles Can

Think of the famous Fleshlight masturbator. Essentially, a Fleshlight is a squishy mass stuffed inside of a elongated cylinder shaped container (originally intended to mimic a flashlight for discretionary purposes). The Pringles can is pretty much the same thing as a Fleshlight. (What is a Fleshlight anyway?) The reason a Pringles can makes the best vessel for your DIY pocket pussy Fleshlight is because the sides are reinforced so they won't fall part, but yet can flex outwards as needed.

Simply put, it won't hurt your cock when you shove it in there because it can bulge as needed. What to stuff it with? Guys who know how to make a pocket pussy will select something warm and silky, which is basically what the actual thing feels like. Why not stuff with with actual silk fabric? Delicate and gentle, but when tucked into the can, it caresses your cock like a good masturbator should.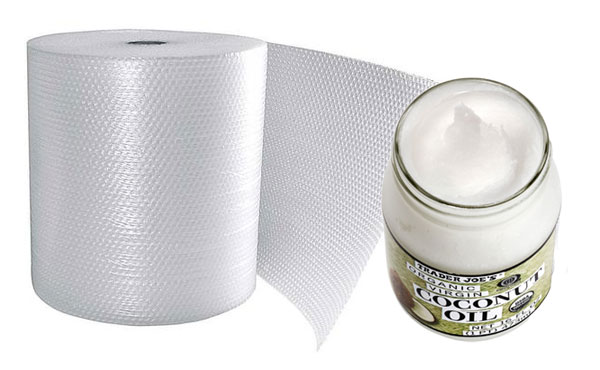 How to Make a Homemade Pocket Pussy Actually Feel GOOD:
Sex toy lubricant makes all the difference in the world. A high end realistic pocket pussy is made of nice smooth silicone, but your home made pocket pussy is not quite as chic. It will be "rustic" so making it wet is truly the only way to make it feel good. You NEED the glide, slip & slide!
Use something to lubricate your media. (That's not a fancy word for dick either, I actually mean the thing you're going to jerk off with!) Assuming you're going all DIY sex toy here, you probably don't want to purchase commercial sexual lubricant.
That's okay, you can use lots of different oil-based kitchen fluids like olive oil, margarine, Vaseline, or coconut oil. The latter is a popular choice because it's not initially as runny as olive oil (but FYI once it heats up, it will melt). Aloe Vera & Aloe oil is an excellent choice for DIY sex toy lube because it very slick with natural Vitamin E which makes your skin feel softer (read: smoother and slipperier).
One wise piece of advice while we're taking about masturbation lubes: Never use hand lotion. It absorbs into the skin too quickly and dries out before you've even got yourself going.
Pro Tip: Regardless of how you've created your own homemade male sex toy, wear a condom to prevent your ejaculate from spilling all over the place. Especially if your DIY masturbator has sponge components. You'll want to maintain proper cleanliness so it doesn't turn into a bacteria filled playground.
The Strange Allure of Homemade Sex Toys for Men
I honestly don't understand the obsession of men making a homemade sex toy from fruit, or any homemade sex toys for that matter. (I've seen instructions using cucumbers, watermelons & papayas to name a few). If you do the math, you're NOT ahead! Watch the videos on how to use adult toys, using fruit is way more complicated than using a real sex toy.
Let's do a simple calculation: Say you buy a fuckable fruit on sale for $3, hollow out the core and have sex with it. It might feel okay now, but it's not going to last long. Once fruit is cut, it has to be stored in the fridge otherwise it gets mushy and rotten real fast.
So now you have to explain why you left a watermelon in the fridge with a 6 inch long piece cut out of the middle to your roommates. Go ahead, give 'em your best lie. They'll know EXACTLY what's up. You'll get a few sessions with your homemade pocket pussy but its lifespan is limited because it WILL get moldy.
You do not want to have sex with moldy fruit. So now you have to go buy more fruit. The cheapest pocket pussy is around $10. It lasts much longer than your vegetative homemade pocket pussy. You're literally spending more money with your X-rated arts & crafts than you would be if you were to pony up and buy a real one.
A Clever Way to DIY Pocket Pussy
This secret may not be legitimate in some people's opinions, because you're still BUYING something. I'm offering it up as a piece of advice because these are dirt cheap so you'll still save money. It may be useful to know what is a pocket pussy in the first place!
Remember those squishy water jelly filled tubes from the 1990's? They go by plenty of names such as snake tubes, Water Wigglers and stress tubes. They are actually making a comeback these days as "sensory toys" for kids with autism.
What else are they good for (and always have been good for regardless of their name)? That's right. Jerking off, masturbating, applying the hand brake, painting the ceiling, cleaning your rifle, wacking your willy. Whatever you want to call it, the squishy jelly tube is just begging for a dick.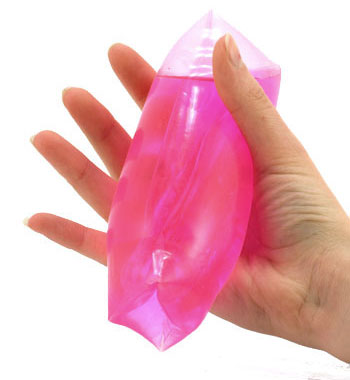 Pros & Cons of the Water Wiggler:
PRO: It doesn't look like a male sex toy.
Self explanatory. It's a tube filled with water or perhaps jelly. Certainly not a male masturbator, right?
CON: People may still know what its used for.
If you are an adult without children in your home, you may have a hard time explaining why you have a kids device in your bedroom. People aren't stupid, and your friends will know EXACTLY what's going on. They'll probably even make fun of you.
Now if you were to have an actual pocket pussy that looks like a vagina, the reality is they will think that's cool. Why? Because I sell pocket pussies for a living and I know how many of them we sell. They are just as popular (if not more than) dildos for women. Seriously all men have one because they're awesome.
If you're afraid to make the purchase or worried about what your friends will think when they find a real pocket pussy, just think of instead of their reaction when they find this water tube for masturbation. They will ask you why don't you fork out a few more bucks and get the real thing. So much for discretion!
All this time you could have been looking at a nicely sculpted fake vagina, giving your eyes a little tease & please as you stroke, and here you are, swallowing your pride and having sex with a device that people with autism need to hold to calm themselves down. You'd be surprised how often guys search online for how to make a Fleshlight.
PRO: It feels GOOD!
I've been in the industry for over a decade, and about 6 or 7 years ago, there was a male adult toy just like this called the Gushy Tushy. Ironically, (and sadly, I might add) we didn't sell enough of them and it was discontinued a few years later. I believe men failed to realize that it is the perfect anal stroker. It truly was the most discreet anal masturbator ever created.
I think it's funny that the world wants to know how to make a pocket pussy, yet when a adult novelty manufacturer comes out with an example of one that guys use when they don't wan to buy the real thing (hence them looking up "how to make a pocket pussy" online), it hardly sells at all. Life is funny sometimes.
We do have 1 strange looking male sex toy that sells well. I thought it would be a more popular item since I've read articles about making your own pocket pussy by using a latex or rubber glove. The Masturbation Glove is the perfect example of this concept. (The product pictured here, click on the image link to view).
The Masturbation Glove is softer than latex and it even has hundred of long ticklers that make masturbation feel quite nice. How do I know? I used it on my husband and he LOVED it. Lets hope this one continues to stay around because it's one of my favorite suggestions for someone who makes their own pocket pussy and now wants to upgrade to something a little better.
What a Homemade Pocket Pussy REALLY Feels Like
These are a few good adjectives that can be used to describe what a homemade pocket pussy feels like. Most notably: uneven, awkward, uncomfortable, noisy and not no mention you may feel silly having sex with a sock. The reality is, sex toys for men are made for just for that – to have intercourse with. Even my favorite DIY masturbator material, bubble wrap, is made for packing breakable items into boxes.
Real adult toys for men have specifically sculpted styling to look like a real woman's vagina. They have ribbed tunnels to feel like a woman's vagina. They even have soft or squishy, loose or tight silicone or jelly surfaces that are designed for male sexual pleasure.
The reality is your homemade adult toy will never feel real. Adult toy manufacturers are releasing new styles of cheap masturbators that feel far better than anything you can build at home, so there really isn't an excuse NOT to try one!
The REAL Reasons Men DIY Sex Toys:
Guys feel silly having sex with a fake vagina.

They research how to make something that doesn't look like a vagina. It is a strange attempt to preserve their manliness and dignity.

A misplaced concern however, and here is why...

In my opinion with all bias removed, wouldn't you feel sillier having sex with a rubber glove, or a tennis ball can, a watermelon or a tub filled with jello? Absolutely. If you try a REAL pocket pussy, you'll be astounded at how the skin moves with your cock. The appearance is just like intercourse with a woman. They are soft and stunningly life like. It will blow your mind.

The nosy roommate problem.

I've seen instances of both men and women making their own homemade sex toys because they were worried about having an erotic item come to their house. If your roommates always open your mail, it's perfectly understandable not to want to buy adult toys online.
If you're affected by reason # 2 and have nose roommates, The best solution is to visit an adult sex shop in your city or town and make the purchase in person. Of course you have no more anonymity; it's easier to talk to someone over the phone than it is in person. Shopping online is more private. Just like when customers call me and ask questions, they may feel embarrassed. Be assured that the people who work here have heard & seen everything.
Selling sex toys is what we do every day so we're fully desensitized by it. There's no need to feel ashamed. There's nothing we haven't heard before! Of course sometimes people have strictly limited budgets and buying online simply isn't an option for them for financial reasons. Start with something cheap like wearing a cock ring on your dick. It feels good and is super cheap to order.
Regardless of financial situation, building a pocket pussy is fun because it's a silly creative art project. Search for "homemade male sex toy" or "homemade pocket pussy" and you'll be able to read a tremendously huge amount of content that gives you interesting ideas to try at home. Try it out first, then come to me when you want to buy the real thing. I'll be standing by ready to assist you!
Curious? Click to see what our Pocket Pussies look like.