Squirting Strap Ons 101 | Squirting Strap On Dildo Review
I love it when people combine sex toys to create something really special (read: kinky!) To state the obvious, the squirting strap on is a marriage of squirting dildo and strap on harness. We have 1 pre made kit available for sale with 2 size options to choose from. There is also a hollow option available which is drastically different from the aforementioned.
Today, I'll review and compare both cum squirting strap on dildos we have for sale here at The Adult Toy Shop. I'll provide a few tips on how to make them work along with a few Sexpert insider techniques & advice that you need to know before strapping one on for your mega kinky sex fest packed with erotic stimulation for both partners.
One of the things I love most about harness compatible attachments is that with a bit of clever thinking and insider know-how, it's really easy to create your own custom kit with the exact harness style and attachment color, girth and length you want. You're not stuck buying a regular strapon kit and making due with what you get.
So with that being said, I'll give you some tips on how to make your own ejaculating strap on dildo kit by purchasing the harness and sex toy attachment separately and how wear & to use them during penetrative sex. Now that we have the intro completed, let's begin our adventure!
Squirting Strap On Dildo Kit Review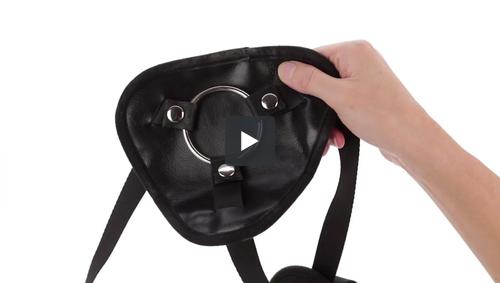 We can barely keep this kit in stock. Not only is it the best squirting strap on dildo kit we've ever seen, it happens to be the only one! You can't go wrong with the Squirting Strap on Dildo Kit. Let's review the harness first.
The thong style harness adjusts at the hips and in the middle of the back brace. The removable straps connect to the O ring and adjust with double metal D clasp buckles at the hips. The maximum waist size it fits is 60 inches, a generous plus size, an XL size person can easily wear it.
I love the fact that the nylon straps connect directly to the metal O ring. This assures when you tighten it to your body's shape, it pulls the dildo close to your pelvis. This prevents it from sagging downwards. The shaft points straight out, always erect and ready to cum at your command.
The back brace is extra supportive. Sure it may not have a sexy visual styling you're used to, but it stays in place, which I think is super important when you're working with an ejaculating dildo. After all, you will need "hands on" work to activate a dildo that cums.
The harness material is shiny PVC that I would compare to the look of imitation leather. It's thin and malleable and resists chafing quite well. The nylon straps are super long and really heavy duty. Again it might not look super sexy, but it won't be tearing on you anytime soon. So be as rough and tumble with it, move around and it will withstand your hardcore, hot and heavy fetish strap on sex Tuesdays.
The single strap that goes between the legs adjusts with a metal D clasp at the back, right where the tailbone rests. This is nicely centered and distributes weight evenly. The strap on can be worn by men, but you'll have to maneuver the strap around your penis and balls and let them hang beside. This harness is more comfortable for women to wear, but men still can wear it too, it just takes a bit more handwork when adjusting around the penis and balls.
The squirting strap on kit includes 2 metal O rings. They measure 2 and 2 1/2 inches respectively allowing you to switch out to wider or bigger sex toys or vibrators when you feel like swapping it out with another from your sex toy collection for different sexual pleasure.
Ejaculating Dildo for the Strapon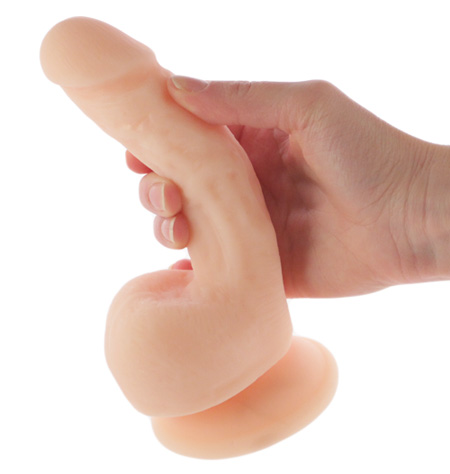 The dildo comes in 2 sizes choices. Both are gummy soft. The dildo cums when you squeeze the balls. To load ejaculate (either cum lube, regular water based lubricant or tap water) follow these steps:
Place your liquid into a small bowl.

Squeeze the balls of the dildo.

Dip the hole into the liquid.

Release pressure on the balls (simply, let go of the scrotum).

The vacuum force with suck the liquid into the balls, which act as the reservoir.

When you're ready for the dildo to ejaculate, squeeze the balls.

 
Regardless of what attachment size you purchase the squirting strap on kit, the harness is identical. Each attachment is made of TPR - Thermoplastic Rubber which is a safe sex toy material. The measurements of the 2 sizes options are as follows:
SMALL:
Length: 6 inches

Insertable Length: 5 inches

Diameter: 1 1/4 inches
MEDIUM:
Length: 8 inches

Insertable Length: 7 inches

Diameter: 1 3/4 inches

 
Hollow Squirting Strap on Dildo Review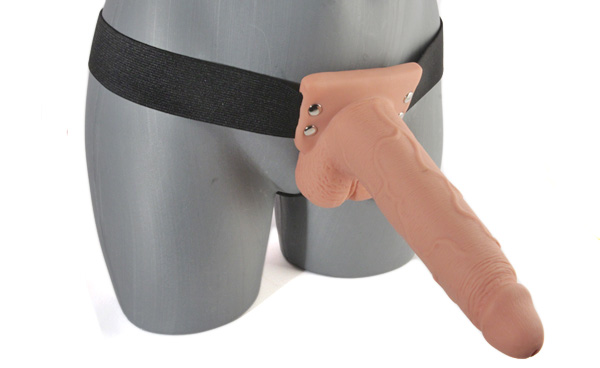 Spice up the sex life in grand style with the worlds first squirting hollow strap on dildo! The top third of the shaft has a hollow reservoir to contain water. To fill it up, squeeze the top 3 inches tightly with your fingers and stick the hole into the liquid (pretty much following the same step by steps for loading cum as noted above). When you're ready for it to squirt, squeeze the top 3 inches and out it cums!
The lower half of the device is also hollow, but this is where the man places his flaccid penis. This is a suitable ejaculating strapon for men with ED to wear because there is ample space inside to rest a flaccid penis, the interior of the realistic dildo has extra soft padding so it cradles him in complete comfort while strapped on.
The life like strapon dildo cannot detach, so the straps and dildo are one complete set. Don't think this as a major disadvantage however, it's easy to hand wash the elastic strapon in soap and water. There are dual metal snaps that fit between the legs, but each strap is separate so you can easily put on one each side of your dick and balls should you choose not to insert your junk into the hollow core.
Exterior Length: 7 ½ inches

Exterior Diameter: 1 1/4 inches across the head, 1 ¾ inches across the base of the shaft

Interior Length: 4 inches

Interior Diameter: 1 1/2 inches

Maximum Waist Size: 52 inches

Material: TPR - Thermoplastic Rubber

Color Options: Vanilla (White), Tan (Light Brown)

 
Make Your Own Squirting Strapon
Any sex toy with a flat base or suction cup can be used with a strapon. If you check my guide on how do strap ons work, it will explain how attachments are to be mounted to the O ring.
The only type of ejaculating dildo you can't connect to a strapon is the type with a squirting bulb sticking out of the bottom. As you as you put the shaft through the ring, the bulb will be under pressure and immediately squirt all its contents on to your floor.
The following are my favorite cumming dildos to make your own ejaculating strap on kit: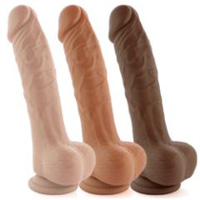 Loadz Remote Control Squirting Dildo
Loadz Remote Control Squirting Dildo is the most intense ejaculating dildo ever made! No other sex toy is as jam packed with features and technology as Loadz. First of all, we must mention the power of its cumming capability. Press the bottom button on the shaft, to hear a motor pulse which ejects lube out of the tip. It squirts with more force that a man can possibly ejaculate.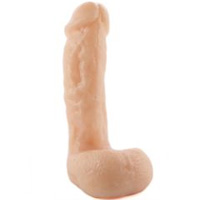 Large Cumming Dildo
Large Cumming Dildo has a bumpy irregular texture that feels extra kinky, especially when well lubricated. The large hole in the head runs through to the base and doesn't pinch shut easily making it cum on command as soon as you're ready. The medium-to-large sized shaft is ultra flexible and squishy for maximum comfort and is the best squirting dildo for your strapon because of the large and totally flat base.
Loadz Large Realistic Squirting Dildo
Loadz Large Realistic Squirting Dildo is the most realistic feeling squirting dildo we've seen. Amazing skin like shaft with dual density It features a firm core wrapped in layers of elegantly smooth and soft TPE crafted to feel just like skin. Squeeze the shaft and you'd almost expect to hear him cry out "ouch!" But of course, it's a sex toy and sex toys don't talk, lol!
Small Squirting Dildo
Small Squirting Dildo is the smallest realistic squirting dildo we've ever seen, and it's a nice change because all of them seem to be so big. Not every gal wants such a thick dildo, petite women prefer a small shaft, so we're pleased to deliver! It is super soft, malleable and bends easily, perfect for beginners. It can be used as a squirting strap on pegging dildo for advanced users too.
Strap on Harness for your Dildo that Cums
Any strap on harness with an O ring will work with a cumming dildo, you can even attach it to a thigh strap on dildo. Keep in mind the accessibility of the balls; pretty much in every case to make the shaft squirt, you'll need to squeeze the balls so if they are buried under straps then it will be difficult to make it work properly. Here are 3 of my favorite harnesses for cumming dildos:
Universal Strap On Harness
Universal Strap On Harness includes 2 thick metal O rings that measure 2 1/8 and 2 inches inside diameter respectively. Any 2 inch dildo (or less) will easily fit through the ring. The harness itself is very high quality, featuring the best back brace we've seen on any strap on, you can adjust in 4 ways and the nylon straps will never dig into your hips.
SX Strapon Harness
SX Strapon Harness is the most economical option yet somehow luxurious. A great accessory for taking your deepest erotic impulses and letting them become a reality without having to spend too much money. The long nylon straps are very soft, just like silk. They can adjust in 4 places around the waist and thighs.
True Fit Strap On Harness
True Fit Strap On Harness is one of the most beautiful, sexy strap on harnesses we've seen. If you want strap on sex toy have a devilishly dark erotic appeal, this imitation leather harness has all the visual touches a good harness needs. The scalloped back follows the natural curvature of the female body. The braided corset style ties complete the feminine look from the back. It's the dominatrix dream come true!
Click to buy squirting dildos online.