How to Use a Vibrating Cock Ring | Tips & Techniques
Last Updated on March 7, 2023
Vibrating cock rings are a great accessory for couples who want to try something different to liven up the sex life. Unfortunately, they are not as common as I would like – so my mission as a sex educator is to promote these underrated tiny sex toys for couples with the hopes that one day soon, you'll add one into your bedroom repertoire too.
Also vibrating cock rings are cheap compared to pretty much all the other types of sex toys for couples. Little investment, big pleasure!
How to use vibrating cock ring? Simply put it on the penis and enjoy intercourse as normal. You don't need to modify your position or do anything different. Just enjoy the subtle and often silent vibration on the penis shaft, clitoris, vagina, perineum or all of the above!
One of the best reasons to consider a vibrating cock ring is because they are the only truly hands free vibrator for couples! Sure dildos and vibrators can be hands free, but nothing comes close to the vibrating penis ring in terms of ease of use.
So then why the detailed step by step instruction manual with tips on ways to use vibrating cock rings? As any Sexpert knows, there are additional suggestions and original ideas that you can try to make it better. Furthermore, there are many different types and 1 basic tutorial won't cover 'em all. Let's go!
Q. How Does a Vibrating Cock Ring Work?
A. The vibrating cock ring works by adding vibration to both male and female erogenous zones during intercourse which enhances sexual pleasure.
Most women benefit from clitoral stimulation during sex. The typical and most common cock ring vibrator has a vibrator that faces upwards (towards the his bellybutton) so that during sex, the vibrator makes direct contact with her clitoris.
Perianal stimulation is another way to greatly enhance sexual pleasure. Dual vibrating cock rings have double vibrators, one for the clitoris and the second for the peranal area (and scrotum) to double down on the vibration during penetration. The deeper the penis penetrates into the vagina, the stronger the vibration feels so double penis ring vibrators encourage deep and passionate sex! ~ Mayla Green
A penis ring not only stimulates the partner, but also the wearer. They can have added benefits too like keeping the erection stiff for the duration of intercourse. Cock rings have many purposes, so check out this guide for all the nitty-gritty details on what they do aside from the enhancing enjoyment via vibration.
How to Put on a Vibrating Cock Ring
Exact instructions will vary according to the type of ring you have, so I published a complete cock ring tutorial for beginners here. To make your visit a little easier so you don't need to click around the entire sex blog, I've hand picked the most common styles and listed how to put on a vibrating cock ring here:
Lubricate the interior of the ring's circumference and the sides of your dick all the way to the base of the shaft.

For a single ring, slide it down to the base of the shaft. (Do not stretch and pull it over your cock, it may tear).

If there are dual rings attached together, put the shaft band on first, then the scrotum band second.

Point the vibrator upwards to stimulate your partners clitoris.

If you are wearing a vibrating ring for masturbation, point the vibrator downwards to vibrate your testicles.
The best time to put on a penis ring is when it is semi-erect. If your dick is flaccid, it will simply slide right off. If your dick is fully erect, it can be painful to put on, especially if it's a dual ring with a scrotum band. Stimulate your cock a little bit to get slightly chubby then quickly put on the ring before it becomes fully erect.
If you are worried about the ring being too tight, then consider trying an adjustable cock ring instead. You can wear these as loose or as tight as you wish either by lasso or cinch style adjustable slider or by closing one of several metal snaps along the strap.
How to Use a Single Vibrating Cock Ring
Lubricate the ring and spread some lube around the perimeter of your penis.

Slide the ring and position it at the base of your shaft.

OPTION 1: Rotate the ring so the vibrator faces upwards (for clitoral stimulation).

OPTION 2: Rotate the ring so the vibrator faces downwards (for scrotum & perianal vibration).

Activate the motor once the device is in place.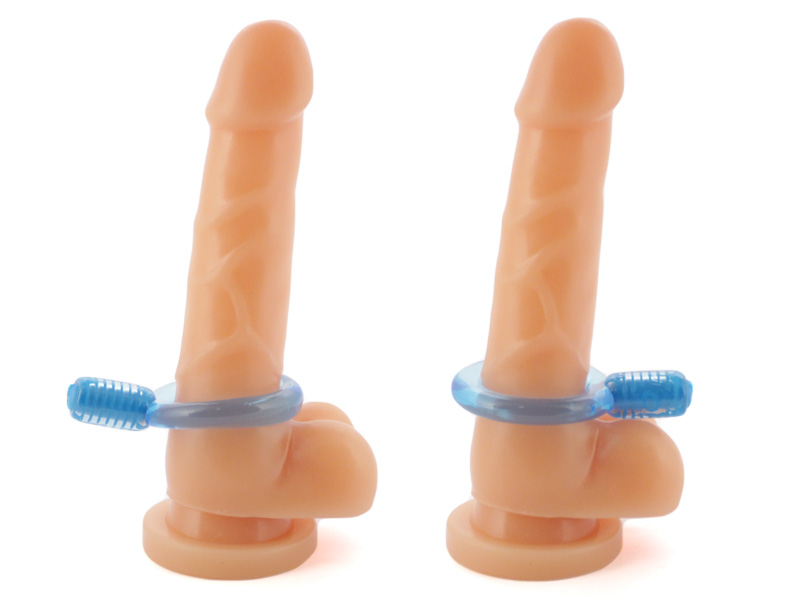 How to Use a Double Vibrating Cock Ring
Lubricate both rings and spread some lube around the perimeter of your penis. (Do not lube your balls or it will create a sticky mess between your thighs!)

Slide the penis ring down your shaft.

Wrap the ball strap around your scrotum by pulling through one ball at a time.

Activate the motor once the device is in place.
Mayla's Top Picks:
Double O Ring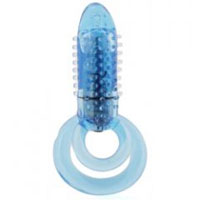 O-Finity Ring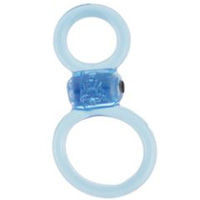 Double Vibe Ring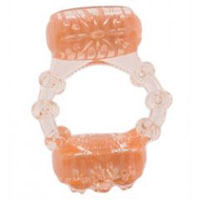 Maximus Dual
Tips & Techniques for Using Vibrating Penis Rings
If you find that the cock ring vibrator rolls downwards during sex (which will often happen with a single vibrating ring because gravity will always cause it to rotate down), then limit how wet it gets. Using less lube may not be as comfortable for him to wear, but more friction will help the device to stay in place.
Try the dual vibrator cock ring instead! It is evenly weighed so one motor will always be facing up, while the other stays low. No more rolling! Furthermore, you'll enjoy twice the stimulation from both buzzing bullets working simultaneously.
Another way to keep the vibrator in place is to try a cock and ball ring which has two connected bands that strap around the dick and balls together preventing it from moving at all. This is the best option that stays in the exact spot you place it no matter how wet it gets or how much you move around. (It even works in the shower!)
Not all vibrators are waterproof. If yours is not, make sure not to get the switch too wet. If too much liquid gets into the battery compartment, it can break the motor. The package (and product description on our website) will always note if the device is waterproof or not so make sure you're aware of this before using.
Use sex toy cleaner to wash and sanitize your device. Even if it's not used for internal penetration, it's still important to properly clean after use to make sure bacteria doesn't have an opportunity to grow on the surface. Again, make sure to note if the motor is waterproof or not and make sure not to get it wet if its not waterproof.
You can always remove the vibrator before washing, which is recommended anyway that way you can complete sterilize the interior of the pouch that supports the vibrator. This juts happens to be a smooth transition into my next point:
Vibrators are removable! This is a great feature because you're getting 2 sex toys in 1. You can use the bullet vibrator separately during foreplay as part of your warm up, then slide the vibrator into the penis ring and enjoy vibration during lovemaking too. Bonus fun!
Click to buy a vibrating cock ring online.