Sex Games For Couples
Have you ever perused the naughty aisles at your local Spencer's? Maybe you played a few, kinky rounds of truth or dare in college.
We certainly hope you've checked out the novelties available at your favorite online sex store. If you have, you already know that there's nothing new about turning sex into a game, or using sexy games to make sex even better.
What is new is the sheer variety of new sex games available today. These games encourage you to use your imagination, libido, and competitive nature to have a great time.
Couples can use games to add new energy to their sex lives. To help, we've got a list of some amazing couples sex games you can play with your partner, or check out the sex card games for couples on sale here.
Stripper Twister
If you think about it, Twister seems almost designed for kink. Why not take it to the next level, and give Stripper Twister a try. The basic idea is quite simple. You just strip off an article of clothing whenever you fall. Feel free to add your own, naughty rules as well.
What's Your Fantasy Pictionary
Get an easel or drawing board. A whiteboard works as well. Take turns drawing your favorite fantasies for one another. When the other person guesses, it's time to switch turns. It's a fun way to get turned on before the main event. Even better, you can use the game to share your secret fantasies.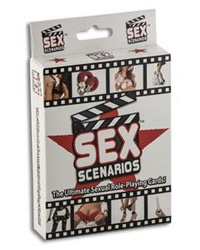 Sex Scenarios Game
We all dream about sexual role play games, but the reality is most of us are shy about suggesting these ideas, or acting them out for fear of being awkward or embarrassing. To role play is fun, and couples truly shouldn't take it that seriously. Sex Scenarios suggest role play ideas and scenarios for you to play along.
Adult Truth or Dare
Take the standard game of truth or dare to dirtier levels. Tell the truth about your deepest fantasies, your experiences, and kinks. Use dares to encourage one another to try new positions, different sexual acts, and other naughty deeds.
Tear Your Clothes Off
Here's a game that's much more physical and cerebral. If you like your sexual games with a bit more energy, give this one a try. Have you ever fantasized about passionate, shirt-ripping sex? That's exactly what this is! Hit up your local discount store, and buy some cheap panties, jockey shorts, tanks, and other items. Then have at it!
Play Dress Up
It seems silly, but dress up is always great fun. It can also take your sex life to the next level. Just think about all of your best fantasies. Now, imagine really acting those out. Build a fun collection of props, kinky outfits, and other items. Want a tip for getting your outfits at an amazing price? Try thrift stores! You can also browse through those pop-up Halloween costume stores. Go on November first for great deals.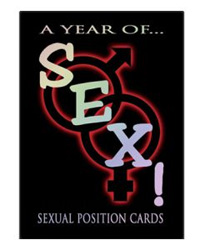 Sex Position Flash Cards
Not everyone wants an actual sex board game to play, often a simple set of flash cards provides all the inspiration needed to refresh the sex life. Sex Position Flash cards are exactly that – a deck of cars with cartoon images of couples in various sex positions. Includes tips and suggestions on how to make it works and advice for making it fun.
Time Play
Time play is a great way to tease and tantalize. You simply set a timer for a short amount of time, maybe 2 to 5 minutes. Then, you or your partner spends that time using touch to turn the other on. The only rule is 'no penetration'. Switch off when the time is up. See how many rounds you go before you can't take it anymore.
Talk Flirt And Dare
This kinky board game is about as easy as it gets. Simply draw a card. Next, answer the kinky question, or carry out the sexy action it suggests. If you want hot sex games without a lot of rules, give this one a try.
Blind Man's Bluff
This game is a great way to intro a bit of bondage play into your sex life. One of you blindfolds the other. Then, you touch, massage, tease, and otherwise turn your partner on. Keep going until they explode. This is one of the better sex games to play if you're already horny. Buy sex toys and use them on each other to make the game erotically charged!
Play Sexopoly
Sexopoly uses the same game mechanics, as Monopoly. But, it's much, much dirtier. You'll still buy properties and collect rent. Only this time, the frisky or risky cards add a bit of sexy fun. Draw a card, and you could lose some money. You might also lose your clothes, or find yourself taking on a sexy challenge.
Sex Games For Your Relationship
What do you think? Give a few of these a try! Kinky sex games are a fun way for couples to spark up better, hotter, sex. Even better, many of these are DIY sex games that only require your imagination, such as adult truth or dare questions. You can even make up your own naughty sex games! They just happen to fit alongside your favoritesex toys for couples for nights when you feel like being a little more creative in the bedroom with your lover.