How to Use a Clit Clamp for Maximum Pleasure
For many women, clitoral stimulation is the undisputed king of sexual pleasure. The clitoris has many nerve endings, which makes it an extremely sensitive area. With the right partner, clit play can deliver some of the best orgasms you've ever had! Whether through oral sex or fingerwork, focusing on the clitoris is a surefire way to add a lot more pleasure to your sexy time.
Of course, here at The Adult Toy Shop, we believe that you don't even need a partner to have a pleasurable experience. Clit clamps are a hands-free way to grant yourself increased sensation and upgraded sensitivity for all subsequent sexual activities.
Whether you've got a partner to share the pleasure with or you're all about solo play, keep reading to learn how to use a clit clamp in order to get the most out of this sex toy.
What is a Clit Clamp?
A clitoral clamp, also known as a clit clamp, is a sex toy designed to stimulate this most sensitive part of the female body through intense squeezing that works to restrict blood flow and increase pleasure once the clamp is taken off.
If you're familiar with clamp-type sex toys, such as nipple clamps, then the mechanism behind clit clamps should already be familiar to you. Most of them look a bit like tweezers, and work in a similar fashion -- you pull the clamp's arms apart and squeeze them together over the clitoral hood. There is also the slide-to-fit clamp, which, as the name suggests, does not require you to do anything other than slide the toy into place.
Clitoris clamps come in a wide variety of shapes, sizes, and colors. Many of them are also decorated with beads, gold, or even precious stones, turning this simple sex toy into true clitoral jewelry. Finally, you can also come across toys that combine nipple and clit clamps as part of a single device, opening up plenty of new foreplay possibilities!
A Short Guide to Using a Clit Clamp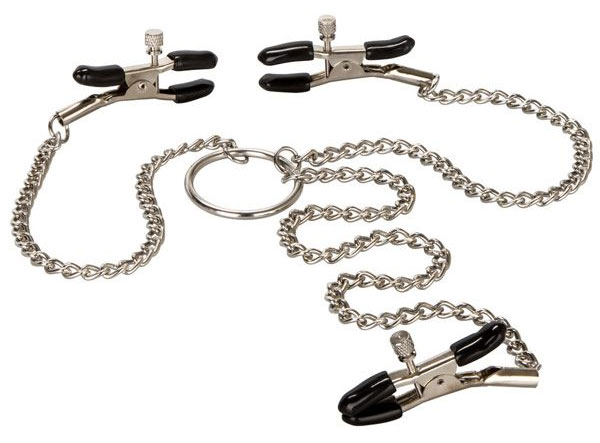 Whether you're using simple clamps for your clitoris, or a more elaborate, adjustable clamp that you can tighten and loosen as you please, there are a few things you need to keep in mind, regardless of the type of clit clip you make use of to get yourself off.
Instructions are similar to how to use nipple clamps, so be sure to check out my tutorial at some point for more information.
First of all, you've got to properly warm yourself up before applying a clitoris clamp. Engage in some foreplay with your partner or play with your clit using your hands in order for it to swell up and get more sensitive. Once you're all horned up, you can put the clamp on your clitoris. Make sure that it covers the entire bean by placing it at the root of the glans clitoris.
Use lube to ensure the right amount of moisture. Remember not to use too much of it, as it can make the clamp rapidly slip off, which is not only anticlimactic but also quite painful! Still, it's important to lubricate properly in addition to manual stimulation of the clitoris, as clamping down on dry private parts can lead to discomfort or injury.
Finally, be sure not to use a clit clamp for more than 10 minutes at a time. While the pressure on your clit sure leads to fantastic sensations, restricting blood flow for longer periods of time may prove to be harmful to your clitoris. As opposed to a butt plug, this is not a sex toy you can wear all day.
Once the clamp has been pinching your clit for up to ten minutes, remove it and feel the blood rushing back into the clit while you or your partner stimulates your clit, granting you the most delicious sensations you've felt for a while.
Ideas for Incorporating Clit Clamps Into Your Sex Life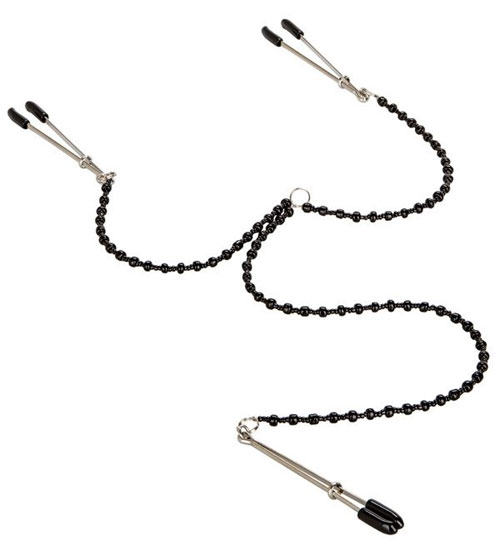 The clit clamp is a powerful addition to your sex toy arsenal, and it can enhance any sexual activity, whether solo or with one or more partners. Regardless of whether you're using the simplest clamp on the market or a completely adjustable version with nipple clamps, there are plenty of ways you can use it every time you get down and dirty.
Penetrative Sex
If you love good old penis-in-vagina intercourse, then you'll surely appreciate the enhancement to this experience provided by a clit clamp. Place it on your clitoris before the penetration and enjoy the explosion of pleasure as you take the clamp off during sex. If your clamp has weighted beads attached to it, make sure to remove them beforehand to avoid hurting your partner!
Masturbation
Who said masturbation has to be a boring, uneventful ordeal? Slap the clamp onto your clit after stimulating it for a while, and finger yourself as you feel the toy tightly clenching your pleasure center. Then, remove it, and go crazy on the bean as the blood rushes through your engorged clitoris, bringing you closer to heaven with all subsequent touches.
Foreplay
Some can't imagine having sex without it, whereas others prefer to keep it to the minimum. The art of foreplay is pretty much an exercise in delaying pleasure and getting yourself all horned up before the grand finale. Clamping down your clit as you focus on your partner for a while will surely rile you up, and when your turn comes around, you'll be begging them to get down to business!
Surprise Your Partner
If you're looking to add a few elements of surprise to your bedroom, then a clit clamp is a great way to do so. Whether it's a special occasion or a regular weeknight, you're bound to excite your partner once they find out you're wearing a clit clamp.
Before hopping in bed with them, go off to the bathroom under the pretense of "freshening up," and put the clamp on. They'll go crazy once they reach into your panties and find the naughty secret squeezing your clit!
Get the Best Clitoral Clamps and More at The Adult Toy Shop!
Clit clamps are great for spicing up your sex life by throwing more dependable thrills into the mix. The pressure, combined with the extra weight in the form of beads or pearls attached to the toy, will ensure a mindblowing orgasm that you'll be seeking out time and time again. Head over to The Adult Toy Shop right now and browse our extensive selection of nipple and clit clamps -- you'll surely find something that strikes your fancy!
Our inventory is stacked with all sorts of other sex toys designed to maximize pleasure. Whether you're looking for a new vibrator or a sexy Valentine's Day gift for your better half, we've got you covered. Make sure to check back regularly to get the best deals, as we run frequent sales on most of our merchandise. 
Click to buy nipple and clit clamps online.