King Cock Dildos | Complete King Cock Buyers Guide (Updated 2022)
Last Updated on July 27, 2022
You're about to embark on a sexual revolution. Once you know everything there is to know about King Cock dildos, your sex life will never be the same.
Sure this may be an exuberant statement about a seemingly typical line of realistic dildos, but for those "in the know" this selection of impressive adult toys for women made by sex toy manufacturer Pipedream is one of the best quality, uber premium dildos money can buy. You'll love 'em. We do!
Today I'll cover some of the best selling King Cock dildos, highlight some of the newest vibrators along with instructions & tips on how to use them to get the most out of your experience.
I'll continue on with a brief discussion and review of the King Cock strap ons including the new Body Dock harness system and the new King Cock Elite silicone dildos. I'll mention some of Pipedream's tried & true favorites and explore the intricacies of the uncut & squiring dildo toys.
Pipedream King Cock – Premium Quality Sex Toys for All
Pipedream Products is an American sex toy manufacturer based out of Chatsworth, California. King Cock dildos, vibrators and strap ons are a line of realistic looking rubber penis shaped dildos under the Pipedream products umbrella. We have a section dedicated to Pipedream sex toys here.
When we hear "rubber", some of us reminisce about the sex toys of yore when rubber was the cheapest material to produce and plentiful in pretty much any type of adult toy one could think of. It was smelly and looked nothing like a real dick. Most of the time it was yellow, not even close to real human skin tone. Yuck.
It's time to re-think rubber however. These days, the advanced compounds are super modern, unscented, never sticky or tacky, body safe, non-toxic and perfectly recreate the visual styling of a real erection. They are available in white, tan, brown and black color options.
Needless to say, it's impressive stuff. It goes without mentioning that King Cock Dildos are made of this ultra premium rubber and once you hold your new addition in your hand for the first time, you'll completely understand what I'm talking about.
New for 2022 – King Cock Elite Silicone Dildo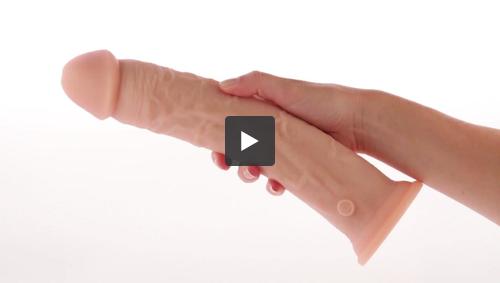 King Cock Elite brings the next step in quality and realism to your bedroom. They have the same much loved shape as the previous models, but made with dual density silicone to better replicate the touch & feel of a real erection.
Dual density dildos are some of the the best realistic dildos in the world. If you examine the tissue and makeup of an erection, you'll notice firm tissue inside (the section engorged with blood which makes it become erect in the first place) with a softer skin layer over top.
Dual density means the interior core is denser in comparison to the exterior layer, which is softer and lighter. It bends like a dick, and the exterior layer can move independently over the shaft below, just like the skin on a real dick.
The previous issue with ultra realistic sex toys is the lackluster suction cups. If the suction cup base is made of the same soft material as the toy, it doesn't stick very well. King Cock Elite Dildos have a firm suction cup base that sticks. It is a clever way to solve this ongoing issue for people who want a an ultra realistic dual density suction cup dildo that sticks to a bathtub, floor or shower wall.
Best King Cock Dildos
The following is a list of the best King Cock products that do not vibrate. We've hand picked these choices to add to our online sex store catalog because they offer the best value for the dollar and are sure to leave a positive lasting impression.
Furthermore (and most importantly), these appeal to the widest range of customers and are simply oh-so much fun in the bedroom. They range in all sizes and textures from from dual density, soft and flexible to chubby and firm.
Q. How do I use King Cock Squirting Dildo?
A. We suggest inserting the bulb into the dildo before  filling it up. Upon testing, we found the liquid squirts out while we inserted the bulb into the hole when the bulb was pre-filled.
Insert the bulb into the hole at the bottom of the dildo. Twist it to keep in place.

Open the cap at the bottom of the squeeze bulb and fill with water (or "Jizzle Juice", a water based cum lube from Pipedream toys.)

Enjoy your sexual fantasy, and when you're ready for ejaculation, squeeze the bulb and the fluid will squirt out of the hole in the tip of the penis head.

Remove the squirting bulb from the base. Clean the interior with antibacterial sex toy cleaner & flush with warm water. (Clean the dildo too, of course!)
Feel the Buzz with Vibrating King Cock Dildos
The vibrating King Cock dildo is a ticket to better sexual pleasure. It's no secret that a sex toy with vibration offers superior stimulation compared to one without a motor. Wall mounted dildos contribute the hands-free feature that many adults seek.
In this case, the motors are all located inside the shaft itself so they don't necessarily feel as realistic as the non-vibrating counterparts, although they look just as good as all the other Pipedream King Cock products out there. The vibrators are new additions too, added only this month. Hooray for new releases!
One of the best and most notable features is all King Cock vibrators have a removable suction cup base. A metal screw connects the suction cup base to the speed dial and you can remove it and re-attach it an infinite number of times. This also makes it super easy to attach the toy to a strap on dildo by screwing it in place around your strap ons O-ring.
Getting Kinky with King Cock Strap Ons
Just when you think it can't get any better, Pipedream products releases a line of King Cock Strap Ons!
Of course you can buy one of their dildos to use as a harness attachment for your current strap on because the flared suction cup bases are literally tailor made to fit a strap on O-ring, but we find most customers prefer a pre-made strapon dildo kit. It's easier and they know for sure everything fits together nicely. It's a risk free purchase.
The harnesses are all identical. A heavy duty, hardcore imitation leather double stitched with metal buckles for adjustment. Wide hook and loop straps along with the rubber O ring keeps your attachment securely in place. The strap ons are no joke – definitely the most heavy duty we've seen in a long time.
The harness features 3 points of adjustment to make sure it will fit any body size or shape (at the hips and tailbone). The maximum waist size is 52 inches. The King Cock strap on can be worn by both men and women, the strap that goes between the legs is really soft and malleable so it won't pinch a guy's scrotum while he wears the harness.
New for 2022 – King Cock Body Dock Strap On
The newest and most innovative strap on we've seen so far. The Body Dock strap on harness consists of a solid plastic docking plate with a deep concave design that mirrors the concave base of a suction cup dildo. This provides extra force to make sure the dildo won't fall off during use.
Press your suction cup firmly and directly onto the docking plate and enjoy! Super easy, no rings, no hassles! The suction force keeps the dildo pointing straight out, not sagging down like some heavy attachments connected to an O ring strap on.
Watch the video demo to see how this new King Cock strap on works! I press the suction cup down to the plate to demonstrate how it works what it looks like with a toy attached to the strap on.
The plastic plate measures 3.4 inches interior diameter so any dildo with a suction cup less than this diameter will work. The harness is lined with stylish imitation leather has has a solid curved profile that follows the contours of the pelvic bone perfect for both comfortable wear and a stylish appearance. 
Click to buy dildo sex toys online.