What is a Vibrating Bullet? | What are Vibrating Bullets For?
Last Updated on December 29, 2021
Rabbit vibrators, realistic vibrators, we're all well aware of these uber famous styles of female sex toys, but there is one smaller – (literally smaller) and lesser known option that provides a lady just as a big of an impact to her pleasure (if not more) as these bigger toys.
Behold the magic vibrating bullet, also commonly referred to as the silver bullet vibrator. That small ultra discreet stimulator that's often found in every woman's sex toy box. The best vibrating bullet is perfectly crafted for female sexual arousal.
Beginners often shy away from these because they are not that popular. You won't see them in television shows or movies so those who are new to the world of sex toys may not have ever heard of them before. If that statement describes you, today you are about to embark on a new sexual journey that will change your orgasms forever.
They are especially appreciated for their discretion. Of all sex toys, the silver vibrating bullet is the least phallic. Not every lady wants a toy that looks like a penis, so the vibrating bullet is her perfect match.
Vibrating bullets are also some of the smallest vibrators available for sale making them ideal travel companions for your honeymoon (or anytime, really) and are easy to store in your bedroom away from prying eyes. Menopausal and older women like them because the external stimulation helps with vaginal dryness.
Q. What is a Vibrating Bullet?

A. The vibrating bullet is a small, slim vibrating stimulator for the clitoris.
That's the quick definition, but there is a lot more to talk about so please stick around for more information, because we've only just begun!
Vibrating bullet are not all created the same. There are are several unique features, shapes and styles that have a different effect to the user. If you want to buy a bullet vibrator online and only see the exact same silver bullet shape over and over again, you wouldn't find that interesting and wouldn't really be inspired to try one.
Knowing more about the different styles and reading tips on the best ways to use each one will make all the difference to your bedroom play sessions. Be sure to read my bullet vibrator tutorial that divides them into several subcategories and provides techniques for each style.
What is a Vibrating Bullet For?
The long definition of a vibrating bullet is a small, discreet vibrating sex toy for the clitoris that traditionally has a slim, elongated shape and resembles ammunition similar to a firearms bullet, hence it's namesake. There are now several different shapes that are available for sale, not just the slimline silver vibrating bullet that your grandma used to love. The opposite shape is called an egg vibrator and couples are really enjoying them as part of foreplay to increase female libido before sex.
In these modern times, we see a vast array of trendy shapes and new textures that complete the range of tiny female sex toys, and each style has it's own purpose and separate ways to use. Some have sleeves, and they are not always silver anymore either. Some are coated in soft silicone or gel, but most are still solid plastic.
Some vibrating bullets are battery operated with a corded controller, others are wireless. The newest styles have USB rechargeable motors and can feature remote control operation with a wireless controller with up to a 10 foot range. The mini bullet vibrator is extra small to target the clit with accurate precision.
Certain toys have a wide or fat egg shape that covers the entire vagina and labia. In fact, egg vibrators are so different they are actually a separate niche within this category. They even command their own egg vibrator tutorial because they differ from the silver slim style so much.. They used to be all colored in a silver hue, but now we see a multitude of colors including gold, pink, purple adorned with sparkling gems and shiny jewels to make them look extra petty!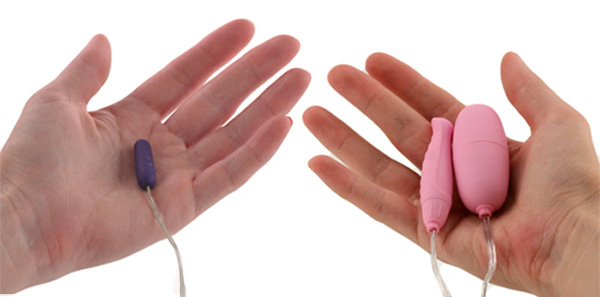 Most are super powerful, some have multi function vibrating patterns and flashing lights in tune with the thumping and pulsing functions. Many are waterproof for use in the shower. (Insider tip: We like waterproof ones because they are easier to clean!) How does a vibrator work? Continue here for all the details and even a video demo of the motor in action.
Not all are single either, double vibrating bullets are quite common allowing them to be used as vibrating anal stimulators in conjunction with clit stimulation. Anal egg vibrators are also a popular item purchased for use for anal enjoyment during masturbation.
Most Popular Features
If reading this guide leaves you asking more questions than it answered, pick yours based on the following summary of the most desired features that women seek when shopping online. The majority always dictates what's best so a better selling product will have more variations on offer. Here are a few features to look for when trying one for the first time:
Known as the best clitoral stimulators for women

Remote control (the remote range is up to 10 feet)

Mini size (less than 2 inches long)

USB rechargeable, no batteries required

Double or dual bullets (both connected to the same controller)

Waterproof seal for easier cleaning & use in the shower

Wireless or corded options each have their own advantages / disadvantages
Click to shop for bullet vibrators online.