Reviewing the 5 Best Silver Bullet Vibrator Sex Toys
Last Updated on December 28, 2022
One of the best sex toys for sale at a cheap price is the silver bullet vibrator. No other female adult toy has such versatility in the bedroom and can bring a lady to orgasm within such a short time as the vibrating silver bullet. These perfect tiny vibrators may be mini on the outside, but they pack a huge dose of personal sexual pleasure for the lucky lady.
Silver vibrating bullets are perfect for women with vaginal dryness or a low libido due to hormonal changes at menopause. When the love life is lacking, there is no better small vibrator to introduce and use for external clitoral stimulation that the magic vibrating silver bullet sex toy. Vaginal penetration not required for sexual enjoyment either!
Benefits of a Silver Bullet Sex Toy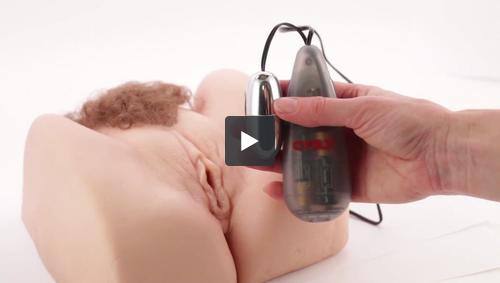 Upon first glance, the silver bullet vibrator might not look all that interesting. You'll see a sex shop catalog full of interesting rabbit vibrators, realistic dildos, curved sex toys for the G Spot, and then...
Now we see a simple rectangular silver sex toy with rounded ends. Kinda boring to look at, honestly! The silver dildo may or may not be wireless. Some vibrators have cords connected to battery controller units. Some are wireless and operate with a remote control (agreeably, a little more interesting to the common sex toy shopper).
So why should anyone bother considering this super discreet and unassuming sex toy for women? Never judge a book by its cover. They are strong. It's no secret that bullets are the strongest vibrators for their size. The concentrated powerful motor buzzes with tingling intensity.
Comparing Silver Bullet Vibrators to Other Dildos
These little vibrating silver sex toys do wonders for your orgasmic stimulation and pleasure. Your clit will thank you, and so will your lover when you enjoy passionate and erotic foreplay as a precursor to intensely satisfying sex romps.
Easy to use – simply hold it over the clitoris and power up the motor!

Vaginal penetration not necessary for sexual stimulation.

The cheapest of all female sex toys for sale.

Can also be used for perianal stimulation.

The most discreet of all vibrators for women.

The most beginner friendly of all dildos & vibrators.

The cold hard silver plastic provides stronger sensations to the clitoris.

Can also be used for nipple stimulation during foreplay with your lover.
Pro tip:
Choose a slim silver bullet vibrator for precise clit stimulation, or choose a large silver egg vibrator to cover the labia and vagina entrance together. Both provide contrasting sensations that are different enough to justify purchasing one of each style. Check out Mayla's guide on
how to use a bullet vibrator
for more tips and a complete tutorial.
Vibrating Silver Bullets vs. Colorful Vibrators
In a sea of colorful vibrators and cute character shapes often seen in clit stimulators, why would anyone consider a basic silver bullet vibrator?
The slick, cold and hard plastic provides a hard touch for the clitoris. A hard touch simply equates better power transfer.
If you pick a toy with a squishy and pretty silicone sleeve, it will mute some of the vibrations radiating from the motor because the extra padding over top of the bullet will absorb some of the vibrations waves. It simply won't be as powerful.
Black, pink or purple vibrating bullets are often colored as such because they have a micro-thin layer of silicone or rubber over top. This adds a pretty visual appearance, but you'll lose the chilly touch from the cold, hard plastic.
I'm not concluding that the padded style is better, however. When comparing the two styles, each is awesome in its own right, but they feel quite different from each other. The best bullet vibrators are intensely wonderful.
5 Best Silver Bullet Vibrators
The Silver Vibrating Bullet is the original creation, no bells or whistles here, basic yet effective for couples seeking something different to spice up the love life. The most affordable vibrator ever created, this mini sex toy proves you don't need to spend a fortune for some kinky fun.
The smooth, solid plastic silver vibrator has an elongated barrel shape that reduces the likelihood of finger cramps for those with affected dexterity. Simply put it's easy to hold. Turn the dial on the controller and enjoy the buzzing power that is plenty strong enough to please.
Vibrator Length: 2 inches

Vibrator Diameter: 1 inch

Cord Length: 30 inches

Material: Plastic

Batteries: 2 AA, not included

Motor: Multi speed
1st Timer Silver Bullet Vibrator is a worthy vibrator for beginners and a great choice to begin building your sex toy collection. This simple slim vibrating bullet for the clitoris does not require a huge description to convince the reader it's good. All we need to say is you'll get a skinny vibe that fits nicely between the labia and a rounded tip that perfectly mirrors the shape of the clitoris.
When comparing it to the egg shaped vibrator above, this mini vibrator is capable of buying deep within the clitoral hood whereas the egg is good for overall sexual arousal because it touches the labia and vagina at the same time.
Vibrator Length: 2 1/4 inches

Vibrator Diameter: 5/8 inch

Cord Length: 30 inches

Material: Plastic

Batteries: 2 AAA, not included

Motor: Multi speed
Vibrating Silver Egg Sex Toy is a simple, cheap yet exciting clitoral stimulator that makes a fabulous addition to your foreplay routine and solo sexual exploration. As with any egg vibrator, this also is a fun add-on for when you're using a dildo alone. This fat and stout egg shape fits right in the palm of your hand.
It is the largest of all examples here making it the best silver egg vibrator for women who need a boost to the libido to help the vagina create its own natural lubrication. When comparing to the first vibrating silver bullet listed above, you'll notice this one is slightly thicker providing better external coverage over the female erogenous zones.
Vibrator Length: 2 inches

Vibrator Diameter: 1 3/8 inches

Cord Length: 30 inches

Material: Plastic

Batteries: 2 AA, not included

Motor: Multi speed
Double Silver Bullet Vibrators add more possibilities for pleasure while still keeping a cheap budget price in mind. Sharing a controller, each of the bullets vibrate in the same rhythm allowing the user to experiment with different erogenous zones to see what kind of erotic enhancement feels the best.
The most common way to use a double silver bullet vibrator is to hold one over the clitoris and the other over the perianal region. Tuck it between your butt cheeks and let the external buzz beneath the vagina bring your orgasms into oblivion. You can also nestle it deeper between the butt cheeks for an anal tease, but it's not meant to be inserted completely.
Vibrator Length: 2 1/8 inches

Vibrator Diameter: 1 inch

Cord Length: 30 inches

Material: Plastic

Batteries: 2 AA, not included

Motor: Multi speed
Heated Mini Silver Bullet Vibrator is a new addition that is quickly gaining steam as one of the forefront sex toys for women to own this year. It truly has everything going for it – it's whisper quiet, self heating and tiny enough to tuck between your bodies during sex to add stunningly powerful clitoral stimulation during sexual intercourse.
This tiny sex toy reaches 104 F within about 2 minutes when the power dial is turned to the highest setting on the controller. Tuck this mini vibrator under your clitoral hood and delight to the sensory experience, a wildly erotic sensation to behold.
Vibrator Length: 1 1/4 inches

Vibrator Diameter: 3/8 inch

Cord Length: 33 inches

Material: Plastic

Batteries: 2 AA, not included

Motor: Multi speed
Powerful Pleasure for your Sex Life
Both men and women enjoy sexual stimulation by using a silver bullet vibrator. It can be incorporated into foreplay, mutual masturbation or used along with your favorite dildo or vibrator too. Men can use them to stimulate the scrotum and vibrate over the prostate for intense sensations and powerful ejaculations.
Women use these small silver bullet sex toys for clit stimulation, simply press it over top of the clitoris and enjoy powerful erotic stimulation. Insert a dildo into the vagina while holding the silver bullet sex toy on the clitoris and experience powerful and unrelenting orgasms. Review how to use egg vibrator for more ideas!
Sounds fun? It sure is! If you are a beginner, shop at our online sex toy store with ease because a mini silver vibrating bullet is our resident Sexpert Mayla's favorite recommendation for first timers.
Click to buy bullet vibrators online.